Instagram is an excellent marketing platform for businesses as well as creators. It can be used to advertise new items, recruit new consumers, and connect directly with your present followers. However, whether you're using Instagram for personal reasons or want to utilize it for professional purposes, then you must use one key feature — Instagram hashtags. Using the best Hashtags for Instagram can be a simple strategy for expanding your reach and power.
The question is, "How can I discover the best Instagram hashtags?"
We understand that discovering the best Instagram hashtags can be difficult, no matter how social media experienced you are. That is why we have prepared this guide. Today, we'll explain how Instagram hashtags operate and also walk you through the steps you need to follow to identify the best Instagram hashtags for likes for your own post.
By the conclusion of this blog, you'll have all the knowledge you need to start utilizing Instagram hashtags to increase your following and interaction right away. You can also use our lists of the top Instagram hashtags for likes that we compiled by combing the web — they're at the bottom of this article for your viewing enjoyment.
Okay, there's a lot to cover, so let's get started.
What Is an Instagram Hashtag?
An Instagram hashtag is a single word or a string of words preceded by the hash sign (#) and used in the description or comments area of an Instagram post.
The primary function of these hashtags is to assist Instagram in organizing as well as categorizing content – they enable the platform to offer the appropriate content to the appropriate viewers.
If you're a regular social media user, you've most certainly seen hashtags in action. You could have even employed them without understanding how to maximize their potential.
Why Should You Use Hashtags on Instagram?
Hashtags are used to organize information. These can be broad hashtags that everyone uses, in which case you're grouping your posts and photographs with others who share comparable content. Alternatively, many firms establish specialty hashtags to generate interest and group postings about a certain product or campaign together.
The majority of Instagram users like increasing their following. However, being followed by someone who has completely different interests than you is pointless. By using relevant hashtags in your content, you make your postings visible to those who are interested in the same topics. And if they like your posts, they are likely to follow you with the expectation of seeing more on the same genre.
Instagram hashtags serve many functions; here are a few examples:
1. Get More Likes on Your Posts
Users who are interested in a certain topic are inclined to look for relevant hashtags. As a result, utilizing hashtags with your content allows you to get your posts in front of a relevant audience (those who are most likely to touch the like button). So, researching the best Instagram hashtags for likes is a smart idea.
2. Attract More Followers
Using the appropriate Instagram hashtags is one of the most effective strategies to get more followers. Hashtags broaden your reach, allowing more people to find your content. They are likely to follow your account if the stuff you provide is relevant to them. This is a fantastic opportunity for any company since you will be able to market your items and brand to people who are already interested.
3. Earn More Sales
Instagram hashtags are more than simply a way to increase your social media following. You can also increase your sales by including them in your Instagram posting strategy, particularly if you identify some of the best Instagram hashtags in your field.
When you promote one of your items using niche-specific hashtags, you are more likely to attract the attention of consumers who are inclined to purchase anything connected to this content. This implies that well-thought-out Instagram hashtags combined with appealing content will be able to enhance your store's sales.
4. Track Your Instagram Hashtag Success
If you have an Instagram business profile, you can track the performance of your Instagram hashtags using Instagram Insights. Instagram just introduced the ability to examine how successful the hashtags you're using are. This may also be accomplished by examining the number of views or impressions on your content.
5. Follow Your Niche Hashtags on Instagram
You can now follow hashtags on Instagram! That means you can follow any subject or group in which you are interested. Following a hashtag is similar to following an Instagram person.
All you have to do is search for and follow the hashtag you're interested in, and you'll receive updates from that hashtag in your Instagram feed. For inspiration, we suggest doing this with some of the best Instagram hashtags, which we've mentioned later in this piece.
6. Use Hashtags in Your Instagram Bio
Instagram also allows you to include clickable hashtags (and usernames) in your bio. This means you can create an excellent Instagram bio while also promoting your favorite hashtag at the top.
7. Use Hashtags in Your Instagram Stories
Instagram stories are another method to add hashtags to your Instagram profile. When you include an Instagram hashtag in your story, it becomes searchable on the Search & Explore tab.
If someone searches for the hashtag, they may come across your story in the Stories queue at the top of the page. This is particularly true if your content includes famous hashtags.
Most Popular Instagram Hashtags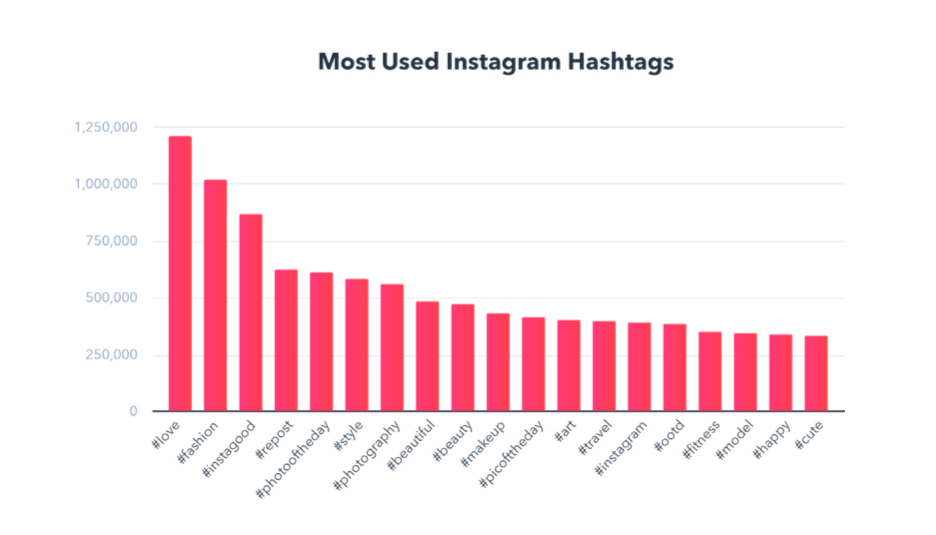 Hashtags are a way for users to categorize their posts as well as make them more discoverable. The most popular hashtags on Instagram are following:
#yummy
#sky
#like4like
#photo
#tbt
#drawing
#london
#nofilter
#cute
#toofunny
#smile
#igers
#instalike
#winter
#foodporn
#photography
#amazing
#blackandwhite
#beauty
#design
#family
#christmas
#fit
#follow4follow
#summer
#sunset
#party
#girls
#fashion
#follow
#euro2020
#f4f
#instadaily
#repost
#sea
#handmade
#food
#me
#pretty
#artist
#funny
#instafood
#dogsofinstagram
#lifestyle
#fitness
#hair
#picoftheday
#landscape
#foodie
#friends
#followforfollow
#black
#photographer
#pink
#makeup
#style
#cat
#holiday
#model
#vscocam
#happy
#art
#healthy
#f4fl
#workout
#beautiful
#tagsforlikes
#love
#music
#photooftheday
#motivation
#instagood
#cool
#instamood
#inspiration
#nature
#selfie
#baby
#gym
#girl
#dog
#bestoftheday
#moda
#likeforlike
#vsco
#fun
#beach
#blue
#home
#travel
#swag
#likeforfollow
#instapic
#wedding
#lol
#followme
#instagram
#life
#flowers
#memes
Best Instagram Hashtags To Get More Likes and Followers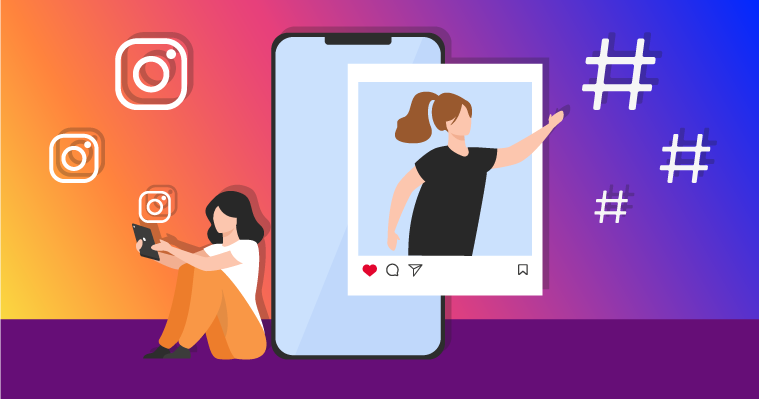 No matter what industry you're in, there's a good chance that Instagram can help you reach your target audience. And while there are a lot of factors that go into growing your Instagram following, using the right hashtags is one of the easiest and most effective ways to get more eyes on your content.
In this section, we'll share some of the best Instagram hashtags for likes and follows, so you can start growing your account today.
#smile
#likes
#FollowMe
#love
#f
#photography
#instadaily
#instagood
#myself
#fashion
#LikeForLike
#FollowBack
#PicOfTheDay
#like
#instalike
#LikeForLikes
#LikeForFollow
#FollowForFollow
#bhfyp
#comment
#PhotoOfTheDay
#FollowForFollowBack
#LikesForLikes
#followers
#instagram
#follow
#beautiful
#l
#me
#PicOfTheDay
#OutfitOfTheDay
#FollowForFollowBack
#bhfyp
#ootd
#fashionable
#ShoppingAddict
#CurrentlyWearing
#fashiongram
#WhatIWore
#love
#FashionStyle
#follow
#smile
#FashionBlog
#instastyle
#FollowBack
#fashionista
#StyleInspo
#FashionBlogger
#BeautyDoesntHaveToBePain
#style
#FashionPhotography
#PhotoOfTheDay
#fashion
#l
#FashionAddict
#LookGoodFeelGood
#life
#goals
#FitFam
#training
#fit
#sport
#healthy
#lifestyle
#muscle
#gymlife
#gym
#FitnessMotivation
#exercise
#PersonalTrainer
#workout
#health
#motivation
#CrossFit
#HealthyLifestyle
#bodybuilding
#fitness
#FoodBlogger
#foodstagram
#foodie
#homemade
#bhfyp
#restaurant
#HealthyFood
#FoodLover
#yummy
#instadaily
#dinner
#foodgasm
#FoodPorn
#instagood
#instafood
#food
#tasty
#cooking
#PicOfTheDay
#healthy
#delicious
#love
#lunch
#FoodPhotography
#PhotoOfTheDay
#foodies
#ForYouPage
#instareel
#reelsinsta
#music
#fyp
#disney
#ReelsOfInstagram
#ReelsVideo
#reels
#HolaReels
#ReelSteady
#VideoOfTheDay
#ReelsBrasil
#bhfyp
#ReelsInstagram
#TikTokIndia
#InstagramReels
#instareels
#k
#ReelsIndia
#travelgram
#adventure
#photography
#trip
#TravelBlogger
#TravelPhotography
#travel
#nature
#summer
#photo
#instagood
#beautiful
#instatravel
#landscape
#explore
#wanderlust
#art
#NaturePhotography
#contest
#giveaway
#WinIt
#instacontest
#freebie
#sweepstakes
#giveaway
#ContestEntry
#WinItWednesday
#ContestAlert
#instagiveaway
#GiveawayAlert
#art
#arts
#artistsoninstagram
#artsy
#arte
#artist
#artwork
#artofvisuals
#artoftheday
#artistic
#Loveit
#loveyou
#lovely
#lovemyjob
#lovelife
#love
#lovequotes
#lover
#loveher
#loveyourself
#makeup
#makeuplover
#makeupaddict
#makeupforever
#makeuplook
#makeupoftheday
#makeupbyme
#makeupartist
#makeupjunkie
#makeuptutorial
#Businessman
#Businessowner
#businesswomen
#businesscoach
#businesstips
#businessowners
#businesslife
#businessminded
#business
#businesswoman
#coffee
#coffeelove
#coffeeshop
#coffeelover
#coffeebreak
#coffeetime
#coffeeaddict
#coffeelovers
#coffeeholic
#coffeegram
#musiclife
#music
#musicislife
#musician
#musica
#musicvideo
#musicians
#musically
#musical
#musicproducer
#dogsofinsta
#dogscorner
#dogs
#dogsandpals
#dogstagram
#dogslife
#dogslover
#dogsitting
#dogsofig
#dogsofinstaworld
#quotestags
#quotes
#quotestagram
#quotesgram
#quotestoliveby
#quotesofinstagram
#quotesdaily
#quotesoftheday
#quotesandsayings
#quotesaboutlife
How to Find the Best Instagram Hashtags?
Now that we've discussed how Instagram hashtags operate let's look at how to select the best Instagram hashtags for likes. When utilizing Instagram for business, it's a good idea to spend some time researching the top Instagram hashtags for likes, particularly those related to your specialty and demographic. When it comes to promoting your company, remember that data-driven judgments are usually the best.
Furthermore, you do not have to employ the most popular Instagram hashtags to enhance interaction with your photos. It may be more successful in utilizing Instagram hashtags with a smaller reach but are more relevant to your target. The primary reason we want to use hashtags on Instagram is to enhance the likelihood of people arriving at our content – but we should always consider who the "appropriate" individuals are that we want to attract.
That is why we must be smart in our hashtag use. So, here are our best Instagram hashtag suggestions for your content:
1. Research Your Audience
Including random Instagram hashtags at the end of your posts is unlikely to bring you any results. Instead, consider your audience's interests and find out what they're looking for.
You can also increase your chances of getting noticed by using hashtags that contain keywords that your target audience is searching for.
2. Research Your Competitors
Looking at the Instagram hashtags your rivals are using can give you an idea of which hashtags generate the most interaction. This is particularly true for "larger businesses" Because they've most certainly already done research to determine the ideal Instagram hashtags for their specialty.
This does not imply that you must compete or imitate those same hashtags in your own Instagram posts, but they can provide you with a better concept of what your posts should look like.
3. Research Instagram Influencers
Instagram Influencers are those that excel in social media marketing. They often have thousands of followers and depend heavily on crafting a message that connects with their target audience – including the hashtags they use.
Looking at the top influencers who are related to your company is one of the greatest methods to understand which Instagram hashtags to employ. You can learn a lot about them by looking at the hashtags they use as well as the interaction they get on their posts.
4. Use Instagram Hashtag Tools
There are several Instagram tools available that can offer you information on the best Instagram Hashtags for likes. Whatever your niche is, you'll be able to uncover hashtags that are related to your content. In that sense, let's take a look at the best tool we use to get the best Instagram hashtags for likes.
Tool To Find The Most Popular Instagram Hashtags
If you're looking for a way to find the most popular Instagram hashtags, then you'll want to check out this new tool. With it, you can easily discover the tags that are being used the most by other users. This can be a great way to get more exposure for your own photos and videos, and to see what's trending on the platform.
Predis.ai – Free Instagram Hashtag Generator
Looking to get more Instagram followers? Use Predis.ai's free hashtag generator to find the best hashtags for your photos as well as increase your visibility on the platform.
Using this tool, you can find the perfect hashtags to reach your target audience and boost your engagement rate. With just a few clicks, you'll be on your way to becoming an Instagram influencer.
Wrapping It Up
Instagram hashtags are a critical component of Instagram marketing. When you combine your hashtag strategies with a plan for how to gain more Instagram followers, you'll see an instant increase in likes, comments, and followers. If you don't have a plan in place, your marketing on the platform may not be achieving its full potential.
Use the tool and hashtag recommendations in this blog to create your own list of high-performing hashtags that will increase your reach and keep your audience engaged, and remember to rotate them depending on your research and measurement for the best results.
It is critical that you constantly evaluate the success of your Instagram posts. This will assist you in improving your social media output, generating more cash, and eventually growing your company.
New to social media management or Instagram?
There is no doubt that stories increase engagement. But, creating Stories as well as Instagram poll games is only scratching the surface of what a social media manager does. So, these blogs listed below will get you started. They will also provide helpful insights on best practices to follow (and those to avoid) on social media:
For more social media tips and updates, follow us on our Instagram!