Social media is used by billions of people. And, with thousands of content creators using social media to share their content, having an effective and well-managed social media strategy is critical for shining out from your competitors and reaching your target audience.
Fortunately, social media management tools can assist with this. Social media management tools can assist you in creating, planning, and scheduling highly engaging content.
However, as the use of social media has increased, so has the number of social media tools. Platforms like Buffer and Later have grown in popularity.
But what sets these platforms apart?
In this blog, we will compare Buffer vs Later in terms of efficiency, features, pricing plans, and other factors.
What is Buffer?
Buffer is a straightforward and easy-to-use tool for publishing content to social networking sites. A Buffer account is simple to set up and use. The tool's main strength is its outstanding ease of use.
Buffer includes a multitude of data analysis and reports generation options. It also provides strategic advice for increasing social reach and engagement. It's also compatible with the most latest social features, including Instagram Stories.
What is Later?
Since you have a brand and use social media to advertise or increase awareness about it, the social media management tool Later can be beneficial to you. Later may be used to schedule posts or stories on major social media applications.
This social media management tool will also allow users to publish straight from the Later mobile app. It includes drag-and-drop publishing, a hashtag suggestion tool, and performance reports for your articles and stories.
Although Later connects to a number of social media networks, including LinkedIn, Pinterest, and TikTok, the majority of its features are centered on Instagram marketing. It comes with comprehensive Instagram analytics tools, a Stories scheduling tool, and a Hashtag Analyzer.
The tool also recommends a time to publish. It aids in increasing your social media reach, interaction, and brand exposure.
Buffer vs Later: Key Features Comparison
A number of key characteristics are shared by both systems. However, you should be aware that there are substantial differences between each platform's version of the following characteristics.
Buffer vs Later #1. Posting and scheduling
Both Buffer and Later let you post to your social media networks. You may also schedule posts ahead of time and customize them in real-time on both platforms.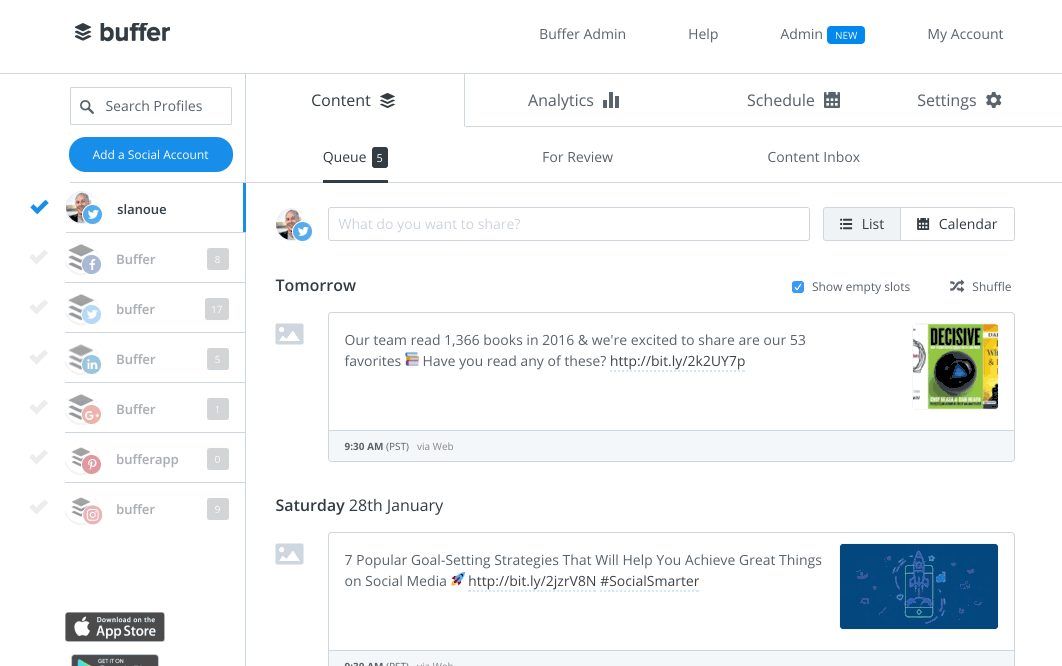 When it comes to scheduling, these apps employ a variety of techniques. Buffer also offers the Buffer Queue, which gives a personalized timeline for all of your postings.
Buffer's free account allows you to schedule up to ten posts per social media account. If you want to see a preview of the post you've scheduled, Buffer has you covered. It is, however, only available with a Business or Pro membership. Buffer provides views on a monthly, weekly, and list basis.
Later's scheduling procedure is very similar. The tool, on the other hand, is more complete in terms of scheduling for numerous platforms. As previously stated, Later supports multiple platforms. So, for example, if you're posting to Facebook and Linkedin, you may create a text-only post.
Go to the sidebar and click Calendar to schedule a post. Then create a text-only post or upload media to create a media-based post. You may also use captions, hashtags, and labels.
Later also lets you change your post before publishing it by applying filters or changing the picture. You may move the post around on the calendar once you've produced and scheduled it.
Buffer vs Later #2. User interaction
Buffer controls social media conversations with a separate app. The Buffer Reply app provides a lot of useful features, but the primary disadvantage is that it's a little costly.
The Buffer Reply app's basic edition costs $50 per month. But that only applies to one social media account.
If you wish to expand, you'll need to add users at a monthly charge of $25 per user. As a result, you'll have to pay $10 per account every month for additional social network accounts.
Despite the high cost, we feel the tool is worthwhile for the diversity of services it offers. You may delegate tasks to specific team members and keep track of their progress. Furthermore, the app captures activity in real-time.
The software integrates Slack and other business communication systems. When you upgrade to the Business plan, you'll have access to keyword monitoring tools and automation possibilities.
Later has a similar feature called "Conversations," which allows you to react to Instagram comments and messages directly. Later, in comparison to Buffer, makes it easier to manage these Instagram interactions.
It falls short, though, when it comes to other social media networks. So, if you need to manage comments across many platforms, Buffer is a superior choice.
Buffer vs Later #3. User Interface
Buffer's UI is simple and beautiful, and it displays a queue of all presently scheduled social network postings. It's easy to use and lets you focus on what truly matters: your planned content.
Later's dashboard and user experience are both clean and simple. You have a straightforward sidebar with simply a few options. When you dive further, you'll either find a single function or a new menu at the top.
In each case, it is evident how to achieve your goals. There are no unnoticed characteristics.
Buffer vs Later #4. Reports and Analytics
Every social media marketing tool should include social analytics and reporting. If you don't keep track of what works and what doesn't, you risk missing out. Both Buffer and Later provide a wealth of alternatives for analyzing audience responses to your social media efforts.
As previously stated, Buffer is essentially a content publishing platform. Therefore, it only offers stats for postings submitted using its interface. As a result, you will not receive detailed information on how the material you post on native social applications performs.
Buffer's user-friendly Buffer Analyze tool, on the other hand, will appeal to social media managers. It gives you the ability to track performance based on engagement, post kind, and reach.
Buffer is a smartphone app that tracks your social performance while you're on the go. You may also export all of the data for further analysis.
Later's metrics are a little more powerful. You may discover about your audience's demographics, how individual posts are performing, how stories are performing, and even how hashtags are doing.
Later's way of showing your prior posts in a chart format and showcasing the breakdown of likes, views, comments, and other critical metrics is really useful. It's a really comprehensive method for determining how your Instagram profile has been performing recently.
Buffer vs Later #5. Managing teams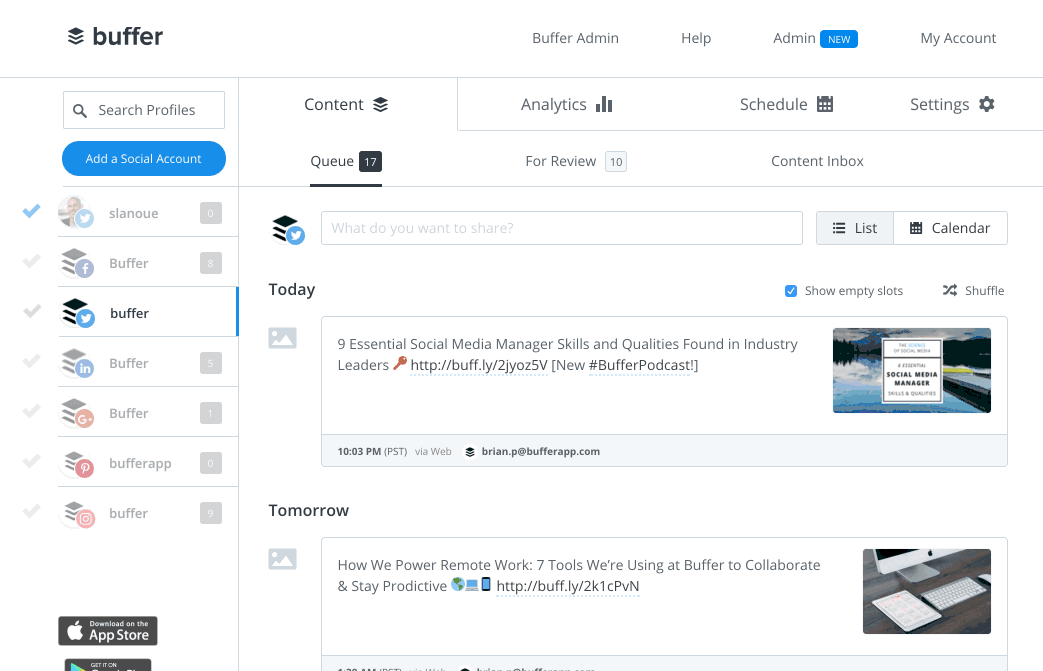 When working with Buffer, you must choose which social media accounts your staff will manage manually. On this platform, you will have two authorization levels: Contributor and Manager.
You can use these to give contributors full posting rights while yet requiring authorization before publishing.
This easy method is now acceptable for smaller businesses with fewer social profiles.
Later has a considerably superior user management system, including the ability to assign individual users to different social network accounts as well as different levels of access. You can also add comments for your team in the calendar part of the software to offer them publishing tips or instructions.
Buffer vs Later #6. Calendar view
Social media marketing tools' primary job is to schedule posts across several social media networks. Having said that, almost every social media management software has a calendar view. It essentially displays the days and hours when posts are scheduled to be published. It is vital to be able to swiftly and easily move posts on the calendar.
Buffer and Later both allow you to schedule articles that will appear on a content calendar ahead of time. However, there are a few slight differences in how each platform schedules posts and displays them in the distinct content calendars.
Buffer's content calendar is a recent addition to the platform, but it is still quite useful.
After you've scheduled your posts in your calendar, you may reschedule them by clicking and dragging the post blocks.
Later is similarly simple to use, and the calendar interface looks to be fairly similar. You can browse posts by month or week using the calendar view. It also allows you to see Instagram stories, which is essential if your social media strategy is primarily focused on Instagram.
Buffer vs Later #7. Bio-Link feature
Both platforms allow you to create bio link pages for including in your social network profiles.
Buffer allows you to create branded landing pages that direct people from social media to a website where you presumably want them to take some type of action.
You can also create store pages that look like Instagram shop pages. You may also use these landing sites as bio links to emphasize several connections in your social network bio area.
Later's analogous capability is known as "Linkin.bio," and it allows you to do much the same thing. It's fully customizable, including links to Instagram posts, buttons, and so on.
Buffer vs Later #8. Pricing
Buffer has a free version that's OK if you only have a few profiles to handle. But if you're serious about managing your social media, especially if you require a team to manage the accounts, you'll need to pay for the Essentials plan. If you wish to have more team members, you'll also need the Team Pack.
The Essentials plan costs $60 per year and includes a 14-day free trial. It is worth a shot if you're not completely hooked on the platform.
You must pay an extra $5 per month for each social media profile you add. So, keep this in mind if you have a large number of social media profiles.
Most businesses will not have an issue with this because they just have a few profiles.
When it comes to the pricing plans, Later provides a lot more alternatives – a lot more. Whatever you require, you will be able to discover a solution.
Plans start at $0/month and go all the way up to $40/month. But the price quickly rises if you have a lot of profiles to maintain. Essentially, you must pay an additional $40 per month for each pair of profiles (which includes one of each possible social media profile), but this is only relevant if you are an agency managing a large number of social media accounts.
The major issue with Later is that, unless you choose the most costly subscription, you're limited to a certain number of posts every month. If you're passionate about social media, you have to pay a lot more than you desire just to have the option of posting more frequently than usual.
Buffer vs Later #9. Customer Support
In terms of customer service, both tools deliver a positive experience. Buffer can be found on Slack and Twitter, and it also provides email support.
Buffer offers a range of resources to help new users, including blogs, guidelines, FAQs, and online training. They even have monthly webinars where corporate experts educate users on how to get the most out of social media.
Later is more harder to track down. They also have a support center, which is of little utility, but no chat option. So the only way to get assistance is to send an email and hope for a speedy answer.
Buffer vs Later #10. Available integrations
Buffer offers over 30 third-party applications with a variety of applications. So it has no shortage of options when it comes to integrations. This is especially beneficial if you use a variety of applications to manage your social networking.
It is also important to note that it connects with Google Analytics. This is especially crucial for monitoring how your Buffer landing pages are doing.
You'll need to know if that traffic is converting, especially if you run an e-commerce site, so linking the two is essential for acquiring that insight.
Later lacks a significant number of integrations. Obviously, it interfaces with all of the big social networking networks. But there isn't much support for additional applications beyond that.
Even said, Later offers some basic integrations, such as with Zapier, so unless you're utilizing a lot of different applications as part of your marketing endeavors, it's probably not worth your time.
Supported social media channels (Table)
With the exception of TikTok, Buffer and Later support the majority of the same social networking networks. Later supports TikTok, whereas Buffer does not. In fact, Later is one of the few social media management tools that support TikTok at the moment. This, of course, genuinely distinguishes TikTok from the competition, and if TikTok, in particular, is crucial to you, Later can be the perfect platform for you.
Furthermore, while Buffer and Later support the most prominent social media networks (Facebook, Twitter, LinkedIn, and Instagram), neither of these social media marketing tools supports Snapchat. Although Snapchat isn't a deal-breaker for the vast majority of advertisers, if this integration is critical to you, neither platform is a strong fit.
| | | |
| --- | --- | --- |
| Social Media Platforms | Buffer | Later |
| Instagram | Yes | Yes |
| Twitter | Yes | Yes |
| Facebook | Yes | Yes |
| LinkedIn | Yes | Yes |
| Pinterest | Yes | Yes |
| Tiktok | No | Yes |
Final Thoughts
Consider the size of your team and the social media management capabilities that are most essential to you when deciding between Buffer and Later.
Buffer is ideal for small businesses and teams. Due to the general workflow functionality, it is very simple to create approval procedures for various team members. With the exception of TikTok, it supports practically all other social media platforms, and the tool is relatively simple to use. However, due to its simplicity, some of its features are less advanced than those of Later.
Later is a good tool to use if you want to work on Instagram rather than other social media networks. Although Later supports other social media networks, it was primarily created for Instagram and hence has the most extensive Instagram-specific functionality. Later has the added benefit of being TikTok compatible, which is a unique feature among social media management tools.
Since we are here, Are you looking for something much more revolutionary which will even help you make content!

Sign up for Predis.ai today! Manage your social media channels and improve engagement by designing interactive posts within a few clicks.
For more social media tips and updates, follow us on our Instagram!