What do people see first when they open your Instagram profile? Your bio information and, of course, right below one of the most useful Instagram features, the Instagram highlights stories!
They are front and center on your profile, serving as one of the perfect indicators to show users what your brand is all about. You can have the best Instagram stories that you reshare with your followers and build a perfect user-generated content highlight as social proof for your brand quality.
Unlike the Instagram stories that used to disappear after 24 hours, Instagram Stories Highlights can live permanently on your profile. This is why you should consider spending some time planning on how to apply them to showcase and promote your brand.
So, in this guide, you will learn about all you need to know to create Instagram Highlights that will help you stand out from the crowd.
What are Instagram Highlights?
We all know that Instagram stories disappear in around 24 hours. And, in order to give the option for the users to save some of the stories and make them visible as a pin in their profile, Instagram has provided a feature known as Highlights. The feature allows you to keep your stories' content on your Instagram feed as long as you want.
Instagram Highlights are groups of stories that you can create as folder sections on your Instagram profiles.
This means that once you post a story, you can save it in a Highlight like a folder that will help you to display it on your Instagram profile, or you can even activate the Archive option that will automatically save Instagram stories and, in the future, create highlights from the saved stories in your archive.
The main attributes of the Highlights are:
Highlights name: Option to name the Highlight the same as you do with the naming folder.
Highlight covers: Option to add a custom image or an icon that will represent the topic of the stories that are saved inside.
Tip: Once you create the Highlights, they appear on your Instagram profile screen right below your bio text and profile photo.
How to Create Instagram Highlights?
As already mentioned above, you have two ways how to create an Instagram story Highlights:
Create a Highlight from the active story: Post a story and manually save it in a Highlight.
Create Highlight from archived stories: If you have the Archive option activated, your stories will save automatically in your archive section, and in the future, you can choose which stories to be organized in a Highlight.
Let me show you how to create a Highlight with the first option:
Create Instagram Highlights from the active story
If you have an active story and you want to make sure this story is added to a Highlight, just follow these steps:
Click on the active story to view it
Tap the bottom option and Highlight
Click the plus icon to create a new Highlight
Enter the name of the new Highlight
Click the blue buttons Add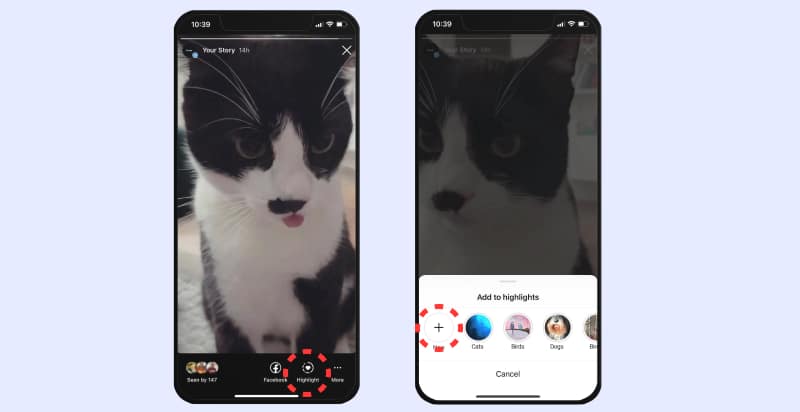 Once you do this, your new Highlight will appear on your profile, and your followers will be able to view it even after the 24-hour story lifetime.
Create Highlights from the archived stories
There is a high possibility of creating Highlights from the stories archive as well. Using the story controls and options, you can pull the different stories which you save to archive.
To add the Instagram stories from your archive to a highlight and pin them on your profile, just follow the steps which are given below: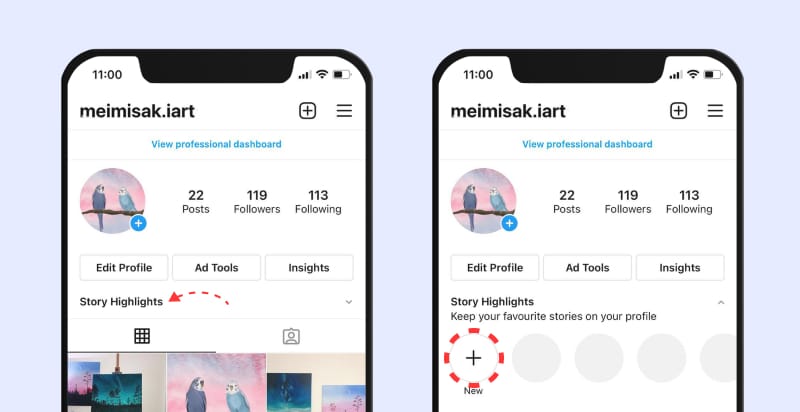 Go to your Instagram profile and click Story Highlight below the bio
Click the plus icon
In the new window, click and select the stories you want to appear in the Highlight and click Next.
Click 'Edit Cover' to choose which story will appear as a Highlight icon or just upload an icon.
Enter a name for your highlight; whatever you want, you can give it.
Click Add or Done as per the smartphone you would be having.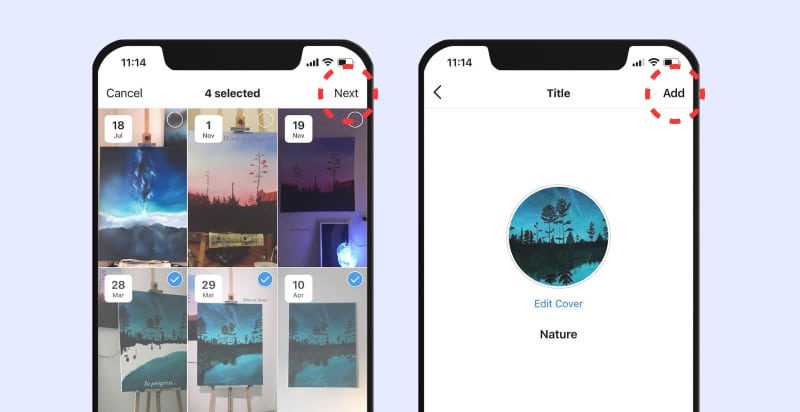 How to add more stories to a current Highlight
You can add more videos or photos to your Highlight at any time by following these below steps:
Go to your profile and hold your finger pressed on the Highlight you want to edit.
Click Edit Highlight.
Choose the stories which you want to add and click Done.
Also, in this 'Edit Highlight' screen, the text and it's the cover image. And if you want to delete the Highlight, just press and hold on to the Highlight, you want to delete and simply choose the option 'Delete Highlight'.
Aesthetic Instagram Highlight covers
Know the how but still struggling with the what? Check out this aesthetic inspiration.
1. Subtle food graphics for foodies
Instagram cover icons are essential attention getters. Among the lots of Instagram users – and 500 million daily users, it is safe to assume a large option of those accounts is for designed foodies.
No matter whether you are a professional chef, mere food enthusiast, or amateur, now pair your favorite food graphics with a fancy script font, and voila! Cue drool-worthy Highlight covers!
Major Tip: Choose different food graphics to distinguish your Instagram cover icons. Using the same graphic for each and every category can blue the concepts for your audience. In a scroll and skim culture, the more diversity you include, the longer people will stick around.
2. Boost moods with color gradients
Colors gradients are an amazing way to add dimension and pizzazz to your Instagram Highlight covers. Whether you are a service or product page, an EDM music producer, or a trendy influencer, the right colors can impact your mood as well as your followers.
Gradients can be subtle or bold as per the dependence on your vibe.
3. Lifestyle icons for lifestyle brands
Rockin a fitness, holistic, wellness, or lifestyle brand? Health brands and businesses are one of the most popular fields to market in today's scenario. So? Make sure to customize your highlight covers for Instagram with a bold background color and lifestyle-related graphics.
4. Get down to business with business icons
If you are among one of the 582 million entrepreneurs across the globe, then there is a high chance you also have an Instagram account. Instagram Highlight covers are a great way to attract some customers. Thus, they also give you the chance to highlight:
Pertinent info
Testimonials
Statistics
Events
Announcements
Accomplishments
While on the other hand, Instagram story covers are not a substitute for a website, per se; they have an abbreviated version of one – perfect for our social media-driven culture.
Advertising business via Instagram highlights is serious in that you want your brand colors and graphics to reflect who you are and what you do. That said, Instagram is innately a playful platform, and it is good to balance that info with fun and delightful ways of delivering it.
Major Tip: If you want to diversify your brand concept or color palette, make sure to consider switching it up with secondary color palettes for social!
5. Embody the beauty
Some of the major accounts epitomize beauty on all levels. Get your body, mind, and spirit on board with radiant Instagram Highlight Icons, which range from meditative practices to topical cosmetics.
Notice how the icon colors differentiate from the brand color palette while also introducing some secondary color palette shades. If you can capture a style that feels equally predictable as it does unexpected, then you are golden, friends.
6. Let your product inspire your Highlight theme
In today's society, asking "What do you do for a living?" is one of the most commonly asked questions. On Instagram, moreover, if you have a professional or a business account, then you don't want people having to ask you this question again and again; you may not be strutting your stuff hard enough.
Instagram asks professional account holders to categorize their pages by profession. So, we say, why not use the level to your advantage? If you have a travel service, then why not make travel the theme that dictates icons, graphics, fonts, and overall vibe as well.
And while you might be thinking. But what about travel do I feature? Not to fear! Notice how this account is usually used to target tropical geographies. Break up the otherwise overwhelming concepts of travel into something digestible for the masses.
Apart from that! You might notice the calm, cool, collected energy sparked from the shade of blue alongside tropical, distinct, island-related graphics. The icons of the palm trees, a man pulling a boat or and water are perfect representations of the featured destinations. Subtleties are everything – when done with the intention – you capture an audience.
Best Instagram Highlights Story Icons & Covers
There are lots of brands that have created amazing custom Instagram story Highlight covers using various icons and colors to match their brand.
So, here are some of the best examples that we have found across the platform:
HubSpot
Hubspot is the first example of having nice simplistic Instagram story highlight covers. They use some of the colorful highlight icons and emphasize the story covers with a very on-brand orange to outline the cover icon. Another point to add is that they keep their categories simple with one-word cover names.
Buffer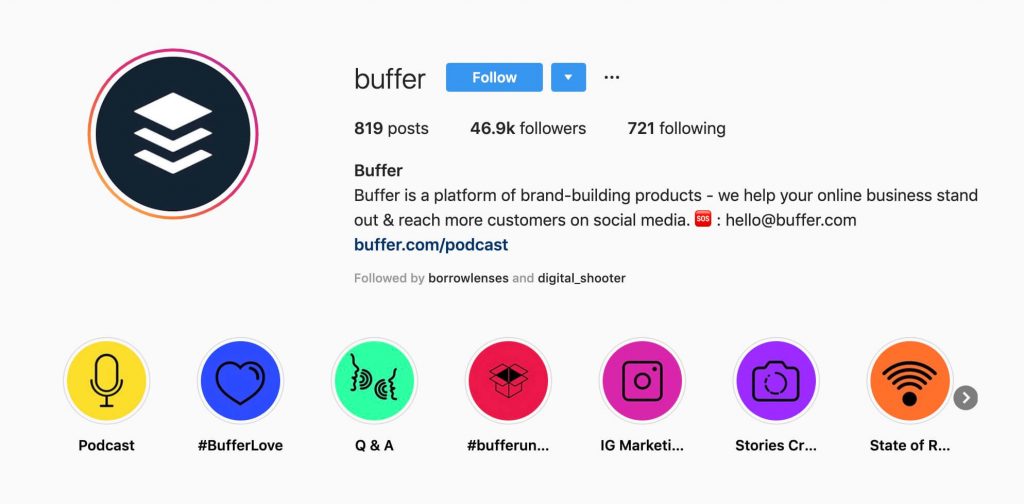 Buffer is another great instance with its use of colors throughout the Instagram highlight covers. They are using very simple story icons, but the vibrant colors in the background of their highlight cover really make them stand out.
Foundr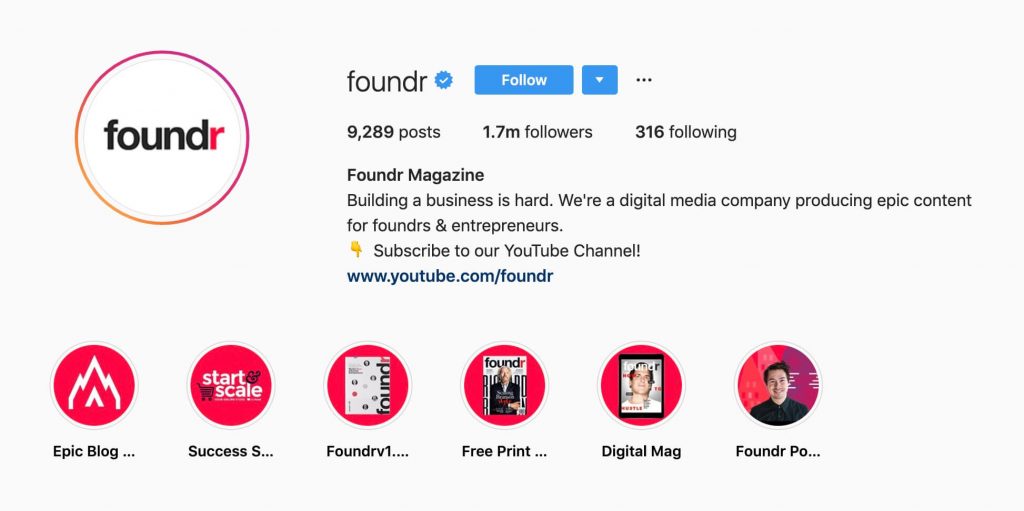 At the time of creating Instagram story covers, you are not just limited to just using flat icons. Foundr does a very great job of incorporating images and products into their highlight covers. Moreover, they use the same colored background on all of their highlights; they change the icon and image in the center of each cover. You know exactly what you are getting into just by looking at the story cover.
6 ways small businesses can use Instagram Highlights
Not sure how to decide which Instagram stories are highlight worthy? Or do you need help making your Instagram Highlights stand out? then try these techniques:
1. Create Instagram Highlight cover images
Instead of using awkward thumbnails as your cover photos, create brand-specific covers so that you have a consistent look across all Highlights. You would not add just any image or use a random font on your website, so why would you do that on Instagram? Highlight icons give your profile a neat, professional look while also displaying your business branding and style.
You can create Instagram Highlight covers using Instagram built-in text on Instagram stories, or you can even take it a step further with the free image tools such as Canva. To make an image of the cover photo, simply add the image to the new highlight as your first image.
If you are designing your own Instagram Highlight covers, the dimensions should be 1080X1920 pixels tall with a 9:16 aspect ratio. You should also center all of the elements so that your cover looks great when it is cropped.
2. Keep your audience updated
Instagram stories are a great source of revenue for sharing announcements. If you want to keep your latest news at your audience's fingertips, then make space in your Instagram highlights for weekly updates.
You can use Instagram Highlights to showcase your best content by creating a literal Highlights reel from the past week. This also allows you to keep some of the ongoing promotions, events, and business news on your profile longer.
3. Reserve a spot for go-to resources
People often find small businesses with the help of social media, so Instagram business accounts should have a lot of the same resources like a website. Think of the information you usually have in your menu bar or footer, which includes Return policies, FAQs, About Us, etc., and use your highlights to keep that content readily available.
4. Repurpose content
Technically, all the Instagram Highlights have repurposed Instagram Stories, but why stop there? Make the most of your content by formatting it for the Instagram Highlights.
Start with the images. Do you have any pictures from the photoshoots that did not make the cut elsewhere? Instagram Highlights give you a chance to use images that might not fit neatly into the aesthetic you have created for your Instagram grid.
5. Provide something extra
Use Instagram Highlights to share the bonus content with your fans that they can't find anywhere else.
Let your audience in on what happens behind the scenes at your business. You can use the Instagram Highlights to show off how you can create your products and pack up your orders, or you can even introduce the employees who keep your business running. Instagram Highlights are also the perfect place to share "Instagram VS Reality" content, such as pre-edited photos next to the final image or the un-cropped photoshoot setup.
6. Share the spotlight
Featuring influencers and people from your community not only helps to bring fresh voices to your profiles but also shows your fans that you want to amplify voices other than your own.
Conclusion
Instagram is arguably the most engaging and largest social media platform right now available in the market. It is essential to take advantage of the powerful features that the platform provides and to use them most efficiently and effectively to give your brand that extra advantage.
Instagram story highlight covers are a nice touch, and they help add character to your profile. Instagram highlights give you an opportunity to share what you would not normally show on your feed. They can give you a great insight into your audience, but more essentially, they help your audience stay engaged with your brand!
For more social media tips and updates, follow us on our Instagram!