Passionate travel hashtags always used to have an exciting story to tell. And Instagram is one of their favorite social media platforms when it comes to getting the word out and about.
So, if you are one of those who are bitten by the wanderlust bug for good, then you probably already have a smashing account on this platform. Your images might be breathtaking, and your experiences might spark hope, happiness, and envy in the hearts of some if not many. But that is not enough!
Great content needs great marketing. That means good locations and good hashtags. This is the reason why using the right hashtags plays a major role so that more people get to discover your posts and follow you. And mind you, hashtags keep changing from time to time.
So, if you can't wait to find out about ones that will float your boat in 2022, read on.
1. Most Popular Travel Hashtags
So, here are some of the travel hashtags that have become a wide range on Instagram recently. Note how the words 'photo' and 'travel' find their way into most of them.
#travelblogger #traveladdict #worldtraveler #travel #photography #photooftheday #travelphotography #picoftheday #naturephotography #instatravel #instagood #wanderlust #travelgram
So, belowfollowing hashtags are popular too.
#holiday #sunset #traveltheworld #mountains #tourism #photoshoot #sea #justtravel #happytraveller #travelling #photo #vacation
2. Mountain Hashtags in Travel Hashtags
Do the majestic mountains, lush green or snow-capped or craggy and rocky, call you when you are tired of your day-to-day hustle? Do you climb, trek or hike to leave behind the dullness of urban life? Then there are the hashtags that will help you to advocate their beauty and cold comfort on instagram. So, some of the mountain hashtags are:
#mountains #mountaineering #mountainlovers #mountaintop #mountainscape #hikinglife #mountainphotography #mountaineer #mountainsarecalling #mountainlife #mountainview
4. Solo Traveller Hashtags
Love exploring uncharted or familiar territories on your own? Do you like the freedom, peace, and solitude and the fact that you don't have to depend on someone else whim to live your traveler's life? Then there are some of the hashtags to use on your Instagram reels and posts:
#solotraveler #solotraveller #solotravels #solotraveling #solotravelingisfun #solotravelgirl #solotraveldiaries
5. Luxury Travel Hashtags
Are you someone who likes to see the world without ever compromising on comfort or the finer things in life? Do you find yourself sometimes only booking tickets with only the top airlines or getting a suite at only upscale hotels? The following hashtags are good for you:
#luxurytraveller #luxurytravels #luxurytraveladvisor #luxurytraveldaily #luxurytravelblog #luxurytravelblogger #luxurytravelexpert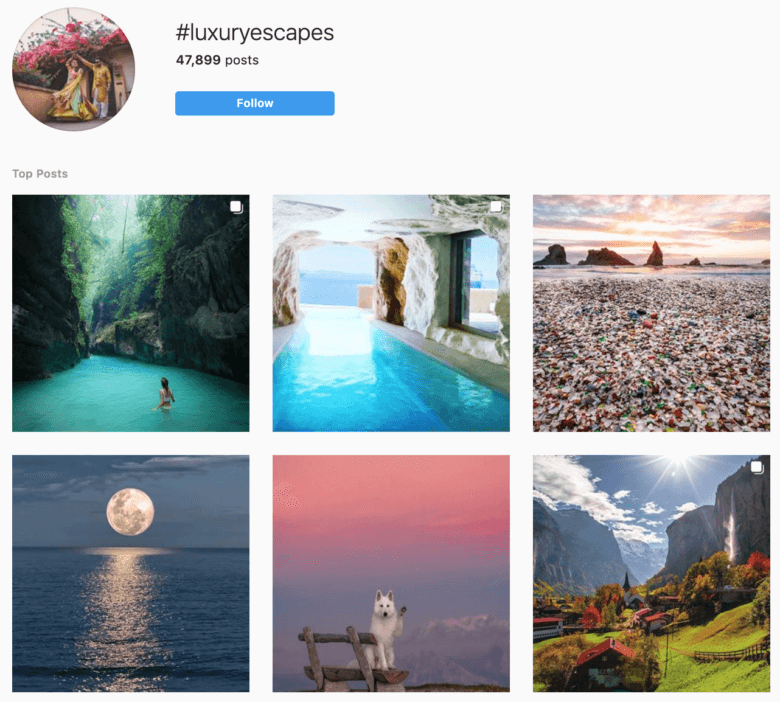 6. Adventure Travel Hashtags
If traveling does not look complete unless you get a rush of adrenaline, then your Instagram account is surely vocal about what an adventure junkie you are! No matter be it hiking to the top of a steep and dangerous mountain, paragliding over a bottomless valley, spending a night in a forest, or rafting through wild waters, adventure travelers need to up their game with these below hashtags:
#adventuretime #adventures #adventurer #adventurethatislife #adventureculture #adventureisoutthere #adventuredog #adventureawaits #adventuretravel #adventureseeker
7. Get Creative with Your Vacation Hashtags
Vacation hashtags are getting more descriptive and fun as time passes. Like:
#sunsetporn #nightphotography #postcardsfromtheworld #choosemountains #optoutside #ipulledoverforthis #viewfromthetop #sunset_madness
These top vacation hashtags for travel are all about the vibe and how travel makes you feel. They may not have the numbers that sunset has, but for sure, you can bet that the people browsing niche Instagram travel hashtags are the kinds of passionate people who make the best followers.
Conclusion
So, what's your plan now? Are you all set to fire up your Instagram account with some amazing travel images and effective hashtags? Keep this guide handy, follow top travel Instagrammers, and if you want to generate more hashtags, then you can use the Predis.ai hashtags generator tool to generate some of the trendy hashtags in seconds!
Do you want to know the best photography hashtags that every photographer should use? Click here to check 350+ best photography hashtags.