Fashion Hashtags for Instagram are one of the efficient and effective business tools for your brand, and the best part is that they are a free tool to use! It is no secret that social media is one of the major driving forces behind the growth of the most modern businesses, and hashtags are one of the most efficient and effective catalysts for social media success.
Fashion hashtags are simply tags that you can add to your photos and videos that relate to fashion. For example, some popular fashion hashtags include #ootd (outfit of the day), #wiwt (what I wore today), and #streetstyle.
You can use fashion hashtags to find and share photos and videos of people with similar style interests, and to discover new styles and trends. To find fashion hashtags, simply search for "#fashion" on Instagram. Then, take a look at the most popular and trending hashtags to get started.
Once you've found some good fashion hashtags, start using them! Add them to your photos and videos, and be sure to check out the photos and videos that come up when you search for them. Like and comment on ones you like, and follow users whose style you admire.
Nowadays, you can imagine, each and every business has a unique set of hashtags that will be successful for its brand on social media, and some hashtags are useful for all the businesses within a certain industry. So, let's look at the top hashtags on Instagram for retail and fashion brands.
Why Are Fashion Hashtags For Instagram Important in 2022?
As we have already mentioned previously, hashtags are one of the most effective tools to use in the process of achieving growing your audience on Instagram. This is because hashtags are used to connect accounts with the potential set of followers.
When you publish a post on Instagram and include hashtags in the caption, Instagram will ensure that your posts are seen by users who used to view and interact with some other posts too that include similar hashtags. In other words, hashtags are a way for Instagram algorithms to keep track of what types of content each user uses to publish and what types of content each user wants to see.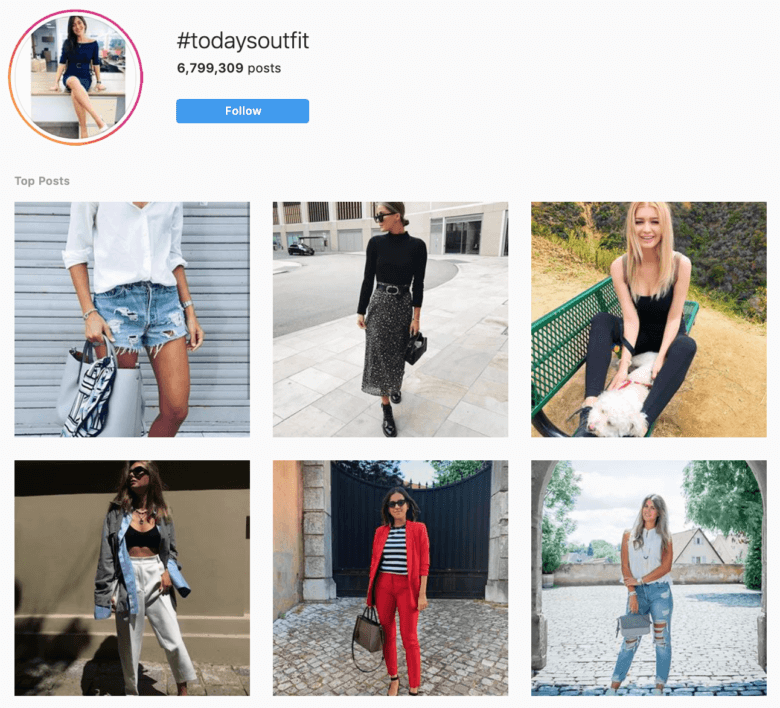 There are a few reasons why you might want to use fashion hashtags on Instagram. First, if you're a fashion blogger or influencer, it's a great way to get your content seen by more people. Hashtags can help you reach a wider audience and get more followers.
Second, if you're a fashion brand, using hashtags is a great way to promote your products and get people talking about your brand. Hashtags can help you reach potential customers and build brand awareness.
Third, if you simply love fashion and want to connect with others who share your interest, using fashion hashtags is a great way to find like-minded people and get inspired by what others are wearing. So if you're looking to grow your fashion blog or brand, or simply connect with others who love fashion, using hashtags is a great way to do it.
By using fashion hashtags on Instagram, you can connect with other fashionistas from all over the world and build up your own personal brand.
Best and Top Hashtags for Instagram in the year 2022 for the fashion brands are:
1. #fashion
2. #fashionblogger
3. #fashionstyle
4. #fashionblog
5. #fashiongram
6. #fashionable
7. #fashionphotography
8. #fashionlover
9. #fashionaddict
10. #style
11. #styleinspo
12. #styleblogger
13. #styleinspiration
14. #stylegram
15. #styleblog
16. #styleoftheday
17. #fashioninspo
18. #fashioninsta
19. #fashiondesign
How To Use These Fashion Hashtags on Instagram?
That is a pretty good list of hashtags, but it might also seem a little overwhelming. How many hashtags should you use in one post? How do you know which ones to use at any given time? These are understandable questions, so let's talk about some of the major tips with hashtags for Instagram.
In any given post, you never want to use too many hashtags, or else your content will come across as looking spammy, and you will not achieve your desired growth results.
There is no magic number of hashtags, but you will probably want to aim for somewhere in the range of six to ten hashtags on any post. While you don't want to use too many, you also do want to ensure that you have enough hashtags that are effective in helping you grow on Instagram.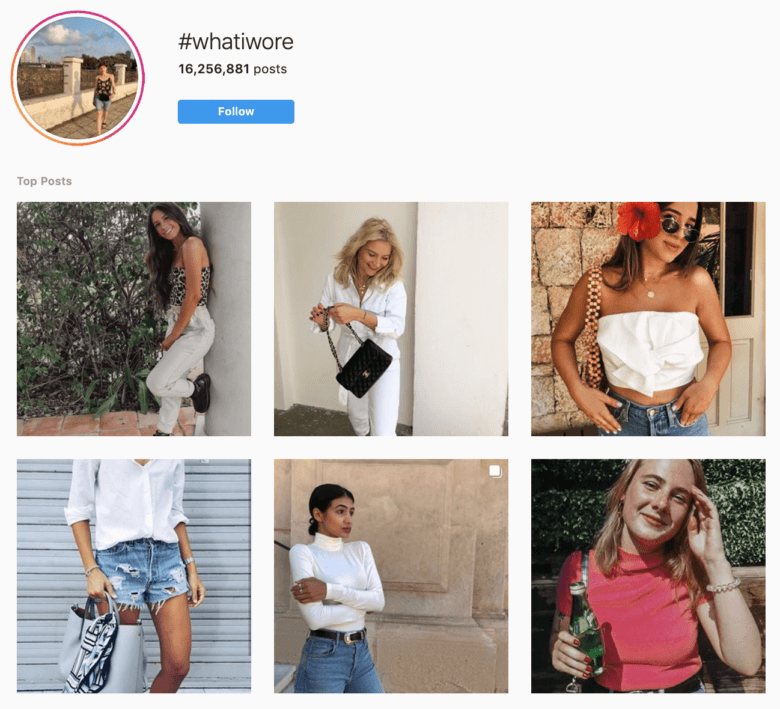 As far as knowing which hashtags to use, it is a good idea to select some of the few hashtags that you will use staples to include in most of your posts. Apart from that, we also recommend you select more specific hashtags for each of your posts to use in addition to your "staples".
What this means is that you should select the hashtags that are much more relevant to the content of each of your posts. With these, you don't want to be too specific, or you would not have a very big target audience. And you don't want to be highly specific or general, or your post will get lost in a sea of similar posts with similar hashtags.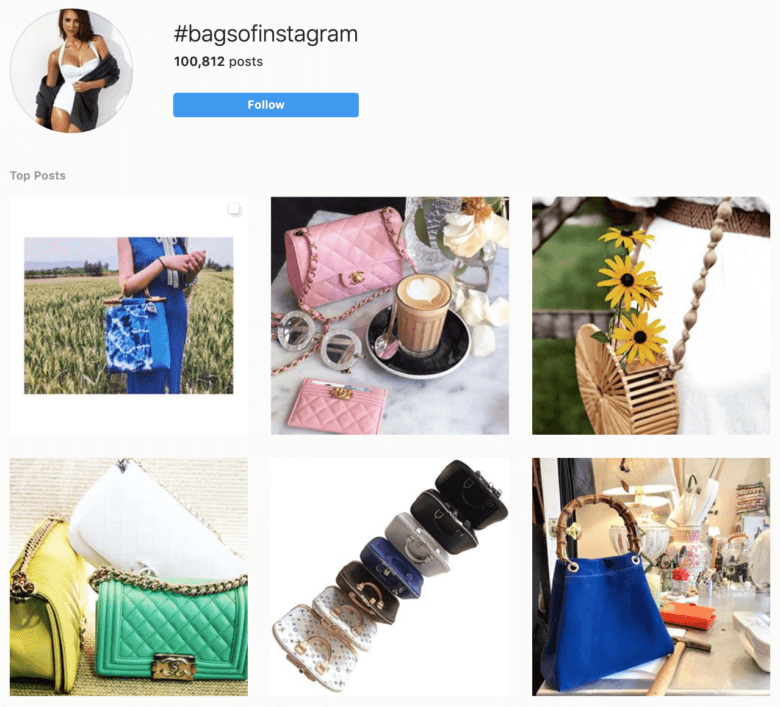 Hashtags For Instagram: Fashion
Hopefully, this hashtagging guide will be helpful for all of your future hashtag endeavours, whether or not you run social media for a fashion and retail account. No matter what your industry is, the same rules of hashtags usually apply.
Just remember to use the hashtags that best fit your industry and your brand specifically – your target followers will find you and increase your engagement! And don't be afraid to ask for a little help. Using a hashtag generator or looking at other accounts for inspiration is always an effective plan.
We all envy fashion bloggers for the fashionable lives they lead. Sitting in the front row at fashion shows, travelling across the globe and wearing gorgeous outfits at all times. Well, we might not be able to put all our time and energy into doing that! Because, let's face it, being a fashion blogger is not a cakewalk.
But we can always use some of the hashtags to show off an outfit and also update our style lingo! It is time to move over the basic hashtags and up your Instagram game challenge. So, here are some of the super cool, most popular and new fashion hashtags for your next Instagram post!
1. #Whatiwore
Cute clothes, obviously! You can also use it as #wiwt(What I Wore Today) #wiw. The name is quite self-explanatory and can also be used in pictures where you might want to show off your outfit!
2. #Lotd
Took some extra effort in getting dolled up today? Using this latest hashtag is definitely the best way to flaunt your look of the day!
3. #Outfitgoals
No matter whether it is an outfit you styled or an outfit reposted from a celebrity hashtag Instagram account, you can give lots of outfit inspiration to your audience with this one!
4. #Fblogger
This hashtag stands for the fashion blogger. Those of you who are taking baby steps towards starting your own little site in the fashion industry, use this hashtag to promote your blog and also increase its chances of being seen and featured in some other accounts.
5. #Ootd
Styled a sassy outfit today? Go on and show it off with the outfit of the day hashtag!
6. #Instastyle
Have an Instagram worthy outfit you want to flaunt? So, make sure to use this hashtag to draw more eyes to your post!
7. #Ootn
Show off your outfit of the day-night. Get tagging, ladies!
8. #Streetstyle
Got nobody to click you while you walk around the streets? Take a mirror selfie of your street style and use this hashtag!
9. #Coffeenclothes
Love coffee? Next time you go out for a cafe latte, don't forget to click a picture of your coffee cup, your sunglasses and other Instagram worthy accessories… all in one frame!
10. #Personalstyle
You'll see this hashtag being used by a lot of big fashion bloggers. If you're not dressing up, especially for an Instagram post, and you're actually dressed for yourself, it counts as personal style. Go on and show your followers some #personalstyle, ladies!
11. #Fashiondiaries
Though 'diaries' are kinda private, you can use this hashtag the next time you post about a DIY or a fashion hack that you tried. Or maybe in a post about a dress or an outfit that you feel strongly about! We guarantee more views on the post!
12. #Styleblogger
Have your own blog about fashion and style? This hashtag will ensure your posts are more visible to your target audience!
13. #Trendalert
Spotted a new trend? Want to style it for an Instagram post? Looks like you know exactly which hashtag to use!
14. #Stylediaries
Make your Instagram account like your personal style diary – to document all your stylish escapades, use this hashtag!
15. #Fashionweek
You'll see this hashtag in A LOT of posts by fashion enthusiasts and bloggers when various fashion weeks are on. Don't forget to use this tag on the pictures you click while attending fashion week!
16. #Instafashion
Keep pace with everything fashion on Instagram with this hashtag. You can also tag all your flat layouts and other style inspiration posts with this! How cute!
17. #Stylegram
Whether it's a pair of summery sunglasses you just invested in or a pair of heels you absolutely love, you can use this hashtag to increase the visibility of your pictures.
5 Fashion And Retail Brands Killing It With Their Fashion Hashtags
Speaking of the inspiration, so let's take a look at a few brands on the Instagram that know how to use hashtags to their advantage. You don't have to be a big name to be on the top of your hashtag game- you just need to use the tags that are best for your brand. Each and every business has to start somewhere, and these accounts know how to use hashtags for Instagram!
#1 @americanstyle
This is a great example of a post where hashtags are the main event. There's nothing wrong with keeping your hashtags separate from the rest of your caption, but this style is always good to use once in a while, too. Notice how this post uses some hashtags that indicate the account's industry and some that are specific to this brand.
#2 @brantu_official
This post uses hashtags to indicate location as well as industry. Including location in your hashtags is an effective method, as it helps your brand to connect with local audiences. And it gives your followers a unique insight as to where your brand is located, which can help your Instagram community to feel more connected with your brand.
#3 @tatianatretyak_brand
Many of the hashtags used on this post apply specifically to the clothing item featured in the video. This is a good tool to use when advertising a specific product, as seen above. Additionally, this business uses its brand name as a hashtag, which is a popular technique among businesses on Instagram. Very few, if any, other accounts are likely to use the hashtag #tatianatretyak on their posts – it's unique to this brand.
#4 @imannigeria
This post also uses hashtags to indicate the product being featured, as well as noting the brand's location through hashtags. These specific tags are paired with general hashtags, such as #fashion and #fashiondesigner, which demonstrates a good combination of unique and broad hashtags.
#5 @puffsandfrillsuk
Finally, this post includes hashtags that zero in on the type of retail brand that owns this account. For example, the hashtags used in this post will be effective in attracting users who are interested in online shopping and boutique stores. These classifications go beyond a simple #fashion hashtag. However, the brand also uses hashtags such as #shopping and #retail – these are effective uses in giving your post a broad classification, but it's a good idea to use them in combination with specific hashtags, as is done in this post.
Wrapping It Up
So, what's your plan now? Are you all set to fire up your Instagram account with some amazing fashion images and effective hashtags? Keep this guide handy, follow top travel Instagrammers, and if you want to generate more hashtags, then you can use the Predis.ai hashtags generator tool to generate some of the trendy hashtags in seconds!
Fashion hashtags on Instagram can be a great way to promote your brand and get your products noticed by potential customers. By using relevant and popular hashtags, you can increase your chances of being found by people who are searching for new fashion trends and styles.
Hashtags can also be a great way to connect with other fashionistas and create a community around your brand. By using hashtags, you can find and follow other users who share your interests, and they can find and follow you back. This can lead to some great networking opportunities and help you build relationships with other influencers in the fashion industry.
So, if you're looking to promote your fashion brand on Instagram, be sure to use hashtags!
Do you want to know the best photography hashtags that every photographer should use? Click here to check 350+ best photography hashtags.
For more social media tips and updates, follow us on our Instagram!