With over 60% of the world's population using social media, it is evident that you need to build your presence on these platforms. And with so many social platforms to handle at the same time, it's easy to become overwhelmed.
This is the reason why people invest in social media management. Whether you want to increase your Instagram follower count, increase engagement, generate money on Instagram, or even sell things on Facebook, you'll need tools to help you get there.
Buffer and Hootsuite are two of the most popular social media marketing solutions.
Both are feature-rich tools that wowed social media users. But which is best for you?
Ultimately, the answer is "it depends."
Buffer and Hootsuite take quite different approaches to manage your social media accounts and scheduling updates. They have also taken diverse approaches to product development and have distinct objectives for the feature sets they provide.
So, let's take a short look at what these tools have to offer.
What is Buffer?
Buffer is a simple and user-friendly application for posting information to social media platforms. It's easy to set up and begin using a Buffer account. The tool's principal strength is its exceptional simplicity of use.
Buffer has a plethora of capabilities for data analysis and report generation. It also makes strategic recommendations for expanding social reach and engagement. It also works with the most recent social features, such as Instagram Stories.
What is Hootsuite?
Ryan Holmes founded and launched the Hootsuite social media management platform in 2008. Its features include content curation and post scheduling, which cover the majority of areas of social media administration. It even has specialized analytics functions for measuring ROI.
The tool has a simple design as well as a user-friendly dashboard. Here you can see all of your social media campaign statistics. It has team management and collaboration features, as well as the ability to interact with a variety of third-party programs.
Buffer vs Hootsuite: Key Features Comparison
Both Hootsuite and Buffer integrate with the majority of the prominent social channels; however, their primary focus is different.
In this section, we'll compare the features of both of these tools. It will ultimately help social media marketers to decide which is ideal for them.
Buffer vs Hootsuite #1. Posting and scheduling
Buffer and Hootsuite both allow you to publish to your social media profiles. Both platforms also allow you to schedule posts ahead of time and customize them in real-time.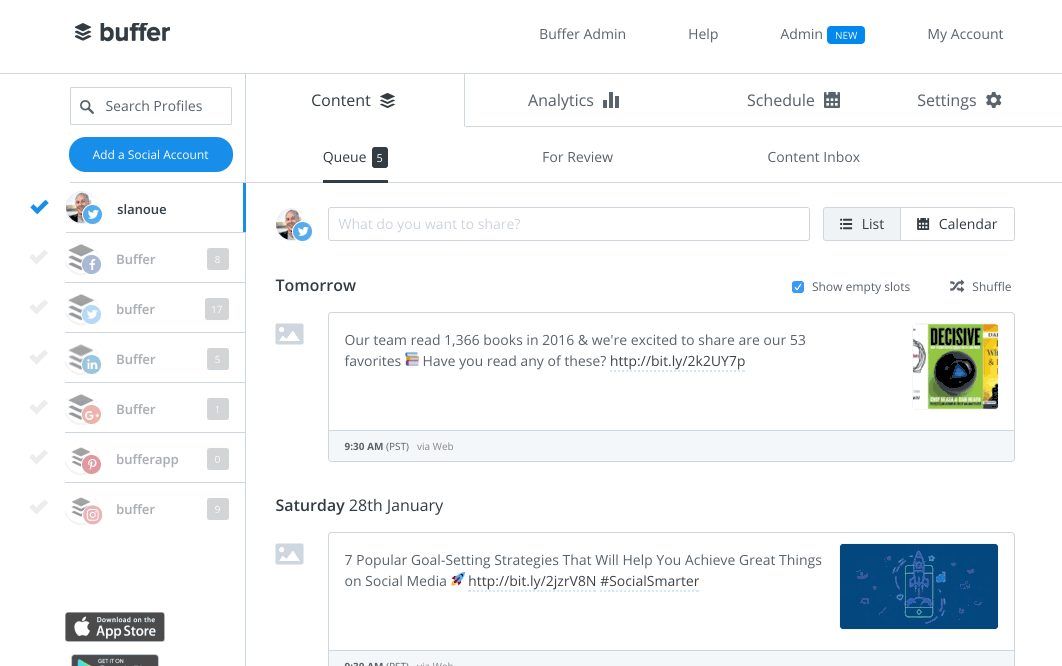 When it comes to scheduling, these applications take different approaches. The Buffer Queue, which provides a personalized timetable of all your posts, is also available from Buffer.
Buffer's free account limits you to 10 posts per social media account. Buffer has you covered if you want to get a preview of the post you've scheduled. However, it is only available with Business or Pro subscriptions. Buffer offers monthly, weekly, and list views.
Hootsuite allows you to manually tailor and schedule posts. However, it also offers an auto-scheduling tool that determines the ideal time to publish the post. However, if you choose this option, you will not be able to choose the order of the postings.
Hootsuite offers a maximum of 30 scheduled posts across all social media networks. It also features a draft mode that allows you to save unfinished posts. The Hootsuite Planner only displays one week's worth of scheduled content at a time.
Hootsuite and Buffer are tied for the top position in this category. Both offer excellent scheduling and publishing capabilities. While Buffer is simpler to use, Hootsuite provides more options for content scheduling flexibility.
Buffer vs Hootsuite #2. User interaction
Hootsuite and Buffer take quite different approaches to manage social media conversations.
Buffer manages social media interactions using a completely distinct app. The Buffer Reply app has a lot of useful features, but the main drawback is that it's somewhat pricey.
The basic edition of the Buffer Reply app costs $50 a month. But that's only for one social media account.
If you want to grow then you'll need to add users at a rate of $25 per user every month. Therefore, you'll have to pay $10 per account every month for extra social media accounts.
Despite the costly price, we believe the software is worth it for the variety of services it provides. You can assign tasks to certain team members and make notes for them. In addition, the app records activities in real-time.
Slack and other corporate communication platforms are integrated into the app. If you upgrade to the Business plan, you'll get access to keyword monitoring tools as well as automation options.
When you use Hootsuite, social conversation management is incorporated right into the software. Managing messages and comments gets easier with Hootsuite since you can design the dashboard as you like.
Even the free edition of Hootsuite has conversation management functions. Another fantastic feature is Hootsuite Streams. It enables you to participate with and reply to social media channel activity in the same way that you would on the original site.
Streams, in my opinion, provide this feature with a distinct advantage. In brief, Hootsuite provides all of the tools you'll need to respond to and track your social media audience in real-time.
Buffer Reply has a plethora of capabilities that are suitable for small businesses. Hootsuite, on the other hand, is suited for large firms wishing to grow quickly.
Buffer vs Hootsuite #3. User Interface
The biggest obvious difference between Hootsuite and Buffer is in their user interfaces.
Buffer's interface is simple and elegant, and it displays a queue of all social media postings that are currently scheduled. It's simple as well as allows you to concentrate on what really matters: your scheduled content.
Hootsuite, as previously said, has additional features. So, while the Hootsuite dashboard is not as appealing as Buffer's, it offers more functionalities.
You can, for example, you can use it to :
Manage all of your social media accounts
Check social timelines
Track remarks across channels
Having said that, we must acknowledge that the Buffer UI is more user-friendly and contemporary. The simple dashboard allows you to easily manage and amend all scheduled postings. Hootsuite's strategy, on the other hand, has a steeper learning curve.
Therefore, Buffer is the best option for individual users and small teams in terms of simplicity and convenience of use. Hootsuite, on the other hand, is better suited for larger teams with a more extensive social media marketing strategy.
Hootsuite's design is more customizable, but Buffer's UI is more straightforward and simple to use.
Buffer vs Hootsuite #4. Reports and Analytics
Social analytics and reporting should be an important part of any social media strategy. You risk losing out if you don't keep track of what works and what doesn't. Buffer and Hootsuite both provide a plethora of options for analyzing audience reactions to your social media activities.
Buffer, as previously said, is primarily a content publishing platform. As a result, it only provides metrics for posts made using its interface. Therefore, you will not receive in-depth reports on how the posted content on the native social applications performs.
However, social media managers will like Buffer's user-friendly Buffer Analyze tool. It allows you to monitor performance based on interaction, post type, and reach.
Buffer is a mobile app that allows you to track your social performance while on the road. You can also export all of the data for additional study.
Again, both Buffer and Hootsuite have analytics tools. However, Hootsuite comes out on top since it offers statistics on all social postings, even on the free plan.
Buffer, on the other hand, is restricted in its capabilities and only works with content posted from the tool. There's also the problem that it doesn't provide any analytics services on its free tier.
Buffer vs Hootsuite #5. Managing teams
The number of individuals on your social media team can influence whether you choose Buffer or Hootsuite. Both, as scheduling tools, allow you to assign certain accounts to specific team members.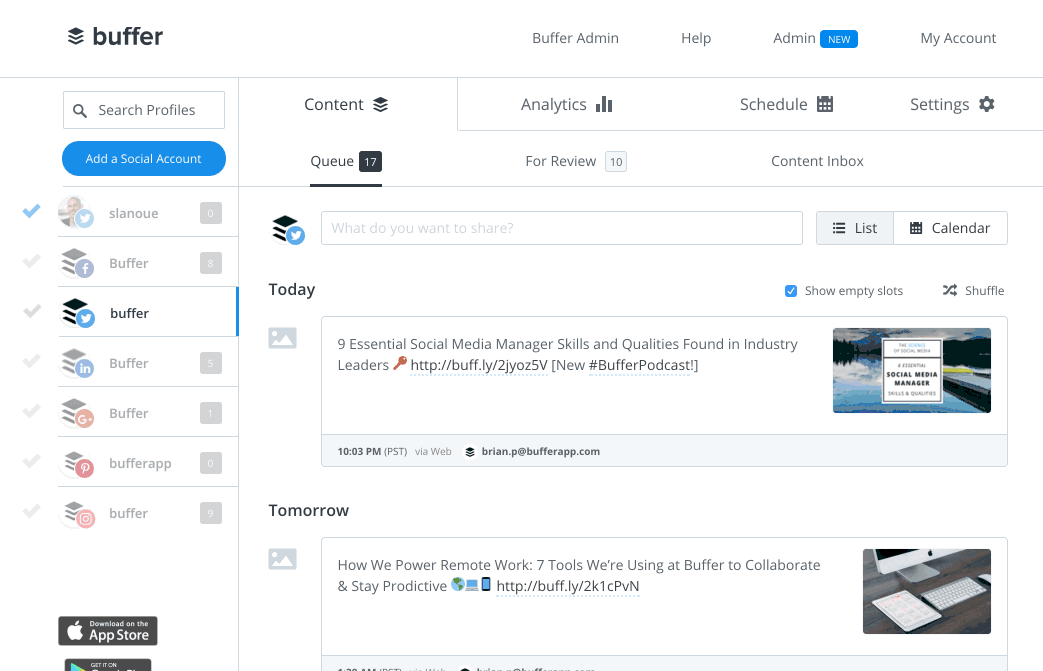 When collaborating with Buffer, you must manually pick which social media accounts your teams will administer. You'll have two authorization levels on this platform: Contributor and Manager.
You can use these to either allow contributors complete posting rights or to maintain the requirement for permission before publishing.
This straightforward approach is now appropriate for smaller firms with a limited number of social accounts. Hootsuite offers additional services to provide for larger organizations with a strong social media presence.
With Hootsuite, you can divide your teams into individual members or groups. On an organizational level, you can even form groups of teams. This makes it easier to enable large-scale marketing activities.
In terms of collaborative functionality, both platforms are equivalent. The only distinction we can see is that Buffer offers a more clear approach that is better suited for smaller teams. Hootsuite is the superior option for larger enterprises.
Buffer vs Hootsuite #6. Calendar view
The main function of social media marketing tools is to schedule posts across many social media networks. Having said that, practically all social media management solutions have a calendar view. It basically shows the days and times when posts are planned to be published. It is critical to be able to move posts on the calendar quickly and easily.
Buffer and Hootsuite both allow you to schedule posts ahead of time that will appear on a content calendar. However, there are a few minor changes in how each platform schedules posts and how they appear in the separate content calendars.
Buffer's content calendar is a new addition to the platform. In reality, it is still in beta at the moment. Nonetheless, it is still quite useful.
After you've scheduled your posts in your calendar, you can move the post blocks to other times by clicking and dragging the blocks.
Hootsuite is one of the greatest platforms in the market, and it has always included a calendar view. Every one of your posts is simply displayed week by week. You may also reorganize them with a simple drag and drop.
However, you cannot view the entire month at once. Given that most other social media marketing tools do, this is a significant drawback.
Buffer vs Hootsuite #7. Bio-Link feature
Both platforms let you construct bio link pages that you can use in your social media bios.
Buffer allows you to construct branded landing pages that route users from social media to a page where, presumably, you want them to take some form of action.
You can also design store pages that resemble Instagram shop pages. Alternatively, you may utilize these landing pages as bio links to highlight multiple links in your social network bio area.
The "oneclick.bio" tool in Hootsuite allows you to create a link tree directly from your dashboard.
You can create an Instagram landing page that leads to:
Landing pages on your website
Products on your store
Other connections on your website.
You can use Instagram photos to make an infinite number of customized pages.
Buffer vs Hootsuite #8. Pricing
Buffer and Hootsuite both provide restricted free services for customers with simple scheduling needs. You can link up to three social accounts with a single user in each tool. Buffer gives you 10 scheduled posts for free, but Hootsuite gives you 30.
Paid options begin at $15 per month for Buffer (their Pro plan) and $29 per month for Hootsuite (Professional plan). However, at this level, comparing the two applications becomes more difficult.
On this subscription, Buffer has a limit of 100 planned posts across 8 social accounts. But Hootsuite has an infinite number of posts across ten social accounts.
The rest of Buffer and Hootsuite's plans are aimed at businesses of various sizes.
Buffer named its pricing plans as per the types of businesses it feels will benefit from them:
Small Business is $99 per month
Medium Business is $199 per month
Large Business is $399 per month
Enterprise is $Custom per month
Hootsuite's higher-tier pricing options include:
Team ($129/month)
Business ($599/month)
Enterprise ($custom/month)
Comparing Buffer and Hootsuite pricing plans is similar to comparing apples and oranges. Buffer is clearly the less expensive of the two.
However, Hootsuite provides comprehensive social media management capabilities at a reasonable price. Furthermore, it requires a lengthy trial time for you to try both tools.
Buffer vs Hootsuite #9. Customer Support
In terms of customer service, both tools provide a satisfactory experience. Buffer is active on Slack and Twitter, and it also offers email support. Hootsuite offers a live chat component and is active on social media platforms.
To assist new users, Buffer provides a variety of tools such as blogs, guidelines, FAQs, and online tutorials. They even provide webinars on a regular basis where corporate specialists teach people how to get the most out of social media.
Hootsuite offers its own academy where users can learn about social media marketing through free and paid courses. There are courses for both business teams and individuals. Some of these courses even provide certifications and can be used to earn college credits.
Both tools are equivalent in terms of customer support, yet Hootsuite is the winner in this category. Its live chat feature allows for real-time problem-solving. Buffer's email replies, on the other hand, take longer.
Buffer vs Hootsuite #10. Available integrations
Hootsuite much exceeds Buffer in terms of the number of integrations.
Buffer has roughly 60 integrations, whereas Hootsuite has around 140.
Hootsuite offers tools for digital marketers such as ad management, marketing automation, and influencer marketing. With so many integrations, there isn't much you can't do with it.
Hootsuite unquestionably gets the top spot in this category. Its extensive list of integrations ensures that your social media needs are met without any problem. Buffer isn't far behind, but it's still not on the same level as Hootsuite.
Supported social media channels (Table)
Buffer allows you to manage Facebook pages and groups, as well as LinkedIn pages and accounts. If you have the Pro version, you can work with and manage up to eight different profiles. Buffer does not support YouTube; for that, you must rely on Hootsuite.
Hootsuite interfaces with all of the channels mentioned above, as well as WordPress and YouTube. You can use it to schedule posts and content, monitor timelines and manage all social media feeds.
| | | |
| --- | --- | --- |
| Social Media Platforms | Buffer | Hootsuite |
| Instagram | Yes | Yes |
| Twitter | Yes | Yes |
| Facebook | Yes | Yes |
| LinkedIn | Yes | Yes |
| Pinterest | Yes | Yes |
| YouTube | No | Yes |
Final Thoughts
We hope this extensive Buffer vs Hootsuite comparison helps you make an informed decision. Overall, both are robust tools for managing social media content.
Buffer is the ideal option if you're searching for a simple application that allows you to publish social posts.
Hootsuite, on the other hand, is ideal for larger enterprises that want a comprehensive social media management solution. You can use even use the combination of both the tools if required.
Since we are here, Are you looking for something much more revolutionary which will even help you make content!

Sign up for Predis.ai today! Manage your social media channels and improve engagement by designing interactive posts within a few clicks.