If you are on an aim to become a fitness influencer on Instagram, you are not alone. The fitness hashtags industry has now gained an incredible reputation among Instagrammers and is now one of the most popular niches for influencers.
You must have probably heard about the power of #hashtags and how they can get you closer to becoming an Instagram influencer. But do you really know which fitness hashtags you should be using and how you should be using them? So, let's find it out!
The Best Fitness Hashtags For Instagram
We took the fitness niches on Instagram and will give you a list of the best hashtags to use on all your related posts. From building hashtags to motivation and yoga, we have everything you will need to be trending and increase your Instagram followers.
Top FITNESS Hashtag
Let's check out with a set of the most popular Instagram hashtags for fitness in general. These are some of the best fitness hashtags you can use to reach lots of health. And fitness enthusiasts with each and every post.
Include a couple of these combined with some other more niche-specific fitness hashtags for Instagram. To create a relevant set of hashtags that will help you to reach the right audience.
#Fitness #Gym #Fit #FitnessMotivation #InstaFit #FitnessAddict #FitnessModel #FitLife #Fitspo #FitFam #FitnessJunkie #FitBody #FitGoals #FitnessChallenge #FitMom #FitnessLifestyle #Fitspiration #IGFitness #FitnessGirl #FitnessDedication #FitnessFreak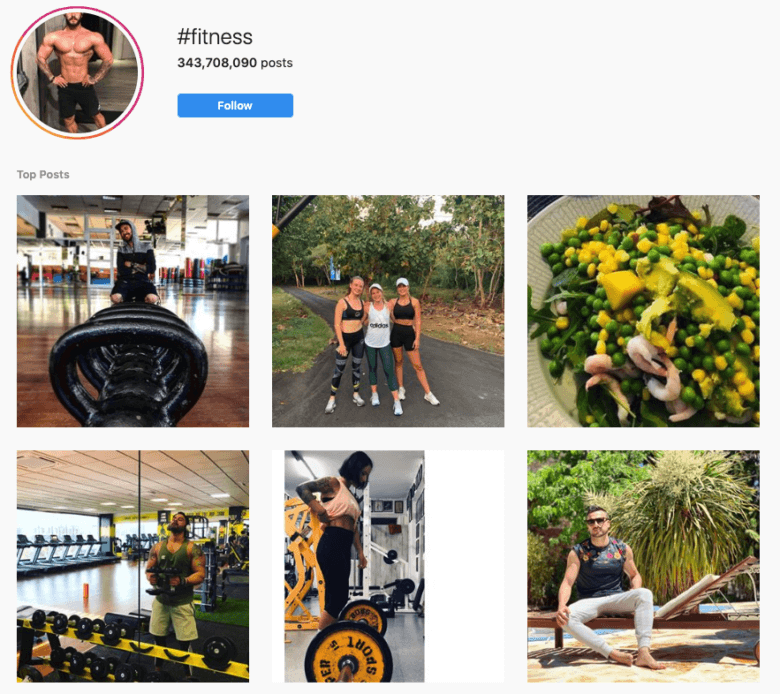 Top HEALTH Hashtag
Sharing your personal healthy lifestyle and habits on Instagram is a major way to keep your fitness community inspired and engaged. You can also try some of these wellness and health-related hashtags. Which includes on your breakfast pictures, morning routine, healthy recipes, nutrition tips, and meditation.
#HealthyChoices #HealthyLifestyle #HealthyEating #Healthy #HealthyFood #HealthCoach #HealthyLiving #HealthIsWealth #HealthAndWellness #HealthySnacks #HealthyRecipe #GetHealthy #Nutrition #CleanEating #MindBodySoul #HealtyTips #EatHealthy #Health #HealthyDiet #NutritionTips
Top MOTIVATIONAL Hashtag
As of now, lots of people used Instagram for encouragement and motivation to start a great healthy lifestyle, explore a new exercise or lose weight approach.
Motivational posts are very popular on Instagram. Using these relevant fitness hashtags will also help you to create a following of inspiration seekers who are ready to give your posts the love they usually deserve. Try some of these.
#Motivation #WorkoutMotivation #JustDoIt #NoExcuses #DreamBig #WorkHard #MondayMotivation #GoalSetting #YouCanDoIt #FitnessGoals #FitnessJourney #GoGetIt #FitnessProgress #NeverSettle #GymMotivation #Motivated #FitnessQuotes #GetFit #FitnessMotivation #BodyConfidence
Top YOGA Hashtag
Yoga, in today's scenario, leads the movement of mental health and body positivity. Instagram is the perfect place for all Namaste seekers to get their day-to-day dose of guidance, motivation, and ideas for better practice.
You might be starting your yoga journey or looking to share your passion. And inspire other people to get some yoga in their day-to-day lives. Sharing your posts along with these fitness hashtags will help you to reach all of those yogis and connect with them.
#Namaste #Yoga #Yogi #YogaLove #YogaAtHome #EatSleepYogaRepeat #YogisOfInstagram #MentalHealth #Flexible #Bakasana #YogaPractice #YogaGirl #YogaEveryday #YogaChallenge #YogaPose #YogaInspiration #YogaFlow #YogaLifestyle #YogaGram #YogaJourney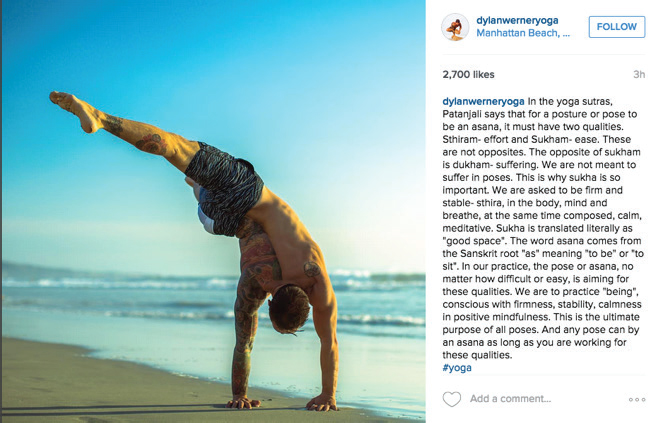 Top BODYBUILDING Hashtag
If you are a proper bodybuilder, documenting your progress is a major way to encourage your followers to get involved. People who are mainly looking for routines, tips, and new bodybuilding trends are all over Instagram, and you want to be there for them.
If your posts are all about muscle gain, heavyweight lifting, and body transformation, then use these bodybuilding hashtags for Instagram. To get you in front of people who are exactly for your type of content.
#BenchPress #Pullups #DeadLift #AbsWorkout #StrenghtTraining #StrongBody #BeastMode #LiftHeavy #GetBig #BodybuildingMotivation #Gains #MassMonster #Bulking #BodyBuilder #BodybuildingLifestyle #LoseFatGainMuscle #BodyTransformation #Bodybuilding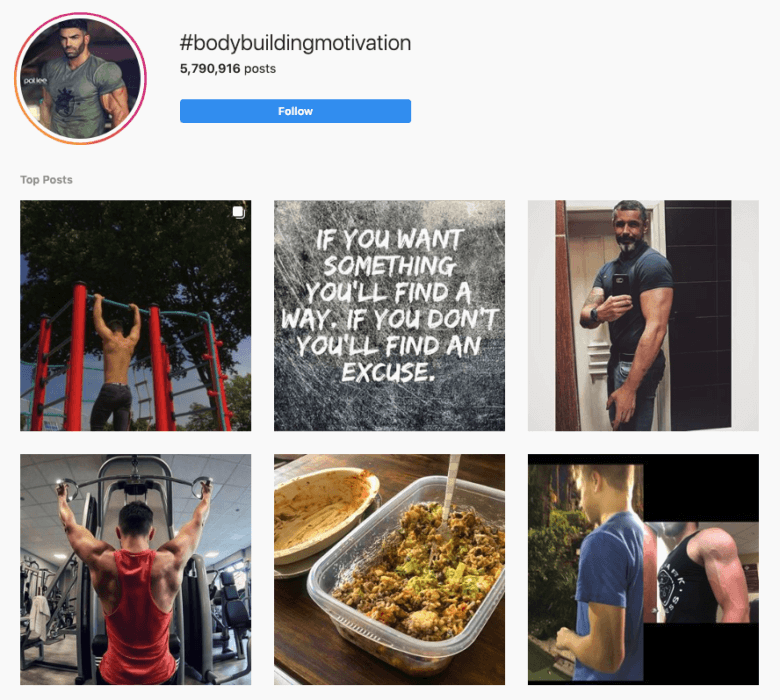 How to make hashtags work for you in top fitness hashtags
It is all good and well to know which hashtags will help you to increase your visibility and get more eyes on your brand page. Hashtags help to make your post searchable by category and location and even help you to connect with people who want to find your brand.
One of the major social media platforms, Sprout Social, found that Instagram posts with at least one hashtag tend to receive around 13% more engagement.
But it is not quite as simple as throwing on a few hashtags on any old post. So, here are a few of our top tips to make hashtags work for you.
Find your brand's best time to post
Sure, you might think that chiselled abs and the newest Lululemon gear is sexier than the data, but leveraging when your users are actually online is what will set you apart from your competition.
Keep a repository of hashtags ready to go.
This simple tip will save you oodles of time. Keep a simple note with your standard hashtags – you could even have a few versions for the different kinds of posts which you regularly use to post.
A simple note on your phone or computer will do the trick. It also means that if and when your team grows, you can easily share the preferred hashtags.
You will still need to adjust and refine each post to ensure the hashtags are relevant to each post, but at least this will give you a better head start. You don't want to simply use the exact same long list of hashtags again and again, but having a list to choose from can help if you are more like many small business owners out there and trying to do it all yourself.
Think about how many hashtags to use on each post
There may not be a perfect number that merely applies to all the Instagram accounts, industries or brands, but it is worth having a strategy to help decide how many your users seem to prefer.
Thirty is the limit of hashtags as of now that you can use on a post, but that is not to say more is better. In this Bustle post, they suggest there is no such magic number, and it is all about finding what works best for you.
Sprout Social also suggests looking at how many posts similar brands are using, and they also track your engagement using a different number of hashtags.
Get specific
While popular hashtags suggest that your posts will be seen by the masses, there is the danger of using something too broad and having your posts get buried in an ocean of content.
Try using more specific hashtags or niche hashtags if you want to reach more potential customers rather than just more eyeballs. So, if you are looking for a smoothie bar in Bondi, Sydney, try #cleaneats #sydeny #BondiHealth. Using the location-specific tags also helps there – ensure people know where to find you.
7 Quick Tips to Build an Instagram Hashtag Strategy
In the year 2022, hashtags are a major way to reach a new audience on Instagram. They require very little effort and no cash investment as well, but they can even lead people who may be interested in your content right to you.
But how do you choose the right Instagram hashtags for your post? How many should you use, and where should you put them? Whether you have a sleek video advertisement or image you want to share, the right Instagram hashtags strategy, alongside an awesome video maker and story editor, can surely help.
So, here are the seven quick and effective tips to up your Instagram hashtag game:
1. Be conscious of the number and placement of your hashtags
In a recent study survey, SocialInsider also examined 70000 Instagram posts to determine how hashtags are affected their performance. What they found was the overall, posts with 7 or 30 hashtags hidden in the caption got the most engagement.
2. Hide your IG hashtags in the caption
If your brand is in any of the categories where hiding your hashtags in the caption is most efficient and effective, you may be wondering: how does one hide a hashtag?
Instagram limits the amount of text shown on your feed and hides the additional text behind a "show more" link. Your goal is to get your hashtags to appear after that link. The issue is, when you are keeping your captions short and sweet – always a good idea – how do you add enough text to keep your hashtags hidden?
The trick is to add line breaks. But this is a little harder than it sounds exactly because the instagram app tends to wipe outline breaks added to the text being inputted directly to the caption editor.
The solution is to type your caption in a different text editor. Type a character, then a line break, then another character, then another line break until you have at least five lines. Add your hashtags underneath, and then copy and paste the whole thing into the Instagram caption editor.
3. Find popular hashtags related to your brand
Check out the hashtags different brands And influencers like yours are using. People interested in related content will be searching for those hashtags and will thus be more likely to come across your content. It is a great way to make sure your posts reach appropriate audiences.
At the time when you type a hashtag into the caption editor, Instagram will automatically tell you how many posts exist that use that hashtag. You can also use a hashtag finder or generator tool to help you discover hashtags related to your content.
4. Search Instagram hashtags before using them
Before you use a hashtag on Instagram, ensure you search it yourself to see who is using it and what kind of content comes up. Just because a popular influencer or brand uses it does not mean it is appropriate for your content.
5. Combine popular IG hashtags with smaller niche hashtags
It is the eternal dilemma of online advertising: should you use a popular search term or hashtag, which may have a wider reach, but a lot more competition? Or should you use a smaller niche one, which may not appeal to as wide an audience, but is more likely to be seen by people looking for that specific kind of content?
The answer is both!
Popular health and fitness hashtags can certainly put you on the map, but there are a lot of other Instagrammers on the map. Niche or location-based hashtags help you to get stand out to the audience that is most relevant to you. Use a combination of both in each and every post.
6. Keep a list
You don't have to reinvent the wheel each and every time you post something on Instagram. Compile a list of different hashtags which are relevant to your brand. That way, when you create a post, you can consult the list and choose some of the appropriate hashtags without having to conduct some exhaustive research all over again. You can also mark on this list how many times you have used each hashtag.
7. Switch it up
Varying your hashtags makes it possible to reach a wider and highly diverse audience. People who usually search #sailing are not necessarily the same people who search for the #sailboats, but yes, if you are a sailboat rental company, then it is a good idea to reach all of them. Using different hashtags in each post gives you the opportunity to try out the different hashtags and see which one gets you the most engagement.
Always remember that Instragammers use hashtags to find content that helps to build interest and inspires them. By employing these simple tips and tactics and using a wide range of relevant hashtags, you will help the people most interested in your message find you – and, hopefully, become devoted customers and followers.
Conclusion
So, what's your plan now? Are you all set to fire up your Instagram account with some amazing fashion images and effective hashtags? Ensure to keep this guide handy, follow some of the top fitness Instagrammers, and if you want to generate more hashtags, then you can use the Predis.ai hashtags generator tool to generate some of the trendy hashtags in seconds!
Do you want to know the best photography hashtags that every photographer should use? Click here to check 350+ best photography hashtags.
For more social media tips and updates, follow us on our Instagram!