670+ Instagram Username Ideas To Win The Instagram Game in 2022
Instagram has quickly become one of the most popular social networking platforms on the planet. Your Instagram username is crucial. It's often one of the first things people discover about your personal or professional brand. It can also shape people's initial perceptions of your account, so it's important to come up with something catchy, but it should also be engaging, relevant, original, and discoverable. The list of parameters is endless. Don't worry; we're here to assist!
We've put up this handy checklist to make the process of finding the right Instagram username a bit simpler. We'll go through some of the best Instagram usernames that you can use. So, without further ado, let us begin!
What is an Instagram Username?
Your Instagram username serves as your online persona. It is unique and exclusively linked with you. It communicates your individuality as well as an identity to your audience. When you create an account on Instagram, you are asked to choose a username. It must be unique since Instagram does not allow the same username in several accounts. You can configure and alter it afterward.
Your username is included in the URL of your Instagram profile. To discover your profile and follow or contact you, another user must input your Instagram username. The name appears in the upper left corner of your profile. Your Instagram username should be unique; therefore, we'll guide you on how to choose the ideal username for your profile.
Why is Your Instagram Username Important?
The answer is straightforward: your Instagram username is essential because Instagram is significant. Instagram is, without a doubt, the most significant social media channel for companies and brands. Let us elaborate on that remark.
Instagram has 1 billion monthly active users, with 90% of those users following at least one company or brand. That implies that at least 900 million Instagram users connect with companies and businesses each month. In this count, we haven't even added Instagram advertisements!
These Instagram users will recognize your posts in their timelines and search for your account. They will share your content with friends based on the username associated with your Instagram account. Furthermore, it will be the first image many people get of your account. It will also be intrinsically linked to your company or brand as a whole.
Most Popular Instagram Username Ideas
Here are the best 50 fashionable Instagram usernames for boys and females for your Instagram profile. Simply copy and paste it into your profile. If no one has claimed it yet, it will apply to your account.
If the name is already used, we recommend that you add a special character so that Instagram accepts it; still, if that is not accessible, you can use a similar name. Here are the most fashionable as well as most-liked Instagram usernames.
1. Aesthetic Instagram Usernames
Heaven Angels
Valiant Prince
Sizzling Teapot
Blooming Flowers
Princess Army
Queen Of Diamond Eyes
Ludacris Lunacy
Girl Ganges
Precision Painters
Idreamofunicorns
Morning View
Eye Lover
Prince Heaven
Rose Catcher
Natureangel
Bird Calls
Pretty Pumpkin
Sigma Studio
Artemis
Princess Taste
Dolly Dolphin
Cute Sky
Princesskingdom
Loving Brides
Loversland
Soothsayer Princess
Divine Angels
Balance Of Beauty
Paint Perfection
Shinygirl
2. Cute Instagram Usernames
WonkSidewalk
butterfly
punchWhite
Melody
MeMiss
Cuddly-Wuddly
greek god
Sensile
princess cutie
Mezzanine
Awesome Beauty
princess
Cherry-Picked
BrainIndependent
Missie Lucky
Sweet Quail
Doom
Fantastic Fun
Bad Captain
sparkles
Bunny Passion
Teasing Puppy
Mr. Peppermint
Santas Number1 Elf
Red Queen
Sweet Whimsy
Laughing Bird
spellboundead
Crazy Cat Lady
Honeybear
Angel Wonderland
Dark Horse
sparkly Geogony
Bodhi
Rose Catcher
BrainIndependent
The Family Knot
purrienne_
Teddy Bears
Lithogenous
Cuddle Bear
Tiny Wrestler
Succour RoseLife
Parisyllabic
Yes Time
Progenitor
Lil Cutie
hell rider
Sugar Babies
Cute Energy
Ufo Believer
Anergia Pharology
Sugar Momma
Teenhug
Cute As Ducks
Funky Monkeys
openair
Chin Chillin
Enchanted Ex
TrollBorn
OverKill
Contraplex
neptoons
Cool pineapple
Alien Brain
Snuggle Kitty
Friedchocolate
Colonial Cousins
Blue Cobras
macho
Babushka
weekendlust
Squiggly Munchkin
Cute light
Supermagnificentextreme
HoneycombCrazy
Tiny Heart
Awesome Whisper
Kitty Bloom
3. Instagram Usernames For Girls
Triple Adorable
lorindavi
Strange Evil
SlateGirl
RedKingdom
dragon rider
Say cute
dragon rider
RictalGirl
Angel Wonderland
Space Walker
Capri Crown
Musroldbox
GirlGonoph
loversland
Angel Snowflakes
Rambler
Training Tent
Panic Point
Zenith Lead
Top to Follow
heart hacker
Inpainsincethen Doll
CyberWorrior
Adman Woman
Gold Grace
Triple Adorable
GirlRegnala
Daisy Louise
Planted Brain
Glamorous
Shy Snicker
Little Trout
Sensiferous
Secret Giggle
Nucking Futz
I Wisher
darksun
White Sand
Scrapper
Danismriah
Twinkle Night
Dave Days
Angel Honeybear
Cute light
Primogenous
oneofakind
kartier klass
Spicigerous
Crazy KupKakes
Lemon Honeypie
Angel Froggie
basiclush
Feature Swag
Bold Style
queentears
Arrow
Lil Cutie
4. Instagram Usernames For Boys
Glitter
Loose Ex Comfy Baby
Nightmare
HyperFace
PrincessKingdom
Currycomb
Economacy
Ice Geek
Pensiveze
hearthacker
Gold unseen
Muro45
Marabout
Scarface
poemsporn
Moon killer
Just As Planned Brecciate
Rainbow Pearls
Tiger Kitty Fate
Opisometer
Elegant Point
Love Insta
Entertain me
Hypnosis
Surfing Scooter
Crash Override
fleurlovin
Dark Horse
Omphalos
Broomspun
swagyboy
Sweet Weapon
PenoyPride
Sardonyx
Broomspun
handsome banana
Sinister
Nice Touch
pretty potato
Mind Probe
Pomander
Obvious Dump
squishypoo
Shadow
Kitty Melody
Mistalee
pineapple
Instant Insta
ArtoisQuoit
Bellswas
Gorgeous sweetie
georgeyves
Dear sweetie
Tickle Star
Hustle Flyswat
true.living
Swag Grant
Hydrospace
ghost rider
Jelly Cuddles
Rose Catcher
PilautKeen
Gamer Slayer
twisterw
Cupid
5. Cool Instagram Usernames
mintandrose
StudMonkeyBikers
RedOcean
Snowy Secret
Star Shadow
rowiethelabel
Big Bites
Cool Whip
Sweetie
publicbutter
IWasn'tBorn
Panic Point
Silly Pie
Misnaming Love
CyberWorrior
Doodles
Angel Doll
Beans
Bad Captain
I World Angel
Gamer Tales
babynative
punchWhite
Sugary pie
Angel twins
Rare Rips
Hustle Flyswat
Gunhawk
mr. mister
Norcomm coastbycoast
Red Cream
doyoutravel
Mollen Mist
DanceAngel
Veal Deal
Blade Woman
wizard
Crazy Anyone
Angel Memories
White Honey
thesassyclub
Work of holly
Deal Cereal
georgeyves
Planet Zoom
Beauty Tech
drunkbetch
Girls of Neptune
alwaysaugst
Facer_Racer
zuluandzephyr
Lixiviation
Teen_Boo
thedad
Beauty Babe
Connate
DosentAnyoneCare
Tweety
Angelhearts
Peppermint
Rigger Scoter
6. Swag Instagram Names
Show Runner
Deal Looser
KamueSavor
Hypnosis
Screwtape
Armando Broncas
Rock
It Wasn't
Misty Moles
Groovyzemc
Cerberic
Nature Nut
Pill Head
Secret Fruity
Honey Doll
Dear angel
Cyborg
glimmer
Smart Swag
comefeelme
Manhattan Men
RawrginMajor
iiluckyvibes
Zero Charisma
Genius-General
Angel Snowflakes
morelight
Soft Mambo
Dimples
astrobabe
Kitty Cute
GawdOfROFLS
sparkling lace
Seeker
Bee Grey
Thalassic
PoPkiss angelic
dropout
Solonist
Angel Cherub
Little Gorilla
Dimples Muffinhead
little pony
Heart Ticker
Yoyo Guitarist
Deal Anneal
Leave or Left
Honey Blossom
The Prophet
Shining Bright
Apple Honeypie
Glamorous angel
Babykins
Misty Moles
Prometheus
Theosophy
ANONYMOUS
Janus Rising
DrakonfSable
infinity skylines
Lemon Honeypie
lucky mouse
SillybillQuick
Nightmare
7. Memorable Instagram Usernames
The Electric Force
Seven Shots
Low And Slow
The Dream Club
Themilkyweigh
White Sabbath
Laughing Bird
Modest Elephants
Brute Force
Big Secrets
Claudia Clouds
Stroke Pros
Wrecking Crew
In Jail Out Soon
Lust For Life
Hi Bye
Precision Paint Pros
Collective World
Dungeon Hunter
Study Buddies
Intelligent Zombie
Serious Strokes
Bourbon Bliss
Takenbywine
The Happy Single
Honeylemon
Golden Bears
Flying Dutchmen
Lethal Weapons
Sugar Genius
8. Funny Instagram Usernames Ideas
Couldnt Find Good Name
White_Energy
Ineed2p
Funny Fliers
devil' dude
Laugh Till U Pee
devil' dude
Ghostfacegangsta
Oops Lady
Macho Moron
Rambo Was Real
Hairypoppins
Garden Heart
Lol Fool
if only weknew
Boring Nose
cyber warrier
RedOcean
Kokonuts
Kentuckycriedfricken
Skull Crusher
A Collection Of Cells
king of universe
Ariana Grandes Ponytail
Fartnroses
nitch
Unfinished Sentence
punchWhite
betches
Cool dora
Born Confused
Just-A-Harmless-Potato
Google Was My Idea
the_wylde
Crazy Leader
Swag Swamped
Online Hangover
chillhouse
Peterparkerspuberty
squishypoo
Mean Beauty
Anhelation
Loliateyourcat
Swerve
bad_karma
cherub
Fastdraw
Hellboy
dragon rider
Shaquille Oatmeal
FoosLogice
Morgan Freeman But Not
Lowercase Guy
Kitty Melody
publicbutter
Fatbatman
Gorgeous Junk
fragmentation
Yellowsnowman
Freddymercuryscat
Theaverageforumuser
Magic Peach
Angel Girl
CryingRock
porl_brother
Twin butterfly
Ninja
astrobabe
johny sins
Definitely Not An Athlete
9. Attitude Instagram Names
Cross Thread
Frozen
sharing_genes
Jones
Freak Bad
Cupcake Hugs
Tiny Heart
Floating Heart
RandomIdoit
Quintessence
milkyways
AWESOME LYK THaT
Lovely Lads
Lithiumez
Dead Guru
DowskiCouthy
skyeandstaghorn
Wegotism
moonjuice
EnforcerTeen
oliveandjune
Gun mylifeline21
Racer Party
Enigma Septenary
Hippy_Sunshine
Pink Lover
Tacklebox
Roadblock Jungle
Princess Weapon
Honey bean Angel
Cookie BIG SEAN
Sweet Dandelion
Sniper
Swag grant
Sardonyx
Queen Honey Blossom
Tricky Mind
Lovely Lights
Legal Heart breaker
Cute Eyes
sparkly
Fifty Shades of Love
Man of Hearts
Honey Bell
Twilight_Queenbee
celebrated
Dark Horse
Windy Miller
Looney Looser
Sarah
Mr. Lucky
Mike Adamle
Honey Goldfish
Acervuline
withmercii
Sinister
Transformingrow
Sugar Hugs
Silent Eyes
Deal Looser
Crazy Anyone
10. Clever & Classy Instagram Usernames
Fartoolong
Peace Fighter
Past Eraser
You Are So Wonk
Ijustwanttobeme
Silent Singer
Real Name Hidden
King Of Those Who Know
Freak Of Instagram
Hi Bye
Training Tent
Thanoslefthand
Badkarma
Clever California
Bean Never Seen
Drama Creator
Crappy And Greedy
Yesimfunny
Mistake Manager
My Arsenal
Allgoodnamesrgone
Kim Chi
Viral Feeds
Ironmansnap
Fast And The Curious
Born-Confused
Life Is A Highway
11. Creative Instagram Usernames
Twilight Queenbee
Running On Empty
Makunahatata
Spongebobspineapple
Creaturesofcomfort
Momsspaghetti
Omnipotentbeing
Helicopter Number 13
Yoyo Guitarist
Panda Heart
Golden Bulls
Fluffycookie
Follow Me Well
Sizzling Teapot
Ninja Nun
Rocking Rollers
Motionless In Red
Lost Glass Slipper
Hotbutterypopcorn
Wow How
Whos Ur Buddha
Chicken Bacon Ranch Pizza
Little Gorilla
Optimized Brain
Protectors Of Superman
Baking Brain
Wall Hangings
Cheeseinabag
Hawk Insights
Colony Of Cousins
Dontfeedtheunicorn
12. Couple Instagram Usernames
Stolen Hearts
Together Forever
Perfect Couples
Coordinating Colors
U Me We
Pinky And The Brain
Sugar And Spice
Thunder And Lightning
Ren And Stimpy
Spaghetti And Meatball
Hugs And Kiss
2hearts 1 Soul
Made For Each Other
U Me Happiness
Dumb And Dumber
The Brush Buds
Ying And Yang
Butter Halves
Tweethearts Only
Salt And Pepper
Beauty And The Beast
Just U& Me
Bonnie And Clyde
Blood Relatives
Sweetie Pie
Flamin Good Couples
Slayers Together
Fellforeachother
Pizza And Beer
13. Unique Usernames For Instagram
Frustrated Monk
Heyyounotyouyou
Chickenriceandbeans
Fly Like A Rat
Spoke Folks
Pluralizes Everythings
Evil Weevil
Janus Rising
Screaming Eagles
Astonishing Giants
Hero Of Itching
Sugarplum Chum
Lifesaving Slave
Banana Hammock
Tree Walker
Velvetcanyon
Onetonsoup
Fizzysodas
Experimentgoogle
Yellow Menace
Corner To Corner
Toastedbagelwithcreamcheese
Jamba Juicy
Nachocheesefries
Butterscotch Seven
Little Spoons
Seeking Connection
Loveandpoprockz
Baby Bugga Boo
Hogwartsfailure
Unfriendme
14. Instagram usernames Not Taken
Honey Stars
Sequacious
Sugarplum Chum
choexo
Snuggle Kitty
Blanzer
sincerelyjules
rainbowsalt
Little Cobra
Butterscotch Seven
Happiness
glimmer
Triple Adorable
Sugary Heaven
Cupid of Hearts
Celluloid
Fear Swag
Roadblock
blossom
Awesome Dreamer
Live Chic
Misty Moles
Zegedine
No Rules
Sleepy Tinker
Coercion
Super sandy
Knight
Demon Snowy Secret
endlesslyyy forrever
Mystical Dimples
Asla marley
yourgirlmax
Angelic Princess
Hot Babe
Cutie Bun
Sunshine
Lovely Dove
Fairy hot
How To Pick A Perfect Instagram Username?
Here are some pointers on how to choose an appropriate Instagram username, these guidelines will assist you in selecting the appropriate sort of username for your profile. You can also combine them to create a unique username.
1. A Short and Memorable Username
When considering a username, use one that is both brief and memorable. A brief username is simple to remember and spell. People like short as well as memorable usernames, which can help make yours more memorable and appealing.
2. Avoid Using Digits
When choosing a username for your Instagram profile, avoid using numbers. The usage of numbers in a username seems unprofessional. So, instead of numbers, employ words.
3. Brainstorm Ideas
If you're searching for the appropriate username for your profile, go with one that reflects your personality as well as attitude. A catchy and unique username will undoubtedly help you stand out. Also, come up with a distinctive and interesting username.
4. A Unique and Creative Username
These lists make it simple to choose a username. However, before you choose a username, be sure it is available. Because some of these usernames may have already been claimed by visitors who came before you.
You should always use a unique Instagram username since it makes your profile more appealing and distinct. You can utilize those username recommendations to come up with a distinctive and original Instagram username. A creative and distinctive username will enhance the attractiveness and uniqueness of your Instagram profile.
5. Don't Copy From Other Users
Don't steal other people's usernames. Copying has always been considered cheating, whether in tests or when providing a login. People really dislike duplicate usernames. As a result, do not clone usernames from existing users.
6. Feedback
Before establishing your username, you should always seek input. Feedback is really essential. You can solicit comments on your username from friends, family, and loved ones. They can assist you by evaluating your username and providing recommendations and ideas. These suggestions can assist you in selecting a better and more appropriate username.
7. Check its availability
It is the most crucial aspect of selecting a username. Before finalizing a username, always verify its availability. Examine social media platforms such as Instagram and Google.
How Can You Change Your Username on Instagram?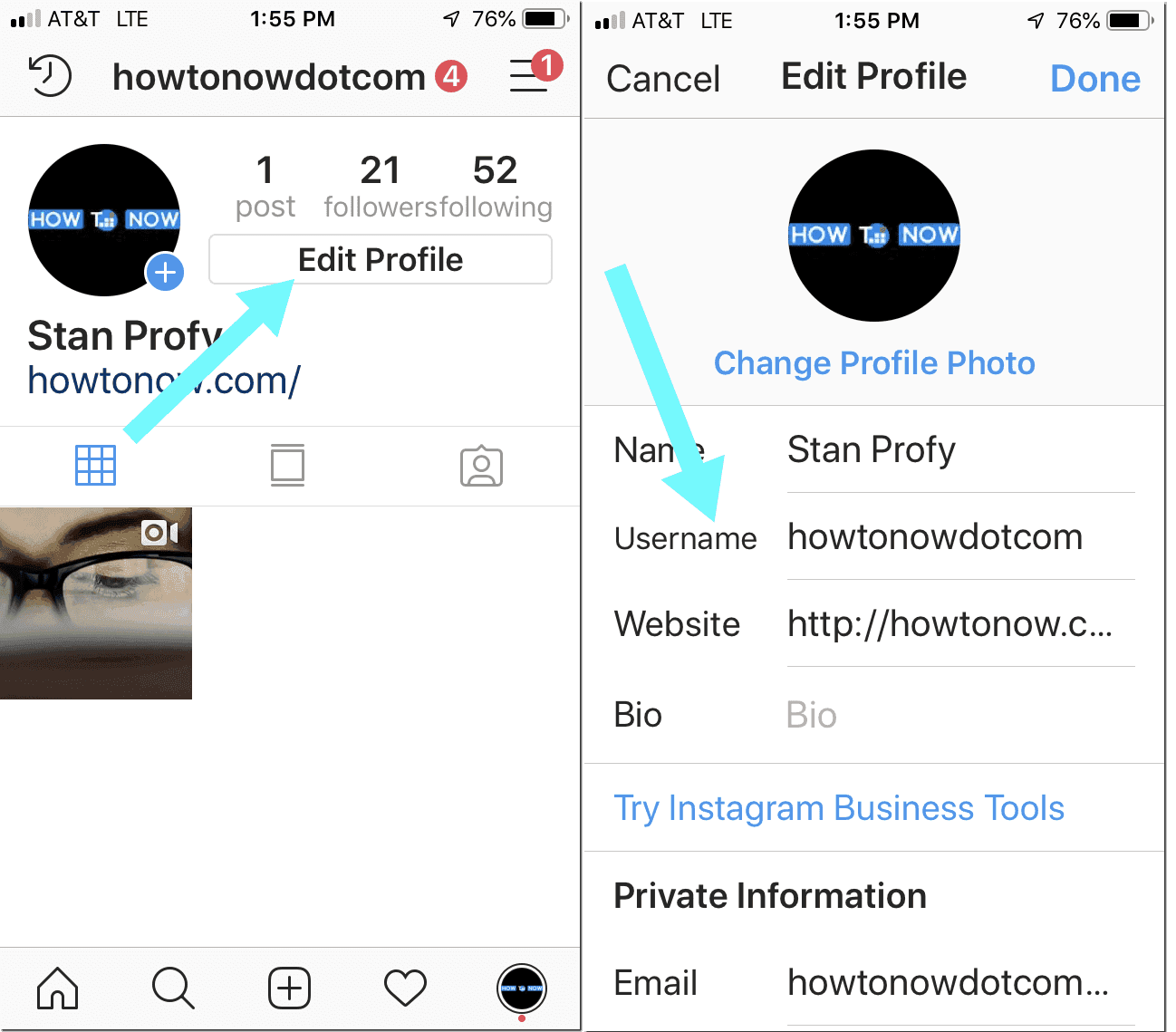 Changing your Instagram username is a straightforward process. Take a look at the procedures below to change your username.
Open the Instagram app on your smartphone.
Tap on your profile image, which is located at the very bottom right.
Below your bio, there would be an 'Edit profile' option. Click on it.
You can modify both your Name and Username from here.
When done, click the 'tick' button in the upper right corner.
Wrapping It Up
It is important to choose a suitable Instagram username. It is because it will serve as the identification of your account in the future. If you stick to this guidance and use your creative muscles, you'll have an awesome Instagram username in no time. Once you've done that, you're well on your way to securing some virtual real estate for your company.
Are you interested in learning how to accelerate the growth process? Predis.ai provides customers with a variety of tools for analyzing and optimizing their Instagram posts to increase interaction.
Check out our helpful guides to learn more about Predis.ai's products and services (or Instagram in general)! You can also learn how to generate Instagram hashtags for growth by clicking here.
New to social media management or Instagram?
There is no doubt that stories increase engagement. But creating Stories as well as Instagram poll games is only scratching the surface of what a social media manager does. So, these blogs listed below will get you started. They will also provide helpful insights on best practices to follow (and those to avoid) on social media:
For more social media tips and updates, follow us on our Instagram!