While scrolling through social media have you ever seen popular creators promoting any specific brand?
Why do they do so?
There can be 2 possibilities:
They personally use the products of that brand and want to share with their followers and subscribers.
They are PAID to do so! (You can easily identify such kind of posts as they carry a PAID PROMOTION/ SPONSORED tag with them)
Yes, you heard it right! Major brands pay popular creators to promote their products and services to get more sales and conversions. These creators have thousands and millions of followers that are highly influenced by them. That is why these popular creates are called INFLUENCERS and this type of marketing is called INFLUENCER MARKETING.
Influencer marketing is among the most successful methods of reaching your target audience, particularly on social media platforms. However, influencer rates might vary greatly depending on your company goals, industry, platforms you're targeting, posting frequency, and other factors.
In 2022, the influencer marketing sector will be going to be worth around $15 billion.
It is one of the fastest-growing networks, and some marketers are struggling to keep up with the ever-changing playing field. With so many platforms to choose from, marketers must determine:
Where to focus their efforts
The type of ROI to anticipate
How much time to invest in influencer marketing
How can you discover the perfect influencer for your brand without spending a fortune?
In this blog, we'll discuss 6 factors that influence influencer rates. Then we will move upon the average influencer price sheet, micro influencer rate card and content creator rate cards in 2022 for the most prominent social media platforms. In the end, how to identify an influencer that will collaborate with your brand to take it to another level.
What is Influencer Rate Card?
Suppose a business charges to advertise on their website, TV channel, or magazine. In that case, they must be able to inform the purchaser how much it will cost. In a nutshell, being paid for allowing advertisements in your community.
This is essentially what you do for brands. What distinguishes the two is that the outlet is your social media platform, and the audience is your loyal followers and admirers.
If you are an Instagram influencer who is also a content producer, your skills are even more valuable. This is because you can create professional content to give companies from the ground up. This content also contains a sprinkle of social media exposure compliments of your audience.
An influencer rate card determines the cost of an influencer's services for a business. Both companies and influencers can use an influencer rate card.
Influencers might utilize a content creator rate card to provide certain services and packages to businesses in order to secure collaborations. Also, you can access their content creator rate card from the press kit.
On the other hand, brands employ an influencer rate card to compensate influencers appropriately.
Smaller influencers, such as nano and micro, may not have a formal rate card. On the other hand, macro-influencers and beyond are more likely to have a formal pricing sheet to share with brands.
Difference Between Influencer Rate Card and Media Kit
In brief, one is utilized during the pitching process (influencer media kit), while the other is required throughout the negotiating process.
Influencer Media Kit
In the influencer industry, an influencer media kit is a document that emphasizes crucial information and data about your blog/website that a business would be interested in learning about.
An influencer media kit is often sent to businesses with whom you wish to collaborate as a means of introducing yourself and demonstrating why cooperating with you would be advantageous to their company's goals and objectives.
Influencer Rate Card in 2022
An Influencer Rate Card, on the other side, is a document that calculates the value/price of products or services when selling them. It usually includes information about the price for each product or service you give the brand, as well as prospective packages or bundles.
You can undoubtedly provide a summary of your services in your media kit to preserve your worth. But remember to refrain from including a price tag for the time being in order to keep the discussion open.
Factors That Impacts Influencer Rate Card
A variety of factors might determine how much an influencer costs for their services. Also, it's uncommon to find an influencer that charges a flat rate.
Influencer marketing is a viable business, and influencers base their pricing on what businesses are willing to pay. While this list does not include all of the factors that go into establishing how much an influencer could charge.
Let's take a deeper look at these and other parameters, so you know exactly what you're paying for.
Influencer Reach
The influencer's reach is the number of individuals who can be reached through their platform. This value is calculated by the number of followers or subscribers of the influencer. Generally, the more followers an influencer has, the higher their rates will be.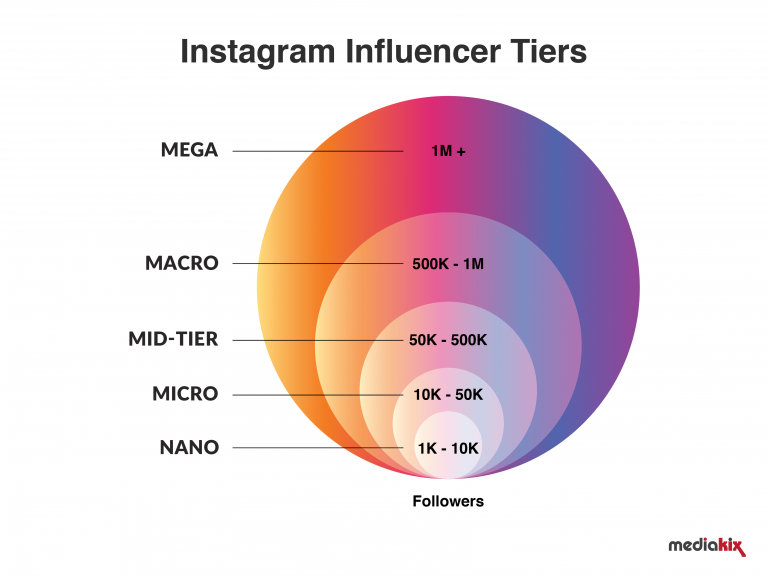 Influencers are classified into the following categories based on their reach:
Nano-influencers: Having 1,000–10,000 followers
Micro-influencers: Having 10,000–50,000 followers
Mid-tier influencers: Having 50,000–500,000 followers
Macro-influencers: Having 500,000–1,000,000 followers
Mega-influencers: Having 1,000,000+ followers
You may find variations on this breakdown. For example, some marketers consider a micro-influencer to begin at 1,000 and do not designate nano-influencers in this manner.
Influencer Demand
If you want a seasonal social media campaign, you can expect to pay a premium for it. This is classic economics: higher rates result from more demand. You may encounter this problem outside of seasonal promotions if you are interested in a highly famous influencer.
Engagement of the Followers
The rate of engagement on an influencer's postings also influences their rate. The number of views, likes, shares, comments, and so on are used to determine engagement.
Influencer price sheet differ depending on how much interaction an influencer receives on their organic vs. paid content. You would believe that influencers with more followers will have higher interaction rates; however, this is not always the case.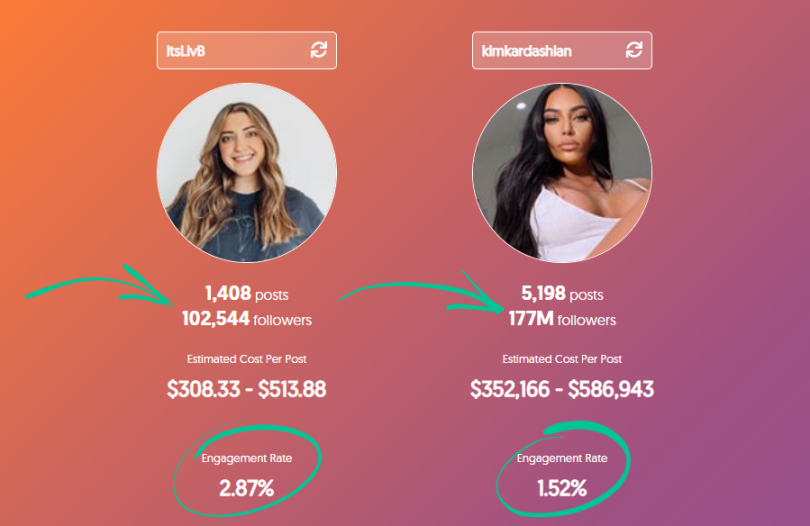 If an influencer has a large following but little engagement, it's not worth partnering with them. Instead, an influencer with a small reach and great interaction will provide better outcomes. It is because influencer marketing aims to increase brand awareness. When social media users have good opinions about your brand and help to establish your business's online community, your brand's reputation grows.
While the higher statistics may captivate you at first, keep in mind that working with a smaller influencer is considerably more cost-effective. Effectively, a comparably smaller influencer with a high engagement rate will yield a considerably greater ROI.
Social Media Platform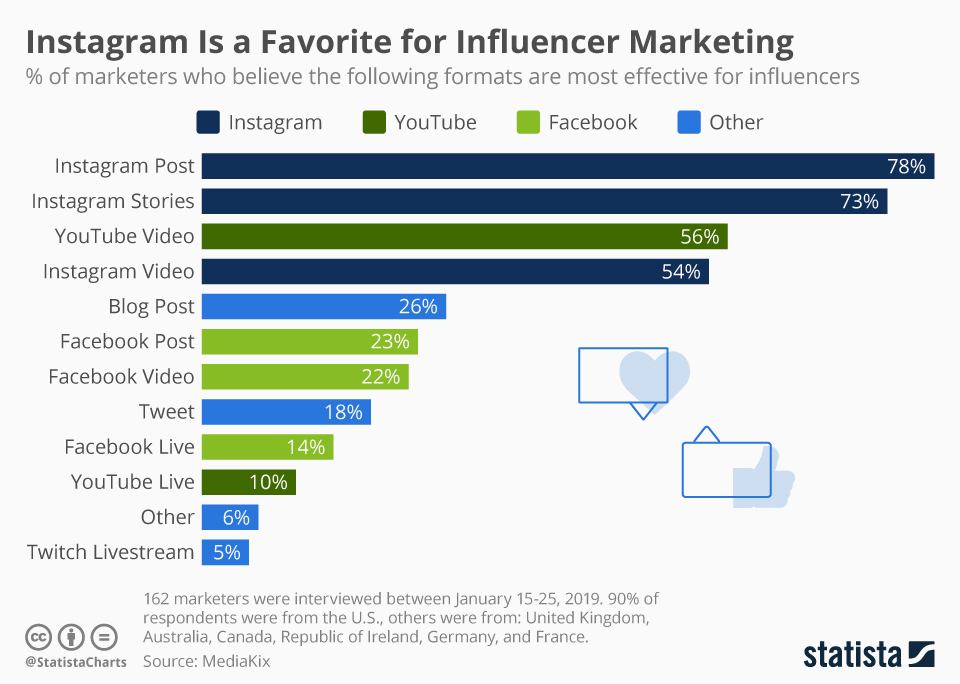 The platform has a significant impact on an influencer's rate card. The same influencer will charge different rates for Instagram and YouTube.
Some influencers may charge the same amount for the same type of post regardless of the channel. But the rates are far more likely to vary. After all, each social media platform has a distinct audience type, and creative resources vary as well.
Industry or Niche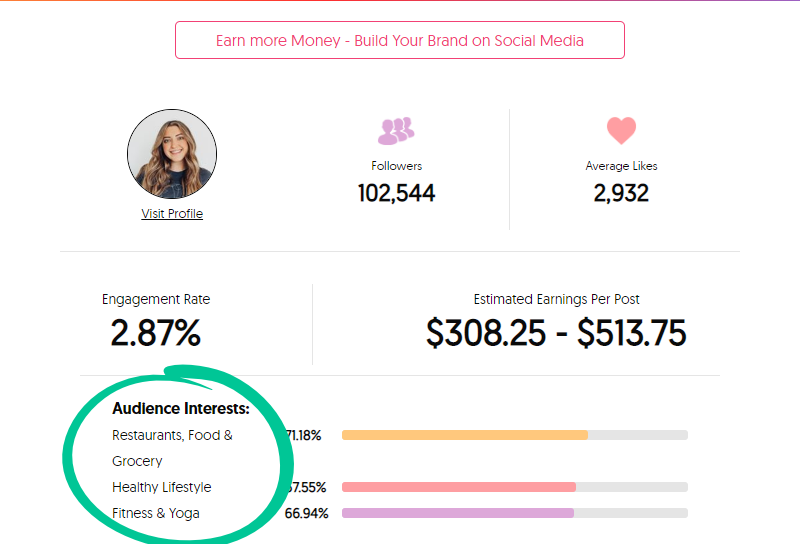 In general, the more influencers in a niche there are, the more competitive their rates will be. If you're searching for a beauty influencer, for example, you'll have lots of alternatives and bargaining power.
Obviously, you'll want to discover an influencer that is knowledgeable about your industry. Popular niches (such as beauty and fitness) will have more influencers available. Also, the cost will most likely be lower than in niches with fewer accessible influencers.
You may also look at the industries that an influencer's audience prefers to ensure that hiring them for your company makes sense. On the other hand, if you're searching for an influencer in a very particular field, they may charge whatever they want, within reason, of course.
Content-Type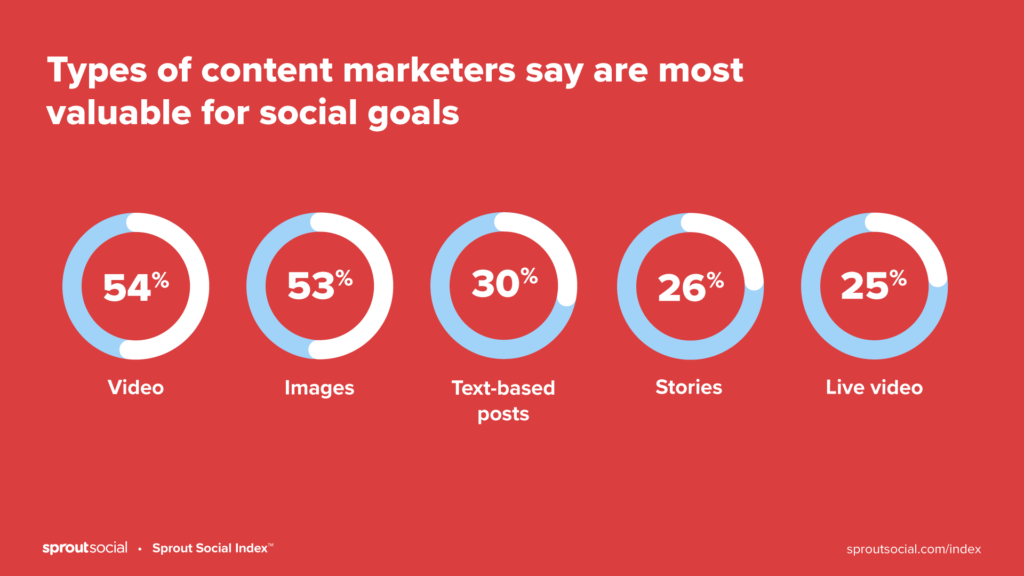 You'll agree that different types of content need different amounts of time and effort. The type of content you want from an influencer will also have an impact on the rate. This is due to the fact that influencers will need to invest time, energy, and resources into creating the content. Also, different types of content necessitate different requirements.
Consider how much content the influencer will need to develop and if they or you will provide the required resources. Therefore, the more effort it takes to develop the stuff you're requesting, the more it will cost.
How Much Does An Influencer Earn Per Post?
The typical influencer charges are determined by the number of followers an influencer has and the social media platforms they use. It is commonly computed as the price per thousand followers or subscribers for a single post. The following are the usual influencer rates for the major 5 social media platforms.
We'll look at the average remuneration on each of the main social media platforms for influencers at each highly popular platform.
Instagram Influencer Rate Card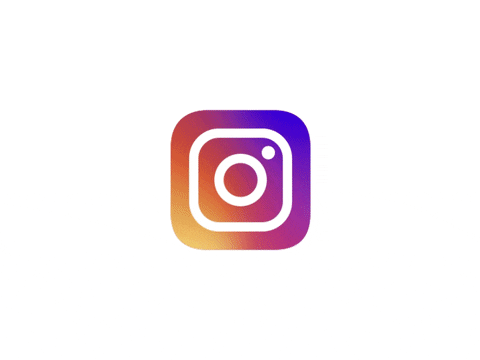 Nano-influencers: Charge $10–$100 per post
Micro-influencers: Charge $100–$500 per post
Mid-tier influencers: Charge $500–$5,000 per post
Macro-influencers: Charge $5,000–$10,000 per post
Mega-influencers: Charge $10,000+ per post
Celebrities: Varies, but $1+ million on an average
TikTok Influencer Rate Card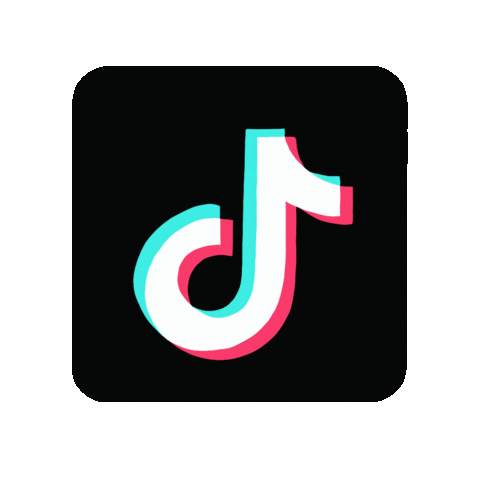 Nano-influencers: Charge $5–$25 per post
Micro-influencers: Charge $25–$125 per post
Mid-tier influencers: Charge $125–$1,250 per post
Macro-influencers: Charge $1,250–$2,500 per post
Mega-influencers: Charge $2,500+ per post
YouTube Influencer Rate Card
Nano-influencers: Charge $20–$200 per video
Micro-influencers: Charge $200–$1,000 per video
Mid-tier influencers: Charge $1,000–$10,000 per video
Macro-influencers: Charge $10,000–$20,000 per post
Mega-influencers: Charge $20,000+ per post
If you want customized videos, plan to pay at least double the costs listed below.
Facebook Influencer Rate Card
Nano-influencers: Charge $25–$250 per post
Micro-influencers: Charge $250–$1,250 per post
Mid-tier influencers: Charge $1,250–$12,500 per post
Macro-influencers: Charge $12,500–$25,000 per post
Mega-influencers: Charge $25,000+ per post
Twitter Influencer Rate Card
Nano-influencers: Charge $2–$20 per post
Micro-influencers: Charge $20–$100 per post
Mid-tier influencers: Charge $100–$1,000 per post
Macro-influencers: Charge $1,000–$2,000 per post
Mega-influencers: Charge $2,000+ per post
If you are a company, How can you find an influencer within your budget?
Finding the ideal influencer for your company requires a delicate balance between what you can pay and their influencer prices.
If you don't know how much you can pay, it will be considerably more challenging to determine whether the influencer you want will fit inside your budget for the duration of your requirement.
When creating your budget, keep in mind your influencer marketing goals as well as whether you'll be employing influencer marketing tools or an influencer marketing agency.
Influencer Marketing Agencies
Different influencer marketing agencies exist to link influencers with companies who wish to hire them, but their services do not end there. These agencies will assist businesses in developing an influencer marketing strategy, implementing that strategy, and managing influencer marketing campaigns.
Because they work so closely with influencers, they have a strong grasp of influencer rates. They can also assist clients in finding a fantastic influencer while staying within their budget.
Influencer Marketing Goals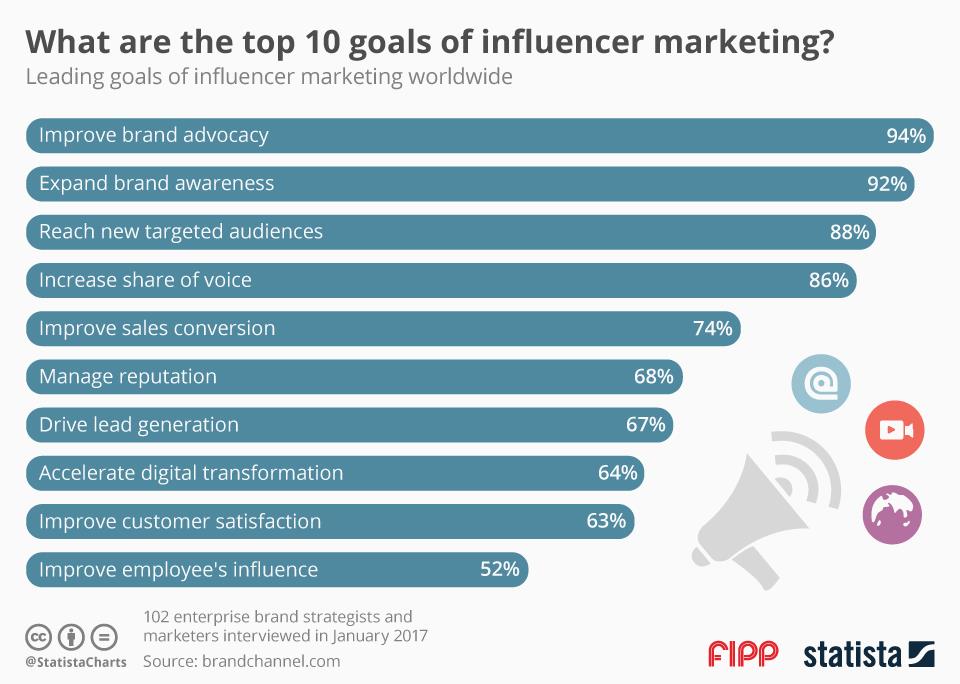 The amount you should budget for influencer marketing is primarily determined by the objectives you want to achieve with your influencer marketing campaigns and the strategies you'll employ to achieve them.
Some common objectives include enhancing brand exposure, increasing social engagement, and boosting sales. Once you've established your goals and devised a strategy, you'll be better positioned to discover influencers who can match your demands while staying within your budget.
Influencer Marketing Platforms and Tools
Several influencer marketing platforms are available to help you locate influencers for your company. There are a plethora of free influencer marketing tools available to assist companies in finding influencers based on search parameters.
There are a number of platforms that you can use to connect with influencers, but which one is right for you? Here are a few things to consider when choosing an influencer marketing platform:
Goal- What are you looking to achieve with your influencer marketing campaign? If you're looking to build brand awareness, you'll want to choose a platform with a large reach. If you're looking to drive sales, you'll want to choose a platform with a robust influencer network and tools to help you track conversions.
Budget- How much are you willing to spend on your influencer marketing campaign? Some platforms charge a monthly fee, while others take a percentage of your budget.
Audience- Who is your target audience? Make sure the platform you choose has an influencer network that reaches your target audience.
One popular influencer marketing platform is BuzzSumo. BuzzSumo allows you to find influencers in your industry, track their activity, and see how they're connected to other influencers. This can be helpful in identifying key players in your field and understanding how to best reach them.
Another popular influencer marketing platform is TapInfluence. TapInfluence focuses on connecting brands with influencers who create quality content. They also offer a number of tools to help you measure the success of your campaigns.
No matter which platform you choose, it's important to do your research and select the one that's right for you.
Wrapping It Up
An effective influencer marketing strategy does not have to be expensive. You can quickly identify influencers within your budget and use their skills to meet your influencer marketing objectives. It is critical to understand how to determine influencer rates and give reasonable remuneration for their services.
Use the standard micro influencer rate card to obtain a general estimate of how much you should pay an influencer for their services. Then, take a look at the other aspects and add up the extras to arrive at a final price.
One piece of advice is to be flexible with influencer prices when negotiating prices. Don't commit to a single amount; instead, provide some wiggle space.
As your brand will expand in the future, communications and management with influencers can become very challenging to handle. If you need any type of help regarding social media marketing, sign up for Predis.ai, and we'll assist in making your influencer marketing campaigns a success.