You have a natural talent for photography. You also understand how light works, but It may not be your cup of tea to market yourself.
However, in this digital era, it has become a for photographers to be able to market themselves. There is simply no other way people will discover you fast!
Instagram will become your best buddy in the process of advertising your work – the sooner you accept this truth, the better it is.
For photographers, why is Instagram so important?
A free platform that allows you to reach thousands of people and enhance the effectiveness of your information is the most important reason to use it.
It's also a great way to attract folks who really want to know
what you're doing
what's your approach
As a result, you are one step closer to forming a relevant photographic community, discovering like-minded colleagues, or just drawing in clients.
There are many Instagram hashtags to choose from when it comes to promoting your photographs and gaining new followers. Assuming you used the right hashtag, you should observe a rise in your social media following and likes.
Instagram features an endless amount of photography-related hashtags.
At the very least, it may seem that way!
Instagram is a terrific medium for photographers to:
Establish a following
Inspire others
Interact with other creatives
Reach out to prospective customers.
However, it should not be your sole marketing tool.
Instagram hashtags for photographers may help you stand out and get attention in a crowded marketplace. However, you should use the correct hashtags in the correct manner!
What's the need to use Hashtags?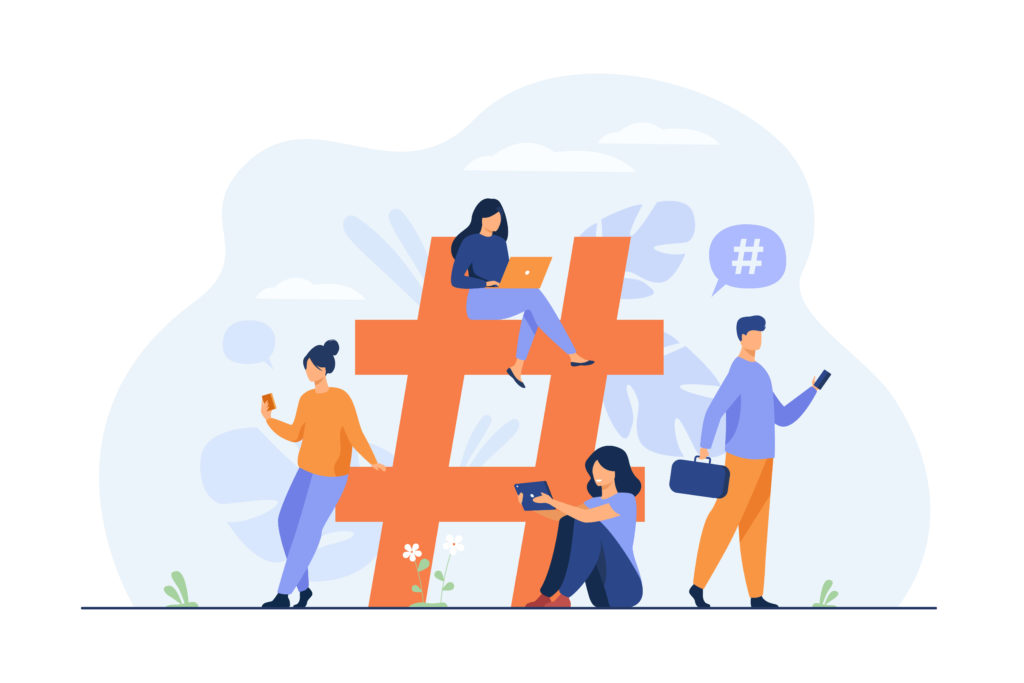 Hashtags on social media have become such a commonplace part of life that it seems they have existed for eons.
Instagram hashtags functions as searchable keywords in your posts. If you have a public account, your post will appear alongside the hashtags on the related hashtag page.
Mastering Instagram hashtags will undoubtedly provide you with more than one beneficial item. Here are a few examples:
By reaching out to more individuals, you increase your chances of meeting possible customers. These are the ones who are curious about collaborating with you on photographic projects.
You may also collaborate with other photographers, for example, to explore intriguing sites or to share information.
Hashtagging may be an excellent method to practice keywording. This is the most crucial aspect of selling your photographs to stock agencies.
Last but not least, employing hashtags increases your chances of getting a place in a popular Instagram collection. The immediate advantage is more traffic to your Instagram page.
So, how will you find the hashtags that can actually outshine you from your competitors?
"Predis.ai offers a free hashtag generator tool that tells you exactly which hashtags you should target based on your keyword or image!"
Best Photography Hashtags That Every Photographer Should Use on Instagram
We looked closely at the accounts of notable Instagram photographers to discover which hashtags they utilized to gain a large following and increase the popularity of their accounts.
This list contains several hashtag categories appropriate for promoting photos of various genres. You just need to include them in your posts so that other Instagram users can locate them. Let's check out each of these categories one by one.
1. Most Popular Photography Hashtag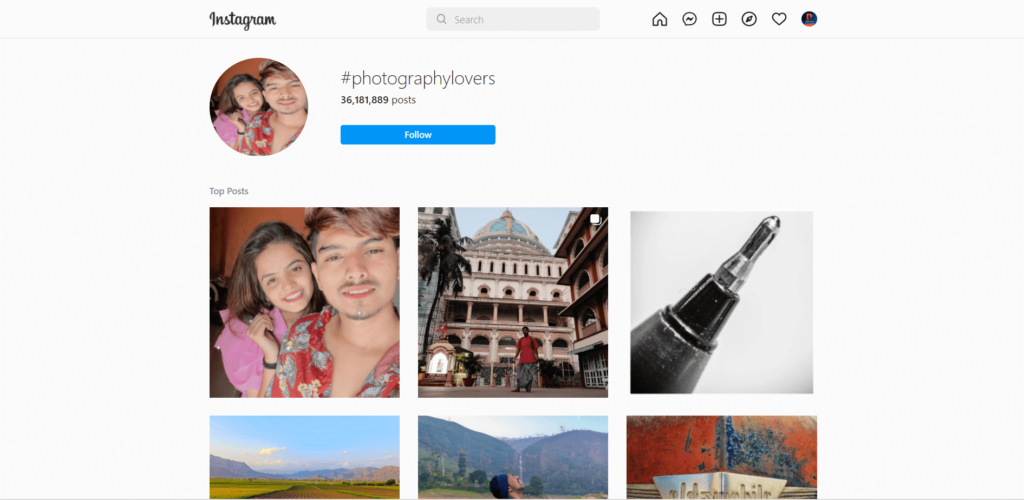 Here are some of the most popular photography hashtags on Instagram. These are fantastic if you're just starting out as a photographer on the platform.
However, it's worth noting that these hashtags are extremely popular, so competition is fierce. We suggest utilizing a handful of these. You can also combine them with more particular relevant hashtags to the context of the picture, to enhance your reach.
#PhotographyLovers #JustGoShoot #global_hotshotz #Camera #ExclusiveShots #MasterShots #superhubs #HDR #PhotographyEveryday #IG_Exquisite #Capture #PhotographDaily #IGworldclub #ThroughTheLens #PhotographyIsLife #Instadaily #PicOfTheDay #InstaPhoto #WorldBestGram #Aesthetics #Hubs_United #IG_Shotz #Composition #Snapshot #Pixel_IG #PhotographyAddict #Main_Vision #PhotographyLife #exposure #PhotoOfTheDay
2. General Photography Hashtag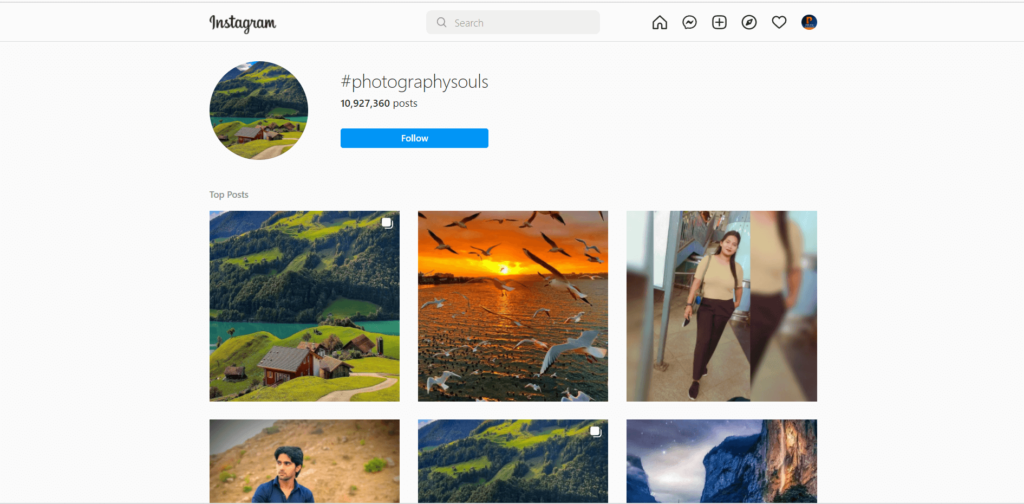 If you don't know which hashtags to use for your Instagram post – choose broad ones. It is because they are appropriate for many genres of photos. However, specialty hashtags are considerably more effective when it comes to reaching a larger audience. This is why it's a good idea to use both general and specialist photography hashtags. It will help people locate your photographs.
Enhance your images before putting them online to entice new fans. Otherwise, even if you utilize the proper hashtags, you will not be able to get many followers.
#photographysouls #throughthelens #photographer #ig_masterpiece #icatching #photography #iglobal_photographers #collectivelycreate #photographyaddict #worldbestgram #ig_exquisite #master_shots #moodygrams #photoshoot #photographyeveryday #photographylover #awesome_photographers #ig_great_pics #shotwithlove #photographyislife #picoftheday #Igers #Photoshop #IGworldclub #HDR #PhotographyAddict #iPhoneography #HDRspotters #Composition #PhotographyIsLife #Snapshot #Instafocus #Aesthetics #Moment #Cityscape #Visuals #Capture #InstaGood #ThroughTheLens #Exposure #Photogram #PhotographyDaily #InstaPhoto #Camera #Instadaily
3. Photography Hashtag for all 7 days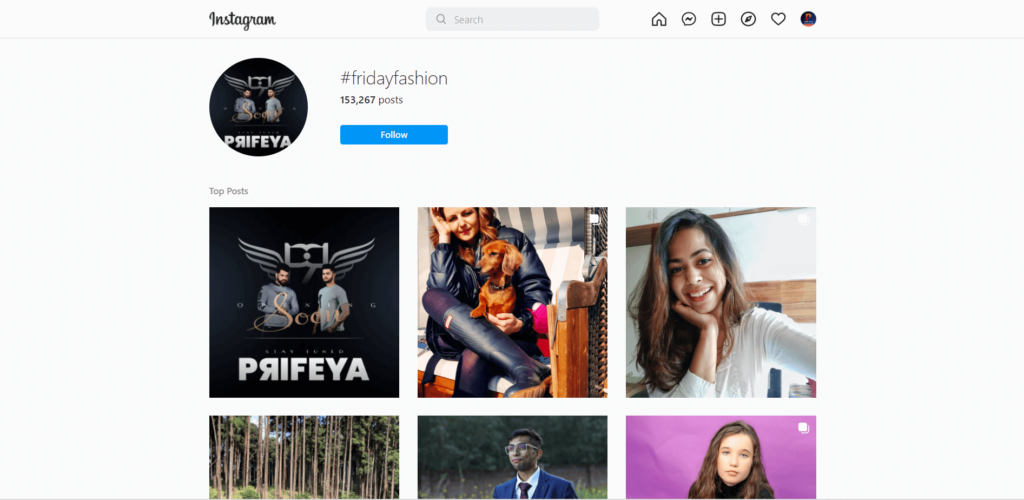 We at Predis.ai truly mean it when we claim we have a hashtag for every day of the week.
Are you looking to kick out the week with some Motivation Monday or some Sunday Funday?
Let's quickly go through some of our favorite hashtags for each day of the week.
Monday
#freshweek #meowmonday #mondaymusings #mondaymotivation
Tuesday
#tuesdayvibes #tuesdaythoughts #tuesdaytruth #transformationtuesday
Wednesday
#wednesdaywinewomancrushwednesday #humpday #waybackwednesday
Thursday
#thursdaynightfootball #thursdaytreat #tbt #thursdaygrind
Friday
#fridayfun #TGIF #fridayfavorites #fridayfashion
Saturday
#saturdayshopping #cheerstotheweekend #saturdayshenanigans #saturdayoutfit
Sunday
#sundaybest #sundayfunday #sundayselfie #sundaybrunch
4. Black and White Photography Hashtag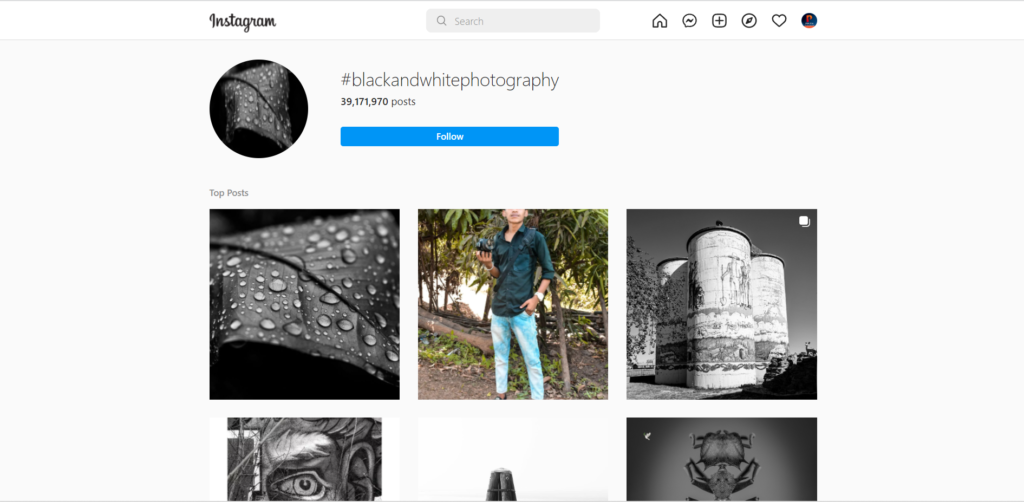 There are so many color photographs on social media these days. Therefore, several bloggers utilize B&W images to differentiate their Instagram feeds.
Many professional photographers are interested in black and white photography. So you'll discover plenty of samples to use as inspiration for your own images.
Use the most appropriate monochromatic hashtags to guarantee that your photographs are noticed by a larger audience on Instagram.
#bw #igblacknwhite #monochrome #greyscale #noir_vision #bnwphotography #blackandwhite #bnw #bnw_captures #bnw_greatshots #bnw_planet #bwphotographynoir #bwstyleoftheday #monochromatic #bnw_society #bnw_demand #monotone #blacknwhite #blackandwhitephoto #bw_lover #bw_photooftheday #blackandwhitephotography #instablackandwhite
5. Portrait Photography Hashtag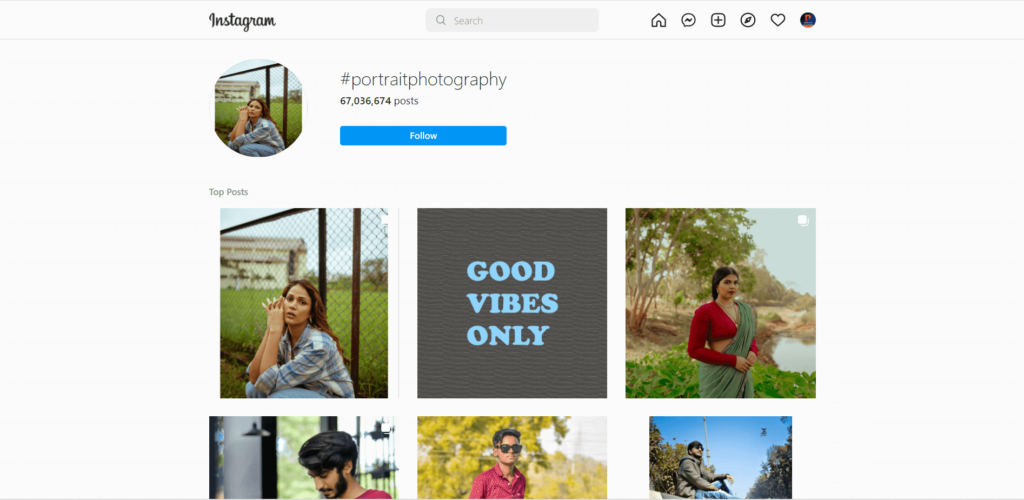 If you practice portrait photography, make it a point to specify whether your photos were shot in a studio or somewhere else. You may also use outdoor portrait photography hashtags.
Another strategy to get your page seen is to be included on accounts that encourage portrait photographers. To prevent too generic hashtags, make them more particular by mentioning where you took your images.
This makes it easy for prospective customers to locate you. Your images will be seen by more people if there aren't many photographers in your region.
#portraitmood #portraiture #selfportrait #postthepeople #postmoreportraits #portrait_shots #portraitsociety #makeportraits #portraits_ig #portrait_society #instaportrait #portrait_ig #withhumans #portraitphotography #pursuitofportraits #discoverportrait #portrait_mood #igportrait #portraitoftheday #portraitphotographer #portraitperfection #pursuitofportrait
6. Fashion Photography Hashtag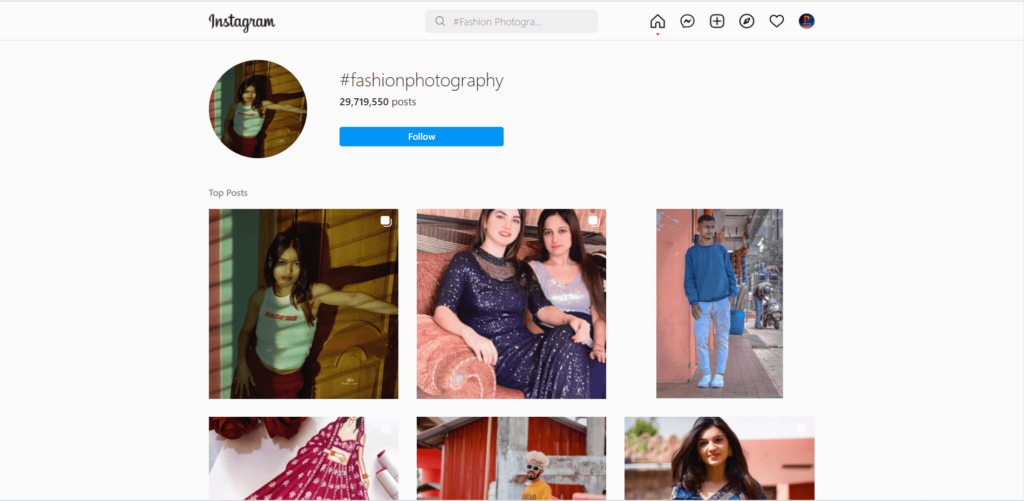 It may be tough for you to excel in editorial and fashion photography unless you have years of expertise. You may, however, apply a range of useful tactics to make your Instagram images stand out.
If you shot images of a celebrity, you may use their name rather than an Instagram photography hashtag to help other people locate them.
Those who specialize in editorial photography must specify which magazine a photograph was taken for. Don't forget to specify what kind of fashion you like. It will make it easier for prospective customers and publishing firms to locate your work.
#editorialphoto #fashionphotographyappreciation #fashiondaily #fashionoftheday #editorialmodel #editoriallook #fashiondiaries #fashionphotographer #fashioneditorial #fashionshow #fashionart #fashionshoot #editorialphotographer #fashioninspo #fashionphoto #highfashion #editorialphotography #editorialfashion #fashionlovers #editorialshoot #fashionmodel #editorialphotoshoot #fashionphotoshoot #editorial #fashionforward
7. Seasonal Photography Hashtag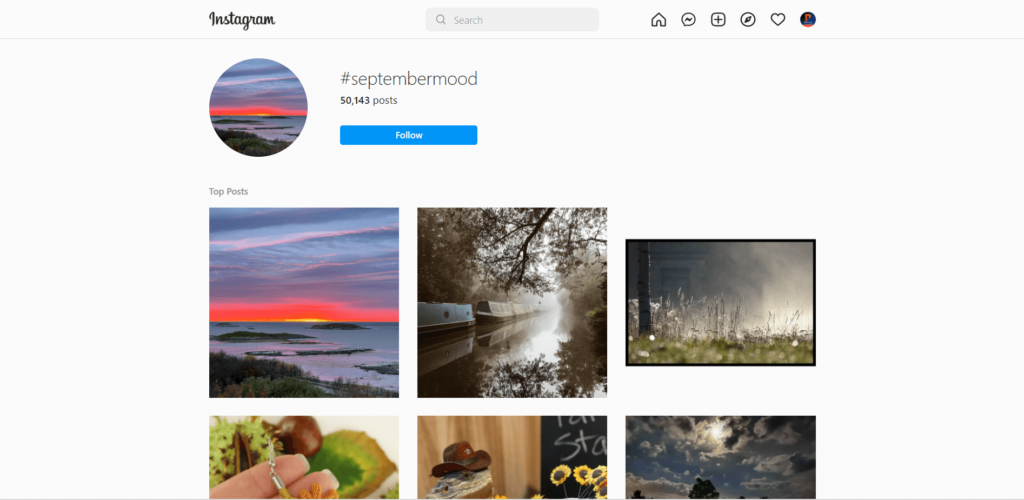 Almost every month of the year has its own set of photography hashtags to use. But with the seasons changing and autumn fashion making an appearance, September images tend to be some of our favorites to post.
Come on, gorgeous autumn foliage and all the golden colors you could want. What could be better than that?
If there's one season that's a tremendous mood booster, it's October. I mean, October is pretty much associated with Spooky season. I've yet to meet someone who isn't up for some Spooky season fun. If you're a fan of October, don't miss out on this picture opportunity.
#thanksgivingfeast #fallvibes #trickortreat #blessed #octobergirl #fallathome #givethanks #firstdayoffall #halloweenspirit #septembergoals #halloweencountdown #septembermood #fallcolors #turkeyday #pumpskinspice #spookyseason #halloweenobsessed #neverendingsummer #october31
8. Wedding Photography Hashtag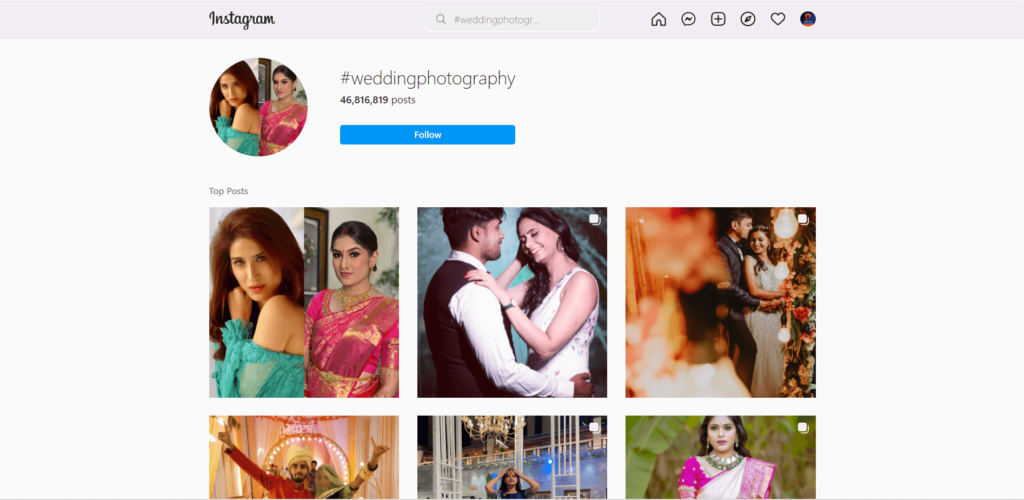 Wedding photographers are well aware that using a broad hashtag, such as #wedding, might make it harder to get their work seen.
If you're serious about wedding photography and want to market your services on Instagram, consider using more specific hashtags that let people know what region you specialize in and what photographic equipment you use.
Some photographers additionally specify their favorite wedding photography styles. You can also describe the props you captured. If you like photographing wedding rings, bridal parties, wedding dresses, or cakes, utilize matching wedding hashtags to broaden your reach.
#weddingphotography #bridalparty #weddinginspirations #weddingstyle #weddingphotographer #weddingfashion #mrandmrs #herecomesthebride #weddingblogger #weddingphoto #weddingplanning #weddingmoments #weddingceremony #weddinginspo #bridalfashion #bridestory #weddingday #weddingblog #newlyweds #weddingideas #adventurouswedding #weddingdetails
9. Technical Photography Hashtag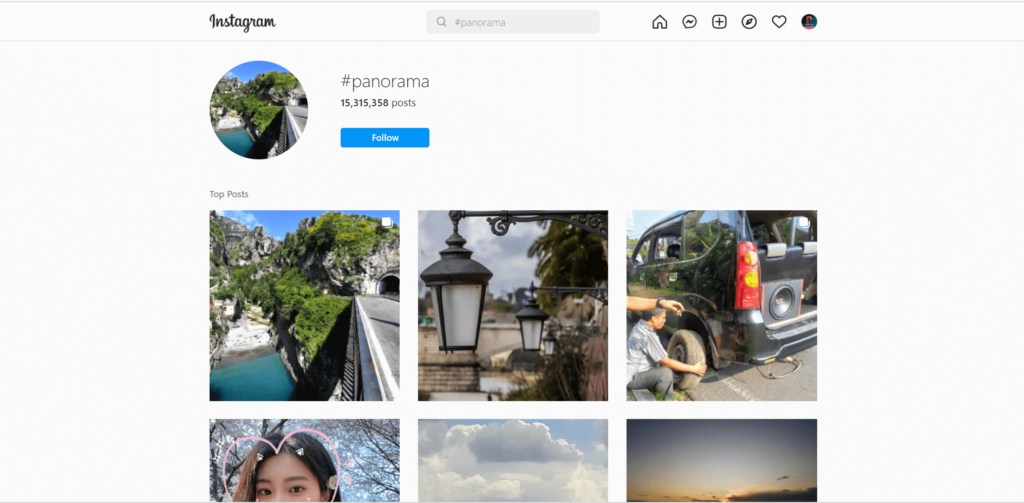 Photographers that use technical photography hashtags highlight the type of material they work with and how they took their photographs. You can describe your favorite photography cameras, as well as other photography equipment or companies.
Some expert strategies employed, indicate photo editing software they use for editing their images, or even how they developed a certain photographic composition.
You can increase the visibility of your posts by using more specialized hashtags that aren't used by typical Instagram users. Because of these hashtags, your posts will be discovered by other photographers and businesses, perhaps leading to new partnership opportunities.
#leadinglines #photoshop #50mm #macro #vignette #ruleofthirds #snapseed #freelensing #vsco #bokeh #symmetry #collage #manualfocus #lightphotography #canon #goldenratio #longexposure #panorama #aperture #lightroom
10. Travel Photography Hashtag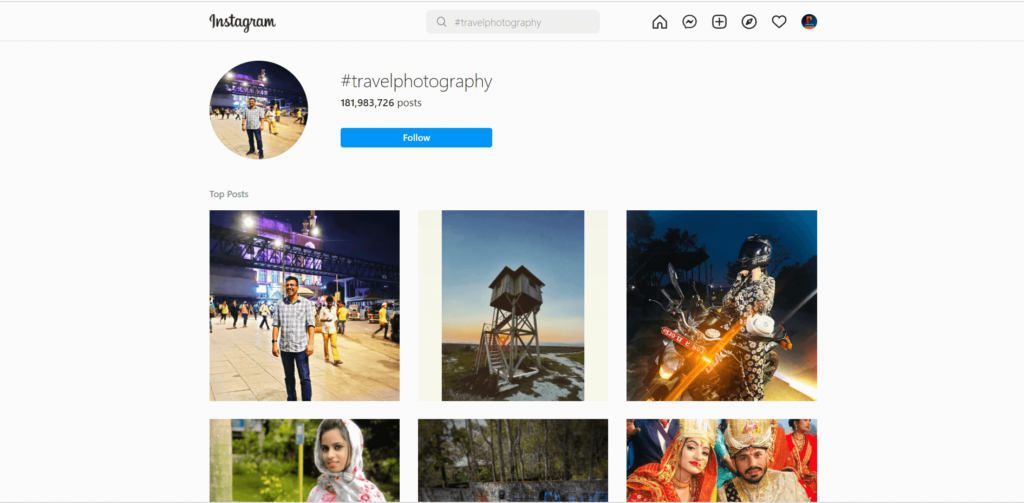 Travel photography is becoming more popular among both amateur and professional photographers. When adding Instagram photography hashtags, you can specify
Your location
The type of camera you like to use
Your favorite brands
Favorite hotels
Frequently visited places.
Luxury tourism locations are often promoted by influencers and celebrities. Most of the time, they employ luxury hashtags. It guarantees that their posts are viewed by those who are interested in this genre.
#travelgram #letsgoeverywhere #traveltheworld #tlpicks #sharetravelpics #instapassport #traveladdicts #travelogue #passportready #welivetoexplore #worldexplorer #tasteintravel #wanderlust #aroundtheworld #travelbug #travel #getlost #globetrotter #liveintrepid #travelblogger #lifewelltraveled #travelholic #postcardplaces #tourist #postcardsfromtheworld #travelpics #travelphotography #wanderer #travelscenes #travelstroke
11. Street Photography Hashtag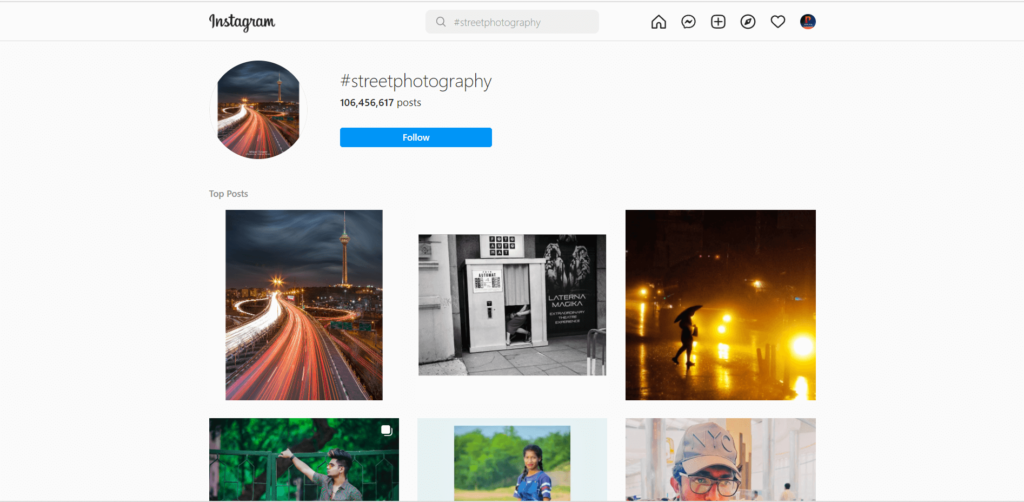 When clicking pictures on the street, you have the freedom to choose which items to photograph, as well as experiment with angles and camera settings. Many street photographers are unsure about which hashtags to use to promote their posts.
Apart from the generic hashtags listed below, it's also vital to include the city and country where you took the shot, as well as the landmarks included in the frame of particular locals.
#urbanphotography #streetphotographers #magnumphotos #streetstorytelling #streetlife #urbanshot #streetphoto_bw #streetshared #storyofthestreet #streetphoto #streetphotographercommunity #street_photography #streetphotographer #streetmagazine #streetphoto_bnw #urbanphoto #streetphotographyawards #street_photographer #streetphotography #streetvision
12. Food Photography Hashtag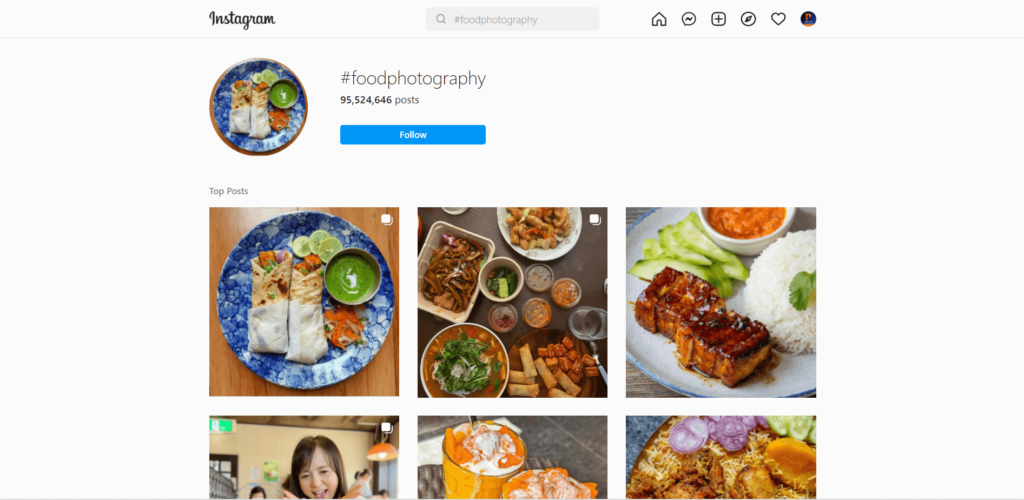 Food photography obviously stands out among the numerous popular trends on this social media platform. If you search for this hashtag, you'll discover almost 65 million posts. Restaurants, chefs, and businesses of all sizes that are interested in food photography employ it. Photographers use sophisticated techniques to capture mouth-watering images of food.
When photographing delicious dishes, you can use a variety of food photography props to make your shots appear even more appealing. As a result, more people will enjoy your images and comment on your posts. You may use a variety of famous hashtags to increase the popularity of your food photography posts.
Furthermore, you can also use hashtags that identify
The type of cuisine
Dishes
The method of preparation
Whether the meal is healthy or not
The type of food
#foodoftheday #igfoodies #foodphotoaday #foodiegram #yummy #foodofinstagram #foodphotographyprops #foodstagramming #foodphotographyandstyling #chefsofinstagram #foodvsco #foodblogger #beautifulcuisine #foodstylist #oodiegram #cheflife #foodfeed #darkfoodphotography #foodphotographer #foodcaptures #firstweeat #foodaddict #foodphotography #foodstyling #foodography
13. Film Photography Hashtag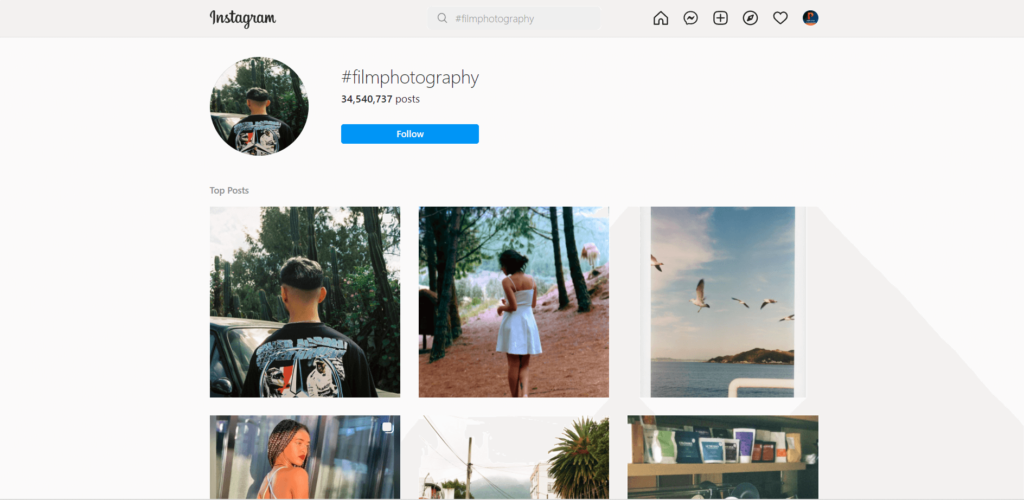 Because film photography is so popular on Instagram, you may successfully market your blog by using the correct hashtags. It will make it easier for other photographers who specialize in this field to locate your work with little to no effort.
The majority of photographers use Instagram photography hashtags to identify whether they take color or black-and-white photographs. Use the 35mm film hashtag if you want to snap images using film cameras to give them a vintage air.
You may also specify your preferred brand. Make sure to indicate the film camera you're using in your postings to make them even more helpful. People who are interested in film photography typically tag their images with hashtags that include the name of the camera.
#filmphotographer #thefilmgang #filmphotos #35mmfilmphotography #analogphotography #filmcamera #analogshooters #analogphoto #filmcommunity #ishootfilm #darkroomphotography #filmphotooftheday #35mmphotography #filmphotographyproject #35mmfilmphoto #35mm #filmphotography #analogclub #filmphotographers #filmisstillalive
14. Aerial Photography Hashtag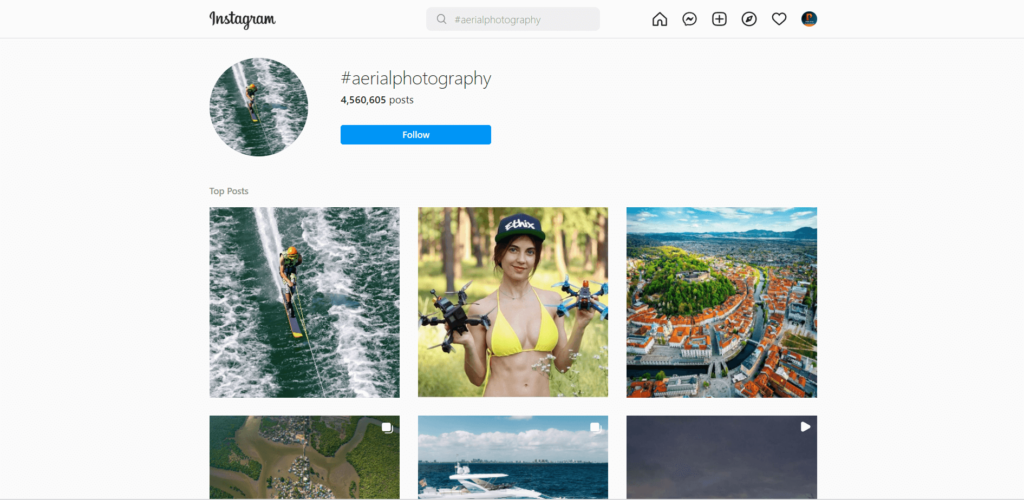 Aerial photography is gaining popularity on Instagram. Even if you're on a limited budget, it's not difficult to locate an inexpensive aerial photography drone these days. It's vital to designate the genre of a picture when adding hashtags to make it simpler to search.
This way, anybody looking for real estate aerial photography or drone wedding photography will be able to locate your picture more quickly. Remember to include the areas where you shot your images, particularly if you visited major tourist spots. You may also specify the kind of photography drone you're using. It will assist you in making your content more popular.
#dronesdaily #aerialshot #dronestagram #dronegear #droneoftheday #droneworld #aerialview #aerial #dronesgram #dronespace #aerialphotography #fromwhereidrone #dronepics #dronephotography #droneview #droneshots #droneporn #dronelife #drone #dronedaily #dronefly
3 Bonus Tips for Using Photography Hashtags More Effectively
Before you head off into Instagram photography hashtag paradise, we have 3 quick tips to guide you along your journey:
1. Choose only 1 niche for 1 photo
Mixing niches can be detrimental. Target a certain genre or specialty to ensure that your work is noticed by as many people as possible. When publishing on Instagram, avoid using a variety of hashtags from various genres; this will not help your picture get seen. Always attempt to limit each post to a particular specialty.
When deciding on a niche, keep the following in mind:
Know your target audience, and consider to whom your photographs may appeal. Look at what other successful Instagram accounts in the genre are doing to reach that demographic.
Choose the best niche for your photography style and business. Be particular and avoid attempting to blend hashtags from many categories in a single shot.
2. Try using location-based hashtags
Include your location in hashtags to increase reach depending on your area. When most individuals look for a photographer, they want someone local.
When looking through photography hashtags, you'll notice that many of them include their location. Whether it's the photographer's location or the location of the subject in the shot, utilizing area-based tags can help narrow down your post and appeal to individuals looking for your work.
3. Avoid using spammy or banned hashtags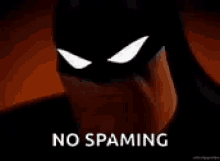 Instagram photos should never seem spammy by using too many irrelevant hashtags that have nothing to do with the picture. Instagram may shadowban your account if you use the incorrect hashtags or too many, which may seem like spam.
This implies that, even if your account is still active, Instagram is no longer promoting it to new users. The usage of inappropriate hashtags may even lead to a decrease in total impressions on your content.
Wrapping It Up
The ultimate purpose of Instagram hashtags is to promote your work over the internet so that it is more likely to be noticed by others.
But here's the problem: every day, thousands of individuals attempt to accomplish the same thing. But what else can you do to stand out in the immense sea of information and data?
The answer is simple – 'Be Yourself!'
People routinely upload gorgeous photographs, but how many of them take the time to narrate the narrative behind the shot or share what was going through their minds when they took it?
Adding a narrative or just adding your personality to the photograph you share might set you out from the crowd.
Aside from eye-catching images, individuals are naturally drawn to ideas they love or causes they wish to support. If you can attract that kind of audience to your Instagram feed, you'll undoubtedly appreciate having followers that stay around for more than a fast 'like.'
Since we are here, Are you looking for something much more revolutionary which will even help you make content!
Sign up for Predis.ai today! Manage your social media channels and also improve engagement by designing interactive posts within a few clicks.
For more social media tips and updates, follow us on our Instagram!