Selling online is a challenge, but social media has made it easier for businesses to earn huge revenue using social media marketing. With so many users, the right Shopify social media graphics tool can help beat the competition and bring great revenue to your Shopify business.
With the power of social media, it will be a mistake to not deliver quality content to your audience. Professionals, being experts, create content that is designed perfectly. But the design tools have made creating great visuals so much more convenient.
With this, let us explore the best Shopify social media graphics tool!
1. Predis AI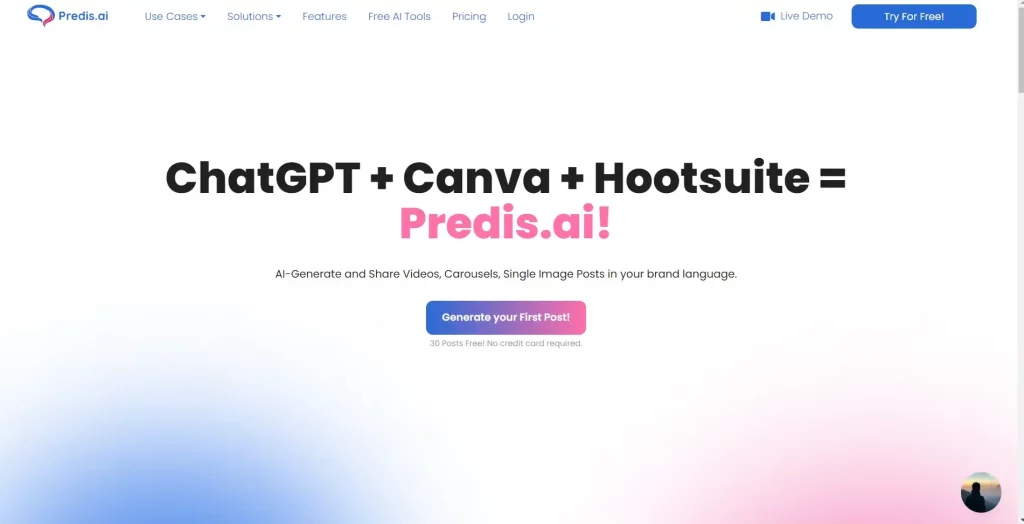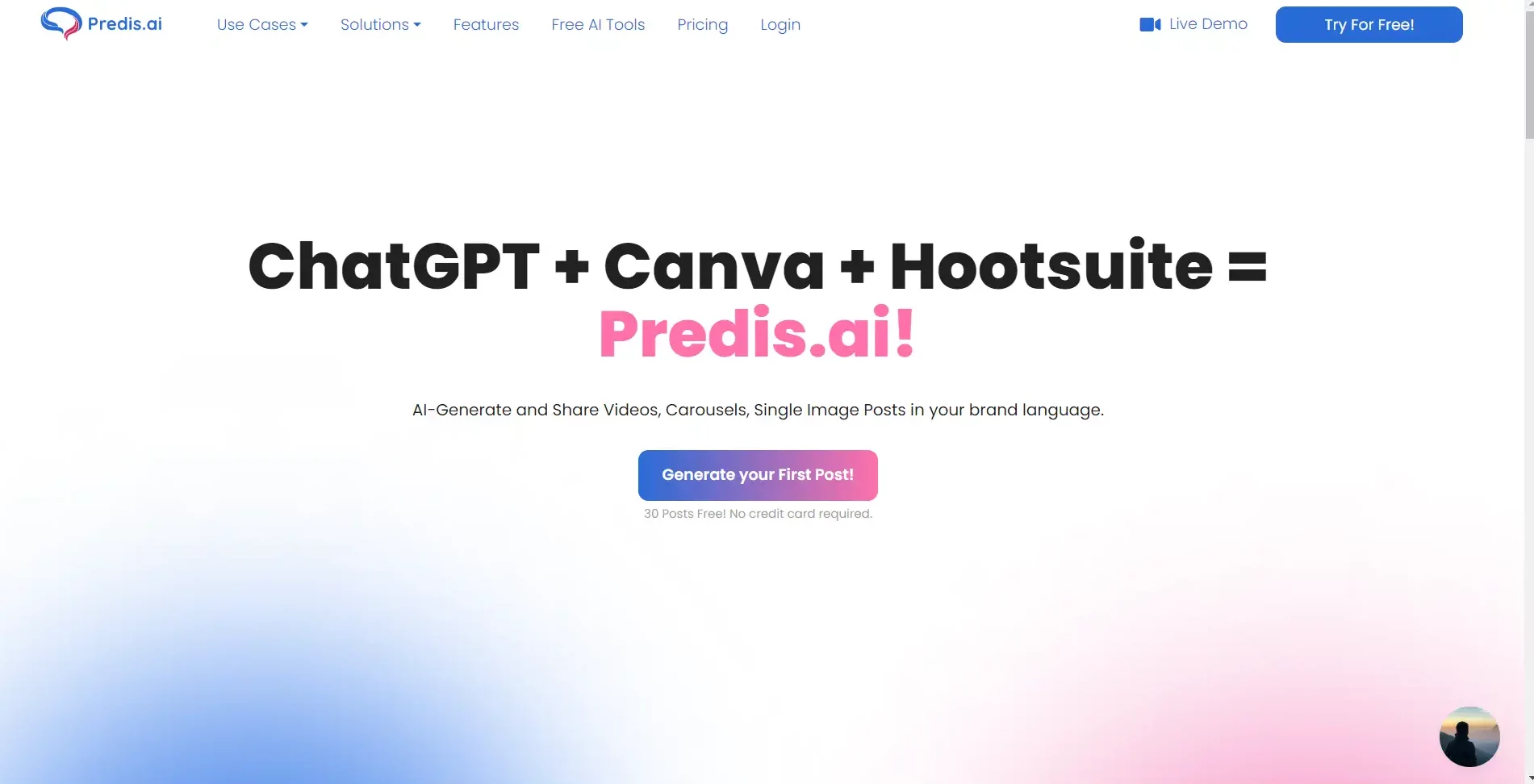 It is just a matter of seconds for Predis AI to create content that is eye-catching and without compromised quality. To make the most of this Shopify social media graphics tool, all you have to do is provide text-based information to the AI tool, as well as you get posts in the format you want.
Are you tired of writing long copies for promotion or designing the perfect post for social media? Predis saves you from spending hours doing that. Now spend your valuable time doing things that bring growth to your e-commerce business.
Features
With the best templates, stand out with your graphics using Predis AI. The features of this

Shopify social media graphics tool

are commendable.

With 5000+ multimedia options, the designs generated by Predis look professional. It also makes curating promotional posts and designing social media posts just a matter of seconds.
If you need posts for special occasions, you can rely on Predis for them. The tool helps create bulk content that will save all your worries about lacking quality content.

The graphic designing tool is a must-try if you are a Shopify business owner and see your business growing.
Pricing for Predis.AI
The tool has a free version which costs 0 $, but the features are limited. There are three versions of paid services; depending on how many brands you work with, you can select a plan. The solo plan costs $29 per month, the Starter paid version costs $59 per month, and lastly, the Agency plan costs $139 per month.
2. Canva
A free-to-use design tool, Canva has made making professional designs so much easier! Using this tool is so easy. You don't have to be an expert to create professional designs for your requirements.
Features
The user-friendly interface of the graphic designing tool makes it a versatile platform.

Perfect for building high-quality as well as engaging content consistently, Canva can help in designing several types of content.

The library of Canve is rich, with so many templates available to be used. Photo editing is convenient with editing tools, and there are tons of stock multimedia to use.

Canva has a feature that converts text to images. Image enhancer tools help in improving the quality of the photos. Whereas video editing tools make video content generation so much easier.
Pricing
To begin with, Canva allows designing for everyone in its free plan. The free version caters to the basic design tools making it feasible for the common population. For designers, there are two plans: Pro (6 USD per month) & Canva For Teams (12.09 USD per month). The premium features of Canva can be availed by teachers and students at no cost.
3. Adobe Spark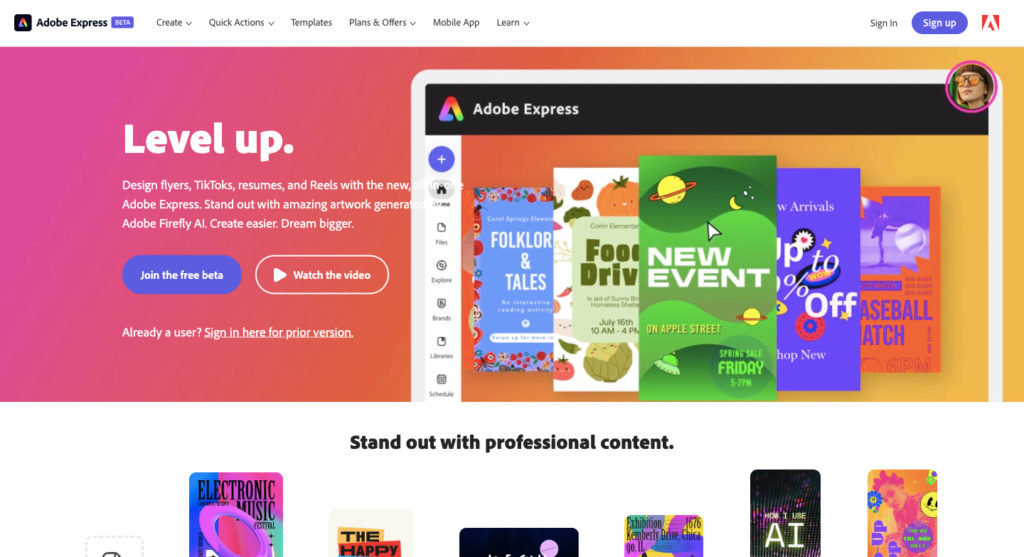 With graphic creation using Adobe Spark, creating impressive graphics, websites, social media content, and infographics has never been so easy. If you lack the skills of professional graphic design, this tool is perfect for creating visual content that will make the audience stop as well as see your content.
Features
The tool lets its users create content in various forms like newsletters, journals, presentations, invitations, portfolios, and photo stories.

The tool also has video editing tools that will help in creating flawless video content. Video content is especially needed for making advertisements and announcements. The tool makes marketing easy for Shopify businesses.

Editable photos as well as PDFs with excellent features help in creating the content you want. The features of video editing are impressive as well.

With templates and AI integration for text-to-photo generation, the tool is a great pick for graphic design for social media marketing.
Pricing
There's a free plan for you to start making content but there are various paid plans with excellent features. The premium plan costs 9.99 USD per month. There are other plans available as well for teachers, students, and NGOs.
4. Crello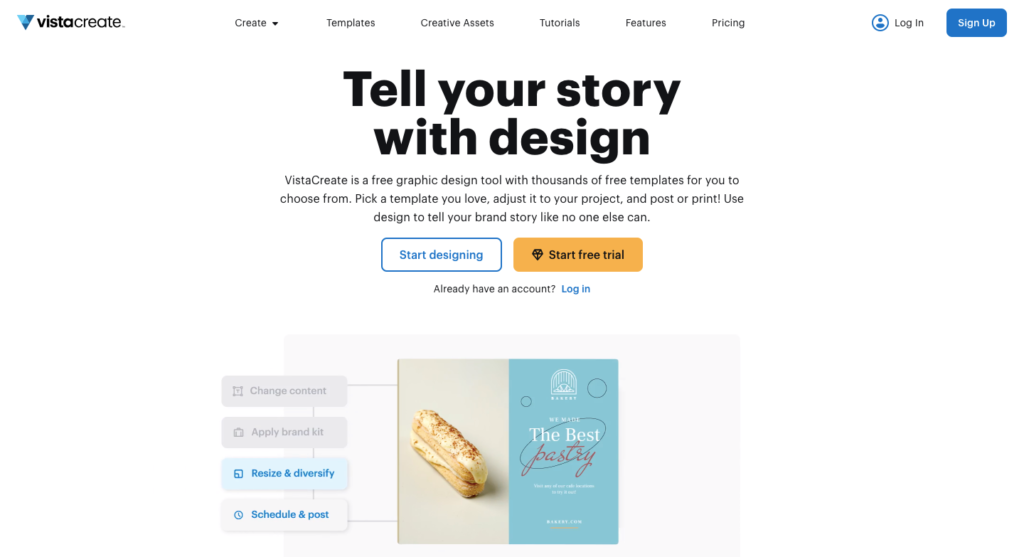 An easy-to-use design editor, Crello has already helped so many individuals and businesses upgrade their design process with its templates and features. It is a solution to all your needs if graphic design, making graphic designing easy and straightforward.
Features
With Crello, upscale your design and editing tasks with customizable templates. If you lack ideas, jump to Crello and find ideas that create captivating content for leveraging your social media marketing.

With so many fonts, edit and customize text that is visually attractive. The online editor too is filled with so many tools and features that it will make your designs stand out among your competition.

With this tool, you can design content that looks professional and has no errors.

If you have a team, the tool offers collaboration to work together and craft perfect designs for your team.
Pricing
Crello offers two plans for its users with advanced features. The starter plan for Crello is free to use, which is the best if you are getting started with graphic design for your Shopify business. The pro plan costs 10 USD per month and has a free trial for 14 days.
5. PicMonkey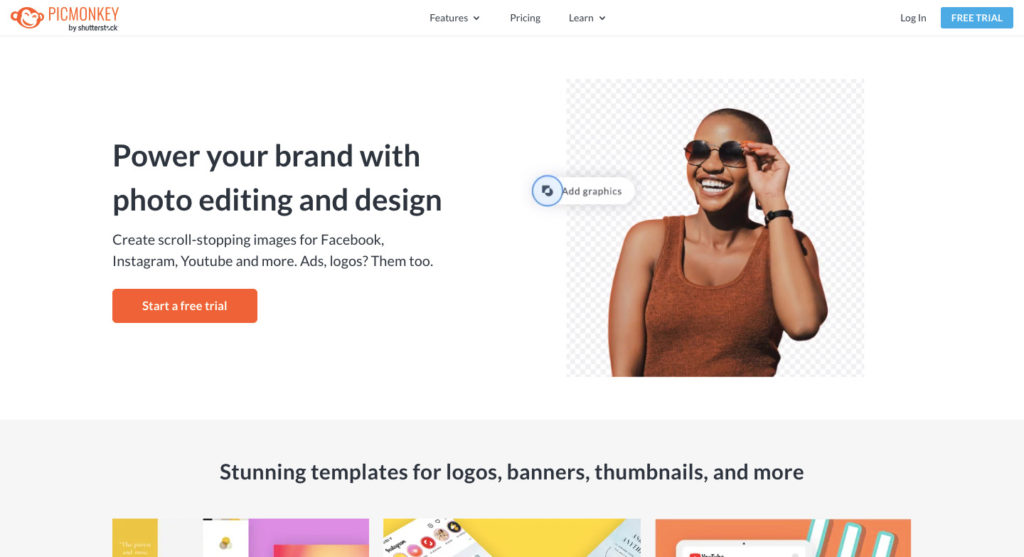 We are all influenced by captivating content on social media channels. If your Shopify business requires similar content, at no cost should you miss the best Shopify social media graphics tool.
PikMonkey, with its powerful photo editing and graphic design software, can help in adding and editing designs in your visual content. If you want to get results for your business, PicMonkey can do the job for you!
Features
The tool has eye-catching templates for each of the social media platforms like Facebook, Twitter, Instagram, or LinkedIn. Logos, banners, thumbnails, flyers, presentations, and literally anything you need for your social media platforms, PicMonkey will be there to provide it to you.

The photo editing tools are advanced, making it an excellent alternative for choosing the right graphic tool for your Shopify store.

With stylish and engaging posts, ads, as well as cover images, the tool helps in winning the hearts of your audience.

With so many graphics, textures, fonts, templates, and stock multimedia, the tool is definitely a hit for all Shopify businesses.
Pricing
You can purchase PicMonkey in three different plans. Cloud storage, image downloading, brand kits (containing fonts, colors, and logos), and email support will vary with the type of plan you choose. The basic plan costs $72 per annum (or $7.99 per month). For a pro plan, you will be billed $120 annually (or $12.99 per month), and for a business plan, the cost is $228 (per user), which is billed annually (23 USD) per month.
6. PiktoChart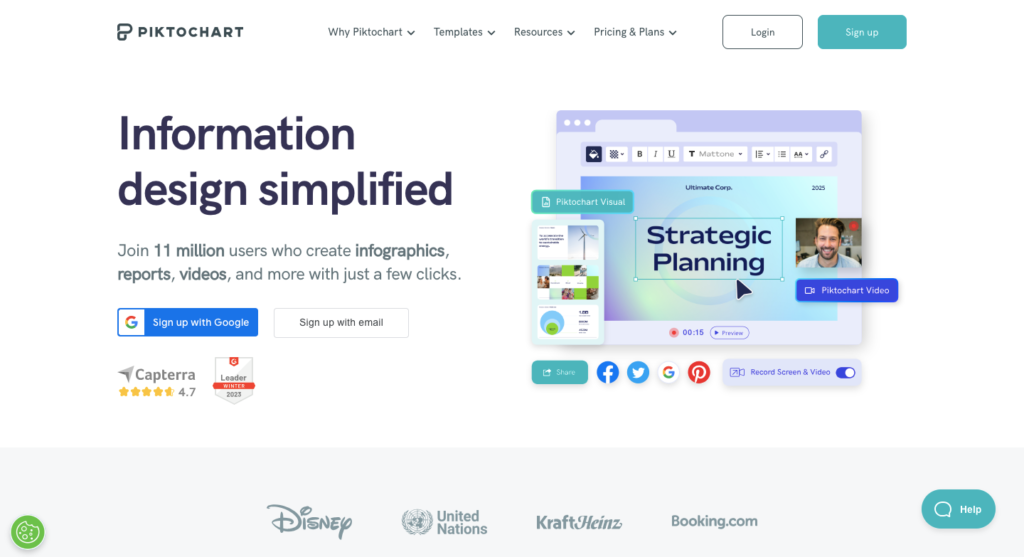 Most of the designing tools require training before you excel in generating graphical content using them. But PiktoChart is a graphic design tool that can help in making graphically perfect content in no time. The tool is perfect for creating reports, videos, posts, infographics, and every type of graphical content necessary for the outreach of your Shopify business.
Features
Integrating the tool into your workflow is no hassle. The tool is a great way to share complex and boring data with graphics that create clear and catchy visuals.

Editing videos to generate graphically flawless content is so easy with this tool.

Using this tool, you can generate subtitles and transcriptions automatically. Improve your content strategies by integrating high-quality infographics, eye-catching posters, as well as insightful reports.

The persuasive presentations make it convenient to place bids on potential clients and investors.
Pricing
Piktochart offers various plans for businesses, education, and non-profit organizations. For businesses, there are three memberships, i.e., Free, Pro (12.68 USD per month), and Enterprise (customized fees). For education, again it has three plans, i.e., Free, Pro (36.23 USD per year), Higher Education (3999 USD per camper). In the case of NGOs, there are two plans available, i.e., Free and Pro (54.36 USD).
Wrapping It Up
Defining marketing campaigns and their objectives has become so easier when using the right Shopify social media graphics tool. Business management for Shopify holds a crucial place for graphic designing tools that aid in generating top-notch content to boost performance.
Creating visual content that helps in communicating a message from the brand should be carefully curated. Graphic design is not needed just in designing posts but is crucial in making the right ads, carousels, logos, and whatnot.
We hope your social media marketing provides you with excellent results with these graphic tools. Comment down if you have any questions.
Related articles
Best Shopify Tools For Marketing
Marketing Automation for Shopify
How To Connect Instagram To Shopify Store