Oops! Did you accidentally repost something only to regret it later? Here's how to undo that repost on TikTok
As one of the social media platforms with millions of users, TikTok is all about videos and collaborations. An interesting feature- the repost feature, allows users to re-share their favorite videos with their followers. It can come in handy when you're looking to widen your reach and connect with new audiences. But, sometimes it can happen that the video you reposted somehow does not align with your brand or personal image. It could be that you realize later that the video does not really fit the theme of the posts you have curated so far. Or maybe you've simply changed your mind about the video.
But that's alright. In the fast-paced world of social media, mistakes can happen. Whatever the reason, you need to know how to undo a repost on TikTok. This article will guide you through the very process step by step.
Understanding Reposts on TikTok
Before we delve into the process, let's crack down on the basics. It's important to know what the repost feature is and how it is generally used.
What is a Repost?
The TikTok repost feature is a unique and interactive feature that allows users to repost a video that is not originally theirs, onto their own profile. Say, you come across a video that clearly showcases content in the way that you would have wanted to put it forward. Maybe you liked it so much, that you wanted to have it on your profile, rather than simply sharing it with your friends. This is where the repost button comes in!
The repost button allows you to showcase another user's original content on your profile. It is a smart way to share content that you enjoy with your followers, interact with a broader audience, and appreciate the original creator's content. Needless to say, the original creator is always credited when their content is being reposted. Users can tag the original creator in their captions, and comments, or directly notify them about the repost.
As a way to protect their content, most content creators try to incorporate their usernames into the video content itself. This clearly and visibly showcases their copyright on the video and makes it difficult for others to pass off someone else's content as their own.
How to Repost a Video
Reposting a video is quite a simple process. It is similar to sharing a video with your friends. Instead, with the repost button, the video is shared directly with your profile. Let's go over these steps to repost a TikTok video:
To repost a video, you simply need to tap on the "Share" button on the right side of the video.
Then, select "Repost" from the options that appear.
The video will then be shared on your profile, with a note indicating that it's a repost from another user.
How to Undo a Repost on TikTok
Previously, TikTok did not provide a direct "undo" option for reposts. However, post some updates, and you can now easily undo or remove a repost from your profile. The reposts don't always get the traction that the users anticipated so they remove it. But should you?
To Undo a repost on TikTok, tap on the "Share" button on the right side of the video
There, instead of the "Repost" button, You will now find "Remove repost"
Simply tap on the option. Your repost will be immediately removed!
Along with this, any interactions such as likes and comments on the reposted video will also be lost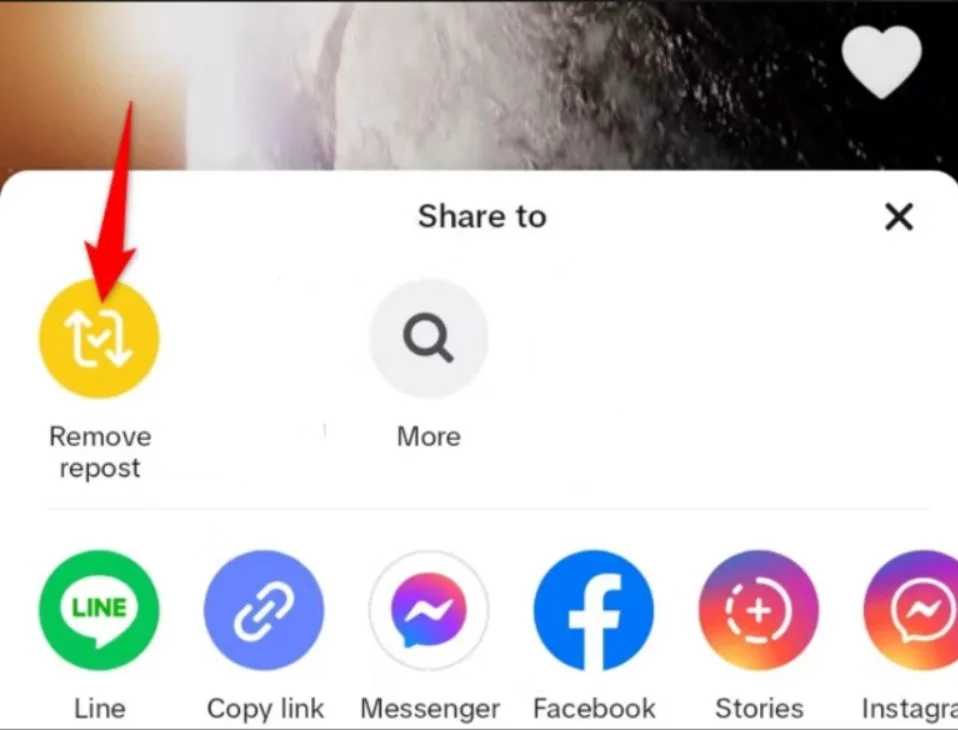 In this way, the reposted video will be removed from your profile, effectively "undoing" the repost.
An important thing to remember is that using the 'Remove repost' option will only remove the repost from your profile. So rest assured that it will not affect the original creator's profile or post in any way.
Wrapping It up
The launch of the repost feature has made it increasingly easier for content creators to interact with new audiences, kickstart collaborations, and appreciate fellow content creators. However, on the off-chance that you say, changed your mind about the repost, posted it by mistake, or realized that the content does not really align with your brand image, you can still fix it just as easily!
Removing the repost or undoing it is now only a simple task with a few steps. So, don't hesitate to experiment a little with your reposted content. It's important to remember that relatable content that aligns with your style is crucial for a successful social media presence.
Related articles
6 Ways To Increase TikTok Followers