It is critical to provide your audience with relevant content. Video gives your brand a voice and allows you to act quickly to capitalize on breaking news, consumer behavior, and any other relevant content that goes viral. Visuals are also processed much faster by your brain than text. Thousands of times faster. So, video is the way to go if you only have a few seconds to captivate someone. Furthermore, videos are excellent at storytelling. Videos have a bigger impact than product images do in attracting your target audience. An engaging product video is tough to ignore. For this reason, a Shopify Product Videos must be included in your social media strategy.

It assists in increasing traffic to your Shopify store, in addition, to thoroughly describing the details of the products. A few Shopify businesses are changing the game with product films that go beyond the typical focus on a product's distinctive qualities. To outperform the competition, marketers are experimenting with their product videos, doing anything from demonstrating how to install a product to showing user-generated material.
Let's learn more about Shopify product videos and appreciate how powerfully they can boost conversions.
What Is A Product Video?
A product video appears on an eCommerce store's product page. It is usually included with the product description and images and explains the benefits of the product. While most product videos focus on the product's distinguishing features, some Shopify storefronts are upping the ante with product videos that do more. To stay ahead of the competition, brands are experimenting with product videos, from assisting customers with product installation to showcasing user-generated content. And you should, too.
Why You Should Add Videos To Your Social Media
Clips, and product videos, in particular, have a remarkable capacity to boost conversions by better assisting customers in comprehending your product and giving them as much information as possible about the things you offer. In fact, after seeing a video, website visitors are 64–85% more likely to make a purchase on an online retail site.
Videos may be the most efficient approach to show a product and its advantages to your viewers, although copywriting, photos, and user reviews can all accomplish this. They are a useful tool when it comes to advertisement as it helps potential buyers to know a product more effectively and better understand the features visually than other methods of promoting them.
Here are a few of the most crucial reasons:
Video is easier to share and click:
According to surveys, sharing videos is more common than text pages. People are also more likely to click on a thumbnail for a video than on an item without a visual or multimedia component.
The appeal of video:
Internet users are spending more and more time watching videos. Comparatively speaking, watching a movie is easier than reading lengthy blog entries and product descriptions. You can captivate a viewer with a video who might otherwise ignore the information you would ordinarily present through writing.
Videos give you the chance to win some coveted attention of Google:
Google shows a variety of search results in addition to standard search results, including video, image, news, maps, and other mediums. When none of your rivals use video in their stores or for their products, having product videos increases your likelihood of ranking. Additionally, research demonstrates that Google prioritizes and promotes video-rich websites, so having product videos (preferably housed with YouTube, a Google-owned company) will increase your chances of ranking in search results.
It is simpler to explain your product via product videos:
Videos are excellent for showcasing a product because they eliminate any uncertainty through virtual demonstrations. Additionally, unlike photographs, they don't leave much to the viewer's imagination. A well-produced video can also emotionally connect with your audience and inform them of what to expect from the product.
Points To Remember To Make Product Videos For Shopify
1. Choose the product that is to be advertised.
2. Describe the product and make sure to keep the description attractive and appealing. Explain the best qualities of the product, benefits, and best selling points to impress the consumers; what advantages it has over others. Please don't make the description too long as it will not keep the target audience engaged. Use short phrases only.
3. A good picture of the desired product should be generally transparent as then there won't be any distractions. If not transparent, the background and the components of the picture should be such that they complement the product such as the brightness, background color contrast, etc.
4. The template should be attractive, decent, not too loud, and basic.
5. Catchy phrases should be used in the caption but it should not be too long.
6. Choose engaging music according to the audience of interest. It should be unique and something that one would stop to listen to.
7. Add proper hashtags.
8. Concentrate on the target audience and observe what is the best time to release the content. For example, if the concerned users are mostly college-going students, they are mostly active at night. So the best time might be around 11-12 pm.
Tips To Produce Shopify Product Videos That Convert Into Sales
1. Capture it correctly: When it comes to selling your brand, make sure every angle is properly captured during video production.
2. Select a video editing software: With pre-designed and customizable product video templates, a video editing tool can make creating Shopify videos a breeze.
3. Keep it brief: A good Shopify product video should be no more than 1-2 minutes long. Anything less may not adequately convey your message. Anything longer than this may fail to keep your audience's attention.
4. Don't limit yourself to social media: Extend your video content beyond your social media pages. Upload them to your website and product pages. You can also embed your product videos into emails to increase their visibility.
5. Monitor and Track performance: Use a tool that can clearly show how your posts are doing on your social media platforms. Understand what can be improved and make necessary changes. No metric of your video approach is ever complete unless the results are analyzed. Product videos on Shopify are no exception. Monitor their performance and adjust your Shopify store accordingly.
How Does Predis.ai Help In Your Videos?
Predis.ai is an AI-powered content generation tool that generates social media content in minutes. It can create single image posts, carousel posts and videos with the help of AI.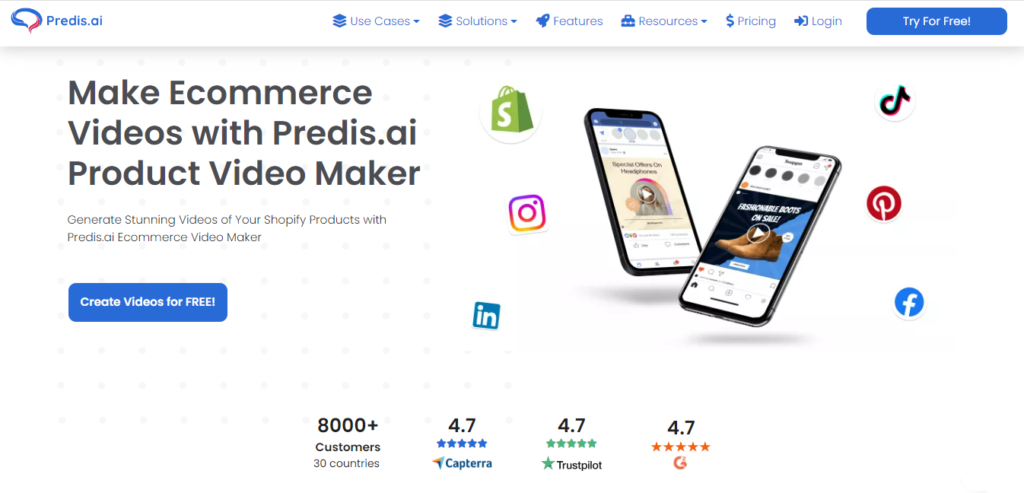 Creating Shopify product videos is quick and easy with Predis.ai Social Media Tool for Shopify. You just need to enter the URL of your Shopify store and Predis will do the rest. Select the product for which you want to create posts and Predis will create posts with the product information. It will take the help of the product description to create the caption and hashtags. You can re-generate new captions with a click. The posts can be scheduled directly to your social media platforms through Predis in a click.
Predis predicts the performance of an Instagram post before it is published, allowing influencers and brands to improve their posts ex-post using the AI's recommendations. Predis also suggests hashtags based on your target audience to help increase the reach of your post.
Step 1: Select your product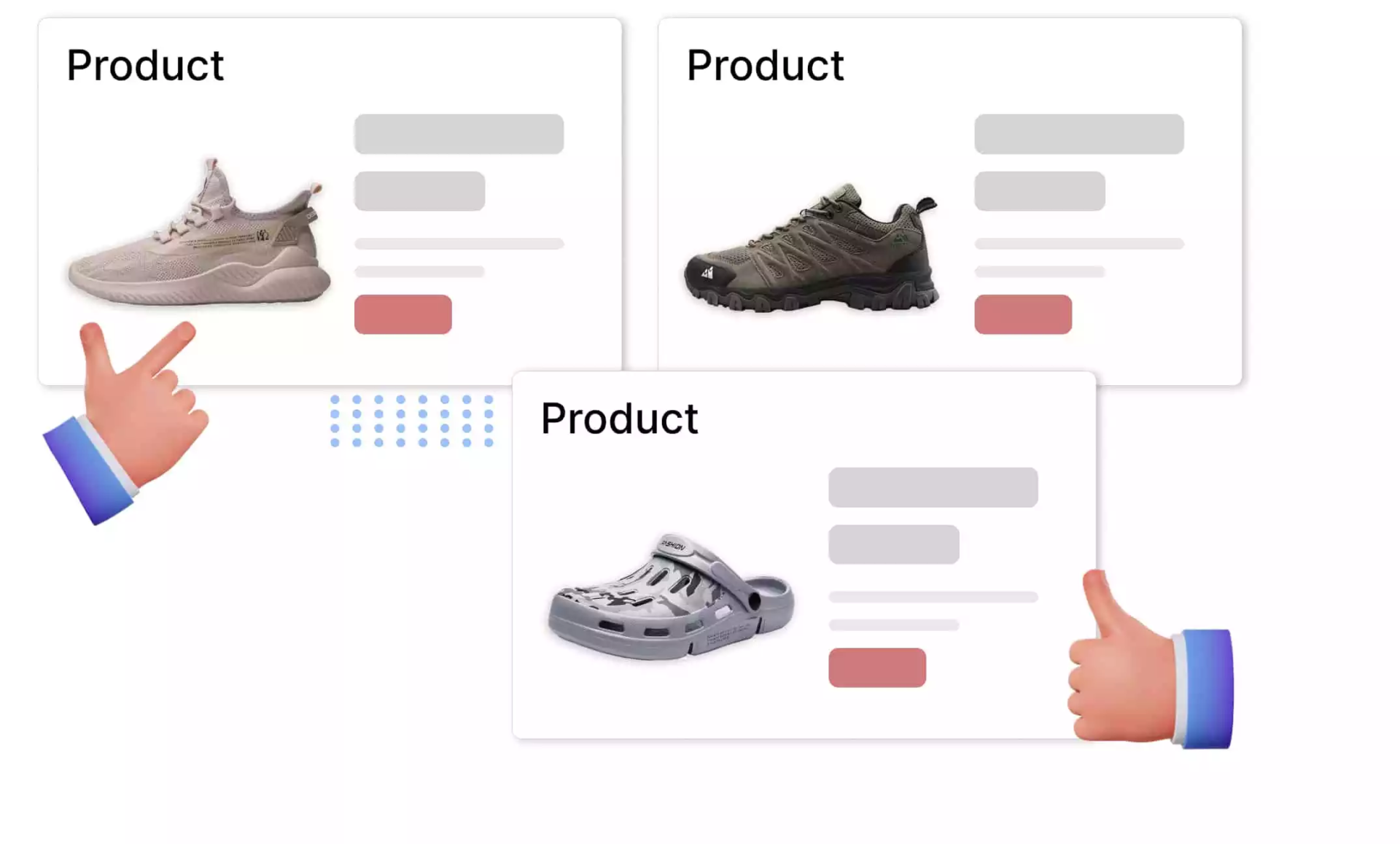 Step 2: Predis.ai uses stunning templates and creates custom videos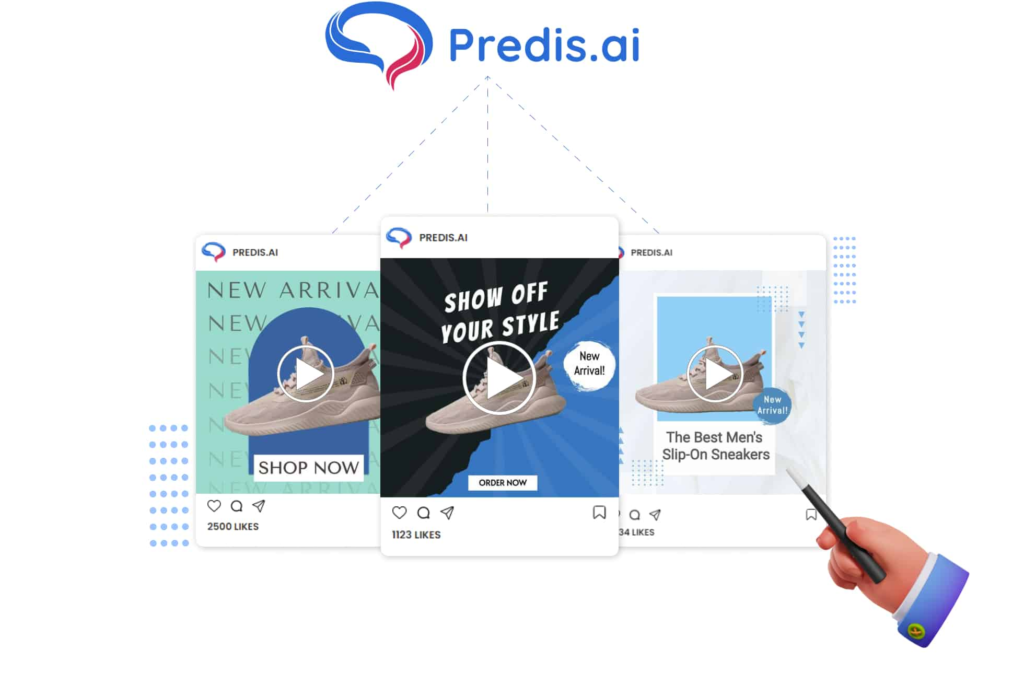 Step 3: Edit the post easily with it's built in editor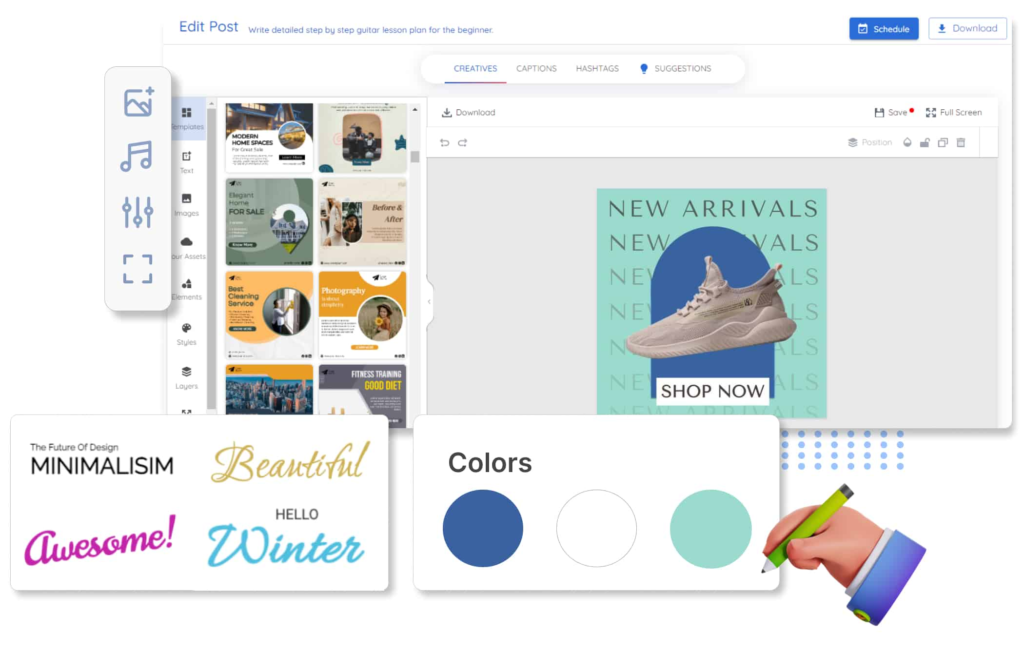 Step 4: Schedule the posts to your Social Media Platforms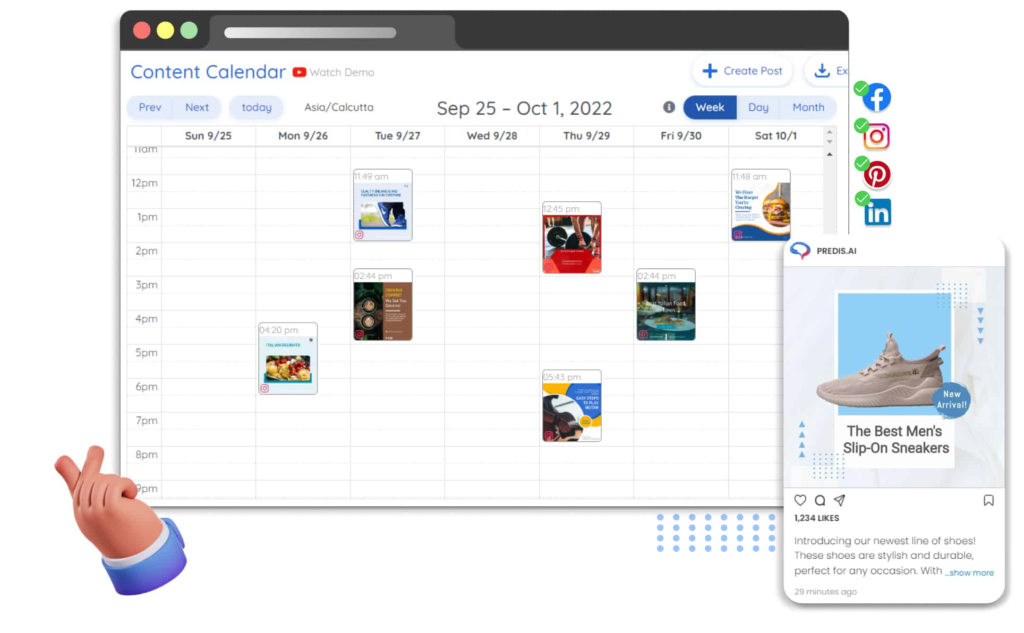 Advantages of using Predis.ai for Shopify Social Media Marketing
1. Quick and easy to use
2. Wide variety of templates
3. Creates posts, carousels, and videos for all platforms
4. Dedicated Shopify App
5. Great customer support
6. All suggestions are tailored to your Instagram handle's audience using AI and are based on factors such as caption length, the number and type of hashtags used, the type of creative, and the date and time of posting.
7. Predis also conducts extensive competitor research. The content on your contenders' handles is organized into content themes, and you can see what type of content has the greatest share of voice on their handle, as well as which content groups have the highest engagement scores.
Wrapping It Up
Product marketing is as challenging as product development. With engaging Shopify product videos, you can tell the world how your products stand out from the crowd. Using videos in your social media marketing arsenal, you can be sure to increase your engagement and performance thereby improving your sales. Explore Predis to learn how to make a fun yet captivating promotional video in a matter of seconds and boost your Shopify product sales.
Read Related,
Instagram Viral Content Ideas.
Marketing WooCommerce Products.
Automating Content Creation for Instagram.