If you wish to boost the number of people who see your Instagram posts, you should start creating viral content. But, exactly, what is viral content? And how do you go about finding it? We'll address these questions and show you how to find viral content ideas for Instagram and make the most of them in this blog post.
We all know that content is king. And, on social media, viral content earns the most attention and engagement. But, exactly, what is viral content?
Viral content is any piece of content that spreads quickly and widely online, commonly resulting in a significant increase in traffic or engagement. This could be anything from a funny meme to a news article to a video to a really good blog post.
Once you find worthy viral content ideas, there are a few things to keep in mind when posting on Instagram. Firstly, consider the composition of your photo. A well-composed photo is more visually appealing and will therefore be more likely to grab attention.
Secondly, use hashtags judiciously. Using too many hashtags can come across as spammy, but using a few relevant hashtags can help your photo reach a wider audience.
Finally, consider the time of day you post. Posting when most users are online will help ensure that your photo gets seen by more people. For businesses, the best time to post on Instagram is between 12 and 3 pm. This is when most people are on their lunch break and looking at their phones. For personal accounts, the best time to post is in the evening Between 6 PM to 9 PM, after work or school. This is when people are winding down and looking at their phones.
Viral content ideas for Instagram
There are many ways to get your Instagram post trending. Posting viral content is one of them. Check out the below ideas on Viral content ideas for Instagram.
1. Listicles:
Listicles are a great way to get your followers engaged on Instagram. There's no denying that we love a good listicle, especially when it's in post form on Instagram. Whether it's a list of the best places to eat in your city, the cutest animals in the world, or the most interesting facts about your favorite celebrity, we can't help but click through and read them all. And while some listicles can be a little bit clickbait-y, we still can't resist. After all, who doesn't love a good list?
Posting Listicles will help you a lot with engagement, but only if it is a good topic with precise and short information. Here are a few tips on how to make your listicles posts stand out:
1. Use high-quality images: This is a must for all of your Instagram posts, but especially for listicles. Your images should be eye-catching and relevant to your content.
2. Keep your lists concise: No one wants to read a 10-point list. Keep your lists short and sweet so that your followers can easily digest the information.
3. Use creative formatting: Take advantage of all the different ways you can format your listicle post on Instagram. Use bold text, emojis, and even photos to break up your content
Pro tip: This type of content can work best with Carousels on Instagram.
2. How to – tutorials:
Tutorials are a great way to get engagement on Social media. It could be DIY crafts or even how to make a fancy chandelier. These are the best way to post interesting stuff On Instagram. If you're looking to start sharing your tutorials on Instagram, there are a few things you need to keep in mind!
First, make sure your videos are high-quality and extra engaging – nobody wants to watch a low-quality video, no matter how helpful it may be.
Second, use hashtags! This is a great way to get your videos in front of people who may not be following you yet. Use popular, relevant hashtags so that your videos show up in searches.
Finally, don't forget to promote your videos on other social media platforms and your website – make it easy for people to find your content!
Pro tip: Leverage Instagram reels to share short tutorials with viral audio or songs.
3. Giveaways:
Posts about giveaways are becoming increasingly popular these days. If you are a small business or even a growing business, the best way to get traffic and engagement is to post Giveaways once in a while. There are a few things to keep in mind before posting this stuff on Instagram. Here's your guide to running a successful giveaway on Instagram.
1. Find a relevant hashtag. The first step to running a successful giveaway is to find a relevant hashtag. This will help you reach users who are interested in the type of product or service you're giving away. For example, if you're giving away a free pair of shoes, you could search for the hashtag #freeshoes.
2. Create attractive visuals. Since Instagram is a visual platform, it's important to create attractive visuals for your giveaway. This could include an image of the product you're giving away or a creative graphic.
3. Write a compelling caption. Your caption is your opportunity to tell users what your giveaway is all about. Be sure to include all of the relevant details, such as what the prize is, how to enter, and when the giveaway will end.
4. Promote your giveaway. Once you've created your giveaway, it's time to promote it. The best way to do this is to share it on your other social media channels.
4. Memes | Viral content ideas:
In case you haven't been on the internet lately, memes are all the rage. And what better place to find them than on Instagram? Every day, millions of people scroll through their feeds, stopping to laugh (or cringe) at the latest meme. Instagram is a great platform for sharing memes! If you want to get more followers and likes on your posts, consider posting a meme or two.
When it comes to sharing memes, Instagram is the perfect platform. With its visual format and easy-to-use interface, Instagram is ideal for sharing all sorts of memes. Whether you're looking for funny memes, motivational memes, or anything in between, there's a good chance you'll find it on Instagram. And since memes are so shareable, they're perfect for getting your friends and followers laughing – or inspired.
Use moment marketing and make the best of viral memes and viral trends.
5. Makeup tutorials:
Makeup tutorials are all the rage on Instagram. Many users enjoy watching these videos and learning new techniques to apply to their makeup routine.
And while we may not have the time or patience to recreate the looks ourselves, we can't help but admire the artistry involved. Whether it's a smokey eye or a bold lip, there's no denying that these ladies (and gents!) know their stuff when it comes to makeup.
Posting these makeup tutorials can get you a lot of engagement as it is a viral content idea for Instagram. There are a lot of Makeup tutorials seen these days on Instagram.
6. Cooking tutorials:
There are a lot of cooking tutorials seen on Internet these days, specially on Instagram. The best way to get more engagement on Instagram is to post high quality cooking videos. The best way is to use these videos is to add a very accurate hashtag with the videos. Post more of reels than posts or videos. These will catch more attention and based on Instagram's algorithm.
Keep in mind to post a unique cooking video or even cooking instructions along with recipes on Instagram. Try to give instructions in a manner that other accounts are lacking and you can add a plus point to your videos or reels.
7. Workout videos:
There are a lot of pros to posting workout videos on Instagram. It can be a great way to motivate yourself and others to stay active and fit. It can also be a great way to connect with others who have similar interests.
There are a lot of accounts that post motivational workout videos. These are at present the most searched or seen videos on Instagram. If you use Instagram, you know how you at least find one such video while scrolling. Make such videos or even Infographics related to that and post them for viral content on Instagram.
8. Cosplays | Viral content ideas:
Don't we all love seeing all the amazing cosplay posts on Instagram? It's so inspiring to see all the creative and talented people out there. We love how cosplay allows people to express their creativity and passion for their favorite characters.
One of the best things about cosplay is that it's for everyone. Whether you're a professional cosplayer or just starting, there's a place for you in the cosplay community. Also, it's amazing how cosplay can bring people together.
Just like normal makeup tutorials, these are also trending these days on Instagram. Specially the anime and marvel cosplays. These are a great way to get in the viral content posting game!
9. Hauls:
People love sharing their latest purchases on Instagram. Whether it's a new outfit, beauty products, or home décor, people love to show off what they've bought. This is especially true for fashion and beauty bloggers, who often do haul posts to show their followers what they've been buying. Haul posts can be really helpful if you're looking for new products to try. You can get an idea of what's popular and what people are loving. And, of course, it's always fun to see what other people are buying.
If you're thinking of doing a haul post, there are a few things to keep in mind. First, make sure you take good photos. People want to see what you've bought, so make sure the photos are clear and bright. Second, be honest in your review. If you didn't like something, say so. People appreciate honesty and it will make your haul post more trustworthy. Finally, have fun with it! Haul posts are a great way to show off your personality and style. Go ahead and post these videos to get viral content growing on your Instagram!
10. Instagram finds from various brands:
These are posts, reels, or videos where one posts about products they bought from a particular brand. The difference between this and hauls is that, the content is based on showing products one bought for under so and so $. For example, one such trending video is about drugstore makeup products under 20$. Does that ring a bell? yes! you must have seen such videos all through Instagram.
These are great to get engagement and will make the followers more interested in what the account has to post next.
11. Reels on trending music:
Trending of reels is partially based on the music that is used for them.
Remember that even original audio that you might post to the reels can make it viral if the content is good, but it is always better to use viral audio.
12. Behind the scenes:
We all love seeing what goes on behind the scenes of our favorite show or movie. And thanks to social media, we can get a peek into the lives of celebrities and other public figures.
Sure, we see glamorous photos and videos of celebrities living their best lives. But what about the posts that show the not-so-glamorous side of life? The posts which show the long hours of work that go into creating the perfect photo or video.
We often forget that the people we follow on Instagram are real people with real lives. And behind-the-scenes posts give us a glimpse into that reality. So next time you are confused about which viral hack to use for your Instagram, use this idea to make your posts go viral!
13. Quotes and writings:
Inspirational quotes are all over Instagram. They're in your feed, on your explore page, and every other influencer's profile. But what are they really? A quick Google search will tell you that a quote is "a group of words taken from a text or speech and repeated by someone other than the original author or speaker." But, we all know there's more to it than that.
These little snippets of wisdom have the power to change your mood, inspire you to be creative, or motivate you to keep going when you're struggling. They can be general life lessons or specific to a certain situation. They can be funny, serious, or a mix of both. But, most importantly, they can speak to you on a personal level and help you see the world in a new light.
Try to post these on your Instagram to get more reach and also to use viral content ideas for Instagram to incorporate in your posts. You can also post these in stories to keep the audience engaged.
14. Skincare videos:
As much as we may love makeup, sometimes our skin just needs a break. That's where skincare posts on Instagram come in! These types of posts can be helpful in several ways.
For one, they can help us learn about new products and ingredients that we may not be familiar with. In addition, they can provide us with valuable tips and tricks on how to properly take care of our skin. And last but not least, they can simply be inspiring and remind us to take a moment for ourselves to focus on our skincare routines.
15. ASMR:
ASMR (autonomous sensory meridian response) videos are becoming increasingly popular on Instagram. There are a variety of ASMR videos on Instagram, from people whispering into the camera to people eating crunchy foods. If you're curious about ASMR, scrolling through Instagram can be a great way to find videos that generate a response for you.
These videos often feature someone performing simple tasks such as: whispering, tapping, or crinkling paper.
How to automate viral content using AI?
Getting the ideas for all the viral content is great, but it is difficult to post these every day along with trying to set the best hashtags and captions. The best way to counter this problem would be the use of Post content automation scheduler and Post Scheduler.
Predis.ai is an AI-powered content generator and post scheduler. It can generate creatives, carousels, videos, and reels entirely with AI. You just need to input a short description of your business or product and you are set.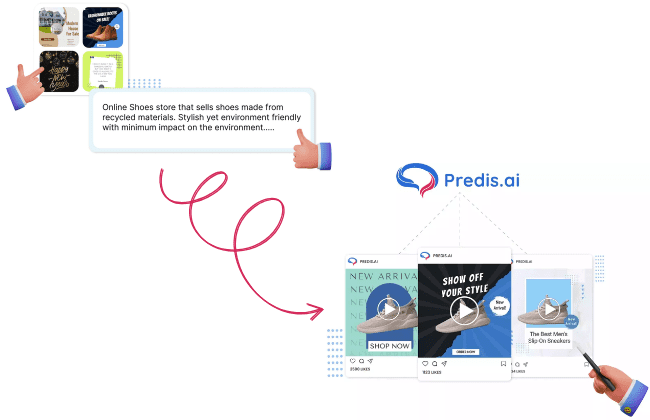 It also generates apt captions and hashtags for your posts at the same time. It can help you to set your posts on a certain date and time and will post them at that time of the day. The Competitor Analysis feature helps you to analyze your competitor's social media performance and get AI-based insights.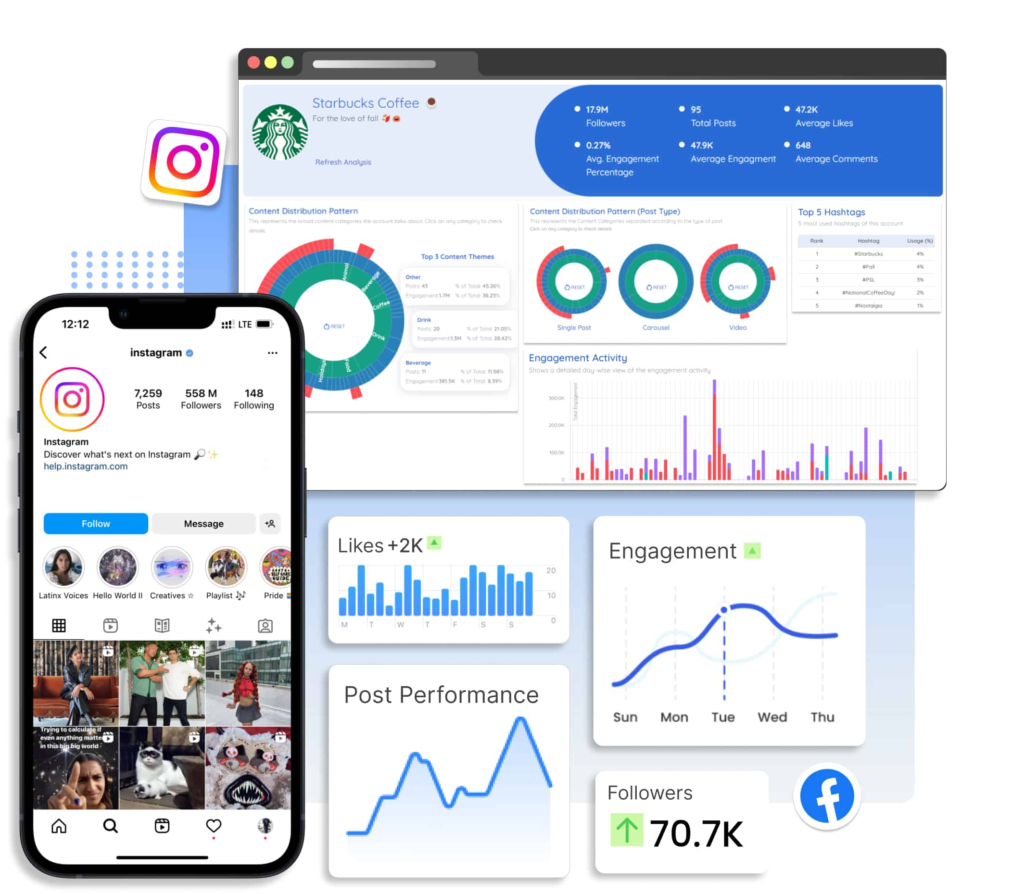 The pricing starts at 0$, a free plan that helps you with 15 post generations as well as a paid plan with unlimited post generations.
Wrapping It Up
Using viral content ideas for Instagram is a great way to increase your community on Instagram. This will help get more reach. This will also help in getting the audience interested in the content that you post, and the existing followers can get multiple reasons to follow a page.
You should also use Hashtags related to the viral content ideas so that they might get the max reach. Keep the pictures or videos in good quality. Post at the time when most of your followers have shown to react most to your posts. All of these hacks will help you in getting the best out of viral content and audio.
Read Related,
How to automate content creation?
Creating content at scale.