Instagram is a social networking platform that prefers visual content over textual. This feature distinguishes it from other social platforms and makes it the best way to promote your business/ account in 2022. But what if one regular post is insufficient – and you have additional stuff to share? Yes, by that we mean Instagram carousel posts.
Instagram has released lots of new features throughout the years. These features allow you to personalize your feed and enhance interaction. Stories, IGTV, and Reels should all be part of your Instagram feed. But the Instagram carousel feature is one of the simplest things to employ to boost engagement.
Carousels on Instagram have the best engagement rate compared to any other post category, although they only account for 19% of Instagram content.
Instagram users often underestimate the Carousel content regardless of how well they perform compared to other forms of content.
Instagram Carousels should be used by everyone, especially companies, to engage their audience. Furthermore, diversifying your content types is an excellent strategy to make the Instagram algorithm work in your favor. You're missing out on a great feature if you omit Carousels in your marketing strategy!
In this blog, we will discover how to use the Instagram carousel for creating more engaging content on Instagram.
What is an Instagram Carousel?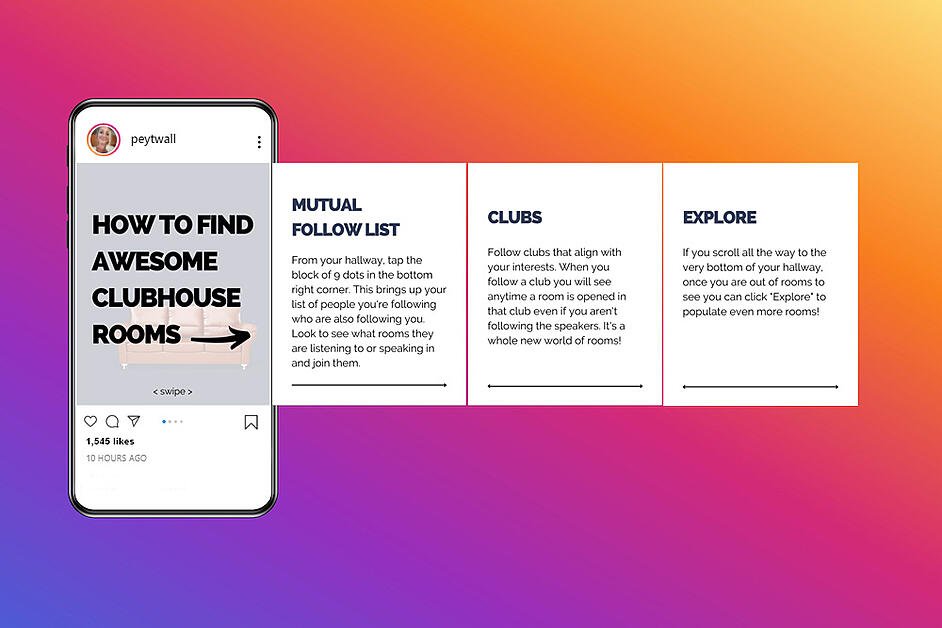 An Instagram carousel is a collection of images displayed in a single post. It is excellent for conveying stories that may necessitate the usage of more than one picture.
You might, for example, use an Instagram carousel to display before and after photos of a DIY project, an outfit, or a place. You might provide a recipe with step-by-step photos, or you may emphasize various parts of a recent vacation.
Users can cycle between the several photos that make up the carousel by swiping left and right. The same feature is available as an ad format on Facebook.
On the other hand, an Instagram carousel isn't simply for images. On your carousel post, you can include videos or a combination of pictures and videos. Long panoramic photographs may also be broken down and added to an Instagram carousel.
How Can Instagram Carousels Boost Up Your Business's Social Media Strategy?
People in the social media sphere frequently inquire, "Do carousels outperform other posts?" In a nutshell, the answer is yes. Let's have a look at the research behind this.
According to studies, advising customers to keep swiping left to read the carousel post can improve interaction by 1.83 percent to 2 percent. Carousel posts on Instagram have 1.4x the reach of a typical post. By including many slides, visitors can access more content on a single post.
If your company conducts a seminar or conference, you can post plenty of images showing your crew having fun and learning at the event. Assume you own a cosmetics firm and want to showcase your new lipstick ranges. An innovative approach would be friendly to offer a carousel post with each new lipstick color introduced on a new slide.
Dimensions for Instagram Carousel Posts
Before creating your post, you need to know about the optimum sizes and formats for your images and videos. Instagram carousels, like any other post, have standard dimensions. Here are the various sizes for pictures and videos in a carousel post.
Instagram Carousel Sizes for Images
Landscape carousel size: 1080 x 566 pixels; 1.91:1 aspect ratio
Portrait carousel size: 1080 x 1350 pixels; 4:5 aspect ratio
Square carousel size: 1080 x 1080 pixels; 1:1 aspect ratio
Instagram Carousel Sizes for Videos
Length of video: 3 seconds to 60 seconds
Video formats: .MP4 and .MOV
Aspect ratios: Landscape Carousel – 1.91:1; Square Carousel – 1:1; Portrait Carousel – 4:5
Maximum Video Size: 4GB
Steps To Create Engaging Instagram Carousel Post in 2022.
When it comes to making a compelling Instagram carousel, the last thing you want to do is just select a collection of photographs. Consider the story you want to convey, how the images will work together and your caption for the best results. Here are the essential steps for creating an eye-catching Instagram carousel.
Step 1: Think of a Basic Idea That You Want To Convey
Your Instagram carousel, like any other piece of content, should begin with a basic concept. Remember that this fundamental concept must be helpful or amusing to your intended audience (bonus points if it is both valuable and entertaining).
Before you come up with your primary idea for carousels, consider the following:
Is your idea actually helpful or interesting for my audience?
Will I be able to explain this idea in a few slides?
Should I make an Instagram carousel post or create a single image post to convey this idea?
You should reconsider your Instagram carousel idea if you answered 'NO' to any of these questions.
Divide it into subsections if your concept is too explanatory for a single carousel post. Each part can be used to create a unique Instagram carousel post.
Step 2: Create An Outline Around Your Idea
If you've already answered the preceding point's questions and chosen a topic, develop a script for your Instagram carousel post. We generally divide the outline into three different sections:
Title
Content
CTA (Call To Action)
Choose any Instagram carousel, and you'll see these three sections.
1. Choose A Strong Title For Your Instagram Carousel To Hook Your Audience
It is the first and most significant slide in your post. We also have always been advised, "Never judge a book by its cover."
However, it is impossible not to judge a book by its cover or a person by his or her clothing. You cannot undo billions of years of human evolution in a split second.
Your followers will judge your Instagram carousel based on the first slide. Nobody will mind checking out the rest of the carousel if the initial slide does not attract them.
A good headline must pique the interest of someone browsing through their feed. It should entice readers to continue reading through the remaining of your Instagram carousel by sliding left.
2. Create A Story Around Your Content
After you've hooked your audience's interest with the first slide, your next aim is to get them to swipe left. Each successive slide's purpose is to lead them to the next slide.
The first slide's purpose is to direct your viewers to the second slide.
The second slide's purpose is to direct your viewers to the third slide.
The third slide's purpose is to direct your viewers to the fourth slide.
The last slide's purpose is to direct your readers to the CTA slide.
A story based on your primary idea is an excellent technique to drive your viewers from one slide to the next.
3. An Engaging CTA
The correct call to action will affect how your visitors interact with your content. Rather than simply hoping that your audience would do anything, you should tell them what to do.
After scrolling through your Instagram carousel, your audience will arrive at your CTA (the last slide). Like the hook (on the first slide), the CTA slide is critical to your engagement.
You might invite your audience to perform the following on the final slide.
Hit like on this Instagram Carousel post
Comment something specific in the comment section below
Ask a question related to the content and ask your audience to answer in the comment section.
Bookmark this Carousel post
Follow your Instagram profile
Check out your profile
Share this Carousel post with their friends
Tag a friend or an acquaintance to the post
And many more…
Although the CTA may not appear to be crucial, optimizing it is one of the most critical growth hacks in Instagram marketing.
Step 3: Choose Specific Colors and Fonts For Your Instagram Carousel That Defines Your Brand
If you already have a defined brand guideline, your half work is done. The names of your typefaces, brand colors, and design rules should all be included in your brand guideline. If you don't already have a brand guideline, you must create one from the start.
Being irregular and arbitrary with your brand colors isn't always negative, but it's also not very nice!
Make sure you have a brand guideline in place before you design your Instagram carousel. If it sounds too complicated, here are a few things you should know:
2 standard fonts for your brand
2-3 standard colors for all Instagram carousels
PNG copy of your brand logo
Voice and tone of your brand
Step 4: Once You Create Your Primary Slide, Use It As A Reference For Next Ones
After you've decided on your brand's colors, fonts, and logos, you should start creating your Carousel. To develop an outline for your Instagram carousel post, you can utilize specific online/offline design software.
Here are some things to think about while creating your reference slide.
Brand logo
Brand name
Like, comment, share and save symbols
The page number on every page
'Swipe left' instruction or a simple arrow
Step 5: Once You're Done Proofread Your Content
After you've finished creating your Instagram carousel, double-check it for errors and alignment mistakes. Proofread your content to ensure that there are no spelling or grammatical issues. Check that the visuals and text on your posts are consistently aligned.
Step 6: Download Your Instagram Carousel and Post It On Instagram
Once you've completed your last proofread, save your post and share it on Instagram. But hold on!
Isn't there anything you're missing?
You overlooked the other two critical components of an Instagram carousel. Actually, you missed the two most vital components of each Instagram post: captions and hashtags.
Step 7: Write Intuitive Captions For Your Instagram Carousel
Captions help you explain your concept even more clearly. But that isn't the only reason you should add captions in your posts. Here are some other ways to use captions in an Instagram carousel post:
Add details of products/services you're offering
Describe the main idea of your carousel post
Narrate the content of your post in short
Step 8: Add Relevant Hashtags
The hashtag is the final component of the ideal Instagram carousel post. According to the same engagement analysis, the typical post on Instagram featured 6.93 hashtags. This was a significant decline from the average amount of hashtags/posts the previous year. This analysis also discovered that half of all posts featured one or no hashtags.
This provides you with a fantastic opportunity to utilize hashtags fully. Hashtags allow you to reach new audiences and expand the reach of your Instagram carousel post.
😯😯 Ranking at the top of the explore feed has never been this easy!
With the free Instagram hashtag generator tool by Predis.ai, you can easily extract the most popular and trendy Instagram hashtags that will boost your engagement.
How To Use Instagram Carousels For Better Engagement?
Don't expect to get a lot of likes by just posting 10 relevant images in a single post. Use Instagram Carousels to express yourself. Also, don't forget to include videos carousels that include both photos and videos as they have the best engagement rate of any post type on the app. Experiment with these content ideas to observe how your target audience reacts.
Use Carousels As Your Engagement Boosters
Make it worthwhile for users to scroll through your Instagram Carousel posts. While you're at it, utilize your caption to tell users to swipe left. Studies show that posts containing the phrase "swipe left" receive more interaction than those without.
Prompts like "swipe to find out more" or "swipe for a surprise" may seem overly apparent, yet they work. Some Instagram accounts exploit the promise of a revelation to get users to connect with their posts.
Upload Before and After Of Your Projects
Display your makeovers. Rather than incorporating 2 images in one, you can share your high-quality before and after images using Instagram Carousels. Before-and-after posts are helpful in a range of businesses, from beauty salons to home improvement projects. Instagram Carousels are a terrific method to demonstrate how your product or service improves something.
Consider changing the order of before and after photographs when posting this type of content, i.e., end result photos first, then prior images. It's always great to get people to follow you on Instagram with visually appealing content.
Provide Educational and Helpful Content To Your Audience
Instagram captions are helpful for long-form text and explanations, but they lack the visual impact. When you have intriguing information to present, create textual pictures and publish them in an Instagram Carousel post.
No matter how attractive the statistics or data points are, you'll have difficulty convincing folks to read through your caption. Try using basic visual pictures to highlight a few crucial topics.
Since Instagram is a visual medium, photos and videos are the most excellent methods to keep users from scrolling past your post. When a person's attention is drawn to a picture, they are more inclined to read your caption or browse your profile page for further information.
Share Step By Step Tutorials
Instagram Carousels are your buddy if your how-to material is too long for an Instagram Reel and too hard to convey in a description.
Tutorials are an excellent approach to demonstrate the things you sell. Provide step-by-step instructions on utilizing a specific function using still photos, short videos, or a combination of the two. Tutorials aren't simply valuable for time; they're also worth saving. And you want users to press the small banner button beneath your post to save it for later because saves count toward your Instagram engagement statistics.
Of course, tutorials do not have to be product-focused. Many business accounts utilize Instagram Carousels to give instructions on topics ranging from beauty to technological hacks.
Unveil Your Behind-the-scenes
Everyone enjoys peering beyond the curtain. However, behind-the-scenes photographs aren't always Instagram-worthy. You can share the polished end result alongside pictures and videos of the process using Instagram Carousel posts.
Instagram Carousel posts are frequently used for "Instagram versus reality" content. Real-life does not resemble the neatly edited finished result. Show your audience the modified photo alongside the original version to provide them with the relatable content they seek.
Bloopers are always popular among viewers, but there are other methods to showcase your process. With the help of Carousel posts, you can share behind the scenes of product manufacturing or show your shooting setup.
Explore The Power of Reused Content
Why work so hard to create outstanding content if you're just going to utilize it once? Instagram Carousels are an excellent method to reuse content like blog articles, webinars, and events.
It's challenging to promote textual content on Instagram. However, you can utilize Instagram Carousels to generate textual picture teasers for content, such as blog posts, and then send readers to your link in your bio to read more.
This is also an excellent method to reuse long-form information like white papers or novels – textual pictures that offer highlights and perform well as stand-alone content. Consider how much information you can repurpose by putting together a multi-image series.
Boost Your Engagement By Giving Shout Outs To Your Followers
Social media should never be used as a one-way street. Including user-generated content on your account is one of the finest methods to engage with your audience. People love shout-out from their favorite brands and influencers, and Instagram Carousels are an excellent way to do this.
Brands can shout their own praises all they want, but nothing beats a client testimonial. Use those positive ratings to your advantage by including roundups in Instagram Carousel posts. Photos of people utilizing your products have a more significant effect.
Consider this: aren't you more interested in how an ordinary person utilizes a product than someone paid to market it?
However, not all user-generated content must be promotional. It's not always necessary to hype up your followers, give them shout-outs, and congratulate them for being your fans.
Wrapping It Up
Creating a carousel for your company's Instagram accounts aids in the creation of compelling adverts and provides a different appearance than your normal post. Carousel posts entice viewers to swipe and see additional material about your company's products and services.
Instagram allows you to share content in a variety of ways. While it may be tempting to limit your content types to single-image posts and the Instagram Story, doing so will also limit your Instagram reach. Make your content more interesting by including some Instagram Carousel posts.
–This post was originally published in 2021, has been updated for accuracy and relevance.
Follow Predis.ai on Instagram for more updates on social media!
For more social media tips and updates, follow us on our Instagram!