Struggling to gain TikTok followers? You're not alone. The platform can be a little overwhelming in the early stages, but we're here to help you build your roadmap to reaching your follower goal. These 6 aspects of posting on TikTok are your best bet to increase your TikTok followers!
---
Only a few years ago, social media marketers were contented when their Instagram following count was up and steadily growing, but this is no longer the only indicator of a solid social media performance. There's a new big gun on the block now, and it is one you would not want to ignore. TikTok has close to a billion users now and is right up there with Instagram and Facebook as one of the biggest social media platforms on the globe.
What's the big deal about TikTok?
If you are living under a rock and aren't familiar with how TikTok works, here's a little brief. Essentially, it harnesses the popularity of the short video format; this is the only way content is delivered on the platform. It has really struck a chord with today's generations. While photos can only convey a certain amount of information, long videos are unengaging and often fail to keep viewers hooked, no matter the content discusses. For this reason, the short video format is a brilliant sweet spot.
What also worked for TikTok, albeit unintentionally, is the timing. The platform started getting popular just before the coronavirus pandemic, and this is when a lot of people started exploring it. Scrolling through photos all day while staying in started getting stale, so people naturally spent more time on TikTok.
It is evident that this really rattled the competition, as Instagram soon launched their Reels feature, which was a blatant ripoff of TikTok with an identical format and layout.
Implications for social media managers
Some social media managers would argue that TikTok is not a great platform to engage with your audience. This is an understandable misconception since, on the surface, TikTok just seems like a platform to express your silliness, and consume more silliness. This makes up a large portion of the platform, but there are also life hacks, how-to videos, general knowledge. It's a mix of everything.
Content here can also be completely unrefined, which makes it cheaper to produce, yet more realistic and human. You can hire spokespeople to talk about your brand or recent events in your industry or take part in challenges that relate to your products. Again, with almost a billion users worldwide, a large chunk of your target audience will certainly be scrolling through TikTok. Proactively making efforts to increase your TikTok followers can be extremely fruitful, especially if you're an online business.
Before you get started on TikTok
TikTok is not just another platform you have to be on as part of your social media strategy. Before making a profile, you have to consider who your target market is. For example, if you wish to increase the awareness of your healthcare services for the elderly, TikTok just won't be the right place (bad example, sorry!).
If you have the resources, putting in the effort to carry out some primary research will certainly help. Conduct interviews and discussions with an appropriate sample of your target audience. Strive to go a little deeper than "Do you use TikTok?" and "How often do you use TikTok?". Ask exploratory questions about their behaviour, and what they like, or don' like to see on TikTok.
Some patterns can't be noticed plainly, and simply asking your audience can give you amazing insights on what TikTok content you should produce.
Here are some ways you can increase your TikTok follower count.
Hop on to trends FAST, to gain TikTok followers!
A major component of social media management is simply scrolling through platforms looking for content opportunities. This is true for TikTok as well, and you should actively be looking for trends and challenges. There are new ones virtually every week, and people move from trend to trend with breakneck speed.
In short, you have to be fast.
To speed up the process of identifying trends, follow hashtags related to your niche/industry, and also other generic ones like #viral, #trendalert and #trending.
As soon as you identify a trend, consider how it could tie in with your business, and put a video out with the trend's hashtags as fast as possible. For example, a lot of brands took part in the #albumcoverchallenge, where they used their products in imaginary album covers; these made for very popular TikToks! Again, don't fret about the production quality as much; perfection is the last thing you'd want to achieve to gain TikTok followers.
If your TikTok is short and engaging, and you've used the right hashtags, rest assured that it will end up in the Discover section for a LOT of people.
Post your TikTok videos at the right time
Just like Instagram, there is a best time to post on TikTok, which is different for each handle. Unlike Instagram though, there is no Insights section where you can see the time period during which your audience is the most active. This makes it a little tricky to find out the best time to post on TikTok for your handle.
The best way to do this is to simply put out your first few TikToks at different days and times, and see what works best for you. Over time, you'll get at least a rough idea of when you can most effectively reach your target audience.
If you aren't convinced by this, here's a rough guideline of the overall worldwide best posting times on TikTok, from a study by Influencer Marketing Hub.
Finding out your sweet spot on TikTok can create a multiplier effect for your account. An increased number of likes/comments/saves on your TikToks will increase your organic reach (as this rise in actions ties in with TikTok's algorithm), which will in turn lead to a higher number of actions.
If that isn't TikTok nirvana, what is?!
Engage with other creators to gain TikTok followers
When you're new to any social media channel, it can take a lot of time for your handle to get going. There's one way to get on the fast lane to growth that will work better than any paid form of marketing, and that is by working with other creators.
The first step for this would be to find the right creators to work with. Even in the same niche, creators can have very different communities with different online behaviours and actions. Huge influencers may not be the right ones for you due to an unengaged audience or exorbitant rates. A little bit of research to find the right creators to reach out to could be well worth your time!
When you're just starting out on your TikTok journey, it is always a good idea to reach out to small creators for collaborations first. Big, famous influencers usually don't bother making content with smaller influencers (harsh truth, sorry), so reach out to creators with a not-so-substantial following. You'll be able to make a more persuasive case for yourself, and thus have a higher chance of going ahead with a collaboration!
Note that smaller influencers generally have a more engaged, reactive audience as well.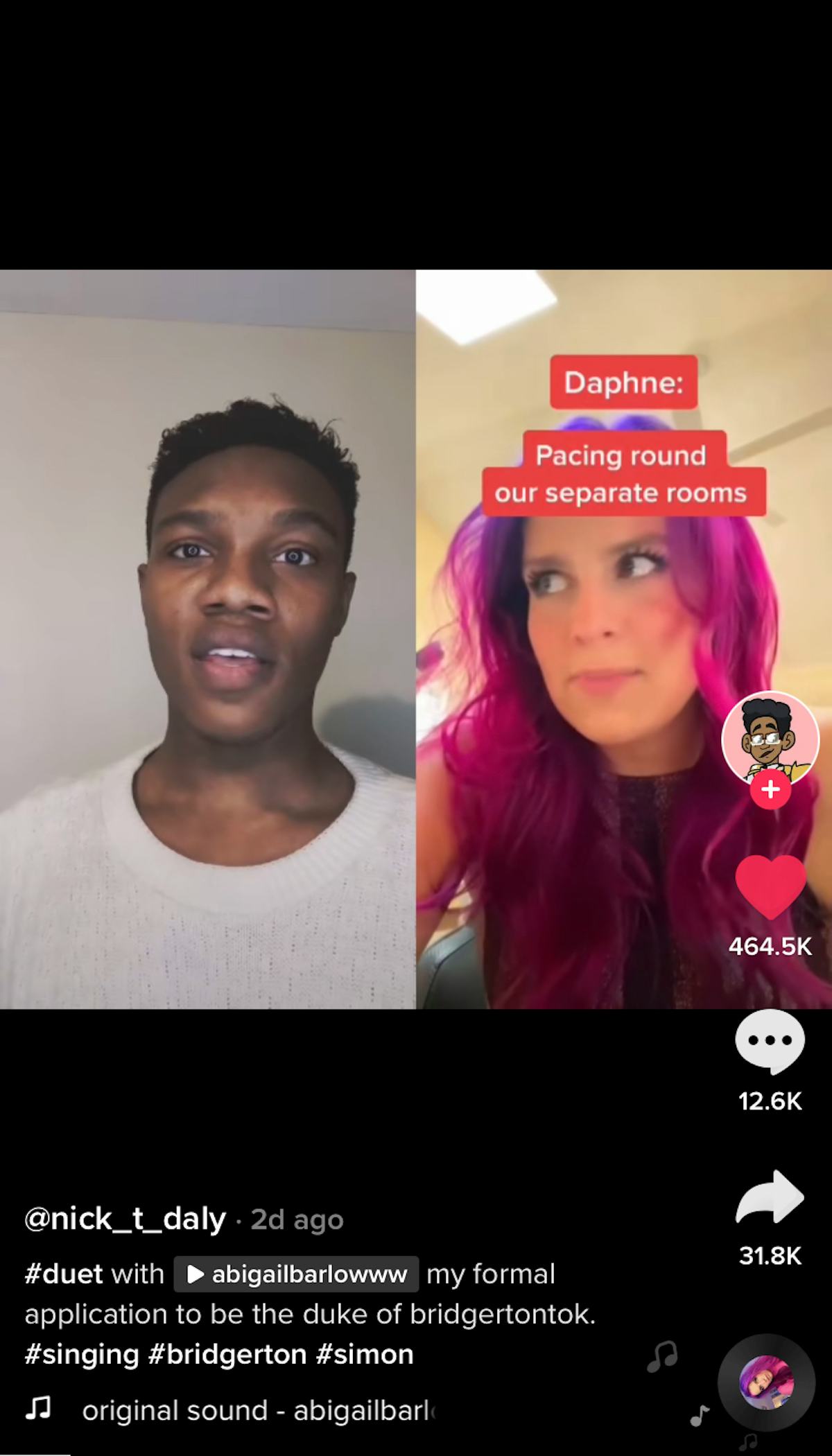 The idea is when you work with creators, your content is exposed to their audience as well. This exposure can give a fruitful kickstart to your content and your TikTok follower count!
For a super-easy way to collaborate, check out the very popular Duets feature on TikTok. You can remotely add on to any creator's content with a twist of your own!
Use hashtags effectively (yes, even on TikTok)
If you're not using hashtags on TikTok or using them incorrectly, you're not going to make it on the platform. It's as simple as that.
The main benefit of using TikTok hashtags is discoverability. If you're using hashtags that are trending, you will potentially end up in the Discover section for a lot of users.
Don't stop at trending hashtags though. Use any hashtag related to your TikTok, and you will end up amongst the videos under that particular hashtag, and anyone following it is likely to see your content.
Also, if you're thinking of kicking off a TikTok challenge (which is a great idea!), create a branded hashtag. If the challenge is fun and relates to a lot of youngsters, there is a high chance of it going viral, and your branded hashtag could go viral with it! This is an insanely effective way of growing your TikTok followers and increasing brand awareness in general!
Read this piece if you think your Instagram hashtags are not performing as well as they should.
User-generated content for the win
Sharing user-generated content on any platform conveys to the world that you are a brand that shares a very healthy and active two-way relationship with your followers. It shows that you genuinely appreciate them. Sharing UGC could also inspire more users to generate content related to your brand.
Sharing UGC does not technically affect how TikTok's algorithm sees you. However, this doesn't mean you shouldn't bother with it. It's a great way of improving your account's likeability and perception. This could bring you TikTok followers in an indirect way.
It also makes perfect sense from a plain business perspective, since customers often find the opinions and experiences of other customers more credible than what businesses themselves communicate.
Pro-tip: To encourage users to generate content, you can develop your own branded TikTok filters! These filters can integrate augmented reality, which makes them very interactive!
Creating contests, trends and challenges is a great way to put your brand in the limelight on TikTok, and customised filters help you do just that!
DON'T: Buy TikTok views or followers
One thing you absolutely should not do is buy TikTok views or followers. If you find yourself in a situation where you're looking for free TikTok views, you have to think about what landed you there in the first place.
There are certainly places where you can buy TikTok views, all you have to do is reach out. However, it puts your account at serious risk. TikTok has AI moderators, and if you're caught, you could be temporarily banned from using the platform. Even when your ban is lifted, you'll most definitely see a reduction in your organic reach, because the TikTok algorithm considers the ban as a big red flag.
If you're looking for a sense of perceived credibility and are hence looking to buy TikTok views, there are other ways this can be done. Simply, put out good content and work with good content creators! In a platform with incredible organic reach, sticking to the basics just works.
---
We hope these tips help your TikTok account see heights that even you wouldn't have imagined!
While implementing these methods will increase your followers provided your overall social media strategy is solid, it's important to not have unrealistic expectations of your profile. New social media managers often expect mammoth growth in a short period of time and end up disappointing themselves. Keep at it, and in a few months, you'll be in a very happy position.
Follow us on our socials for more such content on social media marketing. Check out this blog to know how you can keep up amidst dying organic reach on Instagram!