Who doesn't want to be the center of attention? Getting into the spotlight isn't a problem for TikTok users since there are so many excellent TikTok filters that grab viewers' attention to their content. 
Want to know what are the most trending TikTok filters?
Do you also want to try out these popular TikTok Filters to make your TikTok videos stand out?
If your answer is "yes," you're in the right place. In this blog you will get to know the best TikTok filters, how to apply a filter to your TikTok video. In addition we will also provide you with best ideas and tips on how you can make a viral TikTok video.
TikTok filters change the appearance and vibe of your videos. Thus enhancing the overall appeal of your video making them more engaging. You may, however, use effects to level up your video. The best TikTok filters can completely change the essence of your videos. A green screen can transport you to any place, change your hair color, and even convert you into an alien.
So before moving on to the list of filters, let us quickly know basically what a filter is. Also, what is the difference between filters and effects?
What do you mean by TikTok filters?
TikTok filters are TikTok settings that modify the aesthetic of your whole video. Most importantly, they are not the same as TikTok effects, despite the fact that these two terms are sometimes used interchangeably.
A TikTok filter is similar to those seen on Instagram or in a Snapchat-like app. Filters alter the appearance of your video or image by adjusting factors like saturation, contrast, and other aspects of the content.
Filters and effects are particularly popular on the app since they enable the users to showcase their individuality. They also allow you to produce unique content, and even remain up-to-date with the latest trends.
What is the difference between TikTok filters and TikTok effects?
If you believe they serve the same goal, you are mistaken!
A filter is a pre-set edit that can modify the overall aesthetic of a video based on the user's preferences. They resemble those seen on Instagram, Snapchat, and third-party applications such as Snow and VSCO.
On the other hand, effects help in adding additional elements to your video. You can edit different parts of your videos, like altering the contour of your face or employing a green screen. As well as, change your voice, add stickers, split videos, add transitions, and create time-lapse effects.
These are entertaining and creative methods to modify your TikTok videos once you've recorded them. TikTok effects are classified into the following categories: Trending, Editing, Interactive, New, Beauty, Funny, and World.
Nonetheless, some filters and effects have grown in popularity on the platform. However, if you want to concentrate on levelling up your videos, you must use the best TikTok filters.
Best TikTok filters to get in limelight in 2023
1. G6 filter
TikTok filters are identified by a single letter and number combination. While G6 is described as a filter to use while recording food videos, its popularity increased due to its vivid, vibrant, somewhat vintage vibe.
This is a popular TikTok filter for folks who want a small vintage touch in their photos and videos. You can use this incredible filter to create a vibrant, brilliant, and classic vintage appearance. As stated, this filter is used by the majority of food bloggers.
2. Beauty Mode: Boosting Confidence with TikTok Filters
Beauty Mode, one of the most popular TikTok filters (for obvious reasons), is a preset to increase users' confidence in their videos. Applying the Beauty filter automatically evens out your skin tone, improves your coloration, and discreetly enhances your appearance while ensuring you still seem like yourself.
3. Tonal Filter: Cinematic Excellence with a Twist
This filter is also included in Vibe. This category, in general, is all about converting your videos into cinematic masterpieces, and this one is no exception. Tonal will also make your video appear like they're from the 1960s. It not only converts the videos to black and white but also adds a retro and somber tone to them.
4. Green Screen Filter Effects
The Green Screen effect identifies your outline and allows you to create a custom backdrop, making it an ideal filter for creatives. You may also choose a background picture from your camera roll or one of TikTok's pre-set selections.
The options are unlimited, whether you want to pose in front of Mount Everest or discuss a snapshot of a fantastic customer review.
5. Invisible TikTok filter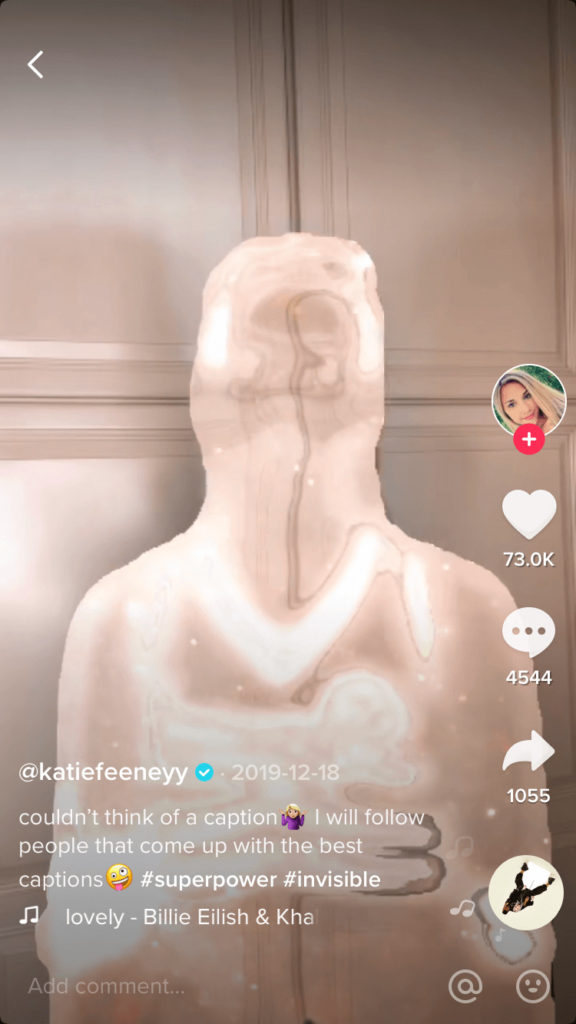 Do you want to be completely invisible in real-time? Is it even possible?
Yes!!!
You can use TikTok's invisible filter to wow your friends. Unfortunately, TikTok limited the functionality of this filter a while ago, making it unreachable to users today!! This is, in fact, one of the most popular TikTok filters.
6. Portrait F4
Other filters in the portrait category are geared at improving the creator's face. These filters serve similar duties to the portrait mode seen on mobile cameras, which focuses on the face, and give you that 'perfect' appearance.
TikTok's Portrait F4 filter is well-known. This TikTok filter brightens your video if it is dark or dreary. It also brightens the grey regions of the videos and makes them seem lighter.
F4 is one of the best TikTok filters for adding warm color and increasing the contrast. In Fact it gives the impression that you are present during the 'golden hour.' Also, it adds a gentle blue hue to the video, making it look more appealing.
7. Fantasy filter
The majority of TikTok's regular filters are labelled with a letter and a number. As the V11 Fantasy filter imparts a pinkish color to your picture, people refer to it as the "Fantasy" filter. If you want to add a romantic flash of color to your videos, use the Fantasy TikTok filter.
This is one of the most popular and best TikTok filters among younger TikTok users. Thus, it can be a smart choice if you're looking to connect with Gen Z. Try to use this with the color customizer filter to create a variety of color themes for your TikTok videos.
8. Forest Tiktok Filter
While this filter is located in the Landscape category, you may not see it at first. If that's the case, go to the Manage menu and tick the box next to it to use it. If you want to accentuate warm colors in a lovely background, Forest is the filter to use for this purpose.
9. Anime filter
Okay, so Snapchat made Anime filters popular. This filter became popular when users began uploading Snapchat videos to their TikTok accounts. Anime filters, as well as many other Snapchat filters, have now gained popularity on TikTok. You must have a Snapchat account to use this filter.
10. Time warp scan filter effect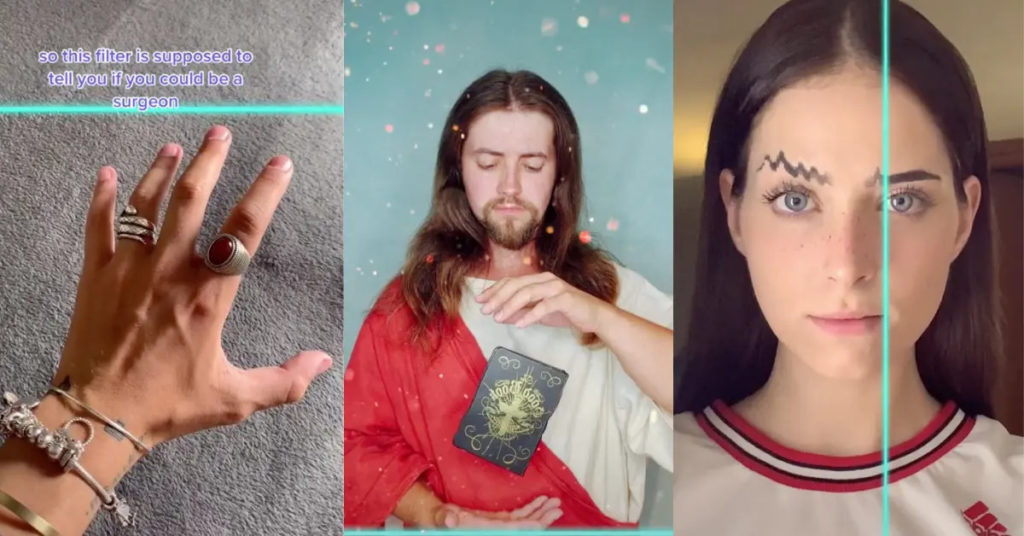 The Time Warp Scan effect, sometimes known as "the blue line," is one of the most popular TikTok filters to date. It works by slowly freezing the picture being shot while a blue line glides downwards or across the screen.
As the line advances across the screen, it keeps the picture in place. This allows you to create unusual distortions or even double images that seem to be clones of yourself.
11. Landscape B10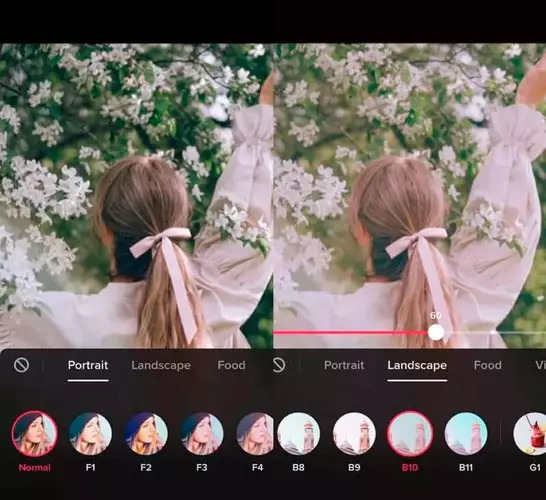 TikTok's landscape filter is used to alter your surroundings. The B10 filter in this category is originally intended to lend a tint of color to the video.
However, TikTok users discovered that this basic landscape filter offers much more than just a color tone. Tiktokers love B10 because it does amazing things for your eyes, particularly if you have dark eyes.
When you apply this filter to your face, it alters the appearance of your eyes. Brown or dark brown eyes seem brighter and shinier. It naturally affects the color of the eyes, giving them hazel and green tinges.
12. Clown Filter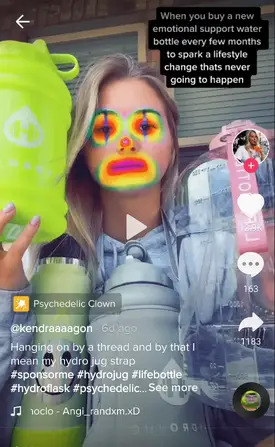 This is a relatively recent addition to the most popular and best TikTok filters lineup. In Fact, be a part of the newest TikTok trends and increase your social media reach with a clown filter. This filter overlays a psychedelic version of clown paint on your face in the video. Also, has been used to highlight awkward situations and life #fails. Miley Cyrus even used the filter in a video about her lover.
13. Cozy
Creators also make extensive use of the Cozy filter. If your videos are too dark or dismal, use this TikTok filter to lighten them up.
Cozy, like the Caramel filter, gives warm hues with an extra increase in contrast, creating the sense of Golden Hour. Furthermore, it gives the video a soft blue color, making it seem more dreamlike.
14. Disney TikTok Filter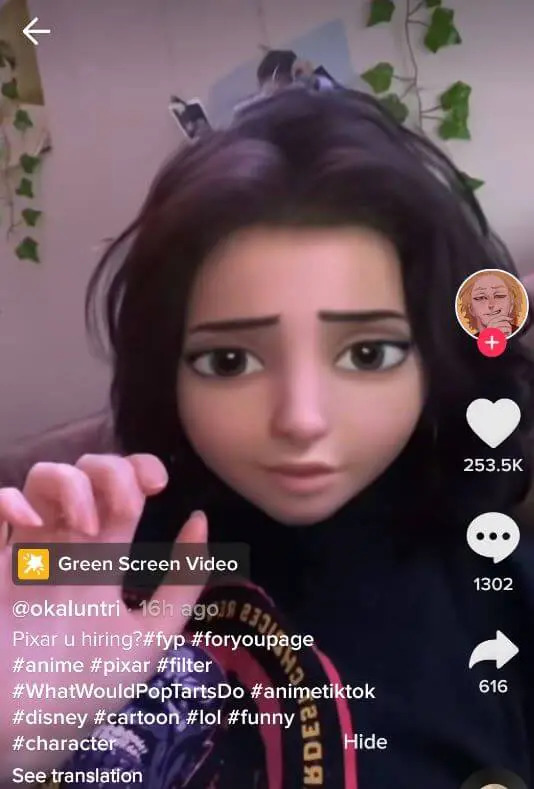 The Disney filter! Who doesn't like it? Right?
I'm sure many of you have already used this filter on Instagram Stories, Snapchat, and TikTok!
Snapchat, like the anime filter, has made this Disney filter popular. You must have an active Snapchat account to use this filter. This is, in fact, one of the most popular and best TikTok filters.
15. Vibe V1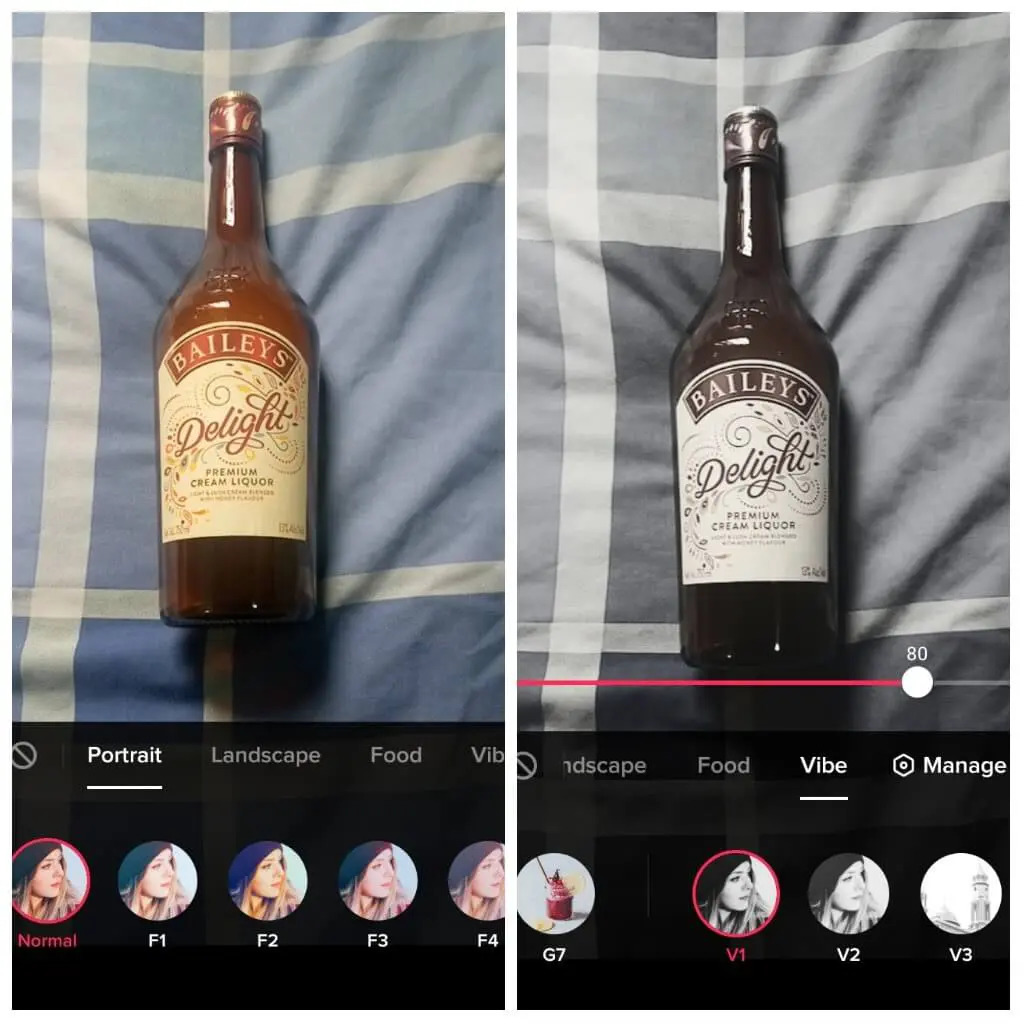 The Vibe filters are often used to change the appearance or color of you and your surroundings. The most well-known filter in this category is the Vibe V1.This is where you can turn your videos into something right out of a 1960s movie.
In a nutshell, it gives your video a vintage look with a dark tint. If you want your video to look like a classic film, V1 from the vibe category is ideal.
16. Vibe V6
V6, another one from the vibe category, is for people who want to add some funkiness to their videos. After using this filter, your video will get a summer feel. It also forms a pink or purple halo around it.
This filter is for users who want to add a party vibe to videos while also rapidly warming up the color. V6 is a famous TikTok filter that is used by many prominent TikTokers.
17. Bling Filter effect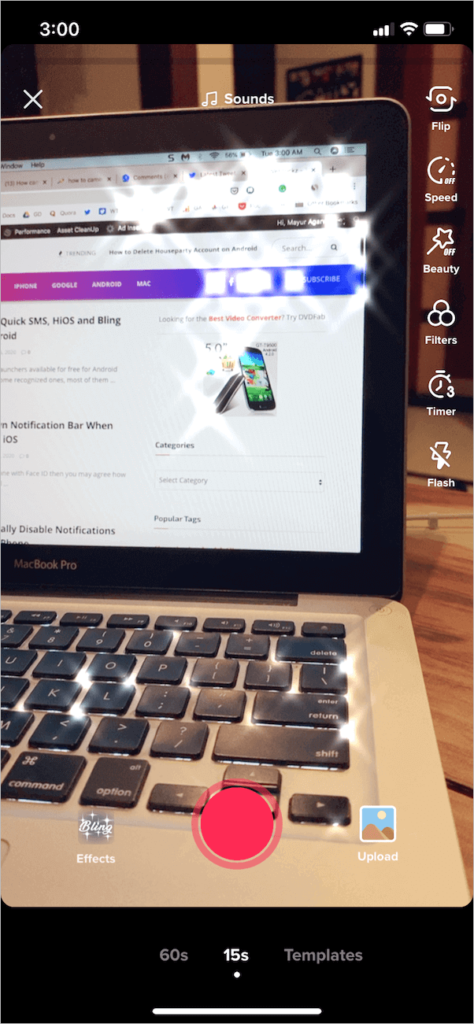 The Bling filter is technically an "Effect", but it's certainly worth a look if you want to get some audience attention. The effect adds strategically placed glitter to your content. For instance, you can make a set of earrings dazzle or simulate the flash of a diamond while wearing a sparkling skirt.
18. Dog face filter
The Doggy Filter! Isn't that what most of us name it?
It's one of the most popular Snapchat filters, and it's spread to other platforms such as Instagram, TikTok, and others. You must first ensure that your Snapchat account is active to use this filter.
19. Expressify Filter
Expressify is a fun facial expression exaggeration effect. It enlarges certain portions of your face, giving you large eyes, a large mouth, or extra-expressive brows.
Of course, TikTokers like a good challenge. This is why Expressify has sparked a flurry of videos. Here creators attempt to maintain as neutral a face as possible without laughing.
20. Caramel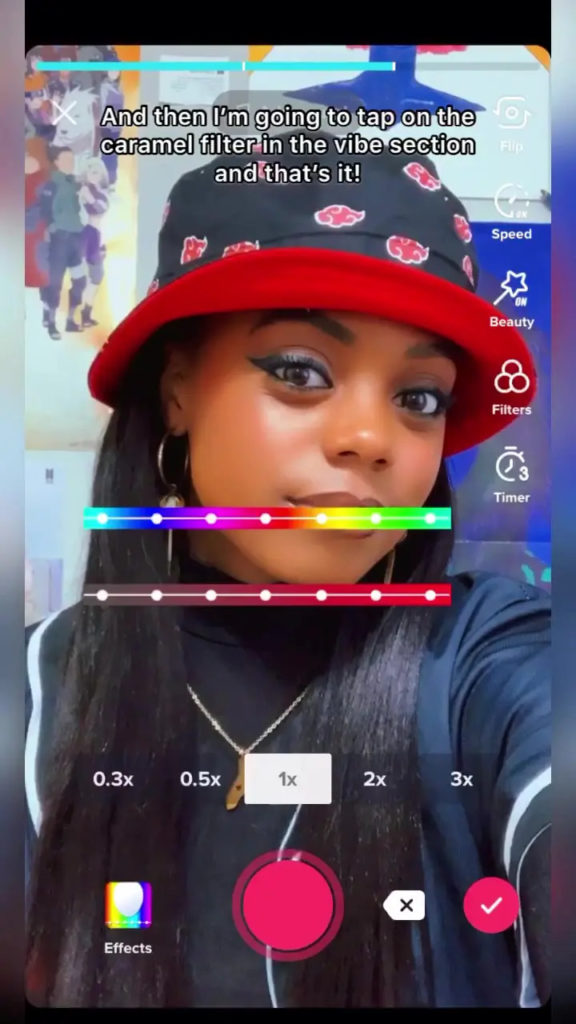 There are several choices available in the Portrait category, making it difficult to pick which one to use. Regardless, the first on the list, Caramel, seems to be highly popular, particularly if you want to improve your selfies.
It gives your face warm tones, making you seem sun-kissed. It also smoothens the skin and might make you seem years younger than you are.
21. Inverted filter
The name of the filter hints that it inverts your videos!! Whatever image or video you take or create with this filter becomes inverted.
Not everyone appreciated this filter since the inverted videos appeared unappealing. Although you won't know how it feels unless you try it on your own. This is one of TikTok's most popular filters.
22. Color customizer filter
As it is colloquially known, the Color Customizer effect is a phenomenon that occurs when a person using this filter allows you to modify the saturation of your videos. You can modify the color of your clothing, skin, hair, eyes, buildings, and several other things. It's a fun method to make your videos appear fascinating and one-of-a-kind.
23. Add a touch of magic with the fairy lights filter
Fairy lights filter!! Doesn't that sound magical? This is an amazing filter that places twinkling lights on your frame. Using this filter in your videos will definitely create a whimsical and enchanting atmosphere.
Try creating videos with different compositions and movements to make the fairy lights dance and sparkle around you.
24. Transform yourself with a face mask filter
TikTok is providing you with a new creative filter that allows you to transform your face into various characters or objects. Still want to create videos but bored of seeing the same face? You have nothing to worry about with this amazing face mask filter.
Make use of this amazing filter by creating funny and entertaining videos where you can someone or something else. Moreover, you can spice it up with different facial expressions and movements to make the morphing effect more realistic.
How to apply best filters on TikTok videos?
First, you must have a TikTok account to use the trendy and best TikTok filters. If you already have one, that's great. If not, sign in to TikTok right now to start using the TikTok filters. After you've created your TikTok account, you'll want to know how to apply filters to TikTok.
Follow these steps and get started!
Navigate to your profile in the TikTok app. To upload a video, press the "+" button in the bottom center of your device's screen.
You get the option to upload a pre-recorded video or create a fresh one on the app itself.
Start creating your videos by applying your favorite TikTok effects and filters. For this, you need to click on the filter button present near the recording tab. If you want, then you can add the filter to favorites for later use.
Either you can record the video using the filter or add the filter later after the video has been recorded by clicking the filters option on the right side of the screen.
Creating viral videos with TikTok filters
Filters can enhance the visual appeal of your videos and make them more engaging. At the same time if you are making videos without the use of filters and edits you may not get the desired response. So basically, using TikTok is more beneficial if you want to create a video as it provides amazing filters.
So here are some ways which you can use TikTok filters to create the most trending and viral videos:
Experiment with different filters
So now the first thing a person does is scroll through different filters and pick up the most suitable ones. In fact, most of the time you may also be confused between a few. But what if you get the best from both? You should definitely try to mix and match filters to create new and unique effects.
If your aim is to create viral videos using filters, be attentive of what trends are going around. Besides, you should try to get out of your comfort zone and pick up the trendy ones. Chances are you may end up creating a viral video.
Use filters to enhance storytelling
From all the different types of videos you create, sometimes you may need to enhance the narrative of your video. Supposedly, if you intend to create a video showing time lapse what is the best option other than filter?
Using a time lapse filter is the best option to showcase a transformation. Also, you can make use of a background filter to show a specific location. Overall these creative filters will help you to create a mind boggling video, which can possibly have an amazing reach. Thus, making it viral.
Combine filters with other editing tools
So once you are familiar with the filters available on tik tok, make use of editing tools as well. Of Course filters upgrade the level of your video, so why not add the use of editing tools as well? Tik tok has awesome editing tools that you can use to enhance the level of your video.
Besides using filters, try out editing tools like text, music, and stickers. Adding text and stickers can help your viewers grasp your message better. And when you include music, it adds an appealing touch. By using these tools along with filters, you'll enhance the quality of your video and make it even more enjoyable for your audience
Tips for going viral with best TikTok filters
TikTok videos you create using filters will obviously bring more engagement because they look much better than regular ones.
But just picking up random filters and applying them to your videos won't be enough. Instead try to follow these amazing tips that i am sharing with you in this blog:
Stay up to date with the latest trends
So TikTok is definitely providing you with loads of amazing filters. But you need to know that TikTok trends change quickly. Now if you want to create a viral video, instead of using random filters go along the trend. Basically, it is important that you stay updated with the latest viral filters.
The best way to stay up to date with viral videos is to follow popular creators. Since they regularly create most of the trending videos with latest filters, following them will help you with amazing ideas. Other than that, explore the "discover" page to discover new and latest filters.
Be creative and unique
Now that you are following popular creators you have an idea about trending filters and content. When you are creating trendy videos, what you can do is try a combination of filters.
With trendy videos, you should try to put your own twist to make it unique. This way you will not only create amazing content, but it will also stand out among users. Creativity and uniqueness is a skill with which you will aways stand out.

Engage with the TikTok community
Once you are clear with the concept of creating trendy content, next comes engagement. If you want your content to be visible among a larger group, try to increase your visibility.
Don't just follow but also engage. Yes, you need to like, share and comment videos from other creators to build strong connections. Other than that you can also participate in challenges and duets to collaborate with other TikTok users. A strong community will help you to hold up in tough times.
Wrapping it up
Now that you've explored the majority of the popular TikTok filters, it's time to test them in the best manner possible. These filters allow you to be creative while making content. Show your talent to the world, and more importantly, your sense of humor by using these incredible filters!!
Experiment with the best TikTok filters we suggested, and keep an eye out on the Discover tab for emerging trends. And once you've found your stride, you'll be making scroll-stopping videos in no time!
Since we are here, Are you looking for something much more revolutionary which will even help you make content!
Sign up for Predis.ai today! Manage your social media channels and also improve engagement by designing interactive posts within a few clicks. For more social media tips and updates, follow us on our Instagram!