Pictory AI is a cloud-based video maker that uses artificial intelligence to create videos from text content. It's a popular tool among content creators, marketers, and educators due to its simplicity and efficiency. But that's not the only one. Let us enlighten you about the different AI video makers that are good alternatives to Pictory AI.
However, there are several other alternatives available in the market that provide similar functionalities and may cater to different user needs. This article will explore some of the top alternatives to Pictory AI for video creation.
Features of Pictory AI
Turn Text into Videos
Pictory AI is pretty cool because it takes your words and magically turns them into awesome videos. Great for teachers, coaches, and anyone who wants to make helpful or how-to videos. You just type in your words, and Pictory AI makes a video with pictures, smooth transitions, and even a smart computer voice.
From Article to Video
Do you have a super interesting blog post or article? Pictory AI can change it into an exciting video. Make your stuff reach more people and let everyone watch instead of just reading.
Edit Videos with Text
Pictory AI does more than just videos from words. You can also use it to fix up videos you already have, just by typing. Perfect for changing things, shortening long videos, or making quick clips.
Pictures to Video
Pictory AI lets you put in your pictures and videos to make your very own videos. You get to decide how everything looks, so it matches your style or what you want to say.
Cool Computer Voice
Make your videos sound super pro with Pictory AI's computer voice. You pick a style from different voices and speeds. No need for fancy voice actors, and you can make videos talking in only a few minutes.
Easy Templates
Pictory AI gives you lots of choices with templates for different looks. Even if you're not a designer, you can make great videos. Just pick a template, and Pictory AI does everything else.
Pricing of Pictory AI
Pictory AI's got you covered with pricing options to suit your needs. Dive into the details below:
Trial Run: Get started with 3 video projects, each clocking in at a max of 10 minutes. Perfect for giving it a spin.
Essential Plan: Priced at $23 per month or just $19 per month if billed yearly.
Craft up to 30 videos every month, keeping each within a 10-minute window.

Transcribe 10 hours of video content each month.

Longest video? 1 hour.

Your creative toolkit includes 3 customizable templates.
Advanced Plan: Comes in at $47 monthly or an economical $39 per month with annual billing.
Flex your creative muscle with up to 60 videos each month, each lasting up to 20 minutes.

Transcribe 20 hours of video content monthly.

Tackle even more ambitious projects with a maximum video duration of 3 hours.

Enjoy a diverse range of 10 customizable templates.

Get access to an inspiring collection of 10,000 premium music tracks.
Team Plan: Tailored for teams and priced at $119 per month or a budget-friendly $99 per month when billed annually.
Collaborate and create with a generous allowance of 90 videos every month, each spanning up to 30 minutes.

Transcribe up to 20 hours of video content per month.

Go big with videos as long as 3 hours.

Choose from an extensive set of 20 customizable templates.

Set the tone with access to an expansive library of 15,000 premium music tracks.
Unlock More with Paid Plans: All paid tiers come with powerful AI-enabled tools, seamless text-to-video transformation, automatic captions and subtitles, full access to a treasure trove of over 3 million licensed stock videos and images, plus top-priority support to keep you moving forward.
Now check out other AI video maker alternatives to Pictory.
Alternatives to Pictory AI
1. Predis.ai
Enhance Your Social Media Game with Cutting-Edge Tech! Meet Predis AI – your ultimate social media manager that turbocharges your efforts, giving them a 10X boost. From crafting simple image posts to crafting dynamic Instagram reels, Predis brings your ideas to life effortlessly, even starting from plain text.
Create loads of content with AI, keeping that professional touch intact. Take a deeper dive by analyzing competitors to unlock their secrets of success. Brace yourself, your social media prowess just received a significant enhancement!
Features
Activity Dashboard

Activity Tracking

Automated Scheduling

Benchmarking

Calendar Management

Competitor Monitoring

Content Library

Content Management
Pricing
Solo- $29/ Per Month

Starter- $59/ Per Month

Agency Plan- $139/ Per Month
2. Animoto
Meet Animoto, your go-to video creator equipped with a user-friendly design for crafting eye-catching videos in mere minutes. Thanks to its drag-and-drop interface, no prior video editing skills are needed.
This powerful tool empowers marketers to supercharge their sales, ramp up website traffic, foster deeper audience engagement, and amplify lead generation efforts. Animoto AI video maker is one of the good alternatives to Pictory.
Crafters can seamlessly insert photos and video clips, selecting from a range of storyboard templates for a swift kickstart. Fine-tuning is a breeze as every element, from colors and fonts to music, is adjustable. This grants the ability to tailor the content to perfectly match your brand identity.
Features of Animoto
API

Audio Capture

Collaboration Tools

Commenting/Notes

Content Library

Customizable Branding

Customizable Templates

Drag & Drop
Pricing of Animoto
Free- $0

Basic- $8/ Per Month

Professional- $15/ Per Month

Professional Plus – $39/ Per Month
3. Adobe Express
Introducing Express by Adobe, a versatile multimedia application designed for both web and mobile platforms. With its intuitive interface, users can effortlessly craft captivating social graphics, web pages, and short videos.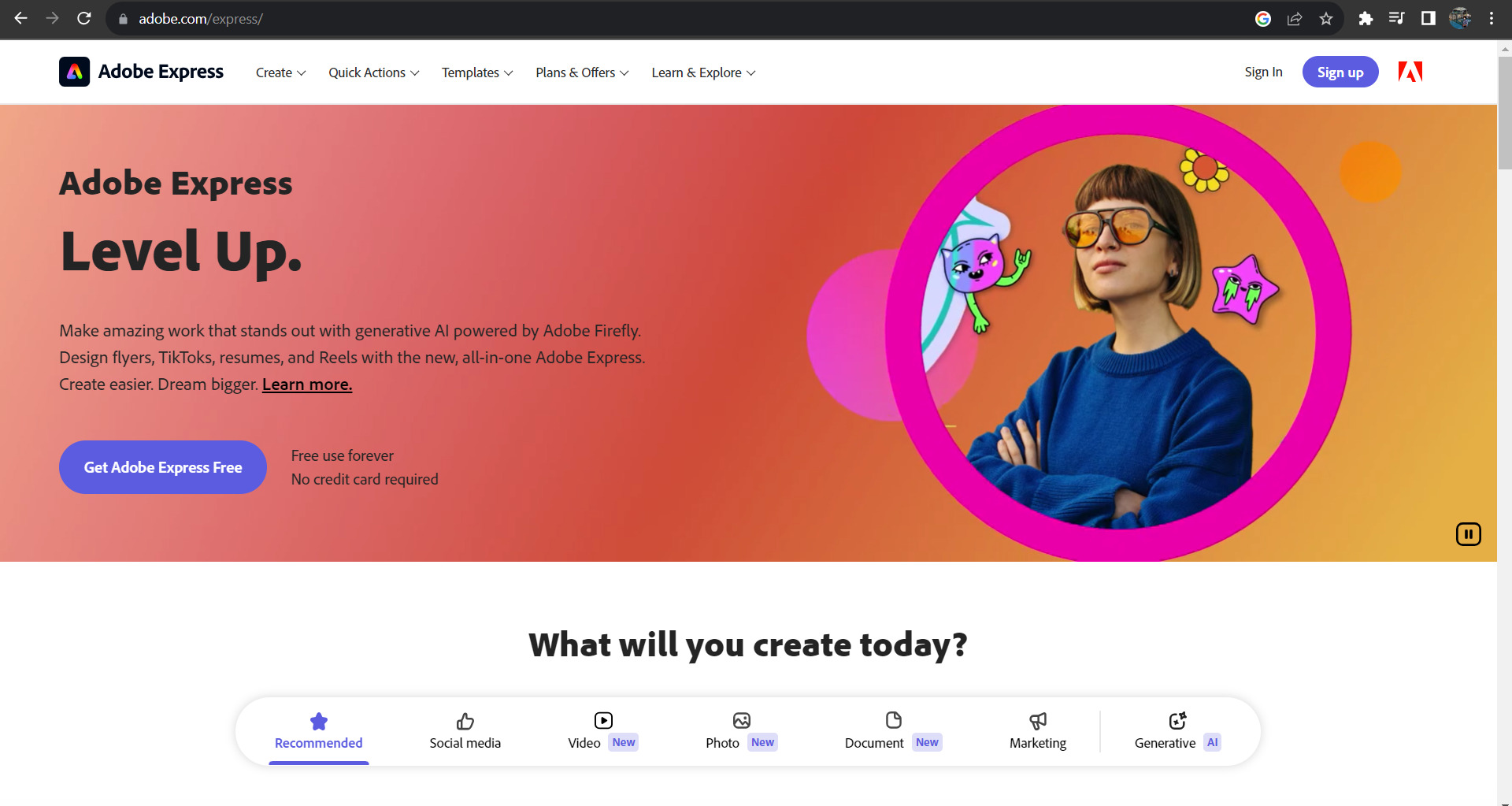 Tailored to BU educators and students, this tool empowers you to enhance your content by seamlessly integrating personal images with text, preset fonts, and animations. The result? Dynamic and captivating media ready for presentations, course materials, or even web pages.
For those seeking to swiftly combine text, video clips, photos, icons, and voiceovers, Adobe Tutorials offer a wealth of resources to hone your skills and tackle any project. Whether through its mobile app or web version, Adobe Express stands as a powerful tool for bringing your course projects to life.
Features of Adobe Express
Communication Management

Content Library

Content Management

Customizable Branding

Customizable Templates

Data Import/Export

Data Synchronization

Design Templates
Pricing of Adobe Express
Free- $0.00

Premium- $9.99/ Per Month
4. Lumen5
Say hello to Lumen5, your ultimate video creation tool for businesses and brands, making snazzy social media content that grabs attention. Its goal? To help anyone, even without experience, whip up engaging videos in just a minute.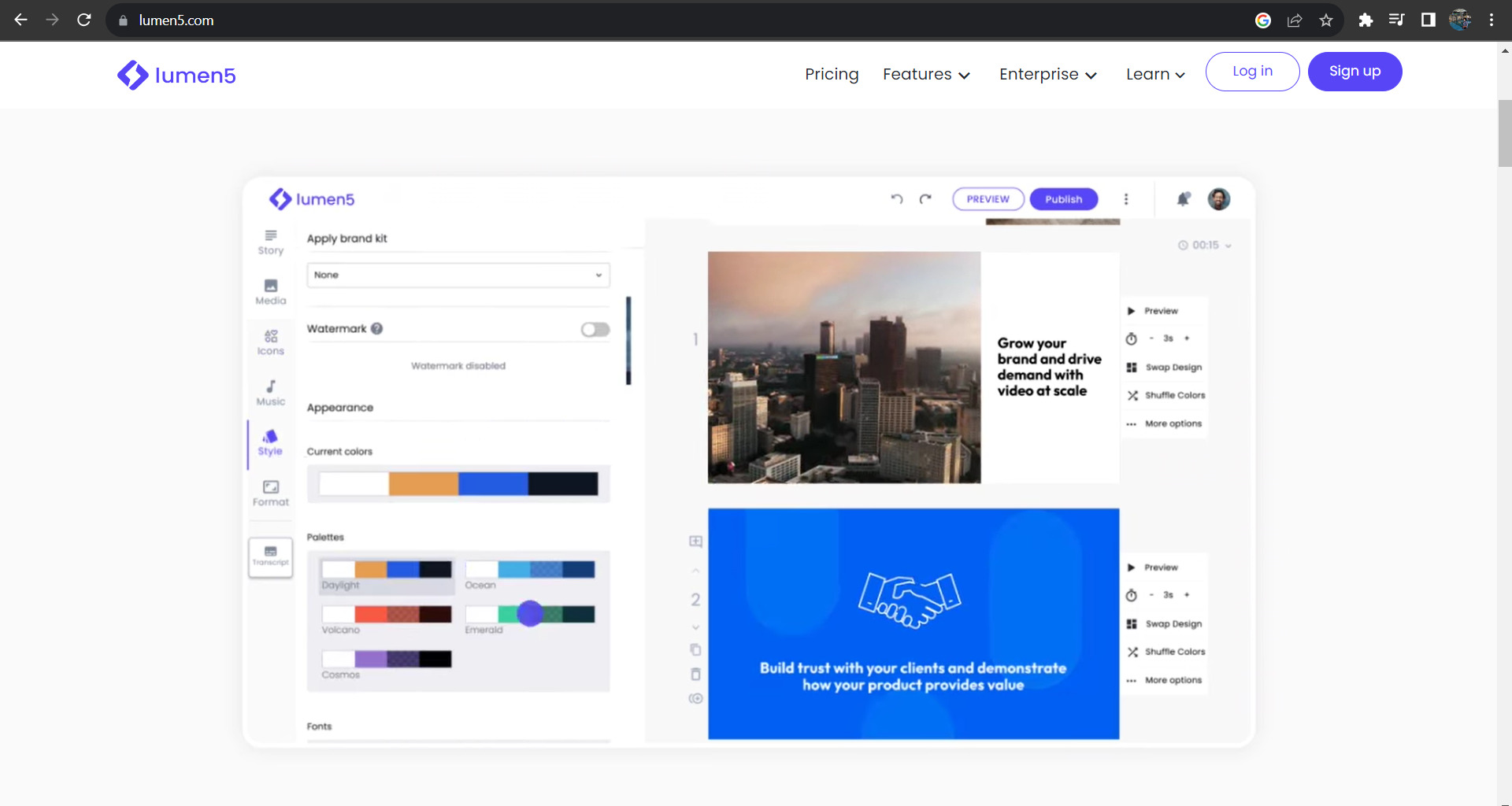 Lumen5's smart tech lets marketing teams focus on the story, while the system handles the heavy lifting. It's a hit with big organizations, brands, and creative minds, crafting standout videos that bring in impressive results. Fast, easy, and impactful – that's Lumen5. That makes it one of the great alternatives as an AI video maker to Pictory.
Features
API

Access Controls/Permissions

Animation

Audio Capture

Brand Overlay

Collaboration Tools

Content Library

Customizable Branding
Pricing
Basic- $19/ Per Month

Starter- $59/ Per Month

Professional- $149/ Per Month
5. FlexClip
FlexClip is a user-friendly tool for creating engaging videos quickly. Its simple design lets you make stunning videos in minutes. The range of video creation tools can help your business attract customers, influence buying decisions, increase website traffic, and convey ideas on social media.
It's especially useful for content and business pros looking to use video for marketing, even without advanced skills. FlexClip offers storyboarding tools, content templates, and a library of stock resources to bring your creative ideas to life with ease.
Features
Data Import/Export

Drag & Drop

Image Library

Media Library

Multiple Format Support

Privacy Options

Projections

Templates
Pricing
Free- $0/ Per Month

Basic- $4.99/ Per Month

Plus- $7.99/ Per Month

Business- $19.99/ Per Month
6. Biteable
Biteable is a video editing solution, which enables businesses to create videos with animations, stock footage, and images on a unified platform. Agencies can add watermarks, logos, audio, and text to create content according to requirements.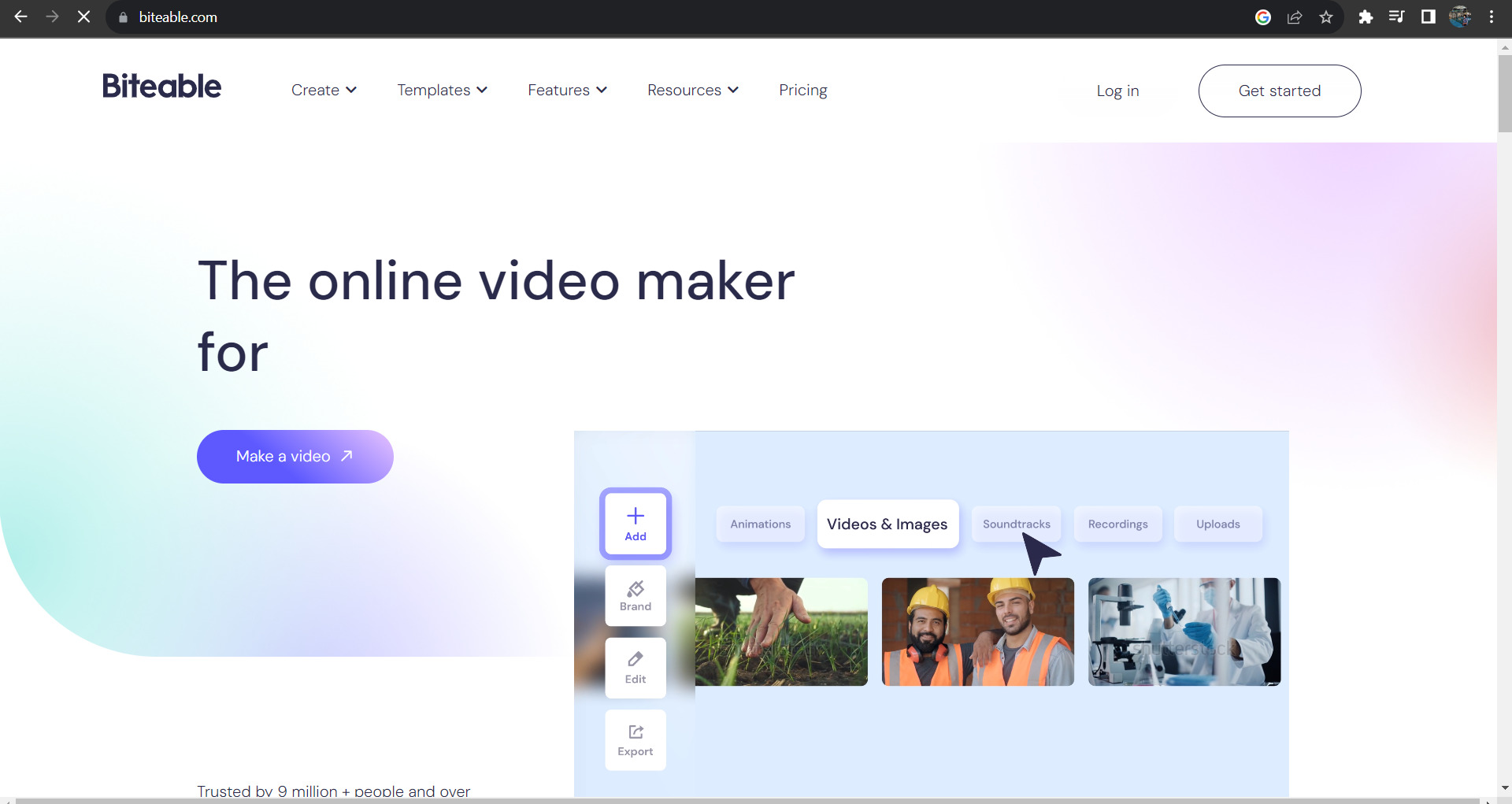 It offers various templates for organizations to create custom promotions, training material, announcements, infographics, trailers, presentations, slideshows, and more. Biteable allows businesses to download, embed, trim, and sell videos. Additionally, organizations can merge footage and convert images into videos.
Features of Biteable
2D Drawing

3D Modeling

Animation

Animations & Transitions

Audio Capture

Brand Overlay

Collaboration Tools

Content Library
Pricing of Biteable
Pro- $49/ Per Month

Premium- $99/ Per Month
Conclusion
While Pictory AI is a great tool for video creation, it's not the only option out there. Predis.ai, Animoto, Adobe Express, and Biteable are all viable alternatives, each with its own unique features and pricing plans. Depending on your specific needs and budget, one of these alternatives may be a better fit for you. Which AI video maker alternatives did you like best compared to Pictory AI?
Related articles
Best Minta Alternatives on the Shopify App Store
Jasper.ai Caption Generator Alternative