Facebook has more than 60 million active business pages. You'll need some pretty fantastic posts to stand out from your rivals when there are so many brands fighting for the attention of your audience. With the correct interactive Facebook post ideas, increasing your Facebook audience reach can be easy.
We've got you covered if you're looking for some way to use your Facebook marketing plan to drive more traffic to your website and interact with your audience. Discover 10 interactive Facebook post ideas that will increase engagement-
1. Quizzes
Quizzes are effective, and enjoyable for engaging your audience.
Quizzes are the ideal way to take advantage of people's natural tendencies towards curiosity and competition. You may, for instance, design quizzes that indicate something about your audience or ones that measure their level of understanding.
2. Live Q&A Sessions
You can remove barriers between you and your target audience, improve friendship by going live on Facebook and interacting with them in a genuine way.
Your audience will probably tune in to hear what you have to say because a live Q&A session gives them the chance for conversation and to acquire answers to their most important questions thereby skyrocketing your customer engagement.
Promote your live session on all of your social media platforms a few days in advance, and use this time to collect audience questions. By doing this, you can increase the number of comments under your promotional pieces and, at the same time, promote your live Q&A.
3. Post tutorials and how-to's
If the content is related to your company's services and end user, sharing how-to's and tutorials on your Facebook page is a great approach to engaging your target audience. They will be aware of and appreciative of your willingness to assist them in using your product successfully, and they will continue to visit your page in the future in search of related information.
Since it doesn't always have to be text-based, this kind of post encourages creativity. Whatever best suits your needs, you can produce an educational video tutorial, infographics, or both.
4. Ask Questions
Direct questions are a straightforward but effective method to start a discussion. Consider the question as a call to action (CTA) that persuades users to enter the discussion right away and offer their opinions. With your group, you can pose the following kinds of questions:
What did you appreciate best about the new Tesla model, for example, is an open-ended question. This question cannot have a straightforward response, and every member will provide a different response.
Questions with a clear cut answer, such as "Do you like the new Tesla model?" will prompt a clear Yes or No from the audience.
Questions intended to spark debate, such as "Should guns be banned?" Individuals are free to respond and share their answers, defending or refuting the given response.
Image-based questions, where the question is accompanied by an image to make it easier for people to understand. When posting on Facebook, the majority of well-known brands used to do that.
General inquiries such as "Who is your favorite football player?" These kinds of questions are obvious. People enjoy jumping into these talks because they are straightforward and simple.
5. Share videos
Videos come next on our list of Facebook post ideas. People prefer to watch videos especially user-generated content like influencer content which is a popular type of content.
Videos are a great engagement tool for your business because the typical American adult spends almost five hours per day watching them. There are several options for the videos you can post to Facebook. The options are unlimited and include product releases, instructional videos, user-generated content, and promotional videos. Whatever you decide to include in your video's content, just make sure it will be interesting and engaging for your viewers.
6. Host contests or giveaways
Hosting competitions or giveaways is the next idea on our list of interactive Facebook post ideas. Promo events that encourage people to join can be conducted on social media with great success. The best place to promote it is on social media, whether you're doing an open competition or giveaway for social media users.
For example, if you run a photography class or store, you could giveaway a photography course or some small photography equipment.
Use a visual that sticks out to your audience if you decide to promote a contest or giveaway in order to grab their attention. You can advertise what people will receive or win right in the visual, and then give more information in the caption. Make certain that the rules for any contest or giveaway are very clear.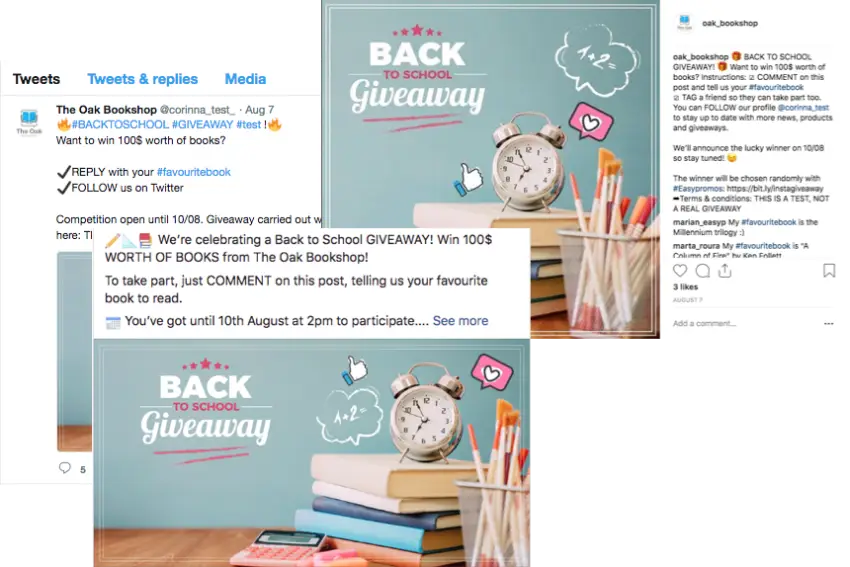 7. Post links to blogs
Posting blog links is next on our list of Interactive Facebook post ideas.  If you have a content marketing strategy in place, you're writing blog pieces to educate your audience. Facebook would be a better place to share that content. If your content is interesting enough, it is sure to improve your click-through rate.
Facebook is a fantastic platform for sharing blog content with your audience and increasing blog traffic.
Although sharing blog posts of your content is advised, you can share blog articles from other businesses if they are relevant to your brand or business.
8. Follow the Posting Strategy of "Edu-tainment"
It's not necessary to post to your Facebook group three or more times every day. Engagement is irrelevant to how frequently you post. There are some content types that are not ideal for Facebook, according to a study released by Buffer. The best content on Facebook is "edutainment," which combines education and entertainment.
One or two posts each day should be the perfect posting frequency. When we only post one piece of material per day, we are forced to share the greatest pieces rather than all of our stuff.
Spend some time and effort creating the kind of post you want to share because the Facebook algorithm will view your posts as being of a good value if they generate a lot of positive feedback and active participation.
9. Share Reviews
Every company claims to offer the best services or goods you've ever tried. But given that it is coming from the owner, how many people are going to believe it? The opinions of other consumers would spark their curiosity much more.
On Facebook, Yelp, TripAdvisor, and any other website where your company is featured online – look for favorable reviews about your company or brand. With a screenshot and a direct link to the review, post the best ones to Facebook. A good review is like free advertising. When a client chooses your business again, thank the person who left the review and provide them with a complimentary service or item.
Avoid Using Too Much Engagement Bait
Facebook's organic post engagement is still declining.
Brands are being forced to reconsider how they generate likes, comments, and shares on their posts as a result of frequent adjustments to the Facebook algorithm.
For instance, Facebook is tackling what it refers to as spam and engagement bait because they believe it is abusing its algorithm.
What previously worked effectively for engagement won't necessarily work today, and businesses need an explicit Facebook engagement plan if they still want organic reach. It's acceptable to pose a genuine question or to seek comments and judgment from your followers. However, you go too far if you request a comment without showing any real thought or concern.
10. Trending Conversations
It's time to use hot issues as fodder for a discussion in your comment area. When a story, latest news, or other event is trending on social media, it means that the majority of users are either extremely interested in it or at the very least curious about it.
People want to discuss current affairs and hear what other creators have to say. Engagement still occurs whether they agree with you or not. And keep in mind that just when some of your supporters may disagree with you, it doesn't necessarily indicate a negative reaction.
For more social media tips and updates, follow us on our Instagram!