Can you remember every Facebook post you liked, commented on, watched, and shared this week? Neither can we. Because the majority of us engage with many postings on Facebook every day, making it hard to recall every single one. It's likely that you're looking for a post, picture, or comment that you liked on Facebook at a certain time but can't recall whose page or profile it was on. Then you have certainly asked how to see posts you liked on Facebook.
So, how do you view Facebook postings that you liked? On Facebook, there is a whole area called "Activity Log" for that purpose. You don't need to use the Facebook app for it because it's accessible on all Facebook platforms. So, without wasting any time let's begin!
How to see posts you liked on Facebook?
You must do the steps outlined below to see all your favorite photographs. We have written a step-by-step tutorial on how to view all your liked Facebook posts on an Android phone, a desktop computer, or an iPhone.
Using the Mobile app:
Launch the Facebook app on your phone. Log into your Facebook account.
Next, press the menu button in the top-right (Android) or bottom-right (iOS) corner (the three-line button).
Now, tap on your name when you see it at the top of the menu. Tap on the three circles below your profile
Tap on the 'Activity Log' button.
Tap on the 'Manage Interactions' button.
You will now be brought to a screen that has a list of activities arranged by date. Now you know how to see posts you liked on Facebook.
You can use filters to find the activity you are interested in.
Tap on the three circles next to the activity.
You can, Unlike the post. To unlike a post or anything else, tap on the 'Unlike' button.
Using Desktop:
About 17% of Facebook users like to browse Facebook on both their laptop or PC and their smartphone. Millions of people, to be approximate. To find the post, image, or video you responded to, follow these steps:
Using the browser on the computer login to Facebook.
In the top-right corner of the screen, click on your profile picture.
Click on "Settings & privacy"
Then click on "Activity log".
You'll be sent to the Activity Log page, where you can view every activity, you did while logged into Facebook. Click on "Interactions" from the side panel to look for a post you liked.
From the activity log, locate the post you wish to see, dislike, or remove. To remove it from the log, click on the three dots next to it.
Click on the "Unlike" button that will pop up.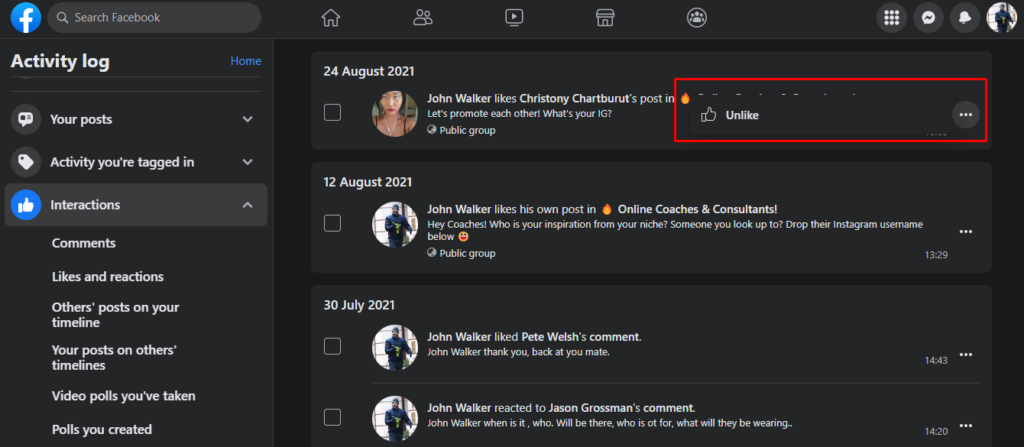 Wrapping it up
Isn't it simple to see posts you liked on Facebook by using the app or website? With a few taps or clicks, you may delete your reaction to a post. Now you can easily answer to someone who asks, "How can I see what I liked on Facebook?"
It's useful to be able to see all your Facebook likes in a variety of situations. you loved a post and want to go back to it later, but you can't find it using Facebook's search feature. The steps described above will bring the post to your attention.
Share this blog with your friends and family. Also, please leave a comment on our site to let us know what you think
Frequently Asked Questions
How Do I take a Facebook Accidental Like Down?
– If you want to unlike the post, click or touch the like button once again. Locate the post in your Activity Log if you can't find it anymore.
1. Facebook mobile app: News Feed > profile photo > three dots > Activity log > View Activity History.
2. Desktop: News Feed > Profile > Settings & privacy > Activity log > Interactions.
How can I read comments made by a certain individual on a Facebook post?
– You cannot. Facebook does not let you sort or filter comments based on a user's name. You can categorize comments based on their relevancy.
Since we are here, Are you looking for something much more revolutionary which will even help you make content! Sign up for Predis.ai today!

Manage your social media channels and also improve engagement by designing interactive posts within a few clicks.