Been wondering how ASOS came to be this popular among today's generation? It's because of their amazing social media strategy. In this blog, we will focus on the ASOS Instagram Marketing strategy.
ASOS offers trendy and affordable fashion items, fast shipping, and a wide range of offerings. Another reason that ASOS has gained increased popularity in recent years is due to its inclusivity and commitment to offering a wide range of sizes and styles to customers of all shapes and sizes.
What is ASOS and where did they come from?
ASOS is a British online fashion and cosmetic retailer. Founded in 2000 in London, ASOS primarily targets young men and women in their twenties. They offer fashionable clothing styles for men's and women's fashion, as well as cosmetics. With over 40,000 styles, ASOS has become a popular and trending destination for online shopping. In addition to that, ASOS has a marketplace where independent brands and vintage boutiques can sell their designs.
ASOS has over 14 million followers on Instagram. Their content theme ranges from beauty, nail products, outfit ideas, DIYs, tutorials, and behind-the-scenes content.
ASOS first began in 2000 as a website called AsSeenOnScreen.com. It was created by Nick Robertson and Quentin Griffiths. The selling point of this website was to help customers find and purchase clothing and accessories that had been worn by celebrities on TV and in movies, As Seen On Screen and so the name 'ASOS'. In 2003, the website was rebranded as ASOS.com, and its focus began to shift from selling celebrity-inspired clothing to featuring its range of fashion products.
Here is a TL:DR,
Posting consistently
Influencer marketing 
Too few hashtags?
Authenticity in communication through Captions 
Engaging Content
Dissecting ASOS Instagram marketing strategy
The most important task that ASOS has been completing for years is to stay on top of the trends. It also uses several strategies to promote its brands and products. Although not every strategy may apply to all brands, they can be tweaked and adapted for brands of all sizes and budgets.
During the COVID-19 pandemic, people spent more and more time on their phones. ASOS took up this opportunity and gained 3.1 million new customers in 2020 alone. This was the result of a combination of strategies. It included targeting specific audiences—youths in their 20s, the largest age demographic of Instagram users. Another important strategy ASOS uses is to make digital shopping easy and quick.
As you can see, they post a lot of videos and reels, and most of their engagement comes through videos.
1. Posting consistently
ASOS posts frequently throughout the day. A quick competitor analysis on Predis.ai can help your brand analyze minute details about your competitors posting details, content themes, and more. A competitor analysis run on Predis.ai shows how ASOS tried to keep a consistent posting schedule, posting the most between 1 AM. and 1 PM. (PST), makes sense as they are based in the U.K. That's when they get their engagement.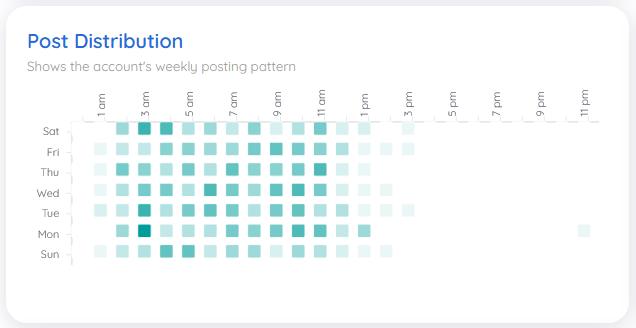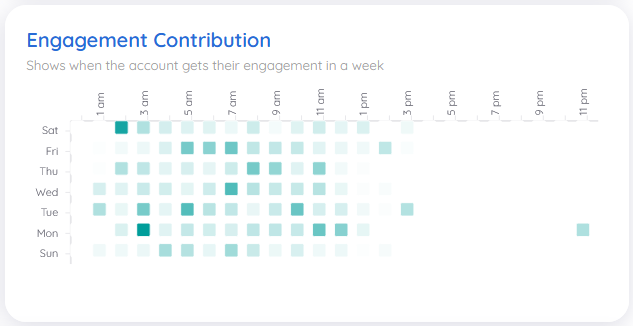 Having a consistent posting schedule also ensures consistent engagement. It will improve your visibility as the Instagram algorithm learns your patterns and help you build a solid and reliable identity.

2. Influencer marketing
This strategy is guaranteed to give your brand loyal customers and allow a new audience to trust you with ease. ASOS mainly uses influencer marketing by reposting content from influencers. Some of them are also ASOS insiders, influencers, or employees signed with ASOS who produce content specifically for them.
If you are wondering how we analyzed ASOS's Instagram performance? – Using AI. You can too. For Free!

Sign up for predis.ai to create content with AI and check your competitor's performance.
3. Too few hashtags?
Surprisingly, they don't use that many hashtags. This hashtag analysis using Predis.ai shows ASOS's recent hashtags and engagement rates.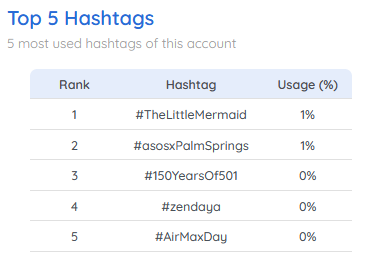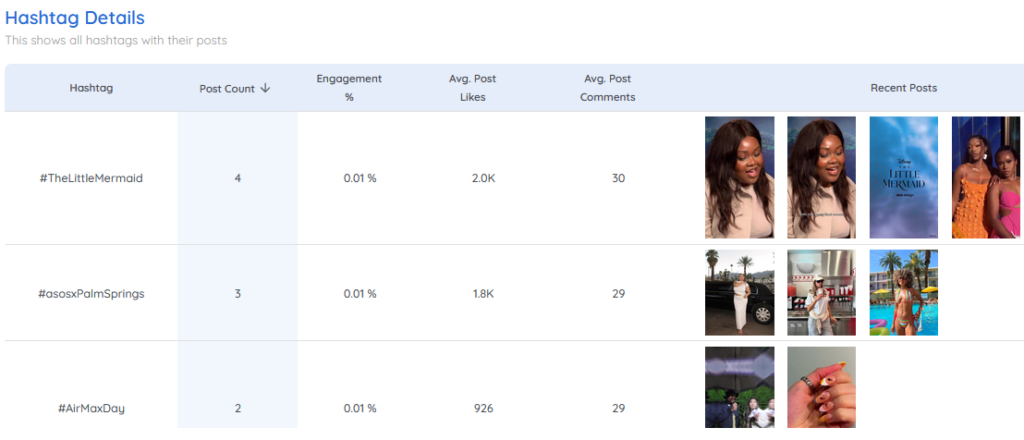 4. Authenticity in communication through Captions
ASOS emphasizes authentic communication with its customers, reflecting the brand's youthful and inclusive image. ASOS puts its efforts into creating a positive and meaningful presence while thriving on engagement with customers.

Download the Instagram Analysis of ASOS made by Predis.ai's Competitor Analysis for FREE
5. Engaging Content
The main type of content that ASOS posted pre-pandemic was outdoors. This included influencers in fashionable outfits at beaches or airports, but once the pandemic hit, ASOS made a drastic change in their content themes. They began posting content with influencers at home in comfy fits, sleepwear, or sportswear.

This shows how ASOS kept up with the times, analyzed the audience's demands, and then shifted its focal points.
In addition to this, ASOS posts content on a wide range of themes, from Hollywood events, makeup, accessories, nails, and shoes to outfit inspiration for specific occasions like Christmas and food-related content.


Wrapping it up
The key takeaways from ASOS Instagram marketing strategy are not only their quick thinking and changing with the trends, the use of social media to its fullest. ASOS attributes most of its success to its influencers and customers, which show reciprocated loyalty.
You may also like,
Gymshark Instagram Strategy decoded.
Allbirds Instagram Marketing Analyzed
Social media post ideas for cryptocurrency
Promoting restaurant on Instagram
Change story ring color on Instagram