Drunk Elephant is a well-known skincare brand that was established in the year 2012. This skincare brand has adapted unique social media marketing strategies to reach their current following and engagement on Instagram. There are a lot of takeaways that one can take from Drunk Elephant social media strategy.
In this blog, we will discuss Drunk Elephant Instagram Strategy and how their ideas can be used by anyone for growing their social media accounts.
Drunk Elephant
Drunk Elephant is a brand that is all about making products that are good for your skin. The company was founded by Tiffany Masterson, who was inspired to create products that would be safe for her to use while pregnant. Since then, the brand has become known for its clean, effective products that are also cruelty-free, and vegan products.
One of the things that sets Drunk Elephant apart from other brands is their commitment to using only ingredients that are beneficial for the skin. This means that their products are free of any synthetic ingredients, fragrances, or other potentially harmful additives.

They have an Instagram following of about 1.3 million. Another thing that sets this brand apart is its completely recyclable packaging, making it extremely environmentally friendly. Today, Drunk Elephant is beloved by skincare enthusiasts and beauty editors alike for its high-quality, effective products.
Here is a TL;DR in case you are in a hurry 😉
Drunk Elephant Social Media Strategy –
Consistent Posting Schedule
Diversity and Inclusion
Playing with Content Types
Influencer Marketing
FAQ Fridays
Smart use of Hashtags
Replying to comments
Let's see each strategy in detail,
Drunk Elephant social media strategy
It is safe to say that Drunk Elephant has amassed a huge following on Instagram through their smart social media marketing strategies. They have about 1.4 million followers on Instagram, and this growth is all due to their unique marketing. Through the Predis.ai competitor analysis tool, we have analyzed Drunk Elephant's Instagram marketing strategy. It revolves around Influencer marketing, consistent posting, and carefully planned content types.
1. Posting frequently 📆
Even if you are relatively new in the social media marketing game, or have gone through some of our other case studies, you know that consistency is key. The frequency at which we post is critical to maintaining good engagement and getting results. This is evident through competitor analysis performed on Drunk Elephant Instagram. The frequency is not the only thing to keep in mind, the time at which you post is equally important.
In the Posting Activity, we can see that Drunk elephant has at least one post almost everyday. Sometimes they post even two posts a day. As seen in their engagement analysis, they have most of their engagement on videos i.e. reels.
#DrunkElephant has used consistent posting at the right time to keep its engagement at maximum. In the analysis below we can see that they posted content mostly between 6 AM and 4 PM (PST) and they get engagement around that time.
Choosing the right time to post will differ for every account depending on their location, their follower's location, age, gender, etc. A little trial and error can be required or you can just run a Predis.ai competitor analysis on your closet competitor.
2. Diversity, inclusion and body positivity
When one looks at the Instagram profile of Drunk Elephant, it is clearly visible how they have included a variety of diversity in their posts. There is a variety of models that can be seen on their social media reflecting their emphasis on body positivity.
Nowadays Influencer marketing is all about inclusion and diversity, especially in the black community. In a post by #drunkelephant shown below, there was a message shared and they also placed their product. The post showed how much importance the brand gives to body positivity.
3. Playing with content and content types
Along with the product images and pictures of influencers for branding, the skincare brand has also used a variety of other fun elements in its reels. Reels are a perfect way of getting the desired engagement on Instagram. They have plenty of reels with their product details and benefits. Along with this, they have a few fun videos. These videos keep the feed light along with some laughter.
Every branding when made too serious can make the viewers feel there's nothing new to be amazed by. But with #drunkelephant, it is a mixture of all kinds of posts on their Instagram page.
There are also other funny and humorous reels on their Instagram page. These are generally referred to as drunk feels, which is a play on their brand name Drunk Elephant. This is sure to keep the followers engaged.

According to the competitor analysis by Predis.ai, Drunk Elephant has posted more reels (seen in red) and they get good engagement on them.
Drunk Elephant has made sure that they do not just post for the sake of branding, but to keep the audience engaged. They have used various themes related to their products and made their feed look very interesting.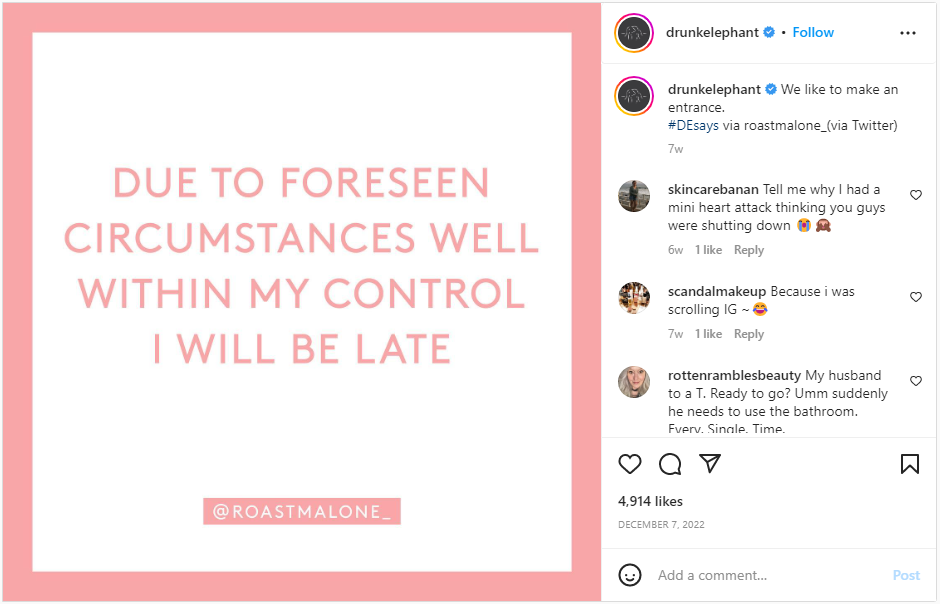 Through competitor analysis, we can see a lot of engagement for 'other' themed posts (humorous posts). This has had a great part in their growth on social media.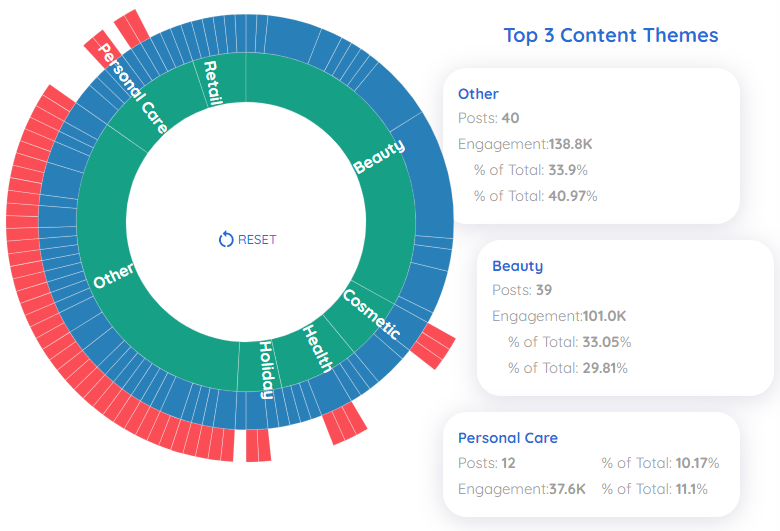 4. Influencer marketing 🤳
Like any other brand on Instagram, Drunk Elephant has relied heavily on Influencer marketing. They have used unique posting ideas with influencers to keep their followers engaged.
As seen, video content types, especially reels works best for Drunk Elephant.
The captions are also crisp and interesting to read. Speaking of captions, did you know that Predis.ai can generate captions for you in seconds in different tones of voice!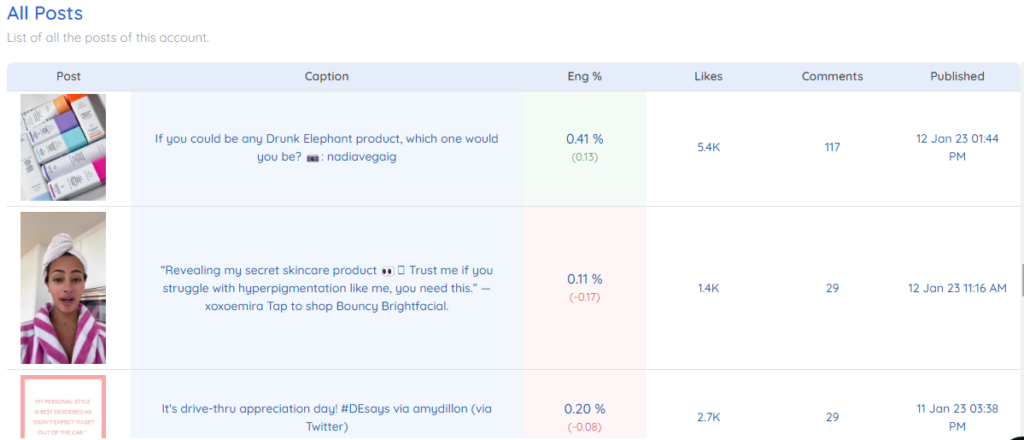 5. FAQ Fridays ❓
The brand has also made regular FAQ posts. FAQ Friday has become trending content in their profile. In social media marketing, there is a huge role of the connection between the brand and its followers. It is necessary to maintain some form of communication with the followers.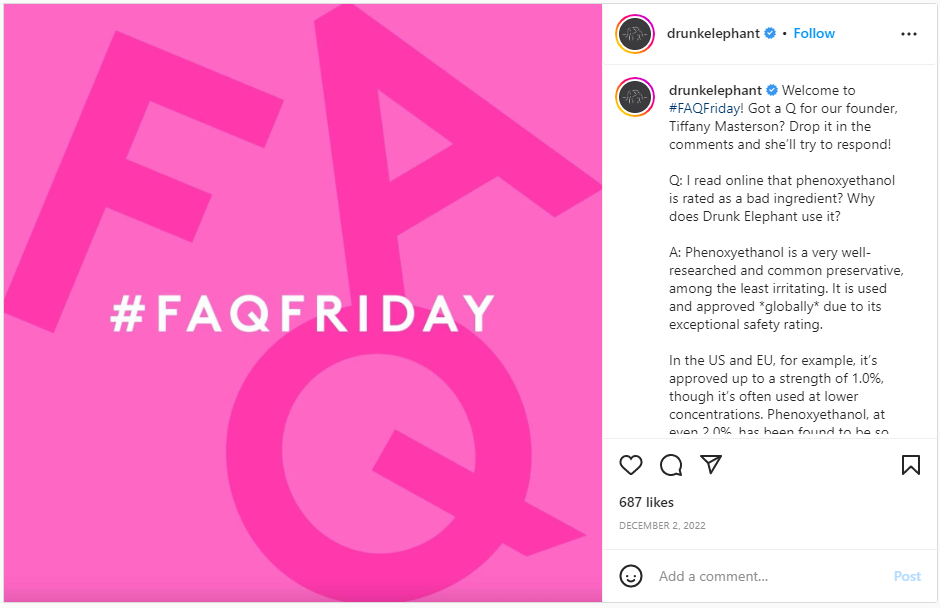 This will not only keep the followers engaged, but also get the consumers the answers to their queries. It is a smart strategy by Drunk Elephant to keep its audience engaged.
6. Branded Hashtags
Hashtags are important in social media marketing and Drunk Elephant has made sure that they utilize them well. They have Hashtags that are around their product and brand name.
These Hashtags are also used by the influencers in their content, making their brand hashtags popular. Following are some of the top hashtags used by #DrunkElephant.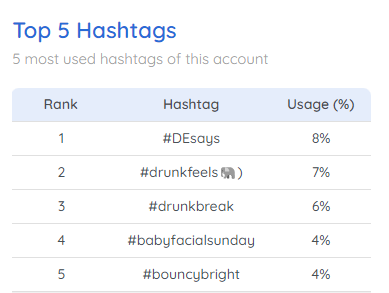 7. Being active on the comment section
Drunk Elephant has always responded to their audience with any kind of doubt. In addition to the FAQ Fridays, they have also been active in their comment section. Responding promptly to customers on Instagram has helped them to improve their engagement and build trust.
Wrapping it up
To wrap up, we would like to press on the idea that the content has to be unique and provide value in social media marketing. There are a lot of brands posting similar content, but not everyone has the same results. Having a unique content strategy can make your social media marketing results better. With the Drunk Elephant case study, we can see how to make our content unique and keep the feed entertaining. Not only will this keep the followers engaged, but will also attract more followers.