Instagram these days is the best way to go about social media marketing. With over 1.6 billion users per month, Instagram has great potential for businesses. From posting videos and images to posting stories, there are many ways in which Instagram can help you grow your business. The easiest way to get your brand recognized is through social media marketing. In this blog, we will see Gymshark Instagram strategy to understand how Instagram marketing should be done and how you can implement the same strategies.
Why use Instagram for social media marketing?
There are several reasons why you should use Instagram for social media marketing. First, it is a highly visual platform that allows you to share engaging photos and videos. This is a great way to showcase your products or services and to get people interested in what you have to offer. Another reason to use Instagram for social media marketing is that it is a very popular platform.
There is a large potential audience for you to reach out to. Instagram is a great platform for building relationships with potential and current customers. You can interact with them directly and create a connection that goes beyond simply selling a product or service.
About Gymshark
Gymshark is a sports apparel and equipment brand, founded in 2012 by students at Birmingham University. The brand initially sold fitness clothing on eBay but has since expanded to sell its products through its website and pop-up stores. Gymshark has a following of over 6 million people on social media and has been endorsed by several high-profile athletes, including Steph Houghton and Olympic medalist Greg Rutherford.
Gymshark's products are designed to meet the needs of athletes of all levels, from beginners to professionals. The company offers a wide range of products, including tees, tank tops, sports bras, leggings, shorts, tops, and accessories. Gymshark's products are available online and in stores around the world.
before we dive deep into the marketing tactics used by Gymshark, here is a TL;DR:
Memes and Puns
Events and community related posts
Funny user generated content
Influencer marketing
Hashtag game
Type of content
Posting frequency
Giveaways
Unlocking the Gymshark Instagram strategy:
Gymshark is a very famous brand and looking at its social media marketing strategy will help you understand how to go about your brand's marketing strategy on Instagram. Let's decode their marketing strategy and understand how to do Instagram marketing efficiently.
1. Memes and Puns 😄
When it comes to social media marketing, there are a lot of different strategies that businesses can use. But one thing that always seems to be popular is using memes. There are a lot of different ways that you can use memes for your social media marketing strategy. You can use them to promote your brand, connect with your audience, and get people talking about your business.
When we analyze Gymshark's Instagram profile using Predis.ai Competitor Analysis, we can see that there are several memes in their profile. In fact, the greatest number of views that Gymshark has received is for their meme posts. They have received double the engagement on their meme posts.
It is not surprising that memes do well on Instagram, but it is surprising to see that Gymshark has received maximum engagement on memes. So, including certain pun-intended videos or memes is a good idea for any business.
2. Events and community related posts
Gymshark holds events all around the world for its athletes, fans, and customers. These events are a great way to get involved with the Gymshark community, meet other like-minded people, and learn more about the brand and what it stands for.
They have posted content from events, which seems to be working well for their marketing strategy. They have posted community-related posts which have got enough engagement from their Instagram followers.
3. Funny user generated content
There's no shortage of funny content on Instagram. From memes to GIFs to hilarious videos, there's always something new to laugh at. And with the ability to share content with your friends, you can make sure they never miss a funny moment.
This same strategy has been followed by Gymshark. Their funny user-generated content has gotten 50% more engagement than their other posts. Hence, incorporating user-generated content can help you get more engagement, and your followers will feel more connected.
4. Influencer marketing 🤳
Influencer marketing can be a great way to reach a new audience on Instagram and get your products or services in front of people who are interested in them. Just make sure to do your research, be strategic, and partner with influencers who you think will be a good fit for your brand.
But surprise! Influencer content and brand ambassador-generated content have not gotten that much engagement for Gymshark. Influencer marketing seems to work well with other D2C brands, thus, it is not always necessary that all kinds of social media marketing strategies will work for you, even if you are in a similar category.
Try to post content that is complete and relevant, then try to see which kind of content is bringing more engagement to your page. Then double down on the content that works.
5. Hashtag game
Gymshark's hashtag game is top-notch! They use the #gymshark tag on all posts and have managed to convert it into a commonly used hashtag for posts related to gym and workouts. There are more than 12M posts with this hashtag and it is the 1st branded hashtag recommended by Instagram when you search for #gym.
This helps them get a lot of brand recall. Another hashtag #gymshark66 which was started as a challenge is working well and has almost 800K posts!
Leveraging user-generated content with the help of hashtags has been very useful for them. They have used Hashtags and created a brand identity by using these hashtags. As their hashtags get famous, more and more potential brand ambassadors and influencers start using them. And it gives them a fantastic opportunity to search for quality user-generated content.
6. Type of content
Gymshark has been posting a lot of carousels on Instagram which is seen to have been working well for their engagement. About 60% of their posts are carousels and only 25% of their posts are videos.
Their single-image posts have been very less when compared to carousels and videos. Even the videos that they have posted are mostly memes and funny content. Try to post a variety of content and see how it is doing, then go with the one that works the best for you.
7. Posting frequency ⏰
For any account on Instagram to build a brand name, consistency is required. Posting often is the key to keeping the audience engaged and well-informed about new product launches, events, and discounts.
Keeping consistent posting alone is not fully effective. It is important to even consider the time of posting. Gymshark can been seen posting at the time when most followers are active. They mostly posted from 6 AM time or 2 PM (PST).
When looking at the posts of Gymshark, we can see that they have posted with consistency. Out of the 180 days of looking at their content strategy, they posted a new post every day having had only a gap of 2-4 days in between. This shows us how important it is to maintain consistency.
8. Giveaways 🎁
Gymshark does periodic giveaways. Their giveaway posts receive a lot of engagement. Their giveaway post is a massive engagement magnet and among the top 5 posts on their Instagram.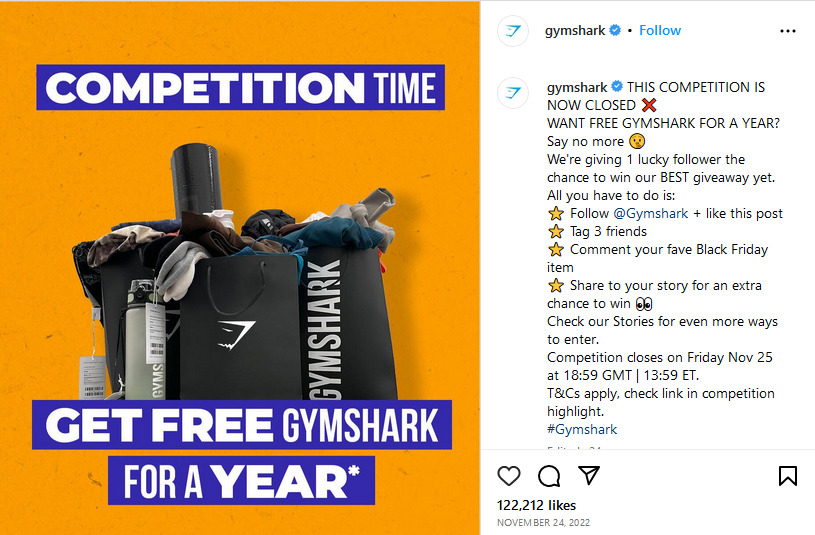 Instagram giveaways can help brands grow their online presence, engage with their audience, and establish brand loyalty. Here are some of the advantages that a brand can obtain through Instagram giveaways:
Increased brand awareness: Instagram giveaways can help increase brand awareness by reaching a larger audience, especially if participants are required to share the post or tag their friends in the comments.
Increased engagement: Giveaways are an excellent way to connect with your audience, motivate them to participate in your content, and create a sense of community around your business.
Gain new followers: Giveaways can bring in new followers who would not have noticed your business otherwise. People who share the giveaway with their friends can help you expand your reach and gain new followers.
Recognize loyal users: Giveaways can also be utilized to show your appreciation for your customers. support. This can help to boost brand loyalty and customer retention.
Collect user-generated content: As a method to join the giveaway, you can ask participants to upload their images or videos linked to your business. This might assist you in gathering user-generated content for use in your marketing efforts.
Lead generation: Giveaways can also be used to collect email addresses or additional contact details from customers, which can then be utilized to generate leads for future marketing initiatives.
If you are looking for better engagement on your social media business account, then hosting a giveaway will be a great idea.
Wrapping it up
Social media marketing is an essential part for online marketing these days. The kind of audience you want is easily targeted using social media marketing. Engagement will also help with sales.
In this blog, we saw Gymshark's strategy for social media marketing. There is a lot that we can take away from their marketing strategy. It can be tough to be consistent when you have a lot going on with your business. This is where tools like Predis.ai can come to your rescue.
You may also like,
Top takeaways from Daniel Wellington's Instagram marketing.
ChatGPT for social media management.
Creating content buckets for social media.