With Instagram, you can take photos and videos with your phone, then share them with your friends and followers on the app. You can also view photos and videos from other users that you follow on the app. On Instagram, one can share stories and also change the story ring color on Instagram (but there is a catch).
Instagram allows users to post stories, highlight these stories, and post stories for a limited audience. Instagram is a fantastic platform for sharing images and videos with followers and friends.
What are Instagram stories?
Users of the Instagram app can share photos and video material with their followers using the Instagram Stories feature. After 24 hours, the shared content in Stories vanishes and is no longer viewable on the user's profile or in the feed. The Snapchat Stories feature served as inspiration for the August 2016 debut of Instagram Stories. Instagram tried to emulate the success of Snapchat's Stories feature, which had initially been highly popular.
Instagram has benefited from the launch of Stories since it has maintained user engagement with the platform. 
How to change the story ring color on Instagram?
If you use Instagram to add stories and want to change the ring color of your Instagram story, but don't know how to do so, then this is the right place for you. As per the current updates on Instagram, you cannot change the story ring to any color. There are a lot of blogs that will say you can, but they are just lying.
But there is a certain way in which the story ring color can change. So how many colors are there to an Instagram story ring? Short answer: three. What colors are they? 1. Instagram logo gradient 2. Green and 3. Grey.
And there is a fourth color that is occasionally available.
1. Instagram colors (default): When you post a normal story, the usual color of the story ring will appear. The usual color is a gradient of the Instagram logo colors. This is true for everyone, be it a normal user, brand, verified celebrity or the Instagram official account.
2. Green: If you post a story to close friends, then the color of the story ring will be green. Your close friends who will see the story in their feed will see a green color and thus know that the story is shared with close friends.
3. Grey: Whenever you have seen a story from any account on Instagram, the story ring color will change to grey, indicating that you have watched the story of that particular account.
4. Rainbow colors: There is a way to get rainbow colors on your story ring. This can be done simply by using a pride sticker on the story. The pride sticker will turn the story ring into a rainbow color.
But this was applicable in the Pride month only. Use the pride stickers and hashtags during the pride month to change the story color to rainbow.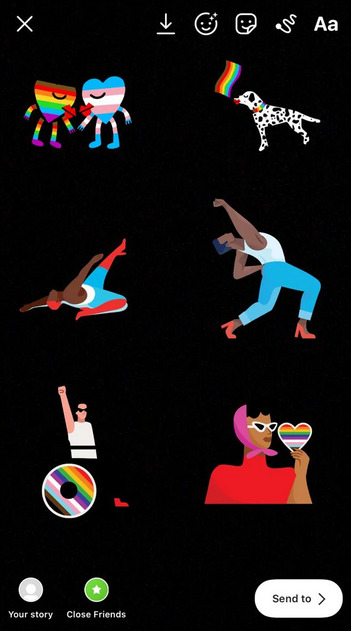 Some do's and don'ts for Instagram stories:
Do's:
1. Keep it brief and to the point. Instagram stories are designed to be short and to the point, so keep your content short and sweet.
2. Make use of eye-catching images. Instagram is a visual platform, so include high-quality pictures and videos that are visually appealing and attention-grabbing in your stories.
3. Make use of hashtags and location tags. This can help your story reach a larger audience, especially if they happen to be interested in the topic or location you're mentioning.
4. Text overlays can be used to provide context or to create a call-to-action. Consider adding a text overlay to a photo or video to provide additional information or to push viewers to perform a specific action.
5. To engage your audience, use interactive features such as polls, quizzes, and questions. This can be an enjoyable approach to encourage your followers to connect with the content and provide feedback.
Don'ts:
1. Don't overshare. It's critical to be consistent with your Instagram story content but publishing too frequently can overwhelm your followers and cause them to skip over your content.
2. Don't use low-quality graphics. Because Instagram is a visual medium, ensure that your images and videos are of excellent quality and visually appealing.
3. Don't overuse hashtags or location tags. While hashtags and location tags could help in search, adding too many can make the content appear cluttered and spammy.
4. Posting unrelated stuff is not recommended. Your Instagram story should be consistent with your brand and relevant to your target audience. Posting irrelevant or random content can confuse your audience and reduce engagement.
5. Remember to interact with your audience. Instagram stories are a terrific way to engage your audience, so make sure to respond to comments and direct messages to keep the conversation going.
Wrapping it up
Stories are an important part of Instagram, and it is possible to customize them in your own way. However, you cannot change the color of the story ring.
Follow the instructions given in this blog, and you will know in which situations the story ring color changes!
You may also like,
Adding weather to Instagram story.
Story ideas for dental business.
Saving Instagram story. Quick guide.