Outfy serves as a nifty Shopify application designed to assist sellers in boosting their product visibility across a range of social media channels including Facebook, Instagram, Twitter, Pinterest, and YouTube. With this app at your disposal, you can effortlessly craft captivating content like videos, collages, animated GIFs, and enticing sales offers. Yet, as they say, having a few backup options in your toolkit is always wise. This article will explore the best Shopify Outfy app alternative.
Predis.ai
Elevate your social media strategy with a tech boost! Introducing Predis AI, the all-in-one social media manager that supercharges your efforts, scaling them 10X faster. Whether crafting single image posts or dynamic Instagram reels, Predis seamlessly executes your vision from basic text.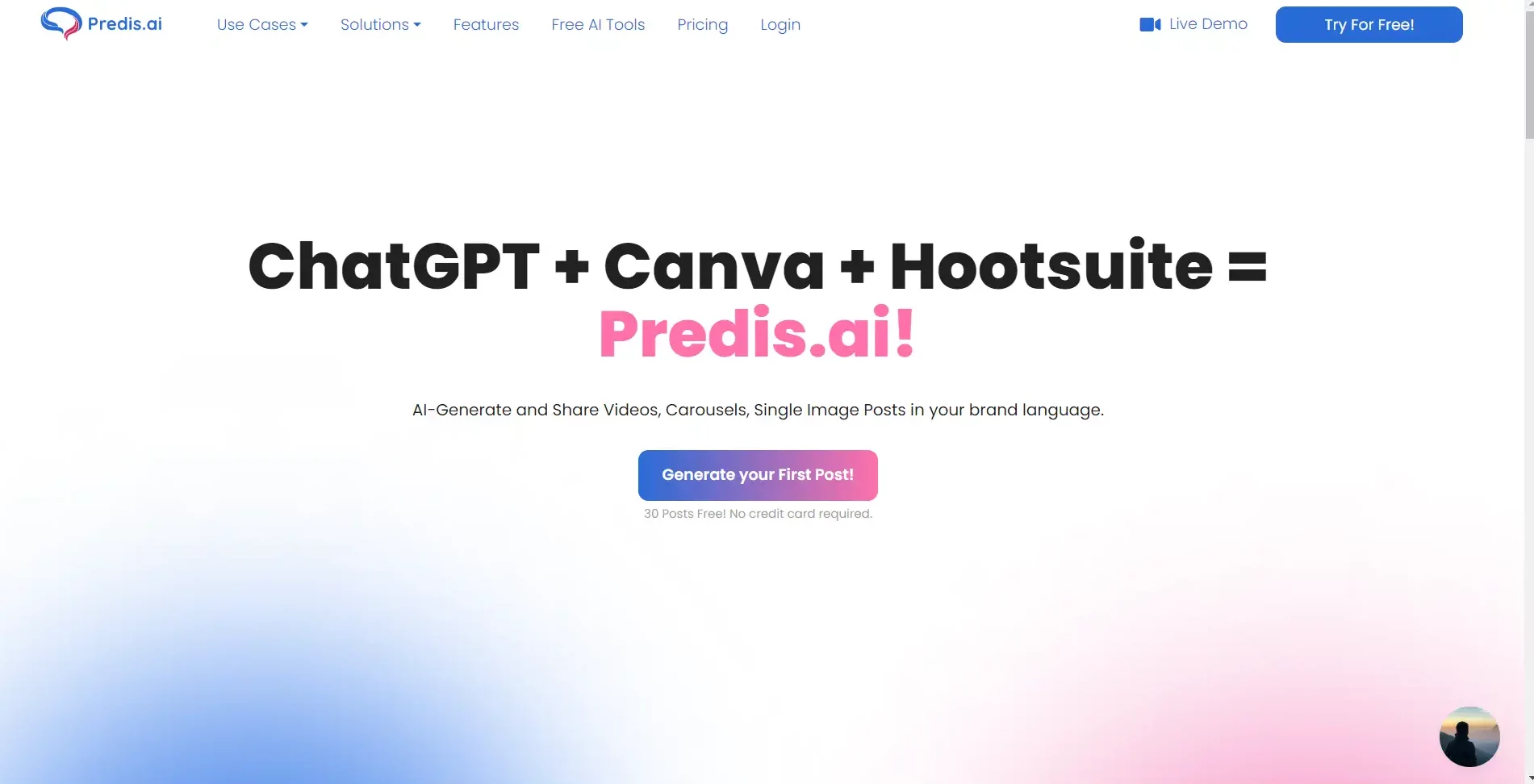 Generate bulk content with AI finesse, maintaining a polished edge. Dive deeper with insightful competitor analysis to uncover their winning formulas. Your social media prowess just got a major upgrade.
Predis.ai Features
Activity Dashboard: Gain insights at a glance.
Activity Tracking: Monitor your progress effortlessly.
Automated Scheduling: Save time with smart scheduling.
Benchmarking: Measure and excel beyond standards.
Calendar Management: Organize seamlessly.
Competitor Monitoring: Stay a step ahead in your industry.
Content Library: Your creative assets at your fingertips.
Content Management: Take control of your content journey.
Predis.ai Pricing
Free: $0/month
1 Brand
15 AI-Generated Posts/month
10 Competitor Analysis Runs/month
Solo: $29/month
1 Brand
120 AI-Generated Posts/month
60 Competitor Analysis Runs/month
Starter: $59/month
2 Brands
Unlimited AI-Generated Posts
Unlimited Competitor Analysis Runs
Agency: $139/month
5+ Brands
Unlimited AI-Generated Posts
Unlimited Competitor Analysis Runs
Buffer
Buffer serves as a wallet-friendly and user-friendly tool for social media marketing, favored by small enterprises and traders aiming to establish their presence across social platforms. Through Buffer, you gain the ability to strategize and organize your social content ahead of time.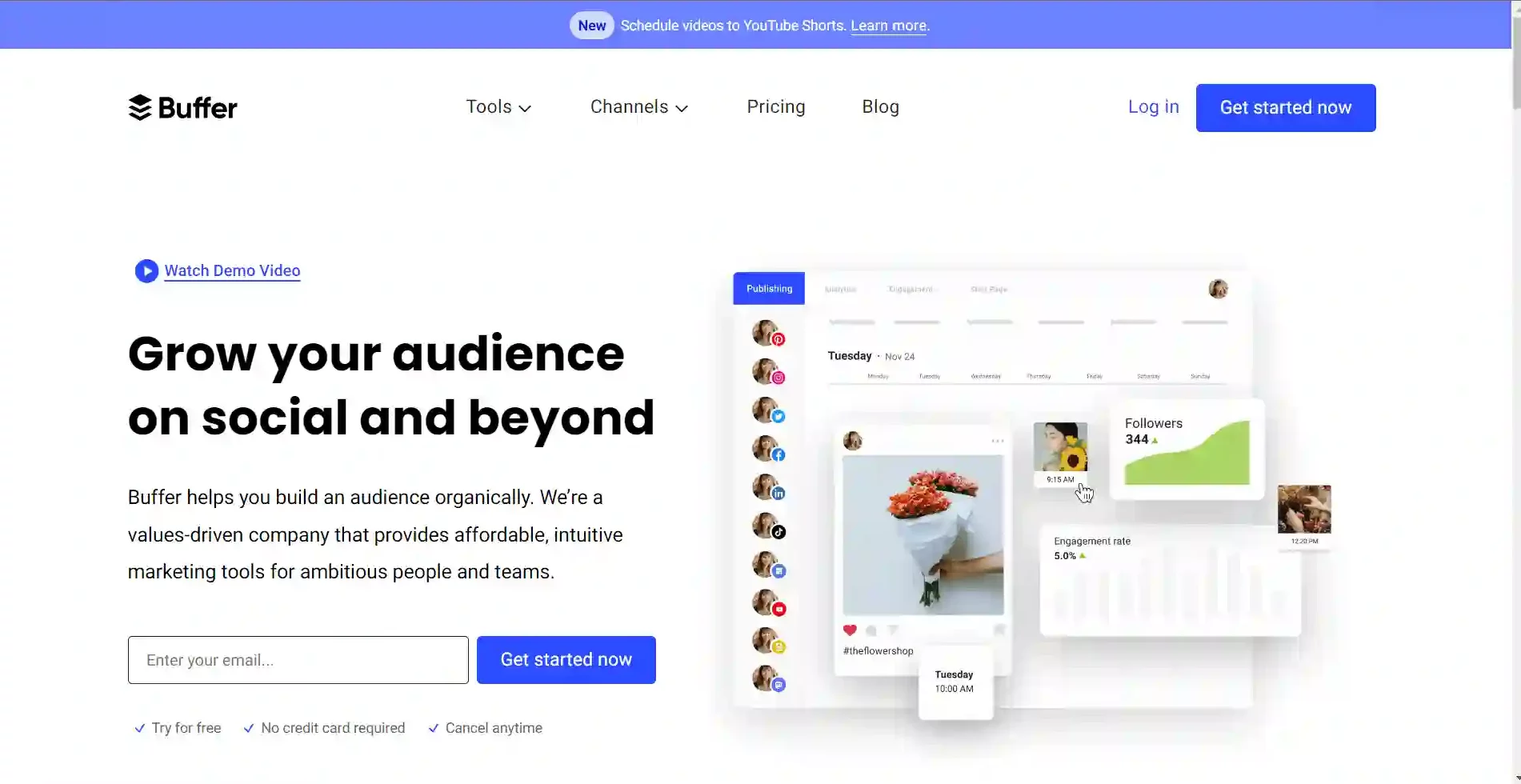 Picture yourself peering into a calendar-like arrangement of your upcoming posts, all neatly scheduled. Moreover, this nifty tool doesn't stop at scheduling; it also offers valuable insights and suggestions on the optimal timing and content for your posts.
Buffer Features
Effortless Scheduling: Plan posts across all social networks seamlessly.
Performance Insights: Gain analytics to monitor and refine your content's success.
Collaborative Power: Team features foster seamless collaboration.
Tailored Timing: Craft custom posting schedules that resonate with your audience.
Unified Calendar: Keep your social media strategy organized with a comprehensive social media calendar.
Buffer Pricing
Free: $0/month
Connect up to 3 channels.
Planning & publishing tools.
Landing page builder.
AI Assistant.
Essentials: $6/ month
Add more channels at $6/month each.
Engagement tools.
Analytic reports.
Team: $12/month (1 channel)
Additional channels at $12/month each.
Unlimited team members & clients.
Draft collaboration tools.
Agency: $120/month (10 channels)
Expand with extra channels at $6/month each.
Custom access & permissions.
Agency-friendly pricing
Onollo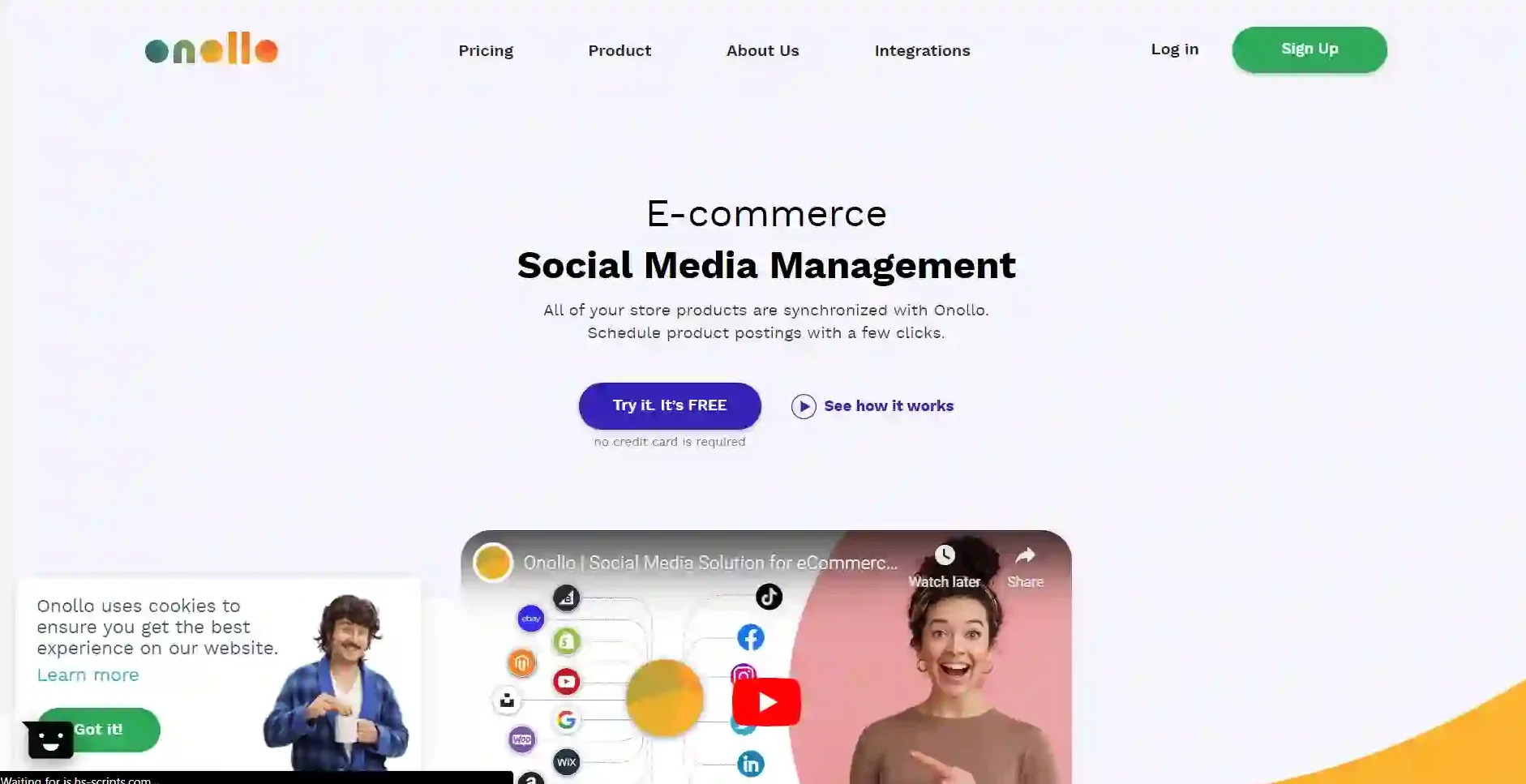 Meet Onollo – your partner in conquering the online marketing realm, tailored especially for small businesses. This dynamic social media management tool equips you with the prowess to wield the full potential of social media within your marketing strategies.
Say goodbye to the hassle – Onollo seamlessly weaves together all your Shopify store products, enabling you to effortlessly share your merchandise with a few clicks. Gone are the days of laborious tasks like scouring images, juggling product details, and laboriously crafting posts – Onollo takes care of these for you.
Onollo Features
Social Media Monitoring: Stay in the know, always.
Posts Scheduling: Plan your content for optimal impact.
Multi-User Collaboration: Team up seamlessly for success.
Multi-Account Management: Streamline your social empire.
Customer Engagement: Connect and captivate your audience.
Brand Tracking: Keep your brand's pulse strong.
Auto Publishing: Effortless content sharing.
Analytics (Social Media): Uncover insights that matter.
Content Management: Control and curate your narrative.
Onollo Pricing
Starter Ann: $4+ $0.45/month
Billed annually at $53.40.
Posts: 50.
Autopilot: 2.
1 Teammate.
Smart-Scheduling.
Pro Ann: $6+ $0.95/month
Billed annually at $83.40.
Posts: 350.
Autopilot: 5.
3 Teammates.
Smart-Scheduling.
SuperPro Ann: $12+ $1.95/month
Billed annually at $167.40.
Unlimited Posts.
Autopilot: 20.
5 Teammates.
Smart-Scheduling.
Agency Ann: $25+ $3.95/month
Billed annually at $347.40.
Unlimited Posts & Autopilot.
5 Teammates.
Smart-Scheduling.
Post Studio
Introducing Post Studio Auto Post – the effortless solution for managing your social media presence across Instagram, Facebook, Twitter, and Pinterest. Think of it as your personal auto-pilot for social media, tailored specifically for your store. With a setup that's a breeze and takes just a mere two minutes, you'll be up and running in no time.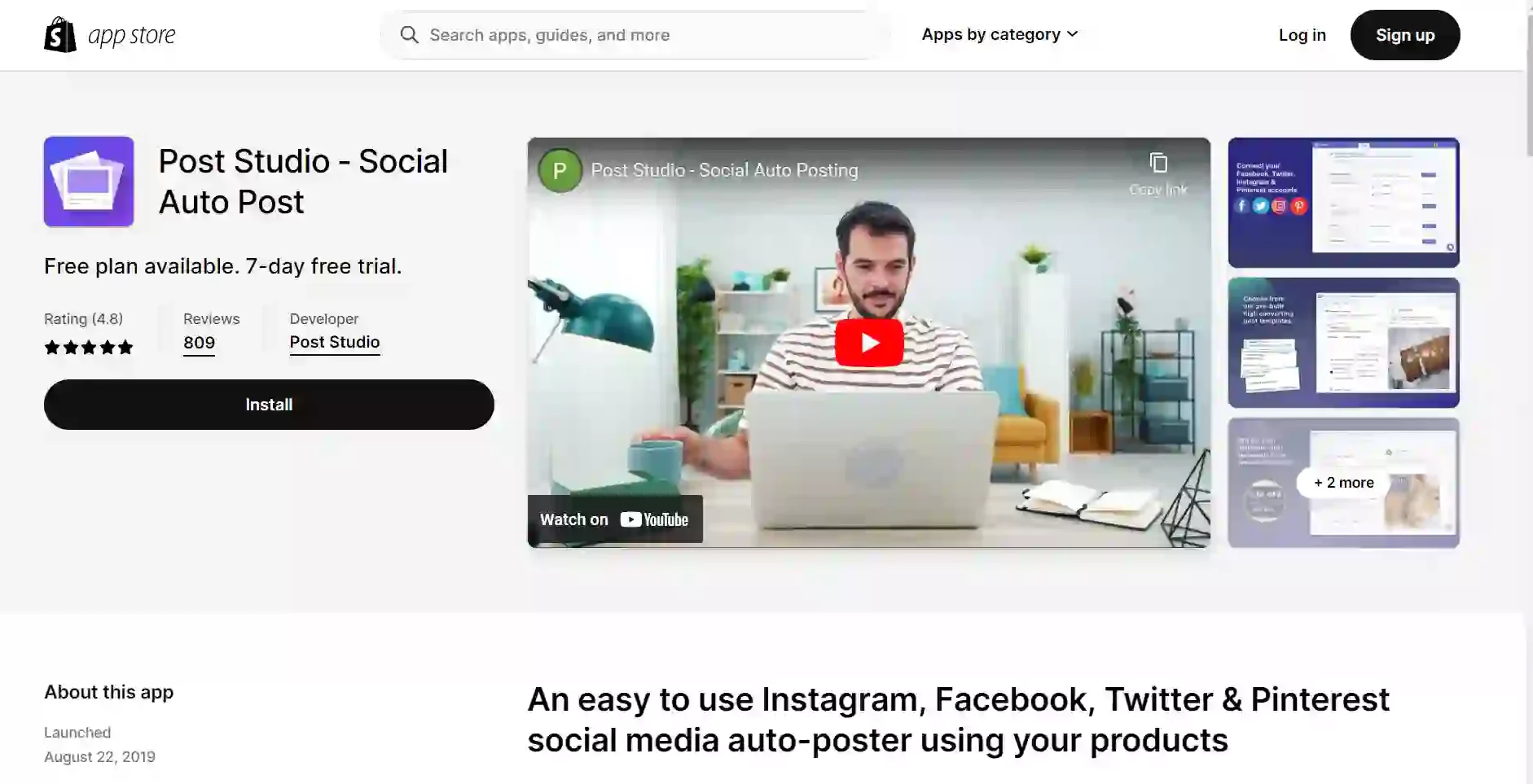 Gone are the days of manual posting – Post Studio swoops in to automate the process of sharing your enticing offers and captivating products across your Facebook, Twitter, Pinterest, and Instagram feeds. It's like having your own content curator at your fingertips.
Post Studio Features
Scheduled Posting: Time your posts effortlessly. For instance, pick "09:00,11:00," and watch random products appear at these hours.
Destination Selection: Choose your platform: Facebook, Instagram, Twitter, or Pinterest.
Collection Variety: Add multiple collections for diverse, randomized posts.
New Product Spotlight: Showcase fresh arrivals from a designated collection.
Customizable Templates: Craft posts with your unique template, enriched with dynamic variables that transform with each product.
Time Savings: Post Studio frees you to focus on broader social media strategies.
Preview Control: Get a real-world preview of your posts before giving them the green light.
Post Studio Pricing
FREE:
Free daily post!
1 campaign.
Instagram, Facebook, Pinterest & Twitter.
Video Maker.
3 Campaign Types.
PRO: $7.99/month:
All free plan features.
Up to 5 campaigns.
Unlimited Posts.
Automatic discounts.
Custom branding.
ULTIMATE: $19.99/month:
All pro features.
Unlimited campaigns.
Minta
Minta's ingenious AI technology empowers brands to establish authentic social credibility by seamlessly streamlining the entire process of crafting captivating social media videos.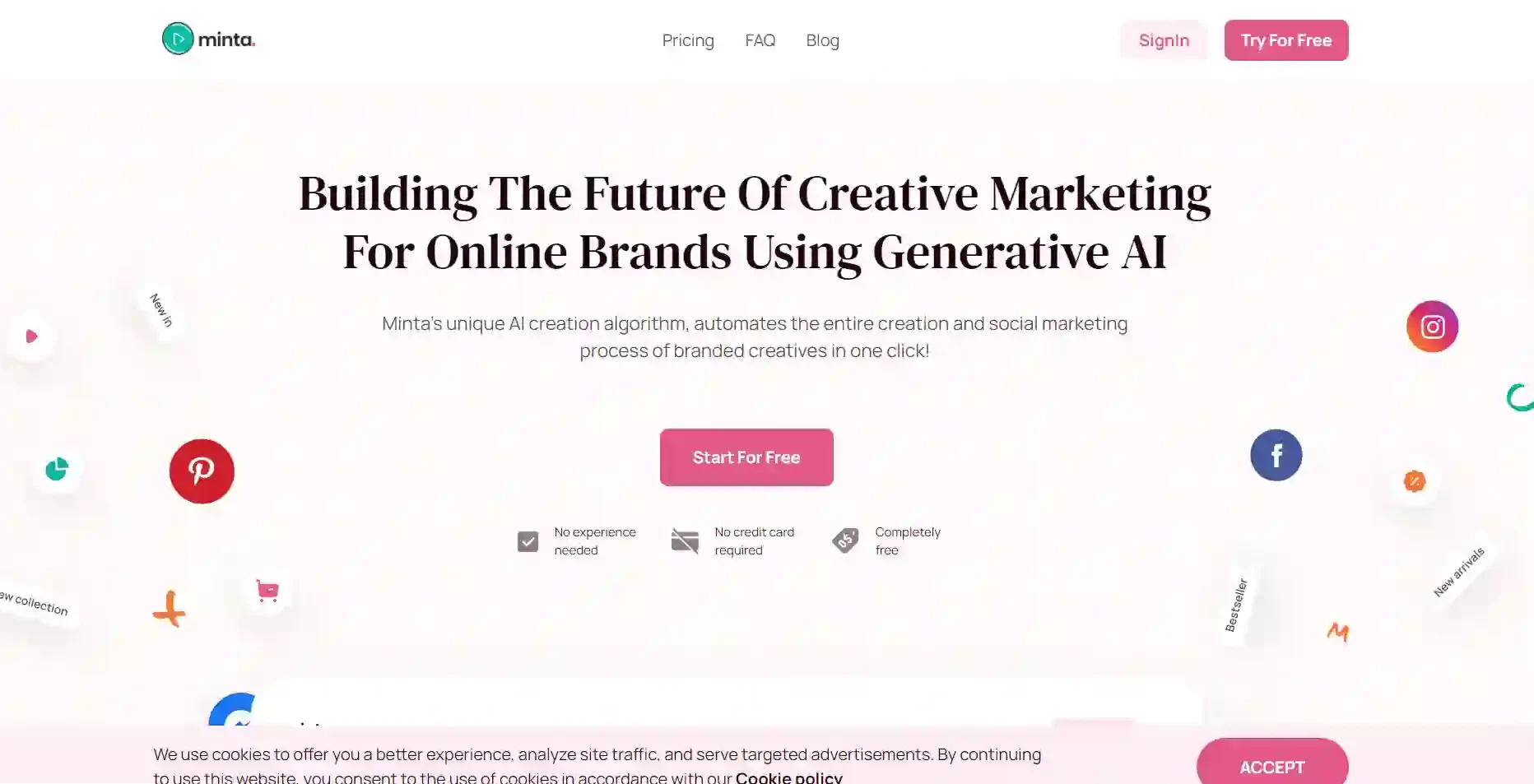 Effortlessly share your content across prominent platforms like Pinterest, Facebook, Instagram, and TikTok, all while harnessing Minta's cutting-edge automated scheduling feature. Revolutionize your social marketing strategy with our intuitive auto planner, freeing up your time to focus on what truly matters.
Minta Features
Tailored Video Creation: Craft limitless branded product videos & images, reflecting your brand's essence, using our advanced video maker.
Effortless Scheduling: Automate posting and scheduling of your video content on Facebook, TikTok, Instagram, and Pinterest, all within our advanced social media planner.
Personalized Touch: Customize music, style, text, and showcased products in just a few clicks. Choose from a wealth of stunning product video templates, aligned with your store's activities – be it new launches, flash sales, or holiday promotions.
AI-Powered Branding: Harness Minta's potent AI to create compelling videos that drive conversions, upsell customers, and establish your brand, effortlessly.
Worry-Free Management: Bid farewell to social media management woes, as Minta empowers you to conquer your digital presence like never before.
Minta Pricing
FREE PLAN:
5 posts per month.
Automated social media content catalog.
Share on FB, IG, TikTok & Pinterest.
Use your logo & branding.
PRO: $35/month or $248/year (41% savings):
Minta planner.
Auto-post to TikTok, FB, IG, & Pinterest.
Pro templates.
Pro Music.
GROWTH: $55/month or $396/year (40% savings):
Auto-post to TikTok, FB, IG, & Pinterest.
Pro templates.
Pro Music.
Upload your own.
ENTERPRISE: $499/month:
Account manager.
Upload your own designs.
Ad integration.
Account for up to 5 stores.
VAM Facebook and IG Ads
Using concise and captivating videos can have a remarkable impact on your promotional efforts. Leveraging the power of social media for promotion is an excellent strategy to draw in fresh customers.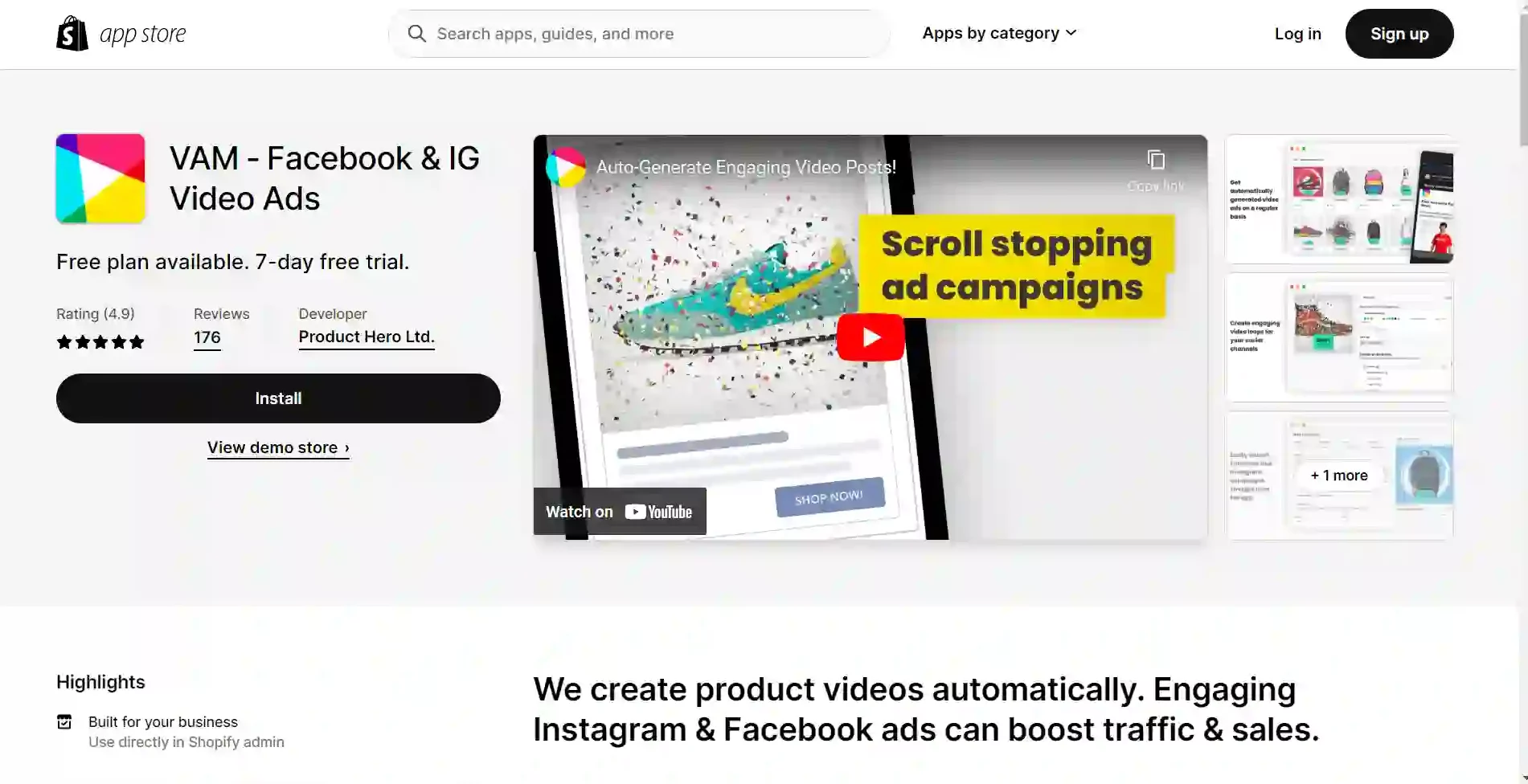 This automated video creator seamlessly links with your business's Facebook and Instagram profiles, streamlining the process of crafting and sharing compelling, conversion-focused advertisements.
Crafting and refining videos demand substantial time and know-how. Yet, with the Video Ad Machine at your disposal, you gain access to an array of captivating animations and valuable support for campaign management, all in an instant.
VAM Features
Fresh Ad Creatives: Receive regular recommendations for new and captivating ad creatives.
Transformative Templates: Elevate your catalog with stylish templates, morphing them into captivating animations.
Effortless Social Sharing: Seamlessly auto-post on Facebook and Instagram, while orchestrating impactful video ad campaigns.
Tailored Branding: Personalize branding to match your unique vision and requirements.
Optimized ROI: Multiple ad variations undergo automatic testing to ensure maximal Return on Investment (ROI).
VAM Pricing
FREE FOREVER:
Unlimited videos & campaigns.
3 basic visual templates.
Basic ad management features.
PRO YEARLY: $24.50/month (billed at $294 once per year):
Advanced ad management.
Multivariate ad set testing.
FB & IG auto-posts.
PRO MONTHLY: $49/month:
Logo & font upload.
Advanced ad management.
Multivariate ad set testing.
FB & IG auto-posts.
PREMIUM: $499/month:
Everything in PRO.
Dedicated account manager.
Premium support.
Target group analysis.
Conclusion
In summary, Outfy works well for automating social media posts in Shopify, but there are other options too. To boost your social media impact while saving time, consider Predis AI. It offers comprehensive social media management, allowing you to scale your efforts up to 10 times faster.
Related Articles
How To Create Shopify Product Videos
Marketing Automation for Shopify
Best Shopify Tools For Marketing