Social media marketing has become a necessity these days to grow business. There are plenty of websites that help you with content marketing for social media. One such tool is Ocoya which helps in creating posts to scheduling them. 
But not every tool is a perfect fit for every business, which is why it's important to explore alternative options. In light of this, we have compiled a list of viable Ocoya alternatives. By considering these alternatives, you can make more informed decisions that align with your specific needs and objectives.
Ocoya is a social media marketing tool that helps you with post creation, post scheduling, and copywriting. Along with post-generation, Ocoya also helps with shortening links. Unfortunately, they do not have a free plan. There are plans ranging from $15 to 159 per month based on the requirements and the features.
Ocoya Alternatives
By considering these alternatives, you can make a more informed and professional decision and choose the optimal tool for your organization.
If you're searching for a reliable and efficient solution to streamline your social media marketing, your answer lies in Predis.ai! Predis.ai is a comprehensive tool that offers a wide range of services dedicated to managing your social media presence. Its feature-rich toolkit, including post-generation, post-scheduling, planner, and competitor analysis, makes it the ultimate all-in-one tool for successful social media campaigns.
One notable standout of Predis.ai is its powerful content generation capability. This innovative tool effortlessly crafts engaging and compelling social media posts tailored to your specific requirements. Where all other tools in the list can generate only text, Predis.ai can generate templatized creatives, videos, carousels, memes with AI.
Whether it's creatives, catchy captions or thought-provoking quotes, Predis.ai's post-generation feature delivers accurate and customized content that deeply resonates with your target audience.
The challenge of keeping your social media accounts active and posting consistently at optimal times is simplified by Predis.ai's user-friendly post-scheduling functionality. Effortlessly plan and schedule your posts in advance, ensuring a steady stream of content without the burden of manual posting. Spend less time worrying about timing and more time engaging with your audience and cultivating your brand.
In addition to its core features, Predis.ai provides an insightful competitor analysis tool. Stay ahead of the curve by gaining valuable insights into your competitors' social media strategies. Understand successful approaches and refine your own strategy to outshine your competition. Predis.ai empowers you with the indispensable information needed to make informed decisions and maintain a competitive edge.
Predis has a free plan available with 15 post-generations to get you going if you are a new business or even a small business. There are other plans available if you want to generate more posts. Paid plan ranges from $29 to $139 per month.
What customers say about Predis.ai?
2. Hootsuite 
Hootsuite is a social media management platform that enables businesses and individuals to more effectively manage their social media. The platform provides users with tools to help them better understand and engage with their audience, as well as manage multiple social media accounts from one place.
Hootsuite was founded in 2008 by Ryan Holmes, who saw the need for a more effective way to manage social media interactions for businesses. Since then, the company has grown to become one of the leading social media management platforms, with over 18 million users in more than 175 countries.
Hootsuite has features like post scheduling, and monitoring activity. Integrations are also available with this tool. Its pricing ranges from $99 to $739 per month. They do not have a free plan. You can try them for free before committing any kind of subscription.
What customers say about Hootsuite?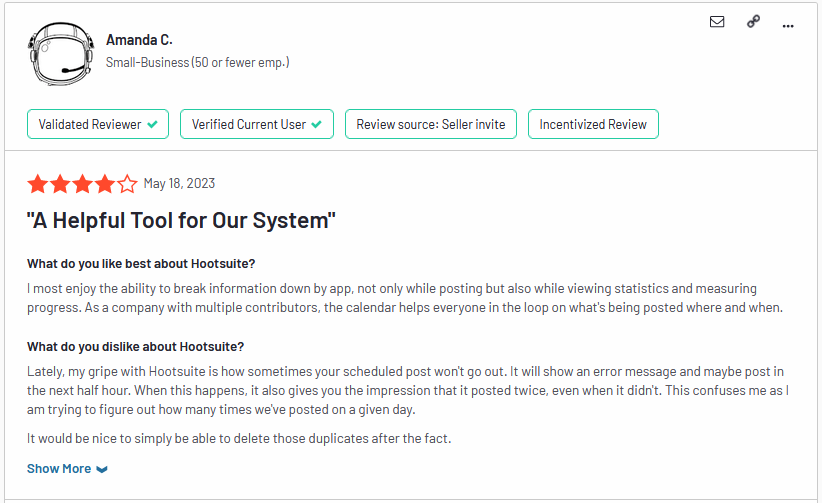 3. Buffer
Buffer is a social media management platform that enables users to share content across multiple social media platforms. It provides users with a "buffer" of pre-written content that can be posted to social media platforms at scheduled times. This helps users better manage their social media presence and allows them to share content more effectively.
This tool offers AI-generated post ideas and copywriting content. They also have post scheduling tools and content creation tools for landing pages. Their prices range from $6 to $12 per platform per month. They also have an API, which makes it easier to access their service on different platforms.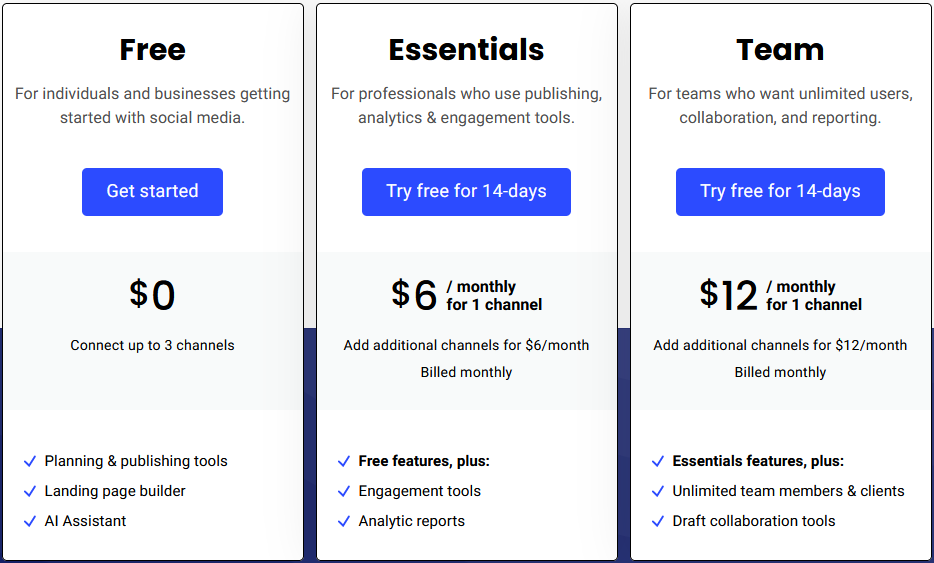 What customers say about Buffer?

4. SocialPilot
Socialpilot is a social media management platform that helps businesses and individuals save time and grow their social media presence. With socialpilot, you can schedule and publish content, track who's talking about you, and measure your results.
Social Pilot is especially valuable if you're managing multiple social media accounts because it allows you to manage all of your accounts from one central platform.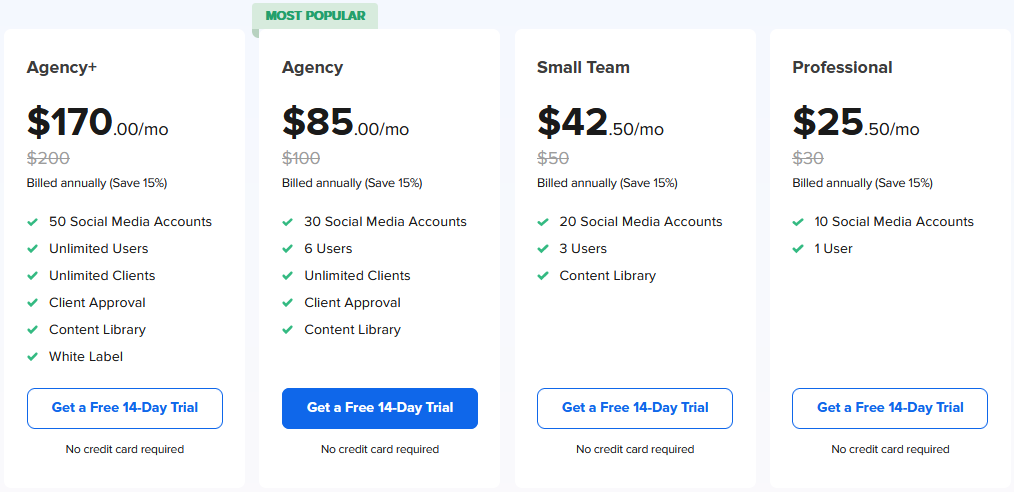 Socialpilot plans start at just $30 per month, so it's definitely worth checking out if you're looking to streamline your social media marketing. Their prices range from $30 to $200 a month.
What customers say about SocialPilot?

5. Planable
It is a social media management tool that enables businesses and marketing teams to collaborate on social media content. Planable makes it easy to create and schedule social media content, as well as monitor and measure the performance of your content. With this tool, you can also get real-time feedback on your content from your team and make sure that your content is on brand and on strategy.
Their pricing ranges from $11 to $22  per month. They also have a free plan with which you can create up to 50 posts. If you're looking for a social media management tool that will help you create, publish, and measure the performance of your content, then Planable is the tool for you.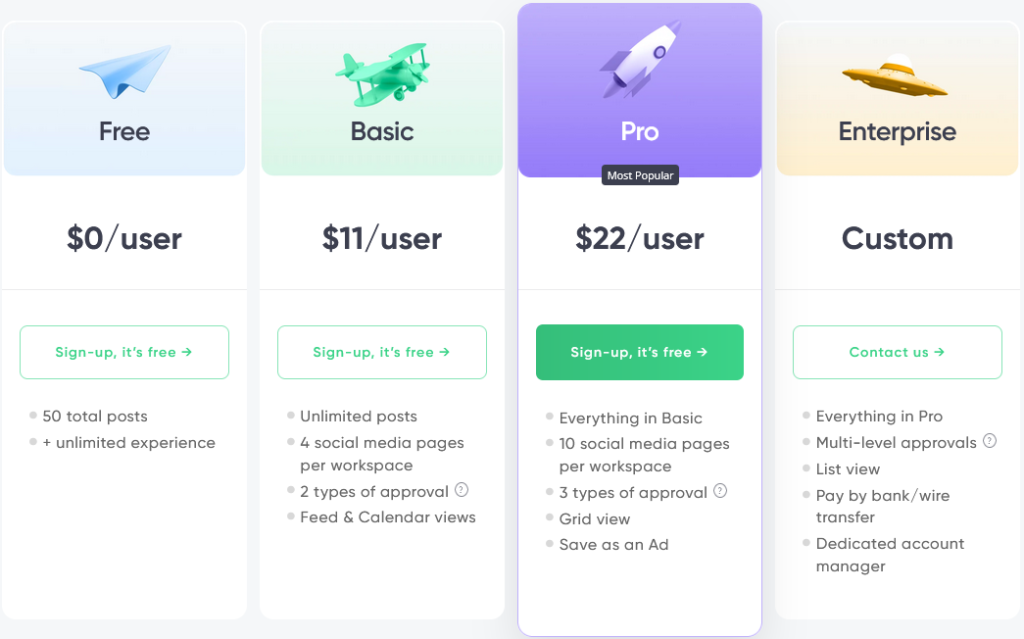 What customers say about Planable?
6. Vista social
Vista Social is another website that provides businesses with the tools and resources they need to succeed in the social media landscape. Whether you have just started social media or are an old social media user, Vista can help you grow your business.
They offer a variety of resources, including tips, tricks, and best practices, to help businesses make the most of social media. Vista Social also offers a variety of services, such as social media management and consulting, to help businesses take their social media presence to the next level. Vista Social has two paid plans of $15 and $25 a month.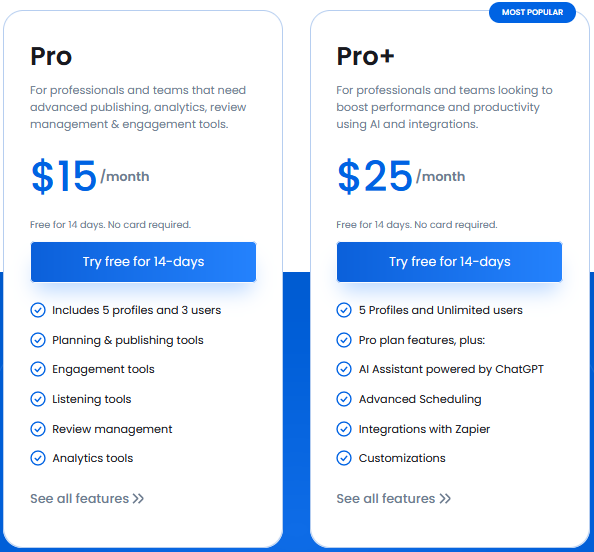 What customers say about Vista Social?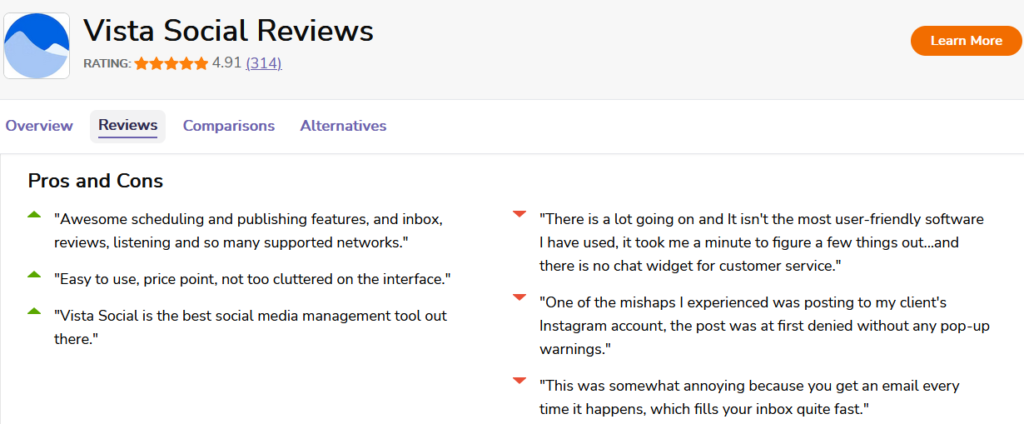 Wrapping it up
If you're looking for Ocoya alternatives, there are plenty of options that we've discussed in this blog. Each of these options has its own unique set of features and benefits, so be sure to do your research to see which one is right for you. No matter which Ocoya alternatives you choose, you're sure to be happy with the results.
You may also like,
Allbirds Instagram Marketing Strategy