Instagram is a social media app that is used by more than 1.6 billion people monthly. This app is great for communicating with friends and also for posting photos and videos. Other than being a social media app that connects people, this app is also very necessary in today's day for business owners.
Instagram is the perfect place for promoting business as well as other music, movies, or even podcasts. One can promote anything using Instagram. In this blog, we will see Instagram content ideas for podcasts and how to promote podcasts on Instagram.
Why podcasts are so popular these days?

A podcast is an audio or video file that can be downloaded and played on a computer, mobile device, or media player. It typically consists of one episode, which may include interviews, lectures, stories, and other forms of audio entertainment. Podcasts are often distributed via the Internet for free, so users can listen to them whenever they want.
Podcasts allow people to stay informed about topics they care about while multitasking in their daily lives: listening while commuting to work or school; exercising at the gym; doing chores around the house, and virtually any activity where you have some extra time available!
They provide convenient access to information from experts on any topic imaginable: science and technology news updates, history lessons from renowned professors and historians, and conversations with authors discussing their new books, all without having to leave your home!
Content ideas to promote podcasts on Instagram:
Below are some content ideas or buckets that you can use to promote your podcasts to your Instagram followers.
1. Teaser
Making a teaser is one approach to generating content ideas for your podcast. This is a brief excerpt (often 1-2 minutes long) that provides listeners with an overview of your podcast. Teasers can be taken from a longer episode or recorded specifically for your website or social media accounts.
2. Promotional infographics
If you recently shared a podcast or if you are trying to make a podcast, then promotional infographics is the way to go. Simply design an infographic with the main gist of the podcast. Try to add all relevant details of the podcast in the infographic and explain when and where it is available.
If you're not sure where to start, there are plenty of online resources that can help you create beautiful and effective infographics. You can try Predis.ai that creates complete post with the image/video, caption, and hashtags. Just enter a simple idea about the business or post and the AI will do the rest for you.
3. Create Audiograms
An audiogram is an audio-visual representation of a podcast episode or other audio content. It enables the listener to quickly understand what the podcast is about and encourages them to listen. Audiograms are typically posted on social media platforms like Twitter, Instagram, and Facebook in order to draw attention from potential listeners.
The use of audiograms can be extremely effective when promoting your podcast because they provide visual cues which make them stand out amongst all other posts – especially if you have some creative ideas behind how you design yours! They also allow potential listeners to get a taste of what kind of content they can expect before having actually listened so there's less risk involved if they decide to try something new – giving creators another way to reach their target audience more effectively than ever before!
4. Behind-the-scenes footage
Something that is included in many podcast formats is behind-the-scenes video. This could be a video explaining the process used to create the podcast episode, interviews with guests, host comments.
This is a fantastic method to show your podcast's production process to listeners.
5. Share quotes from podcasts
So many fantastic podcasts are available, and one of their biggest features is the abundance of excellent content you can share with your listeners.
Simply share some of the most well-known podcast quotations. For instance, if the topic of your podcast is managing anger, you may simply post photos with quotes discussing anger, its causes, and its results.
6. Guest appearance
You can invite guests, have conversations about the podcast, and create a reel on it. Together the guest and the podcast creator can talk about how the podcast was created and what the appearing guests think about it.

This is an effective way to show the viewers that the podcast is worth listening to and that listening to the podcast will equip them with better knowledge about the subject.
7. Polls
Utilizing polls is a terrific approach to involve your audience with your content. Polls can be used to start conversations, get opinions, or even collect data. Polls are a fantastic method to keep your audience interested in your podcast and add participation.
Therefore, if you're looking for strategies to liven up your material, think about including polls in your toolkit.
8. Q & A sessions
A lot of people who are interested in knowing about your podcast will want to leave their questions to find an answer. This is where the Q & A feature by Instagram will come into use.
Try to post stories or reels with the Q & A sticker. Through this people can come to know about your podcast and can ask questions that they have in mind. This will clear some air about the podcast and give people more reasons to listen to the podcast.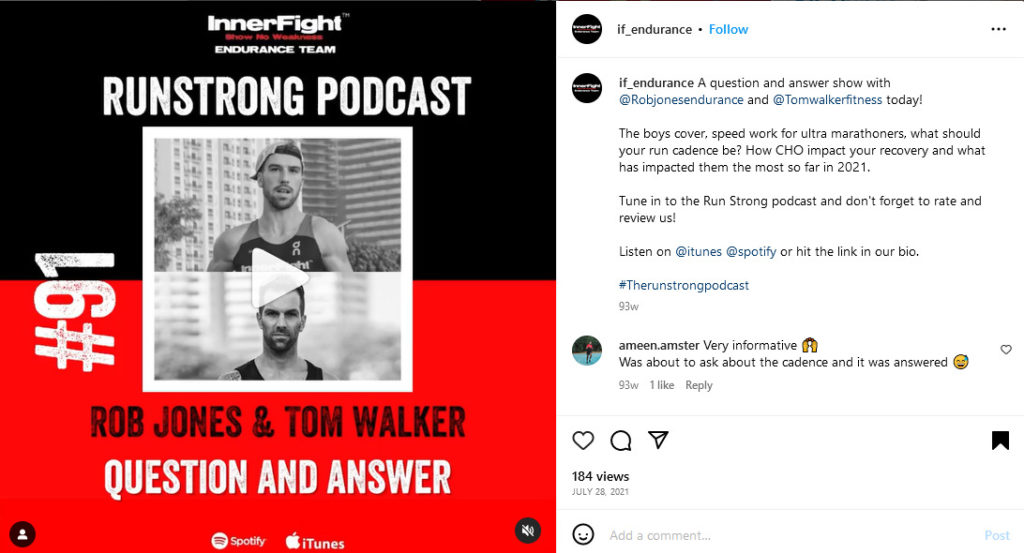 9. Hosting contest
You can host a contest, or a giveaway related to the podcast. Contests like "Comment what do you think the podcast is about" or a giveaway with prizes to any person who explains the podcast with the best explanation in the comment section.
This will drive traffic toward your Instagram account as well as the podcast.
10. Post small reels about content
Create a reel video with an explanation of the podcast. Try to make a collaboration with guests and anyone who might have worked with you on the podcast. You can also target influencer marketing by letting them promote your podcast content on their feed. This is a great way to post reels that will bring viewers to your Instagram account and also increase the number of people listening to the podcast.
Wrapping it up

Podcasting is a great way to reach out to new audiences and grow your business. However, coming up with content ideas for your podcast on Instagram can be a challenge.
In this blog post, we've compiled a list of content ideas for podcasts that you can use to get started. We hope you find these ideas helpful and that they give you a starting point for creating great content on Instagram for your podcast.
You may also like,
Instagram post ideas for Juneteenth
Easter social media post ideas