Managing your online store on the Shopify app requires a blend of creativity and imagination. The main attraction of Shopify stores is the highly visual and compelling pictures and promotional videos of products. They have the power to drive your potential customers to action. A short and concise video gets straight to the point and leaves a strong impression quickly. However, this is easier said than done. It is not always easy to use the right platforms for video editing and creation. Minta or an alternative app can do the hard work for you.
In today's digital and AI age, there are numerous tools and applications that you can leverage to help streamline the process. One such tool is Minta! As you probably already know, Minta helps users create and customize videos to their liking. This includes using their own branding, logos, and text overlays. What's more is that Minta allows users to share their videos directly on social media platforms like Facebook, Instagram, TikTok, and even Pinterest! Of course, this list also includes Shopify. This allows users to create visually stunning promotional videos for specific products and share them on social media.
The most attractive point of the Minta app is that it is an automated app. This means that the automation feature allows users to focus on their products, while Minta automatically shares their videos on the selected social media platforms.
That being said, Minta is not the only option out there. In this article, we will take you through some of the best alternatives to the Minta Shopify app.
Minta Shopify App Alternatives:
To keep up the quality of your promotional videos and photos for your online store on Shopify, you need apps that really deliver. In choosing the tool best suited for you, it's best to focus on 3 things-
Customization
Social media integration
Automation of posts
Here are our top 4 alternatives to the Minta Shopify App that are available on the Shopify app store!
1. Predis.ai
Similar to Minta, Predis.ai is also used to create compelling visuals, both in the form of pictures and promotional videos. Launched in 2022, Predis.ai has an AI-powered feature and can convert products into videos. It also checks off the integration and automation points on our checklist! It can automatically post videos across different social media sites, including Shopify. You can find Predis.ai on Shopify here.
It also allows you to schedule posts according to your strategy, leaving you completely to work on and focus on your products.
Predis.ai offers a 7-day free trial, Solo, and Starter plans. The Solo plan covers 1 Shopify store, providing up to 120 AI-generated posts and automated posting to Instagram, Facebook, Twitter, and TikTok. On the other hand, for only $59/ month, the Starter plan lets you manage 2 Shopify stores with unlimited AI-generated posts and competitor analyses.
2. Outfy
Outfy, another app similar to Minta is a Shopify app alternative that can help you create engaging videos, collages, animated gifs, and other content for your social media. Much like Predis.ai, you can schedule your posts and use customized videos for your product promotion! Outfy was launched in 2015 and is the one that has been around the longest amongst these top three alternatives.
Outfy provides 3 plans in addition to the free plan, for $15, $30, and $52.50/month. The free plan covers only one Auto product post per day, while all the paid plans cover unlimited Auto product posts. However, only the Ultimate plan ($52.50/month) allows users to automatically create product videos, posts, collages, and gifs. One crucial point that Outfy misses is the competitor analysis feature that Predis.ai provides, even in their Free plan
3. Onollo
Onollo is another alternative to Minta, possibly a combination of both Predis.ai and Outfy. Onollo uses AI-generate content which has features to post both manually and automatically.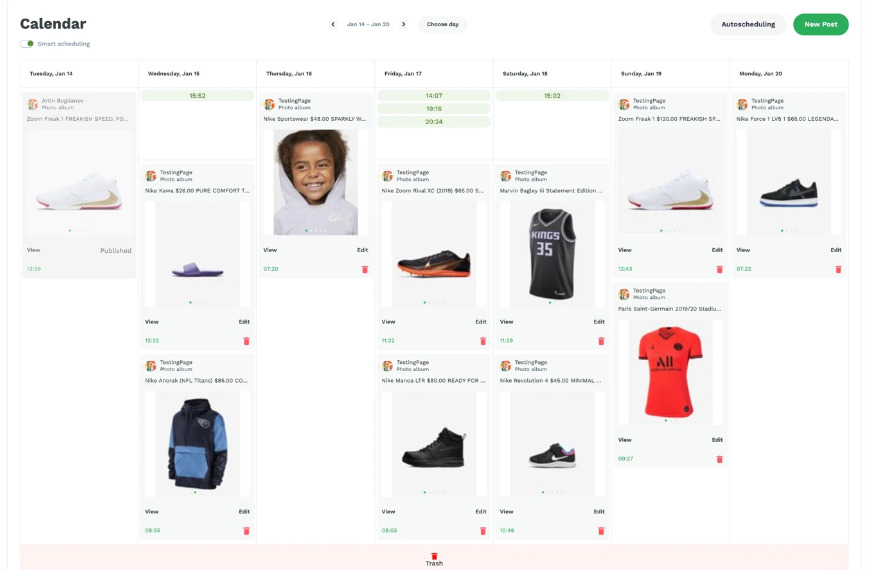 It also helps predict the best times and frequency to post using AI, which seems to be a unique feature. Similar to both Predis.ai and Outfy, Onollo can schedule posting across selected social media platforms.
Without any free plans, Onollo includes 4 paid plans, out of which the Agency plan seems to be the most beneficial. At $50/month, the Agency plan allows users to make unlimited posts, manage unlimited social media networks, and include all the pros from the previous 3 plans.
4. Vidoo
Vidoo, launched in 2021, allows users to automatically create and upload videos to their Shopify product page. It considers the store size and number of products, on which their paid plans are based. Like Onollo, Vidoo provides no free plan, but a 15-day trial period.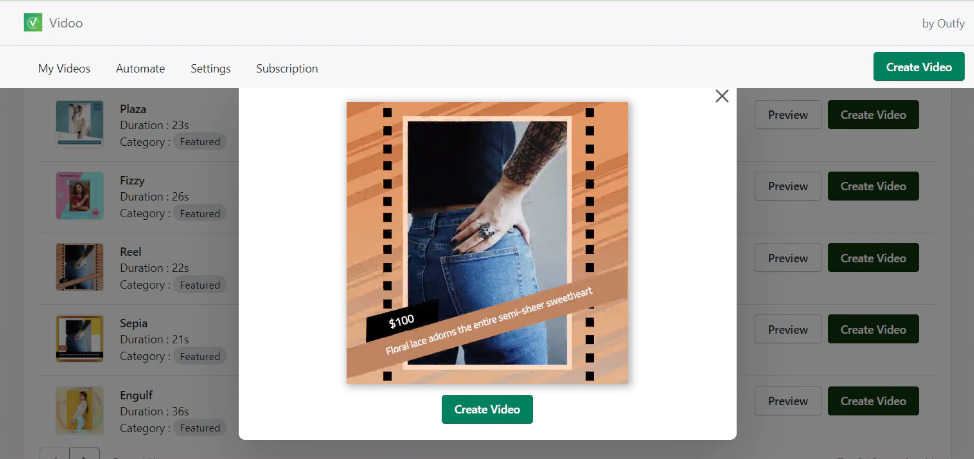 However, all of Vidoo's paid plans measure the number of videos that the user can upload. Unlike Predis.ai, Outfy, and Onollo, Vidoo allows only up to 600 videos even in their Ultimate plan, for $60/month. In addition, the number of automated videos remains the same throughout the plans.
Wrapping it up
Minta is an app that's easy to use with your online store on Shopify since it allows you to use a number of features and focus more on your products than worrying about posting. However, there are other alternatives in the market that may prove to be more beneficial. In this blog, we ran you through the top 4 Minta Shopify app alternative, including Predis.ai, Outfy, Onollo, and Vidoo. Each had their own strengths. Predis.ai proved to be the only tool that also provides competitor analysis, right from their free plans, in addition to all the features required from our checklist. On the other hand, Onollo provides managing unlimited social networks, in addition to the all features required! 
Ultimately, it is important to remember to choose the tool that creates for you highly visual posts and videos, making use of your products and also allowing you to focus more on your online store, than on managing the postings! So which Minta Shopify app alternative did you like most?
Related articles
How To Create Shopify Product Videos
Best Shopify Tools For Marketing
How To Connect Instagram To Shopify Store