Facebook allows its users to customize everything, which consists of changing your name. There can be various reasons for editing the name. No matter what is the reason behind the task, here we are going to guide you with the four major yet at the same time easy steps to change your name on Facebook. Facebook is smart enough to guide you about the name as it highlights or suggests what kind of names cannot be used and vice-versa. Facebook also has a feature to add nicknames, etc.
Here in this article, we are taking the initiative to teach how to accomplish the task on mobile, PC, android, and iPhone iOS devices. With the help of the following steps, one can easily change their name on Facebook.
Before we get started, there are a few things that need to be aware of while the task is performed. Facebook currently has millions of users all over the world by the same names. You must be wondering, can we use such names that someone else is already having? Then yes, you can use it, but another question that pops up is how people would find us uniquely on Facebook? Well, that is where the unique username feature comes into the picture.
Facebook username editing guidelines
Unique names on Facebook always help people to know with whom they are connecting. According to Facebook, the user is not permitted to include the following names (words, symbols, etc.) as your name:
Unusual symbols & numbers.
Unwanted capitalization and repeating characters.
Repeating punctuations.
Professional, religious, insulting titles.
Phrases, unusual words of any kind.
Suggestive, offensive, and repeating words.
How to edit your name on Facebook?
You can change or edit your name on Facebook with these simple steps. You must mention the name that you own in the real world. We are talking about your real name or formal name, as this is the only way to safeguard your account.
Otherwise, people can report your account as a fake, and thus, Facebook would block it. Also, if you forget your username and later want to recover your account, it will be troublesome.
Change Facebook name through Android mobile
To change, edit, modify, or update your name on Facebook. Firstly, open your Facebook account and follow these 4 easy steps on your Android mobile:
Click on the Menu, then Settings & Privacy.
Go to Settings.
Now tap on Personal and Account Information.
Tap on your name, change it, and tap the Review Change button.
Enter your password to confirm the changes, then tap on the Save Changes option.
Change username on iPhone and iPad
The procedure for iPhones and iPad is quite similar to Android mobiles. To make changes, updates, or edits to your Facebook profile name, follow these 4 easy steps on your iPhone or iPad device:
Tap the Menu; tap Settings & Privacy, then open Settings.
Tap on Personal Information under Account Settings.
Tap on your name, change it, and tap on the Review Change button.
Confirm your password and tap on the Save Changes button.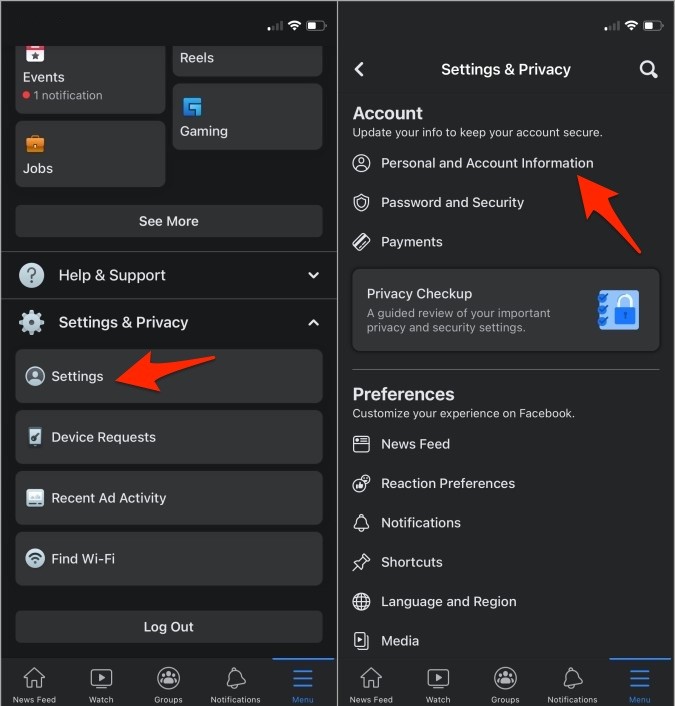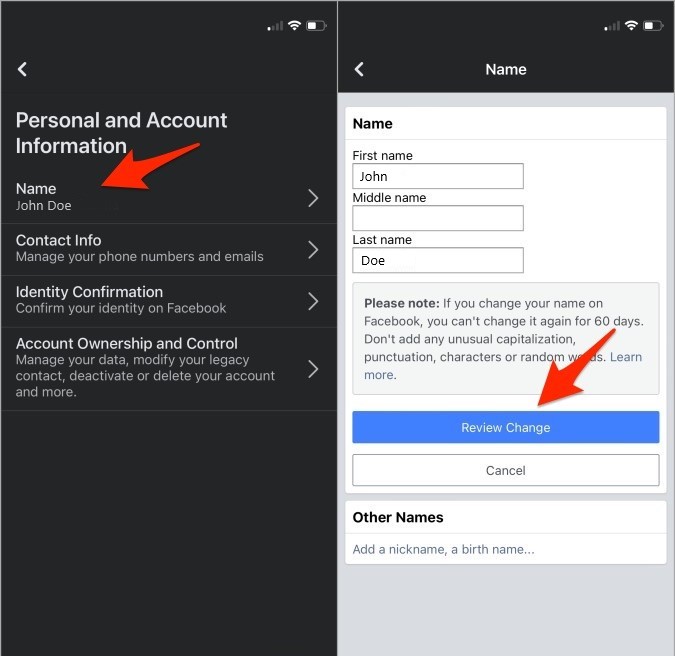 Change Facebook username using a basic mobile browser
If you are not using the Facebook application on your Android and iOS devices due to some reason, then you can use your basic mobile web browser to accomplish the task. You can use Safari on the iPhone, Chrome on Android, or Firefox. After that, follow these steps:
Go to Facebook.com and log in to your account.
Go to Menu, then scroll down to the bottom and tap on Settings.
Tap on Personal Information, and then on the Name.
Change your name on Facebook, then tap on Review Changes.
Enter the password if asked and tap on Save Changes.
Changing username Using a Personal Computer
Since Facebook was launched in India, it has been used on a desktop. One can use the MAC, Windows, or Linux computer to make changes or update your Facebook name. To do so:
Log in to your account. Click the drop-down arrow available at the top right corner.
Go to Settings & Privacy, then Settings.
Now click the General tab on the left.
Then click the Edit option next to your Name.
Change your name, and then click Review Change.
Want to add another name to your Facebook account?
Yes, it is also possible to use more than one name on Facebook. For instance, users can add their nickname, middle name, or any other professional name. The choice is up to the users.
To do so, follow these steps to add another Facebook name to your account:
Go to your profile on Facebook.
Now click on the About option.
Under OTHER NAMES, click on Add a name with a plus sign.
Select the Name as Nickname etc., and enter your name.
Simply Click Save Changes once you are done with it.
We will recommend you use at least one nickname on your Facebook account. As the other name facilitates your family, family members, and other people to find you with ease.
If there is someone who can't find you on the platform. Then to solve such problems, If you use your nickname and then, they will find you with one click.
How to change your name on Facebook without completing 60 days?
If changing the name is necessary for you, you can directly request Facebook to change your name before or without a 60 days limit. You can send the request to the team on Facebook by using the following method:
Visit your Facebook account, then Menu, and tap on Settings & Privacy.
Tap Settings and then Personal Information.
Now tap Change Name; as you can't change it, you will see the Learn more option, tap on it.
Visit the bottom of the page and tap on the Fill Out This Form option.
Enter your new name and other relevant details and upload a screenshot of your Facebook profile.
Send the form, and after a few hours, you will see that your name on Facebook has been changed without or before 60 days.
How often is it permitted to change your name on Facebook?
There is no limit to changing the name on Facebook, but you are allowed to change your Facebook name once in 60 days. Before that, it becomes difficult for you to perform the task. There are certain terms and conditions in the name-changing category of Facebook.
For more social media tips and updates, follow us on our Instagram!