If you are in a travel business and looking to get into Instagram marketing but aren't sure where to start. This blog will give you a comprehensive guide to Instagram marketing for travel business. You'll learn what kind of content to post, how to engage with your followers, and how to turn your Instagram account into a valuable marketing tool.
Firstly, why use Instagram?
Instagram is undeniably one of the most popular social media sites nowadays. With over two billion active users, Instagram ranks fourth among the biggest social media networks globally as of 2023. This makes it a powerful marketing tool for businesses of all sizes.
When it comes to traveling, most 20-30-year-olds consider the 'Instagrammability' of the location as one of the deciding factors of their travel plans. This makes Instagram one of the greatest tools for travel businesses to seize.
Why is Instagram such a powerful marketing tool?
If you're not convinced yet, here are a few more reasons:
1. It's highly visual.
Instagram is all about visuals. This is great news for businesses, as studies have shown that people are much more likely to remember visuals than they are words. Aesthetically pleasing pictures or visuals related to nature also draw more users in that other visuals do.
2. It's a great way to build a following.
Instagram is the perfect platform for building a following. If you post interesting, engaging content, people will be more likely to follow you. And the more followers you have, the more potential customers you have.
3. It's great for brand awareness.
Instagram is a great way to increase brand awareness. People will start to recognize your brand when you post photos and videos of your products or services. And if they like what they see, they will engage more with your account by liking posts and videos, commenting, or even sharing with their friends. This may also make them more likely to purchase your products or services.
Getting started with Instagram marketing for travel businesses:
Now that it's clear how Instagram can be a platform to build your travel business let's see how to use it to your advantage.
1. Start by creating a business account:
Creating a business account is the first step to getting started with Instagram marketing. It's easy and only takes a few minutes. You'll need to provide some basic information about your business, such as your business name, email, and phone number. Once you create your account, start posting photos and videos immediately.
2. Use high-quality photos and videos:
In today's social media-driven world, high-quality images are necessary, especially on platforms like Instagram, where visual content is king. However, creating content for Instagram can be a difficult and time-consuming task. It can be time-consuming to select the right images and write captions that resonate with your followers.
Thankfully, an AI post-generator tool is available to make this process much easier and more efficient. Through its advanced algorithms, this tool quickly produces optimized posts that maximize engagement and reach potential customers on social media platforms like Instagram.
One of the most easy-to-use and effective tools for Instagram marketing is Predis.ai. 
It helps save time on tasks such as content creation and engagement by creating high-quality AI-generated and relevant content. It also provides valuable insights through its analytics tool. Why not give an AI post-generator tool a try? Predis has a free trial.
3. Use hashtags and location tags:
Hashtags and location tags are great ways to reach a broader audience on Instagram. When you use hashtags, be sure to use relevant and popular ones that are related to your business. For example, if you're a travel company, you could use hashtags like #travelgram or #instatravel. If you're unsure about what hashtags to use, you can go on to Instagram Hashtag Generator, where you upload a photo to instantly get a bunch of relevant hashtags to share with the image.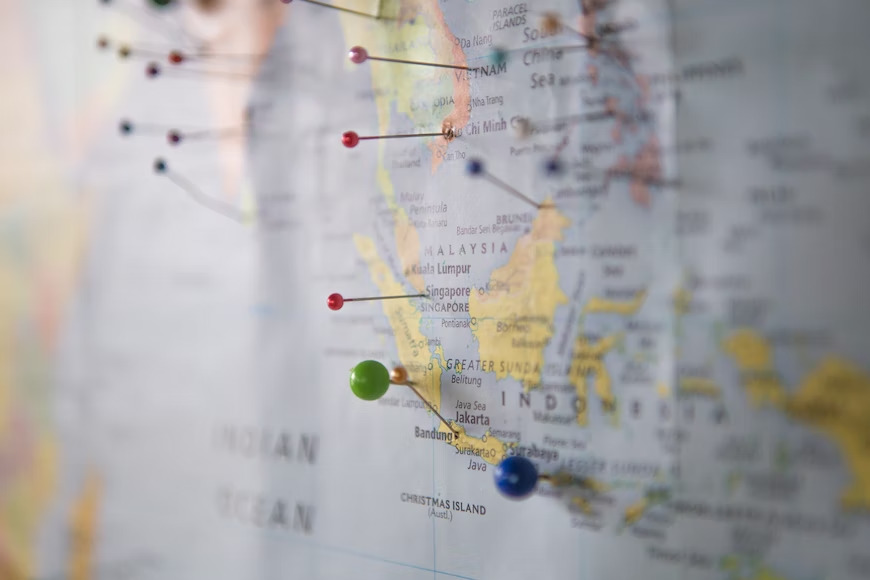 4. Engage with your followers:
Building relationships with your followers and keeping them interested in your content is possible through active engagement. When you post photos and videos, be sure to respond to comments and questions. You can also run contests and giveaways to keep things interesting. Another technique is to post behind-the-scenes content on stories or through reels. This helps build a strong relationship with the followers and turn them into loyal fans.
5. Run ads:
Running ads on Instagram is a great way to reach a larger audience and promote your travel business. Start by making sure that your ad is relevant to your target audience. You can create ads that target people based on their interests, location, and more. It is also important that your ad is creative, and it includes a call for action through which your followers can immediately engage with your business. Check out AdEspresso to find the right audience for your Instagram and create ads starting with a 14-day free trial.
Once you have the basics down, its time to get your travel business to the next level
Now it's time to kick things up a notch and take your brand to the next level. In this competitive industry, standing out is key. From utilizing advanced social media strategies to developing unique offerings, we've got you covered with tips and tricks to help you succeed. Let's dive in
1. Focus on how your feed looks:
Having an aesthetically pleasing feed that immediately puts your account viewers in vacation mode is a big win.
Not sure how to get there? Make posts advertising the locations you offer travel to. Pick out colorful and vibrant pictures, and include a short description of the place and why it would be a great travel location.
2. Connect with social media influencers:
Find social media influencers who especially love to travel. Travel audiences look for reviews to trust before they begin planning for their vacation.
When your social media influencer makes posts and reels tagging your travel business and highlighting the unique experiences, attractions, and cultures of each place, the trust your audience has in your brand will skyrocket. Post pictures of social media influencers enjoying their vacations through your travel business on your own feed. This makes your business look more human and trustable.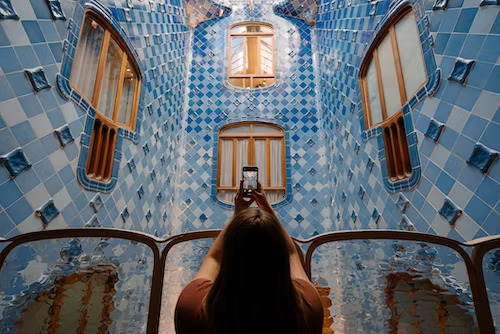 3. Create highlights:
Make separate story highlights for every location your travel business offers. This helps your audience view your location registry at one glance. Not only this, but your audience will get drawn in as you post different pictures from your itinerary.
It's a good idea to include pictures from social media influencers and review posters in the highlights as well.
Adding some behind-the-scenes content about your team, their trip planning, or the making of your travel business is also a good idea to create more transparency between your business and your audience.
4. Make sure to have a Website or a landing page:
Having a website link or Linktree on Instagram is an important tool for businesses and influencers alike. Having a website link allows users to quickly access more information about your brand, products, services, and other offerings.
Linktree provides an easy way to organize multiple links into one page so that followers can easily navigate between different pages on your site. This helps increase engagement with potential customers as well as drive traffic back to the main site which leads to increased sales conversions. Additionally, having a dedicated website also makes it easier for people who are interested in learning more about you or purchasing from you since they don't have to search through separate posts on Instagram trying to find out what they need.
5. Follower engagement is the key:
It's good to respond to comments and questions, but if you want to go one step further, schedule Instagram lives as Q&A sessions for your upcoming trip plans. Turn these lives into IGTVs so that those who missed them can still access these sessions and get more clarity.
Another way to engage with your followers is to make posts and story reminders about contests, giveaways, or trip offer for specific target populations, like a group of 4-5 wanting to travel to Bali for a soulful retreat. Varying with your target population attracts specific audiences and keeps others hooked on looking for more offers.
6. Post frequently and at the right times:
Consistency is key. Try to post at least every two to three days. This will ensure your posts get enough visibility and increased engagement in return.
Don't avoid any content type just because it is competitive or time consuming. Incorporate new content types. Use reels and videos as they will give you maximum engagement.
Study what posting times work for you and your followers. It will depend on your followers demographics like age, gender, work, timezone etc.
Top Instagram Content Ideas for Travel Business
1. Promote client testimonials:
Share photos and videos of happy consumers having a good time with your firm, as well as their positive feedback. This type of post might help to develop credibility and trust with potential clients who are thinking about booking with your firm.
2. Highlight cultural interactions:
Share pictures and videos of local markets, festivals, museums, or other cultural experiences that your guests might enjoy on their trips. This type of post can showcase the unique and original experiences that travelers might have when visiting a new destination.
3. Show idyllic views:
Post images or videos of beautiful landscapes, coastlines, mountains, or sunsets that your clients can see when they travel with your company. This type of post could stir up wanderlust in the audience and urge them to plan a trip.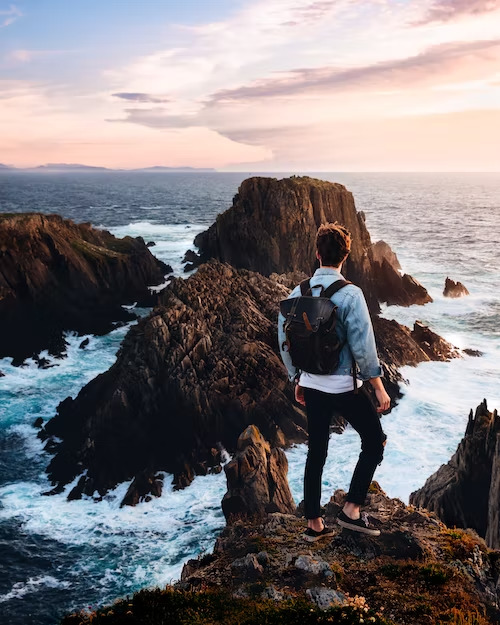 4. Share travel advice:
Share travel information about how to travel smarter, safer, and more responsibly. This type of post may highlight your company's knowledge and dedication to responsible tourism while also giving value and education to your followers.
5. Highlight regional foods and beverages:
Share videos or pictures of delectable local foods and beverages that travelers can experience on their travels. This type of post can highlight a destination's culinary diversity and richness, as well as the memories and moments that can be built around food.
6. Promos & deals:
Post special offers, coupons, or bundles that your company is currently providing. This type of content might encourage followers to book with your company and generate sales.
7. Share some behind-the-scenes footage:
Share photos or videos of your team planning vacations, choosing destinations, or engaging with the locals. This type of post can humanize your company by demonstrating the passion and attention that goes into creating unforgettable travel experiences.
How to track the success of your Instagram marketing?
Once you have a strategy set in place and implemented, you need to review whether the plan of action is working. There are a few metrics you can use to measure the success of your Instagram marketing:
Number of followers
Number of likes
Number of comments
Number of shares
By tracking these metrics, you'll be able to see how your Instagram marketing is performing and make changes accordingly.
On a business account, you can gain valuable insights into your audience and strategy by going to "Account Insights" on your Professional Dashboard. You can see a content overview there, including accounts reached, engagements, total followers, and shared content.
Wrapping it up
Instagram marketing is a great way to promote your travel business. Now that you know how to do Instagram marketing for your travel business, it's time to implement these tips.
If you need help getting started, be sure to check out Predis.ai for content creation and ideas to engage with your followers. By following the tips in this blog, you'll be able to create a successful Instagram marketing strategy that will help you boost your travel business.
You may also like,
Check your competitor's Instagram Ads