The success of Shopify stores is a bit challenging, but with the best Instagram tools for Shopify, your E-commerce business can be a great hit. Social media channels are crucial in determining if your brand grows or not.
Using Instagram to level up your sales and engagement is no foolish choice. For scaling up your business from an ordinary Shopify store, here are the Best Instagram tools for Shopify that will do the job!
The best Instagram tools for design:
Instagram tools for designing deliver the best quality posts for Instagram pages and high-quality content that reaches the audience. Instagram marketing is essential for the growth of your Shopify stores; hence, at no cost can you miss using these tools for designing your Instagram posts.
1. Predis.ai (web, iOS, Android)
First things first, we all need easier ways. If you are looking for an easier way to set up your brand with top-notch content, Predis AI makes the right fit for your Shopify store. With Predis you can stop depending on others to create content that looks professional.
Predis AI has templates in abundance, which makes creating new graphics in just a matter of seconds. Within the library of templates, customization as per your need is the most sought after feature of this AI. Graphic designing, image editing, video editing, and logo designing are a few areas in which Predis AI turns out to be useful.
With this AI tool, it is ridiculously easy to boost your Shopify marketing strategies. The AI tool is efficient in making product videos from your static photos of the products. Convert your regular, non-engaging listing from your store to a captivating promotional post.
Features of Predis.ai
Predis, if used for designing your content, will simplify the workflow for your business.
The AI meme generator of Predis can help with creating unique memes to create content that engages the audience with humor.
Using and uploading your unique designs, you can create designs that are personalized for your Shopify business. This leaves room for your brand to maintain its identity by aligning content with the aesthetics of your brand.
Pricing
Free trial: $0
Solo: $29 per month (1Brand)
Starter: $59 per month (2 Brands)
Agency: $139 (5 Brands)
2. VSCO (iOS, Android)
VSCO as a design tool for social media has a lot to offer when it comes to building creatives. So while you enjoy creating content for your Instagram to boost your Shopify store sales, spend a little time on VSCO to make it flawless. Even if you are a beginner, you can easily begin with this design tool, which is not the case with some other popular tools like Photoshop.
Features
With the photo filters available enhance editing your photos to create content that people love seeing and interacting with.
With VSCO, you will not just edit your photos but if you are ever with ideas, you get suggestions to get a little help.
The presets, effects and advanced editing tools of VSCO will create engaging videos that boost your Shopify store sales.
Pricing
VSCO Plus: $ 29.99/ year
VSCO Pro: $59.99/ year
3. Photoshop Express (iOS, Android, Windows)
If you need to transform an average photo into images that stand out and make the audience fascinated by your content, Photoshop Express will do the work! The best thing about Photoshop Express is that the features are so easy to learn and you can begin to design content from scratch without any challenge.
Features
Photoshop Express provides image editing tools for both simple edits and in-depth editing of the images. So no matter if you are a beginner or an expert, this design tool to boost your Shopify sales is the right choice.
One feature that expert designers love about Adobe Express is that it can accurately distinguish the subject from the background, while other designing tools are not as efficient as Adobe Express.
Pricing
Zero costs for using Photoshop Express!
4. Canva (web, iOS, Android)
Best for newbies, Canva makes creating posts and creatives for Instagram so easy. With its easy-to-use features, even a person just starting with design can craft such perfect designs. With Canva, you easily adapt to the features and the results are great content to boost your Shopify sales.
Features
The free version of Canva has an editor for easy customization, free templates, designs, and 5 GB of cloud storage.
The features of Canva Pro are the following:
Premium templates with stock media including photos, videos, graphics, and audio
Advanced customization with more fonts, logos, and colors along with Magic Resize (infinitely resize the designs)
Allows scheduling of social media content (up to 8 platforms)
Renders 1 TB cloud storage
Pricing
The free version of Canva costs no money, but the fee for the pro version is $14.99 (per month) or $ 119.99 (per year).
6. Vimeo Create (iOS, Android)
If your focus is to make videos that stand out Vimeo Create, with its many tools, has the best video editing tools. Platforms like YouTube give a basic video editing interface, but it is not sufficient to make videos that will boost your performance as a Shopify business. With the right templates and soundtracks available, create videos easily for your Instagram page.
Features
If you want to work in an easy way, the smart tool of the video creator will create videos that can be later edited and tailored to your brand identity. videos.
Another interesting feature of this tool is that you can integrate your Shopify account which will directly upload the new video immediately to the social media channels.
And not just Instagram pages but all your social media channels. Choosing the right template can be tricky, so make it easier to experiment with the templates, soundtracks, and filters before you pick the final video!
Pricing
Free plan: $ 0
Starter: $20 per month
Standard: $33 per month
Advanced: $108 per month
The best Instagram tools for marketing:
Instagram marketing aids in brand strengthening by improving engagement, sales, and improved ROI. Here are the best tools to use for Instagram marketing to level up your Shopify stores.
1. Predis.ai (web, iOS, Android)
If you are confused about which tool to use that saves your time as a marketer but without affecting the quality, Predis AI as a marketing tool is something you can trust. The seamless integration it provides with other social media platforms as well like Facebook, Twitter, LinkedIn, Pinterest, etc., makes it a top pick among content marketers.
Features
Has automated scheduling of posts for Instagram and other social media channels.
Activity tracking and a dashboard are available.
Has a competitor monitoring system.
Not just Instagram marketing, but the AI tool has multi-channel marketing strategies.
Renders features like social advertising, social media monitoring, social performance management, and social promotion.
Pricing
Free trial: $0
Solo: $29 per month (1 Brand)
Starter: $59 per month (2 Brands)
Agency: $139 (5 Brands)
2. Buffer (web, iOS, Android)
Buffer is a tool that levels up Instagram marketing. The Instagram scheduler of this tool aids in planning, scheduling, and managing content you have to post so you can work on other domains of improving your Shopify stores.
Plan your content calendar with this Instagram marketing tool and never miss to be consistent with posting content.
Features
A feature that makes marketing easy with this tool, allows you to post the same post to different platforms, with the right variations you need to do.
If you have to manage less than three accounts, Buffer's free plan will suit your demands very well.
With its simple interface, it makes a great tool for marketers who are trying their hands at scheduling tools for the first time.
Pricing
Free: $ 0
Essential: $6 per month
Team: $12 per month
Agency: $120 per month
3. Later
With Later, you find an easy way to schedule posts and ad creatives on Instagram, which otherwise is a bit tricky with other marketing tools. Apart from just posting at the scheduled time, the tool will also suggest you for timings when to post.
Features
Just like any other marketing tool, Later makes scheduling easier.
However, most of the tools lack the feature of scheduling stories, which Later can do.
The tool is a perfect marketing tool, but it goes beyond scheduling and posting content to boost the performance of your Shopify stores.
The integrated creative tools will also help you make content that is creative, unique, and performs well.
Pricing
Growth: $40 per month
Advanced: $80 per month
Scale: $200 per month
4. Hootsuite (web, iOS, Android)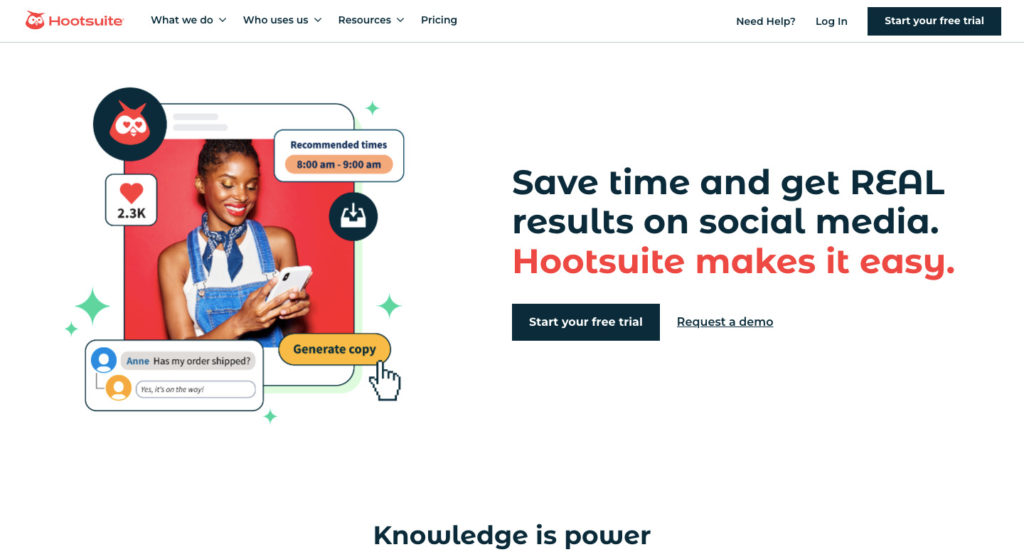 If your marketing campaigns are not showing results, it is time you start with Hootsuite. With the creation, scheduling, and publishing of social content along with providing real-time insights about how you are doing, Hootsuite is the marketing tool that will do wonders for your Shopify stores.
Features
Allows sharing content (images of products) from your Shopify stores to Instagram, Facebook, Twitter, and other social media platforms.
Helps in monitoring orders and comments.
Has an inbuilt image editor, resulting in perfect content from social media.
Multiple shops can be supported.
For teams, the access can be accessed by up to 5 team members.
Pricing
Professional: $29/month
Team: $129/month
Business: $599/month
Instagram Influencer Marketing Tools:
With the right strategies, influencer marketing tools can help you to reach more people with their followers or connections. If you are not sure of which tools to try for influencer marketing, Here are two excellent influencer marketing tools.
1. GRIN
A campaign for influencer marketing is incomplete without making authentic relationships with content creators. And this is how GRIN will help you to make the most of your influencer marketing campaigns. If you are struggling to stay organized, GRIN will definitely help you achieve more in less time with its features.
Features
Every brand owner loves GRIN because, with every creator and campaign, your ROI is tracked and analyzed.
If your schedule is all packed with recruiting and reporting, and you spend hours creating analytic reports on your influencer marketing campaigns, GRIN can make it so much easier for you.
With influencer programs, GRIN creates discount codes and affiliate links much easier.
Another great feature is that you get to initiate payments on time with this tool and minimize your expenses by tracking where you are spending.
Pricing
This influencer marketing tool has different pricing tiers rather than charging per campaign. To check the pricing for your brand, you will have to get your campaign analyzed.
2. Brandwatch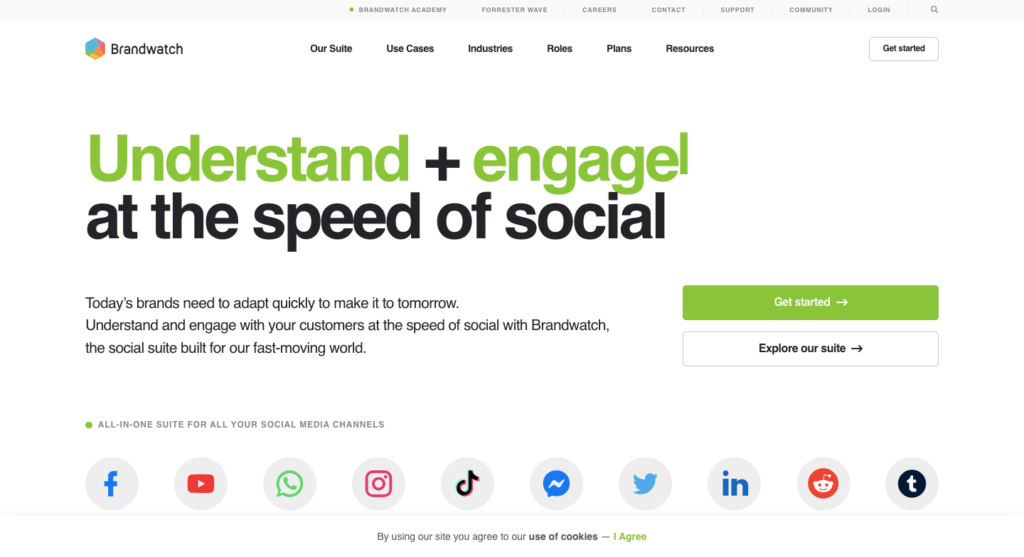 A platform, integrating social intelligence, is perfect for tracking and optimizing your strategies related to influence marketing. Brandwatch, as a flawless tool, also helps in the distribution of content on your social media channels.
Features
Brandwatch makes scheduling so much easier that will enhance your experience of influencer marketing.
With almost 30 million influencers active on the platform, it becomes so much easier to find one that coordinates with your strategies and niche.
With accurate and reliable monthly reports and insights, you can boost your influencer marketing with this tool.
Pricing
Apart from a free version, the tool has the two plans of $800 & $3000.
Conclusion
In this blog, we explored how Instagram can be used for the growth of your E-commerce business with Shopify.
Use these tools to make sure more people find your products. With each tool, analyze the features and pricing below, selecting a plan for your brand!
Happy branding with these best Instagram tools for Shopify stores!
Related articles
How To Connect Instagram To Shopify Store
Marketing Automation for Shopify
How To Create Shopify Product Videos