Facebook's "Follow" feature is an effective tool for professionals who want to generate interest in their business, their skills, or their knowledge. This feature enables Facebook users to watch and get alerts about your public status and page changes without having to accept you as a "friend."
A built-in interface helps manage the settings of this feature and provides information on your "followers," giving you a sense of your audience. Likewise, you may "follow" the public updates of any personal page you find inspiring, and anyone who visits your page can see who you are following. Knowing your audience and helping your audience know you are useful when it comes to marketing your business.
How to see how many followers you have on Facebook (through phone)?
The Facebook mobile app allows you to examine your follower list as well as the number of individuals that are following you on Facebook. That way, you can see how many people have followed and unfollowed you on Facebook over time.
To check how many followers you have and see who's following you using the Facebook mobile app, use these steps:
To load your profile, tap the 'profile image' button in the top-left corner of the site.
Tap 'See Your About Info' in the profile menu.
Scroll all the way to the bottom of the page. Then, under 'Followers,' tap 'See All' to bring up a list of all of your Facebook followers.
Look to the upper corner of the page (opposite Followers) to see the number of people that follow you on Facebook.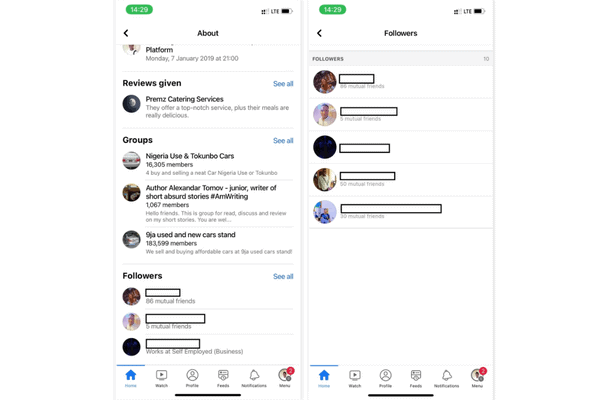 How to see how many followers you have on Facebook (through computer)?
On the web version of Facebook, you can see your Facebook followers but not the overall number of people who follow you. Here's how to check who is following you on Facebook if you're using the browser version.
To begin, log in to your Facebook account using a web browser and proceed as follows:
After you've logged in, click your name in the sidebar to access your profile.
Click 'Friends' in the Profile menu.
Click the 'More' menu to the right of the 'Friends' category.
Select 'Followers' from the dropdown menu to see all of your Facebook followers.
Unable to See Your Facebook Followers?
If you tried to access your Facebook followers on the mobile app but couldn't, your app could be out of date. Make sure you update it from the App Store or Play Store.
Furthermore, if you don't have any Facebook followers, you won't be able to check them. As a result, even if you followed the following procedures, you would not see your followers since there are none.
You may also not receive this choice if your Facebook account is fresh, as you likely don't have any followers yet. Or you might need to switch to a different Facebook account.
Another explanation might be that your current account privacy settings do not enable others to follow you on Facebook—we'll explain how to modify this below.
Steps to Give the Public Access to Follow You on Facebook
When you prevent the general public from following you, your chances of gaining more Facebook followers are reduced.
People who aren't on your friend's list won't be able to follow you on Facebook if you have this setting enabled. However, you can set your follow preference to "Public" so that anyone, not just your friends, can follow you.
Here is how to do this on a desktop:
Move to your profile.
Click the circular 'Account' dropdown symbol in the extreme top-right corner of the menu bar.
Select 'Settings' and 'Privacy' from the list.
Select 'Settings.'
From the sidebar of the 'Settings' menu, select 'Privacy.'
Select 'Public Posts' from the sidebar.
Click the 'Friends' dropdown to the right of the 'Who Can Follow Me' option.
Select 'Public' to enable anybody to follow you, even people who aren't your friends on Facebook.
To update your followers' preferences on the Facebook mobile app, do the following:
To access your profile, open the Facebook mobile app and click the image symbol in the top-left corner.
Tap the three horizontal dots directly to the right of 'Edit Profile' (below your name).
Choose 'Follow Settings.'
Under 'Who Can Follow Me,' tick 'Public.'
Wrapping It Up
Keeping track of your followers is essential if you use Facebook to advertise your brand or business. It's a great way to understand your follower trends and control what people can see about you.
With that in mind, make sure you set your Facebook privacy settings correctly so that your posts only reach the people you want to see them.