Instagram these days is one of the best mediums to grow a business and create an identity for the brand. With over two billion monthly active users on Instagram, it has great potential to bring you revenue and customers.
To make your brand reach more and more people on Instagram, there are certain strategies one should follow. Some of these strategies can be learnt from the success of a very famous brand Daniel Wellington.
In this blog, we will see some of Daniel Wellington's Instagram content strategies to get a better insight into their Instagram business profile.
Daniel Wellington
Daniel Wellington is a Swedish watch and accessory brand that was founded in 2011 by Filip Tysander. The brand is known for its minimalist aesthetic and classic design. The watches are made with high-quality materials and have a simple yet elegant design. Daniel Wellington has become a popular choice for both men and women who appreciate classic style.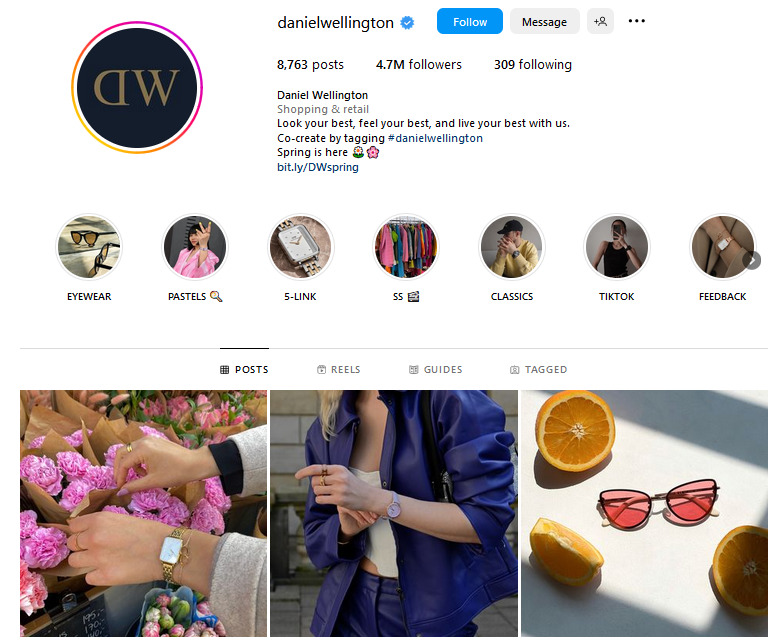 The company's flagship product is the Classic Collection, which features sleek, simple watches with interchangeable straps. The Classic Collection is available in a variety of metals and leather and can be dressed up or down to suit any occasion.
In addition to the Classic Collection, Daniel Wellington also offers the Dapper Collection, which features slightly more formal watches, and the Sport Collection, which is designed for active lifestyles. Daniel Wellington has also released sunglasses and jewelry collections. The jewelry collection has finger rings, bracelets, and chains with pendants.
The analysis can get lengthy, so here is a quick TL;DR for you 😉.
Influencer marketing
Aesthetic product images
Pun intended quotes
Fun captions and Hashtags
Diverse reels
Posting Frequency
Type of content
Being active with followers
Daniel Wellington Instagram strategy
With over 4.7 million followers on Instagram, Daniel Wellington has created a sophisticated and excellent brand identity. Let's look at their content strategy and see what others can take from their content to create a well-polished Instagram account.

1. Influencer marketing🤳
Influencer marketing is a type of marketing that involves using key opinion leaders to promote a product or service. These opinion leaders, or influencers, have a large following on social media, and their endorsements can help promote a brand or product.
Daniel Wellington Influencer marketing strategy involves sharing images and videos of influencers carrying their watches, jewelry, and sunglasses in style. Different influencers and new faces have been used in every post by them. This strategy shows how diversely their products are recognized.

There are a few things to keep in mind if you're thinking of using influencer marketing on Instagram. First, it's important to find influencers who are a good fit for your brand and who have engaged, active followers. Second, you need to make sure that your influencers are posting high-quality content that is relevant to their followers. Finally, you need to be prepared to pay your influencers for their work.
2. Aesthetic product images
It is very well known that product images for any business should be of good quality and portray the images in a sense that sends out the accurate message of the brand. Daniel Wellington has smartly used aesthetic images as the source of their posts on Instagram. There are a lot of posts of their watches displayed with good backgrounds and better-quality pictures.
They have tried to take pictures of the various products in many different settings, which makes the products more appealing. They have not repeated a post idea, giving the viewers different and unique product images every time their account is seen.

For example, the following posts look very pleasing with the background decor and aesthetic tones of color in the images.
3. Pun intended quotes
With so many options and platforms available, it can be hard to know where to start. And even if you do have a plan, it can be easy to get sidetracked or lost in the sea of content that's out there.
One thing that can help you on track is to have some funny quotes for social media marketing at the ready. These can be used to add personality to your posts or as a way to break up dense blocks. And if you're feeling stuck, they can even provide some much-needed inspiration.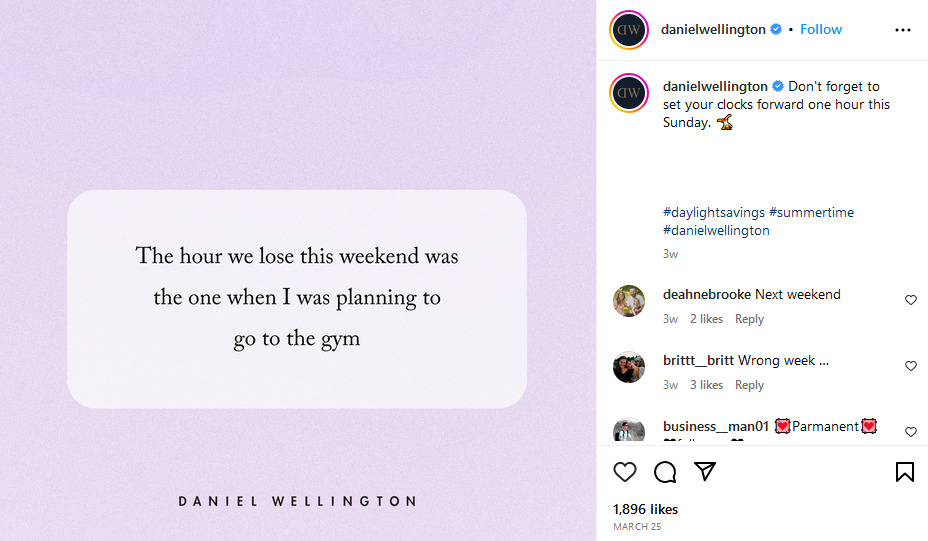 For example, this post below by Daniel Wellington shows a very relatable quote that most of the followers can agree to. This quote is also funny and will keep the viewers and followers entertained.
4. Fun captions and Hashtags ️️#️
If you're not using captions on your social media posts, you're missing out on a huge opportunity to engage with your audience. Captions are an essential part of social media marketing and can be the difference between a post that falls flat and one that goes viral.
A good caption attracts more attention, and when it is written with a little humor, it also keeps the customers engaged.

By looking at Daniel Wellington Caption and hashtag strategy, one can get a good idea of how to incorporate them into their posts. They have also used hashtags with their brand name to distribute their product posts all over Instagram. Some of the major Hashtags used by them are shown below –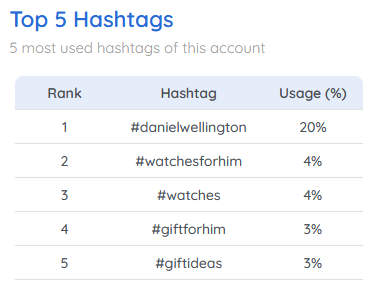 5. Diverse reels 🎞️
Reels offer a lot of potential for businesses and marketers. Reels can be used to showcase products, behind-the-scenes footage, or even short tutorials. Daniel Wellington has used diverse ideas for their reels to achieve more views and more sales. For example, in a recent reel posted by them, a model was seen to have transitioned from a basic look to a casual fit with the sunglasses. This showed how their product could suit any kind of outfit.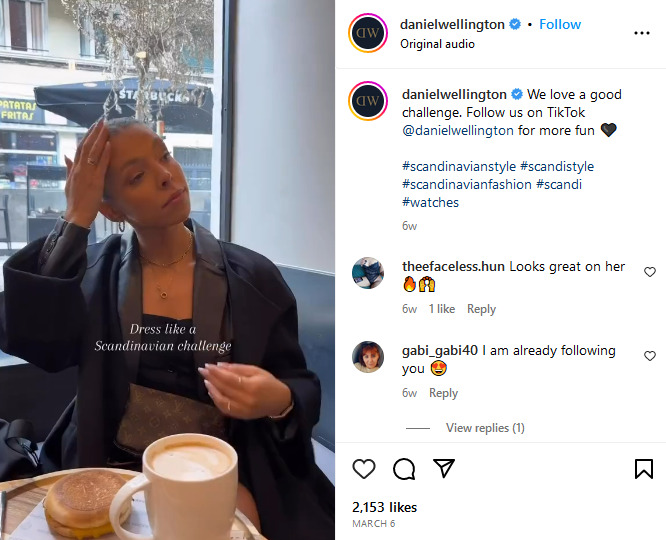 Daniel Wellington also posted other kinds of reels, like get ready with me (GRWM) videos, where the influencers were seen styling their watches while getting ready. In another reel posted by them, the models were seen flaunting their watches in different kinds of poses. Making videos with different ideas is the only way to keep the content fresh and new for the followers.
Did you know you can analyze your competitors like this for free 🤯.

Sign up for Predis.ai (No Credit Card required) and start analyzing your competitor's social media performance!
6. Posting Frequency
A lot of us know that posting frequency on Instagram brand accounts is a very crucial part of Instagram marketing. Looking at the strategy taken up by Daniel Wellington, they have been seen to post at least once a day. This is a great strategy to keep your followers updated about your products and how to use them. Also, posting often doesn't mean posting similar content. Try to post unique images and carousels. The reels that you post must be of different types and should portray the content in a sophisticated manner.

As for the posting time, they were seen to post most of their content between 5 pm and 9 pm. It is important to post videos or images at a time when the followers are most active on Instagram. This could easily be checked by looking at the insights. The following shows the analysis of Daniel Wellington's posting time and frequency done by the competitor analysis tool of Predis.ai.

7. Type of content
Another major aspect of social media marketing on Instagram is posting all kinds of content. This means that one needs to post images, carousels, reels, and stories on Instagram in equal proportions. Daniel Wellington has leveraged this approach effectively.
Posting reels on some days and posting images on other days is the right way to go with the posting schedule of any business account. It is not necessary to post everything together. Post about different contents with enough space between them.

In this image, we can see Daniel Wellington's Instagram Content Strategy. How they have an equal distribution of their posts with good engagement on all the types of posts especially for their single image posts. This shows how important it is to switch up content to get better engagement.
8. Being active with followers 🎤
To keep the audience engaged, it is important to be active on the Instagram account. Daniel Wellington's Instagram account was seen as very engaging. They replied to most of the queries on Instagram and stayed active with their followers in the comment section. For example, their recent stories had a Q&A section, which clearly engaged the customers with the account.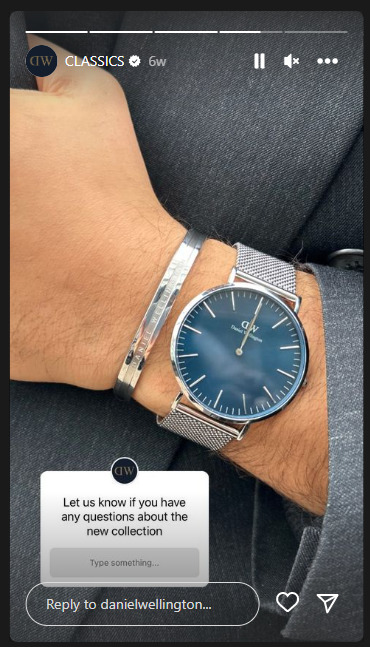 Download Daniel Wellington's Instagram Strategy Analysis for Free!
Wrapping it up
By analyzing Daniel Wellington Instagram strategy, we can see how they have used different kinds of posts with unique elements to showcase their products. It is clear that a polished caption is necessary to make the post go from basic to well-polished post. Hashtags are also equally important.
It is also smart to use trending audio with the reels to make them rank higher on the Instagram feed. This will also attract a larger audience and give the business better marketing and recognition. Try to inculcate these ideas in your next post to get started with creating an identity for your brand. It is not necessary that you will get more views instantly. Have patience and post frequently to get the best results.