As marketers, we know the struggle of coming up with social media post ideas, managing various social profiles, and ensuring they stay engaging with regular, fresh posts. It can be quite challenging!
Our followers always crave new content, and meeting their expectations consistently is a must. However, constantly recycling the same posts can make our social feeds feel monotonous.
To avoid this, it's essential for brands, regardless of their size, to have a diverse range of social media ideas at their disposal. We've put together a list of eight fantastic social media ideas that can help keep your brand's presence lively and prevent your feeds from becoming stale.
These ideas cover a broad spectrum, ensuring there's something for everyone to try and keep their audience engaged. Let's dive in and discover the creativity that awaits!
8 Creative Thursday Social Media Post Ideas
Now that you've got a good handle on the intricacies of posting on Thursdays, it's time to put your newfound knowledge into action.
To get your creative juices flowing, here are some fantastic examples and ideas that could serve as great inspiration on your journey to creating social media posts for Thursdays. Let these ideas inspire you and propel your content to new heights!
1. Throwback Thursday (TBT): Share nostalgic content related to your brand
People absolutely adore getting a glimpse behind the curtain or experiencing exclusive insider access. That's why #TBT (Throwback Thursday) posts often garner such strong engagement. You can take advantage of this by seamlessly integrating a call-to-action into your throwback posts.
For example, consider sharing the initial draft of your business plan and inviting people to share their own early ideas in the comments.
Another approach could be to encourage your audience to tag you in their throwback prom photos, creating a fun and nostalgic interaction. By doing so, you'll likely spark even more interaction and connection with your followers.
2. Thursday Tips: Keep an eye on what's trending on social media
Once you've established your key messaging, it's essential to stay observant of the prevailing trends on each platform. If you spot a pattern or strategy gaining traction that complements your messaging, it's a fantastic opportunity to leverage it and boost engagement.
However, exercise caution when it comes to following every new internet trend you come across. Crafting posts that don't align with your core message just to appear current can backfire and distance your target audience.
Remember, you don't need to create a specific type of content simply because other brands are doing it. Stay true to your brand's identity and values, and let authenticity guide your content creation.
3. Polls and Surveys: Engage followers with interactive polls and surveys
Brands these days have a cool way to connect with their audience using polls and questions on social media. It's awesome because they get instant feedback, usually within just 24 hours!
By using this technique, brands can dive into topics that might impact a new product or boost sales, and they can even learn more about their audience's preferences and identity. That kind of feedback is super helpful because it allows a company to make quick changes and better understand its audience
4. Spotlight Thursday: Feature employees, customers, or partners
Employee spotlights are a fantastic way to add a human touch to your brand, making it more relatable and approachable for customers.
Our best Thursday social media post idea for you is for you to showcase employees who are down-to-earth and relatable. This helps break down corporate barriers and shows that your business is made up of genuine people who truly care about their work and customers.
5. Behind-the-Scenes: Showcase the human side of your business
Capture the essence of your team's camaraderie as they prepare for the day, collaborate to add those final touches to a project, or share memorable moments in the lunchroom.
Venture beyond the confines of your workplace and snap behind-the-scenes photos of your product demo table at the latest expo. Grab a shot of the keynote speaker moments before the curtains parted at the convention.
And don't miss the chance to get a statement from the company president before he heads to the flight gate, ready to seal a new deal. This is one of our most important and effective Thursday social media post ideas.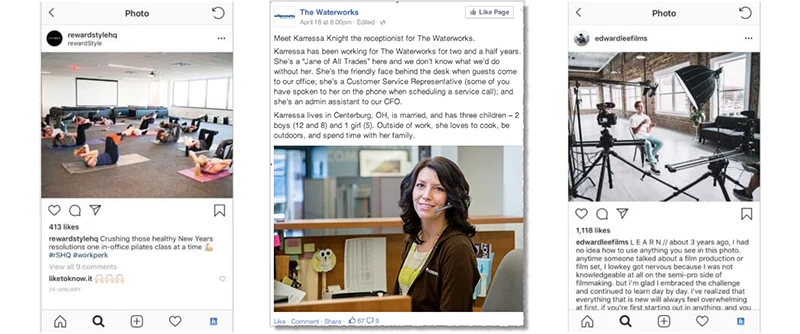 6. Thursday Quotes: Share inspiring quotes related to your industry
One of the most effective ways to establish trust with your online audience, especially in the absence of in-person interactions, is through the content you share. Incorporating quotes into your social media content strategy can be a powerful way to consistently convey various facets of your brand, including:
Your core beliefs and values
The influential figures or ideas you align with.
Your unique attitude, personality, and style.
The company you associate with.
The literature or sources that inspire you.
The driving forces and motivations behind your work.
So, consider integrating quotes into your content strategy, as they can significantly enhance your brand's communication and connection with your audience.
7. Fun Facts: Share interesting and relevant facts about your niche
In today's digital landscape, individuals seek valuable insights and knowledge from brands, making social media the ideal platform for sharing such information.
Regardless of your business's industry, social media presents an excellent opportunity to position your brand as a thought leader—a trusted source for niche-related information and expertise.
Among various social networks, LinkedIn, especially the LinkedIn Publishing Platform, stands out as a prime channel for establishing your thought leadership presence.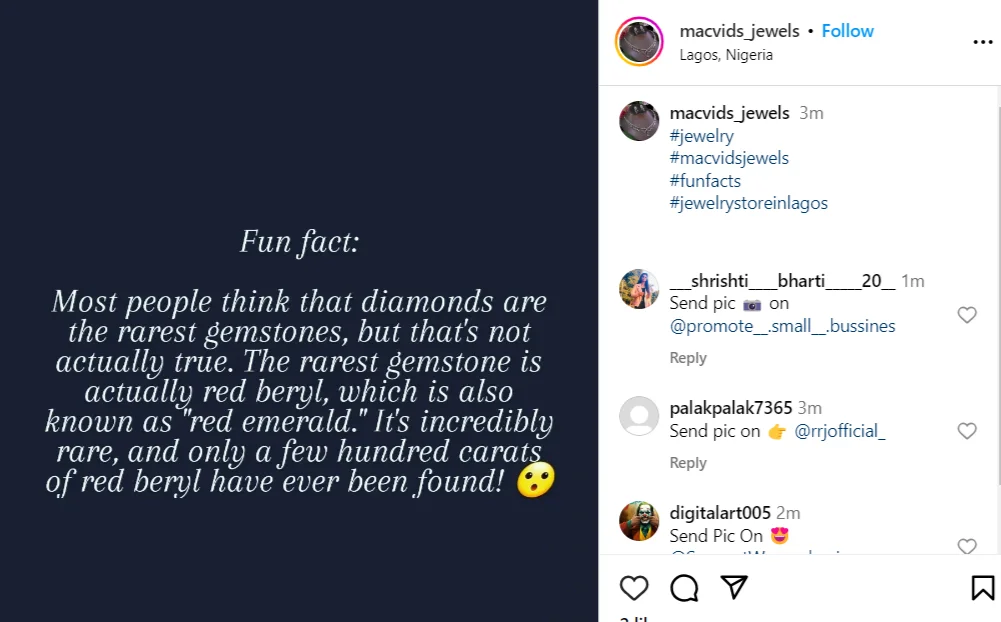 8. Leveraging Influencers for Your Brand's Success
Thinking about collaborating with influencers to create sponsored content? Finding the perfect fit for your brand is crucial. Authenticity is the second most critical factor when selecting creators to work with brands. Therefore, prioritize influencers whose audience aligns with your brand.
Moreover, keep an eye out for videos where influencers mention your brand. If you come across any such content, request their permission before resharing it on your brand's profile. This simple and efficient approach will let your audience see who else is genuinely enjoying your brand.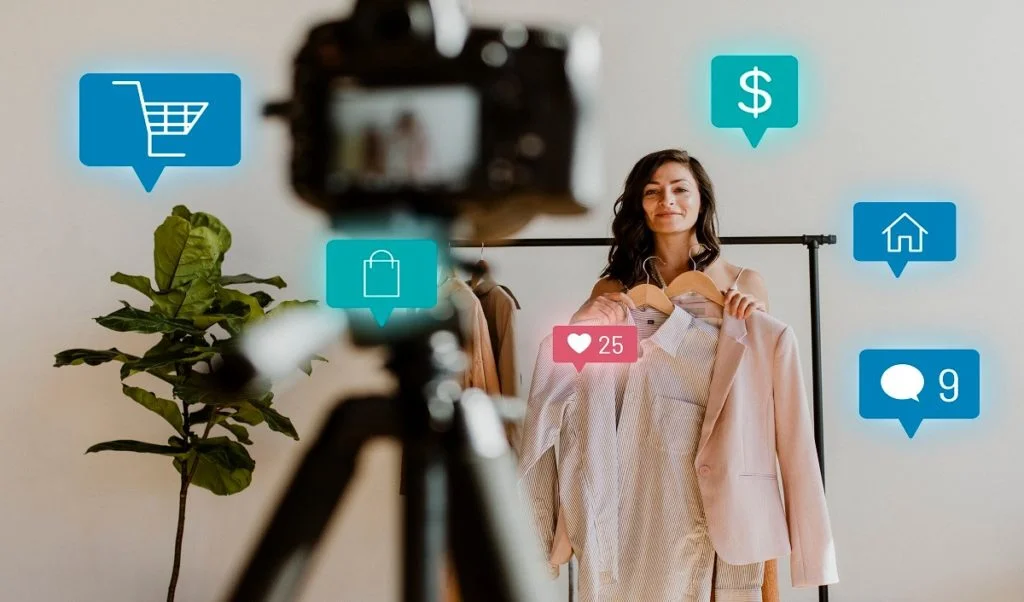 Wrapping it up
In conclusion, Thursdays present a fantastic opportunity for engaging social media content. From throwbacks to inspiring quotes and user-generated campaigns, embrace creativity to captivate your audience and strengthen your brand. With consistent and compelling posts, build a loyal and enthusiastic community. How did find our Thursday Social Media post ideas? Comment your thoughts and feedback. Happy posting!
Related articles
Tuesday social media post ideas
DID YOU KNOW Instagram's story limit per day?