Nothing has had as much of an impact on online marketing as social media. People who used to have to blog to gain traffic can now quickly gain a following by focusing on social media platforms such as Instagram.
The same is true for businesses. Whereas previously, the emphasis was solely on SEO and blogging, many companies are discovering that they can have a massive reach to their audience simply by utilizing the power of social media.
However, one of the most significant limitations of social media platforms such as Instagram is that you can only place one link in the Instagram bio section. As a result, bio link tools became widely used.
These tools essentially create a landing page that you can link to your social media profiles. After that, you get an option to customize this landing page and add your links. For example, your blog, Youtube channel, and online store.
Are you fed up with only being able to include one link in your Instagram bio? 
Have you seen a long list of tools that allow you to combine all of your links to other social media platforms, blogs, podcasts, videos, and more into one convenient link?
There are numerous tools that you can use in your Instagram bio to store all of the useful links that you want your feed to have access to.
Linktree and LinkinBio are two of these valuable tools. But the main point of discussion is – Which is better, Linktree vs LinkinBio from Later.com?
In this blog, we will compare Linktree vs LinkinBio in terms of key features and user experience. Let's get started.
What is the Need for Using Instagram Bio Link Tools?
Simply put, the single website URL option provided by Instagram is quite insufficient. Yes, you can switch between your one uploaded URL and your linking tool depending on what you have going on and where you want to send people.
Of course, if you have over 10,000 followers, you can connect the link to individual Stories, but those links disappear after 24 hours.
If you're sharing multiple call to action at the same time, a third-party bio link tool is always the best option.
Bio link tools are especially useful if someone watches your feed post two days after it is published and then becomes influenced when they try to do what you tell them to do.
What is Linktree?
Linktree was one of the first bio link tools developed to address the problem of Instagram users wanting to share more than one link, and it is still a treading one.
With a single link, you can direct your followers to an intuitive landing page with your favorite theme or even your own branding. Users can then choose from a number of links, such as a recently published podcast segment, a blog post, the campaign landing page, and others.
The number of links allowed is infinite, but depending on your posts, we wouldn't recommend adding more than a few at a time – you don't want people to be confused by irrelevant or obsolete links.
Pros of Linktree
User-friendly and intuitive dashboard interface.
Get more in-depth tracking experience by connecting it with Google Analytics and Facebook Pixels.
"Leap Links" redirects users to a single link for a limited time.
Subtle animations that catch the eye will help you highlight your most crucial links.
Cons of Linktree
There is no Shopify integration available.
It does not directly link to Instagram posts.
The free version has few customization capabilities.
On the free plan, basic analytics are provided.
What is LinkinBio?
Later, an Instagram planning tool offers the LinkinBio feature. Later is a tool for scheduling and publishing on Instagram, so it's pretty cool that this bio link tool is built right in!
Since it looks exactly like your Instagram grid, LinkinBio presents links on your landing page in a unique way.
You can use this tool to create a clickable, optimized landing page. If a follower is looking for a product you mentioned in a post a week ago, they simply need to click the link in your bio and look for the post image in which your CTA was present.
The good news is that they can go back as far as they need to find what they're looking for. It's both visual and simple!
Pros of LinkinBio
View detailed analytics in LinkinBio for the last three months.
Add a dedicated link with a customizable CTA to a URL.
Integrate Google Analytics to measure sales and conversions directly from your links.
Google Analytics UTM tracking
All of Later's other scheduling options
Add multiple links to each post.
Integration with Shopify
Cons of LinkinBio
There is no option to add extra branding.
It is not possible to modify the order of the posts.
It is not possible to alter the link blocks.
Linktree vs LinkinBio: Which One is Best for You?
Since both tools have a robust Instagram connection in their profile framework, the question is not which tool is better. Your question should be "Which link bio tool is best for me? – Linktree vs LinkinBio"
Let's go over each platform's features in detail so you can decide which one is best for you.
Linktree vs LinkinBio #1: Dashboard Experience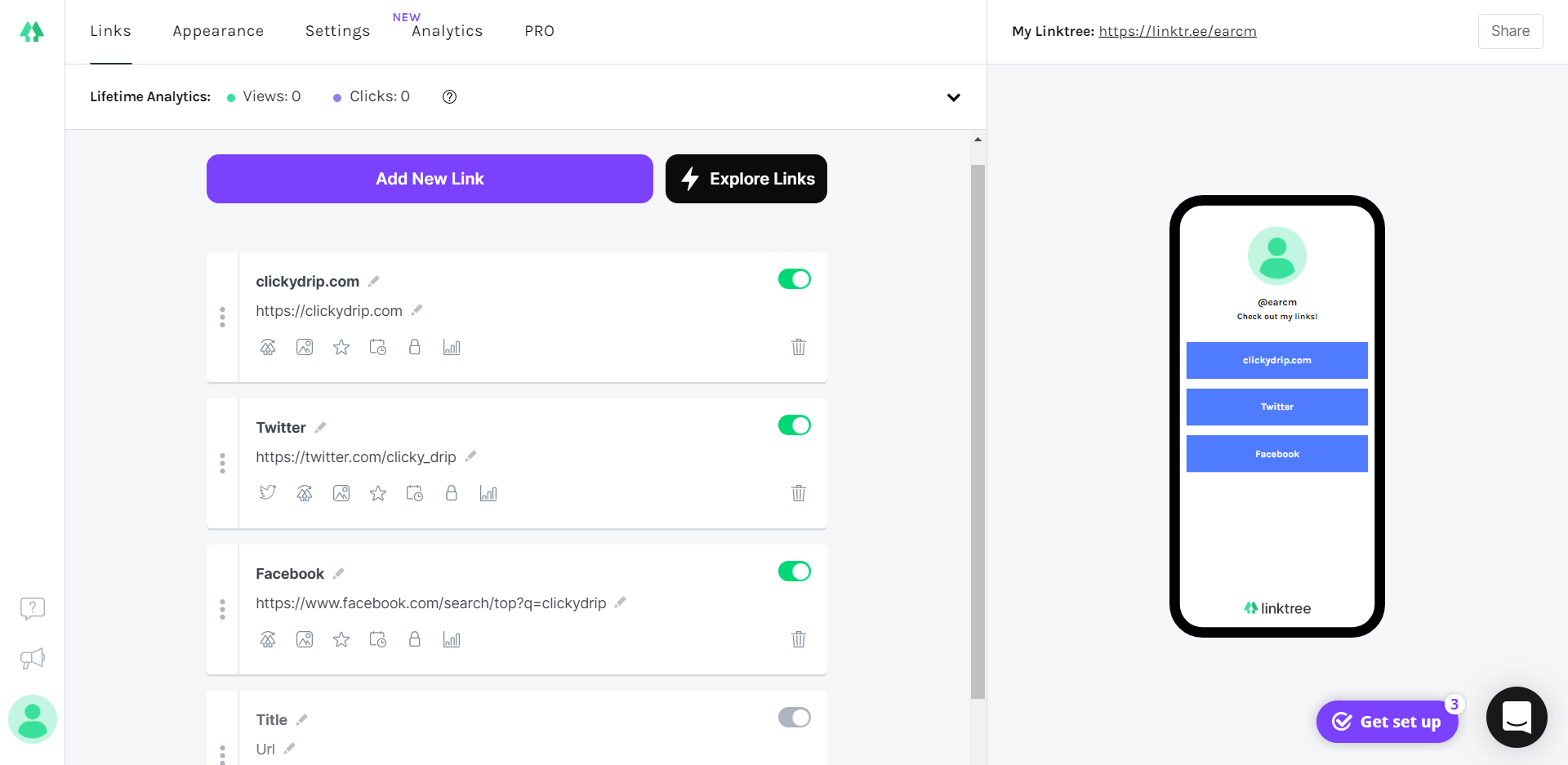 Linktree is simple to sign up for and use, especially when compared to similar tools. It is actually very easy to use because it is solely focused on creating a single landing page with multiple links. The dashboard has only a defined set of features.
When you first log into Linktree, a wizard walks you through exactly how to set up your Linktree landing page, so it's a great tool for first-time users or users unfamiliar with how landing pages work. You don't have to mess around with help guides trying to figure out what to do.
There are only a few menu options at the top of the screen, i.e.:
Links
Appearance
Settings
Analytics
If you have the free plan, there will also be a PRO link that will take you to the pricing page.
Links is the section where you create the links for your landing page. On the right side of the screen, the links are displayed on a mockup of your landing page. This is especially useful because you will be able to see what your customers will see when they click the Linktree link.
Simply enter your links here. There are several options for each link here, including what's known as a "leap link". You can use it to temporarily redirect visitors to a destination (instead of the Linktree landing page).
Thumbnail links, priority links, schedule links, and gate links are examples of other link types. These links, however, are only available with the tool's pro version.
You can also include a thumbnail with your link, and from this dashboard, you can access analytics for each link.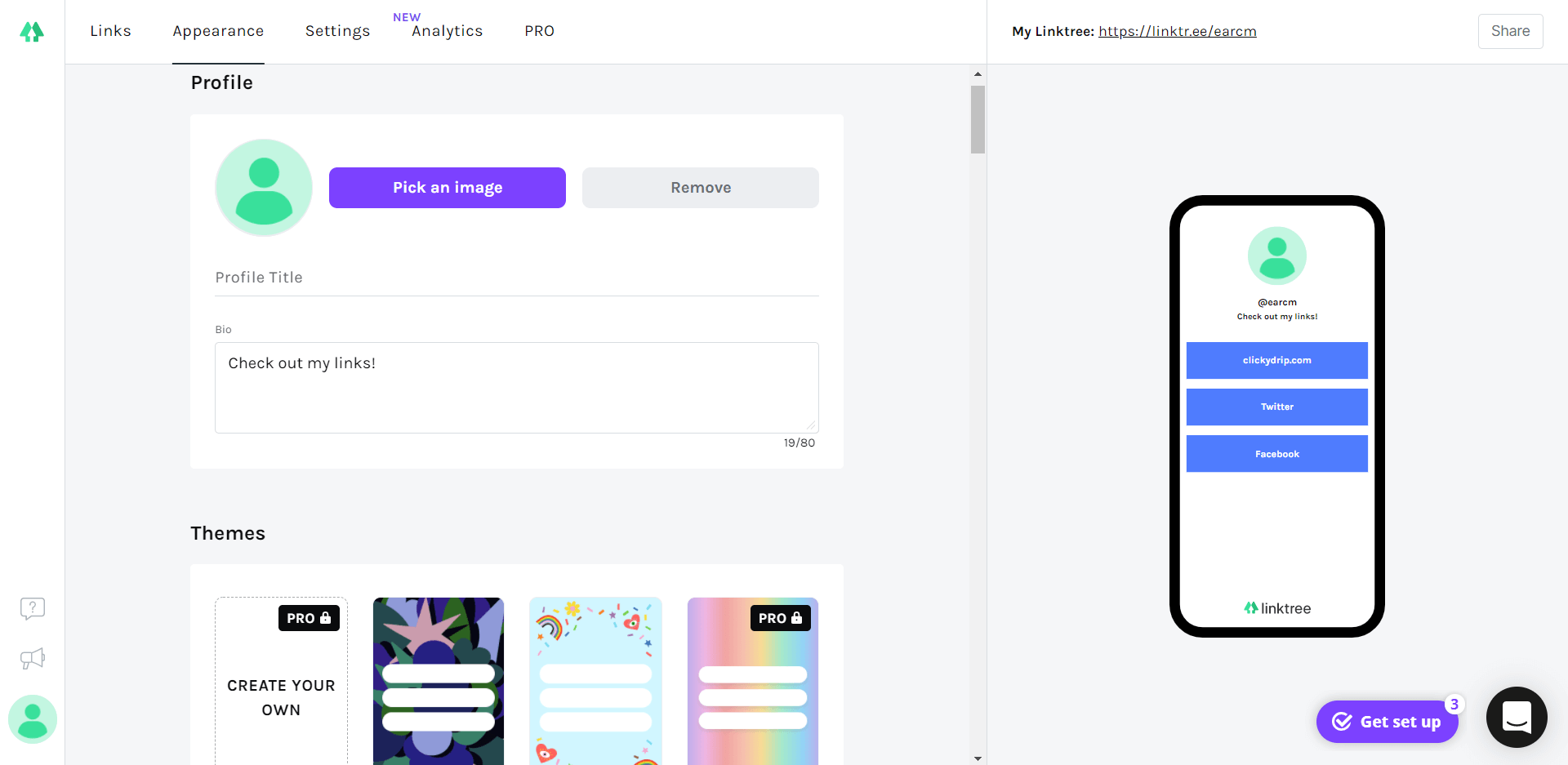 The appearance menu option is exactly as simple as it sounds. You get to choose a bioimage, write a short title and bio, and then choose or design a theme (the colors of your links and the background of the page).
The pro version allows you to customize your buttons, background, and fonts. But many of the themes included with the basic version are adequate and look nice and clean.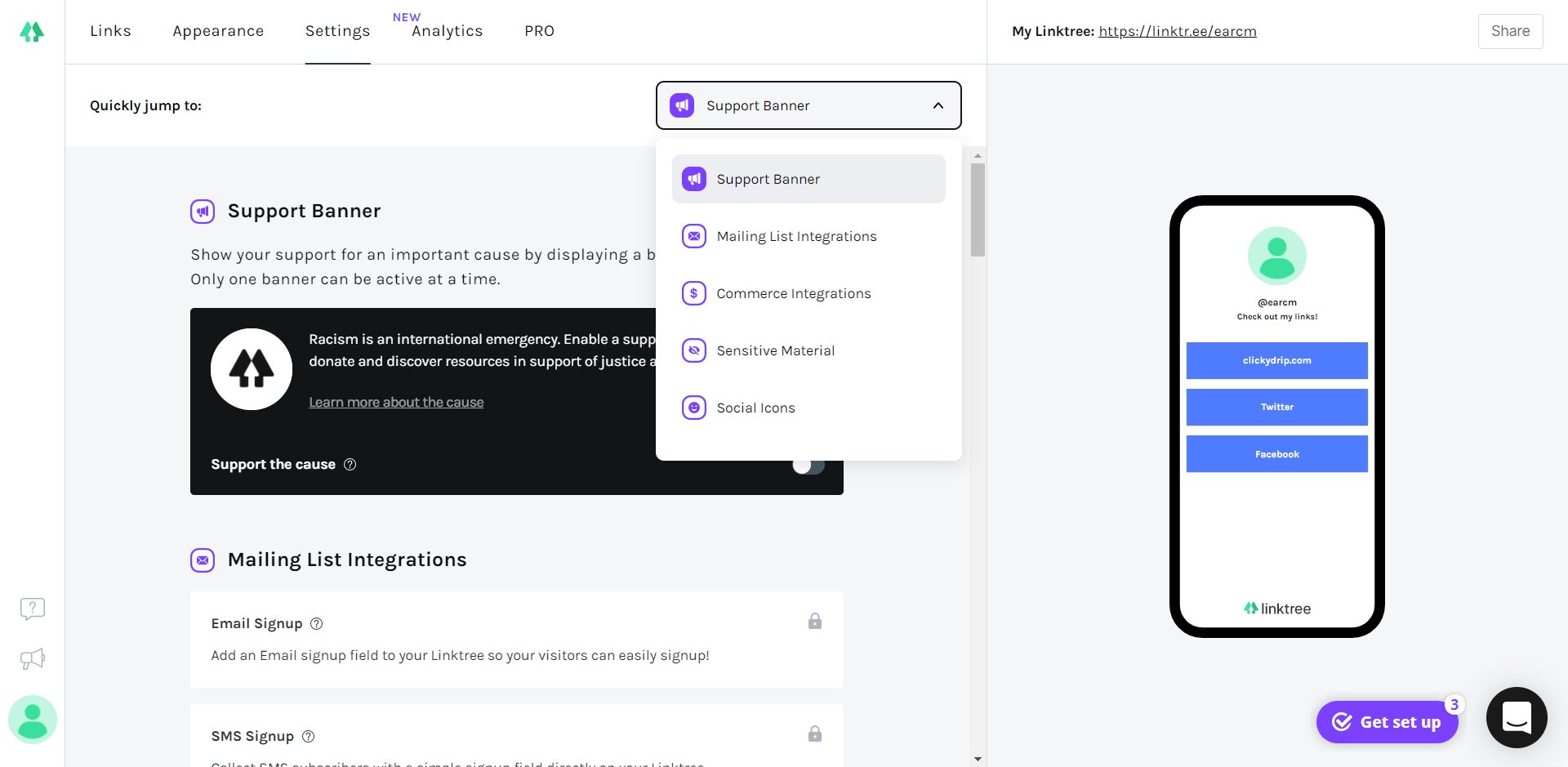 Integrations can be found in Settings. You can create links to all of your social media profiles from here. You can also integrate with email and SMS subscribers, as well as link a Paypal, Square, or Shopify account, with Stripe coming soon.
The analytics tab displays a variety of data, such as views and clicks, as well as money earned if you're linked to an eCommerce account.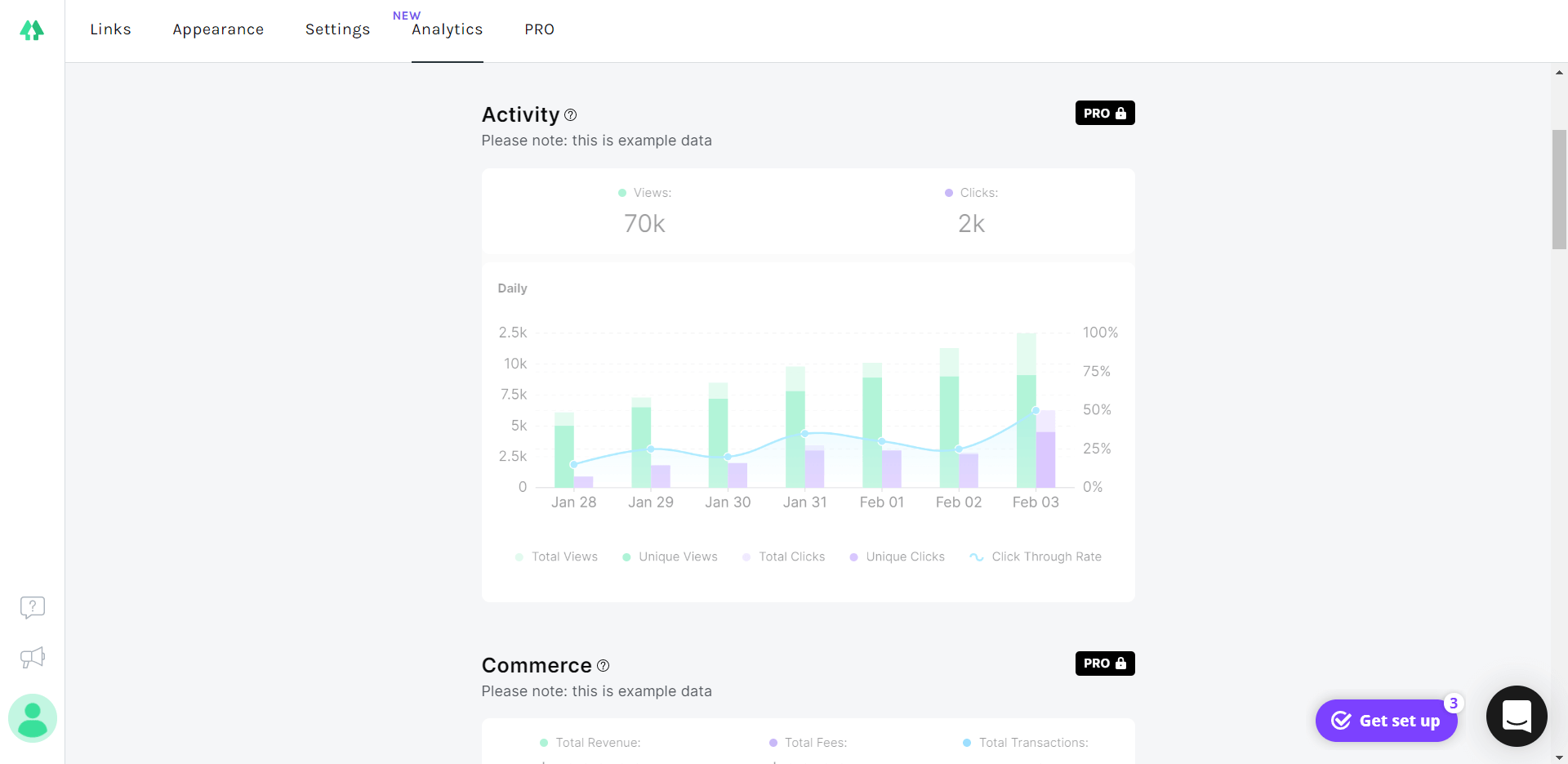 You can also learn where visitors to your Linktree page are coming from in terms of traffic source (Instagram, TikTok, etc.) and location in the world.
LinkinBio is a little more complex than Linktree and has a few more features. To begin, the entire platform is a feature of Later, so you must have a Later account to access it. Fortunately, you can sign up for a free Later account. So this isn't as much of a barrier as it may appear at first.
When you select the LinkinBio tab from the sidebar menu, you are taken to a secondary menu where you can create the LinkinBio landing page. These items in the secondary menu are referred to as "blocks."
You begin by creating your profile, where you can change your name and bio.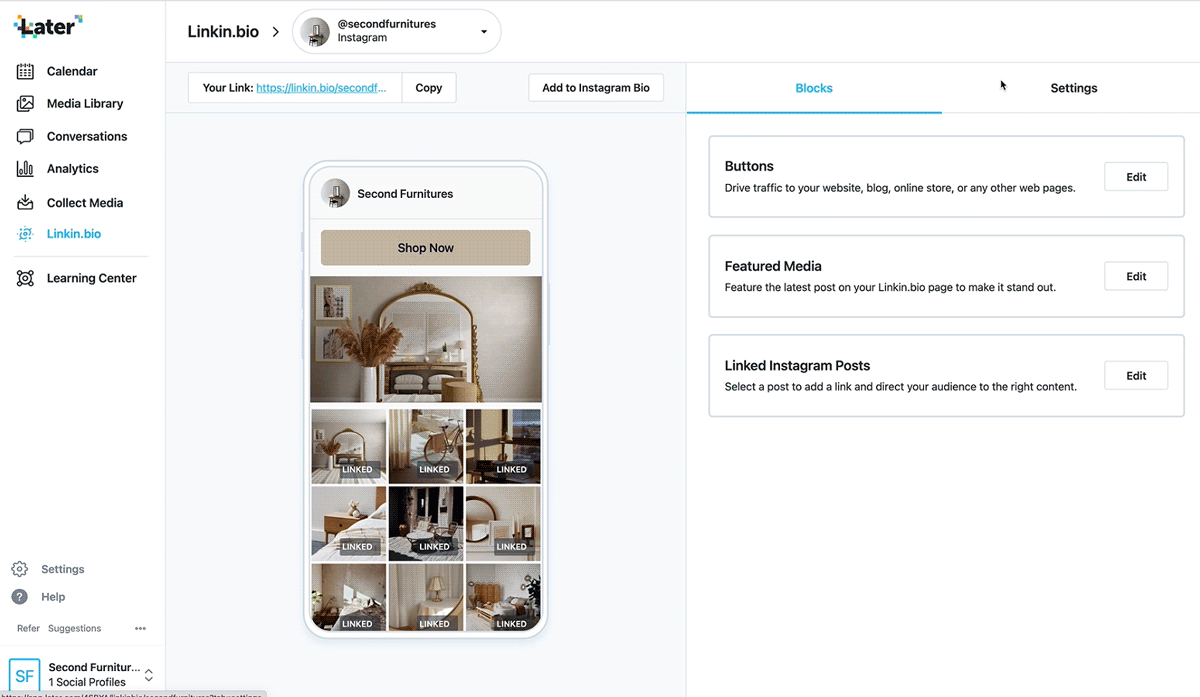 The block of social links comes next. You can add links to a variety of platforms here, including Google My Business and WhatsApp, which is useful if you have a large number of products on your Google My Business page or if you interact with customers frequently on WhatsApp.
After you've assembled your social links and profile, you can design the buttons themselves. You can customize their colors and backgrounds, and you can link to any URL you want.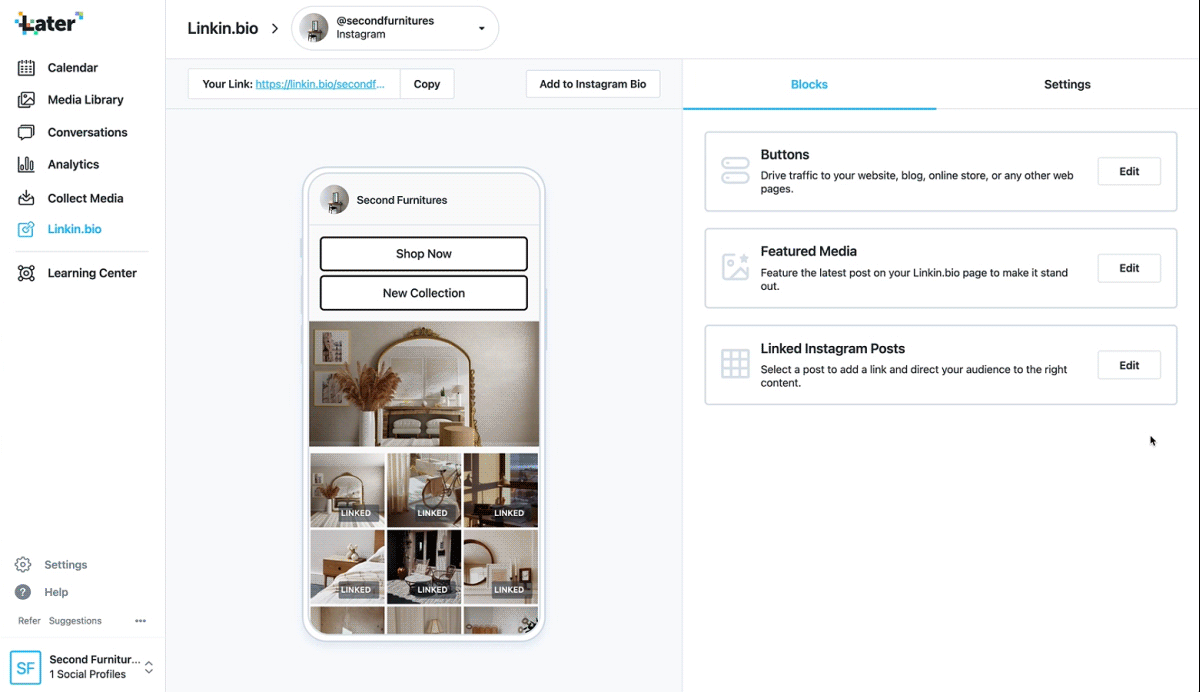 Normally, you'd want to link to your website's store, but you could also link to your blog, an email capture landing page with a lead magnet, or anywhere else you want. You can also have an unlimited number of buttons.
The ability to feature your most recent Instagram posts is a fantastic feature that distinguishes LinkinBio. You can include your most recent post. You can also choose any of your recent Instagram posts and add links to any website you want.
In other words, you can display your Instagram posts on your LinkinBio landing page exactly as they appear on Instagram. Each of these posts may contain a link to a different website.
When you add links to your posts, they will transform from black and white to color images. These are the only images that will appear on your LinkinBio page.
Finally, there's a settings tab where you can embed your LinkinBio gallery in your website or connect to a Shopify store if you have the pro version. You'll also get the option to connect your LinkinBio account to Google Analytics here.
Linktree vs LinkinBio #2: Design Capabilities
When evaluating options, one of the most important aspects that people consider is the design capabilities of a bio link tool. If someone has hundreds or thousands of followers, it's likely that they want to display their links in a stylish manner.
In terms of design customizability, Linktree clearly outperforms LinkinBio. With Linktree, you can select from a variety of fonts, customize the shape and color of your buttons, and select from a variety of themes. It is important to note, however, that many of these customization options are only available in the paid version.
Unfortunately, LinkinBio offers fewer design alternatives. To be honest, the landing page tool is fundamentally different. You may use LinkinBio to show posts from your Instagram account, each with an outgoing link. These postings have a grid-like style, similar to an Instagram account.
This design is the reason why so many people desire to use LinkinBio in the first place. The platform, on the other hand, does not allow for as much customization. Yes, you can add buttons, a profile area, and other features. But there is nothing you can do to change the style of these parts.
Nonetheless, LinkinBio appears to be highly clean and contemporary, making it simple for your followers to locate what they are searching for.
Linktree vs LinkinBio #3: Pricing
There is a free plan that I recommend everyone test before determining which connection in the profile tool is appropriate for them. It contains every important feature that you'll need in order to get started.
The premium plan, which costs $6 a month, offers a great deal of customization and insights. You gain, to mention a few benefits:
More flexibility over your link page's branding
Option to remove the Linktree logo
Put thumbnails to your links
More analytics are available.
Right is a sleek opt-in box that works directly with Mailchimp.
Schedule links
The free Linktree account is also wonderful, but at such a cheap cost for such a strong tool, the subscription version may be worth considering if Instagram is a genuine marketing powerhouse for you.
LinkinBio is more expensive since it is part of a much broader platform – Later. Later includes a plethora of features for various social networking networks.
You can utilize LinkinBio if you acquire the free edition of Later; you're merely limited in terms of (mainly) design. You can only alter the color of your buttons if you sign up for the $8/month basics plan. However, if you purchase the growth plan ($25/month), you will receive personalized featured media and 5 links for each post, as well as Shopify integration.
Wrapping It Up
If you want something that is simple to use yet very adaptable, Linktree is the way to go. There are several theme options available, as well as numerous methods to customize the style of your landing page by altering fonts, button designs, and colors.
If you're on a tight budget, Linktree is the way to go. It's difficult to argue that it's expensive at $6 per month. You can include as many links as you like, and you can link to anything you want. The integrations are excellent as well.
The only significant disadvantage is the inability to add Instagram post images to the landing page with links, so if that's important to you, Linktree isn't for you.
If you require the extra functionality that Later provides, you should go with LinkinBio. LinkinBio is a Later feature, and while you can access it all for free, you must pay to access the other features.
However, if you want complete control over the design of your page, LinkinBio isn't for you. It just lacks that power. When deciding between Linktree vs LinkinBio, it's usually a good idea to try out both to discover which one works best for you.
Since we are here, Are you looking for something much more revolutionary which will even help you make content!

Sign up for Predis.ai today! Manage your social media channels and improve engagement by designing interactive posts within a few clicks.
For more social media tips and updates, follow us on our Instagram!