In today's world, there are very few people who don't use graphic designing apps. Now whether it's graphics for social media, web & user interface designs, or data visualization, these apps are an easy solution for your entire projects. Canva is proof of this and has been for some time now.
Canva is very simple to use and it also has an extensive free plan, so there is no reason for brands and marketers to create content that is not only cheap but also unprofessional (regardless of the means and resources at their disposal).
However, Canva now finds itself head-to-head with some new kids on the block. For this comparison, I'm going to be pitting it against Glorify and Crello (now VistaCreate). These apps are aimed roughly towards the same target audience and are meant to be simple but competent graphic designing apps that non-designers will be happy with. But they do have some key differences.
Now we will look into the features, the ease of use as well as pricing of each graphic designing apps. Other than that, we also have some reviews in this blog from people who have tried Canva, Glorify, and VistaCreate. This way we will know the key differences as well as the genuine reviews to help us with a better understanding. Let's get straight into it.
Let's compare the Features of Canva, Glorify and VistaCreate:
Canva
1. Pre-designed templates
Canva's main strength in this comparison lies in the sheer number of pre-designed templates it offers. This will matter most to newbies in the design space, but then again, this group makes up a huge chunk of the total users of these design apps.
The free plan offers 250,000+ templates consisting of 100+ design types and 1+ million free photos and graphics. Whereas you get a whopping 400K+ premium plan presentation templates. Regardless of what the Photoshop and Illustrator snobs will tell you, these templates are a major boon for quick and high-quality design.
Canva brings in new updates frequently with changing requirements in the work field. For instance during lockdown when work from home was mainstream, Canva introduced amazing zoom background templates.
It's amazing how these templates make it so easy to design things that you'd otherwise need a professional designer for, like creating restaurant menus.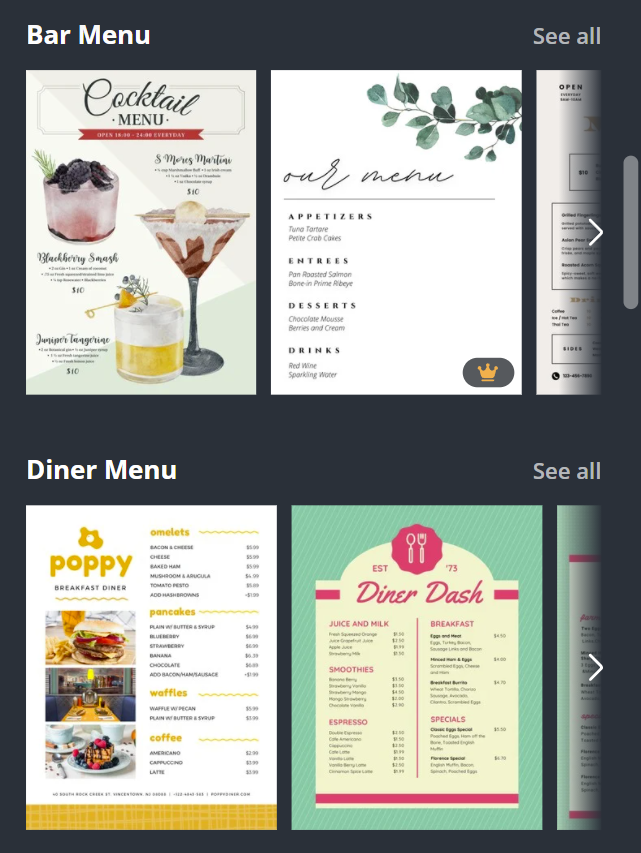 And that's just the beginning. Remember, 600,000+ templates.
2. Integrations
The Canva app has some amazing cool integrations within itself. Some of them aren't more than gimmicks, like the bitmoji integration that allows your Snapchat avatar to show up on Canva. Here are some very clever and useable integrations:
Instagram: To view your account's past posts and add them to new creatives
Google Maps: To search for any location and add it to a creative
Pixton: To add illustrated characters to your creatives
Publer: To publish tools on social media directly
Giphy: To add gifs to your creatives
Pexels and Pixabay: For premium stock images
There are tons of other little integrations you'll notice as you use the app.
Other plus features
3. Smart Mockups:
You can create high-quality mockups on Canva itself with its integration with Smart Mockups. Canva offers 2000 free mockup templates for free users and 8000 mockup templates for pro users. The app does cover all the categories like tech, clothing, business cards, etc. so you'll probably find something that will suit your needs.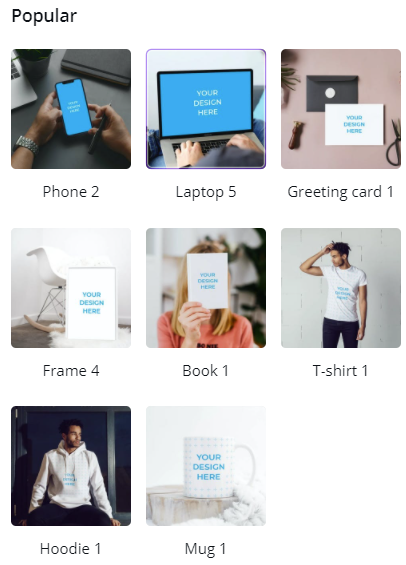 4. Extensive photo-editing:
The app has tied up with a lot of third-party filter-makers, so apart from editing the fundamentals of your photo on Canva (brightness, saturation, etc.), you also have a wide range of filters to choose from. My favorites are Liquify (which has filters that distort the photo as it has come in contact with liquid) and Letter Mosaic (these filters turn any photo into a Letter Mosaic).
5. Magic eraser:
Let's not forget the new AI-powered magic eraser introduced recently by Canva. This magic eraser enables users to brush over the unwanted object in their image making it seem as if it was never there. Moreover, you can replace or add an object in your image as if it were always there.
6. Social media publishing:
Canva is the only app here that allows you to share your creatives directly to some of the top social media websites. With Canva content planner you can design amazing posts and share them across Facebook, Instagram, Twitter, and Linkedin. You can easily schedule your posts for days, weeks, and months ahead as well as pause the process if required. This feature can only be used in the paid version of the app.
Glorify
1. Pre-designed templates
As of August 2023, Glorify offered over 15,000 templates for the Pro version. Glorify offers you 1,000 niche-oriented templates for product images, social media posts, banner ads, hero headers, and presentations. This is pretty limited, but it highlights the fact that Glorify is marketing itself as something more complex than a simple drag-and-drop editor.
The templates that are available are quite attractive though. However, because Glorify is aimed at all things e-commerce and social media (and nothing else), it doesn't have templates for things like menus and presentations.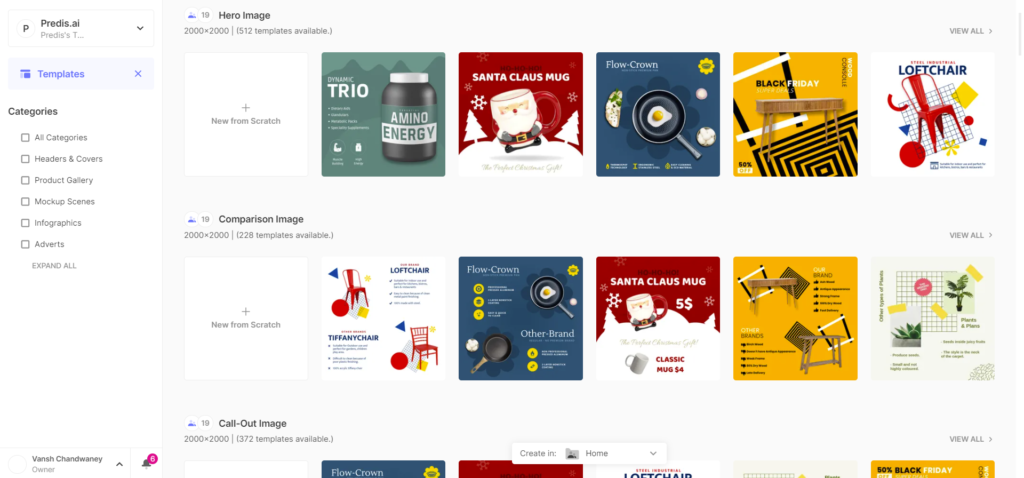 However, Glorify offers templates known as Mockup Scenes that the other two graphic designing apps don't have. Essentially, they're templates and designs built around mockups. Some of these are really quite beautiful. They'll also be useful to a lot of people!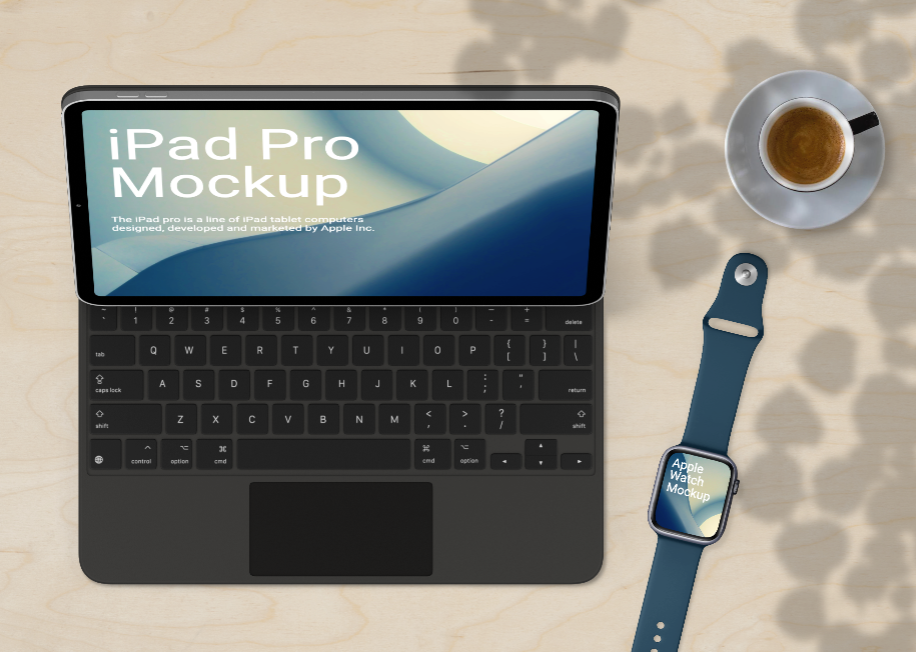 2. Integrations
As far as integrations are concerned, Glorify is not as extensive as Canva. Here are its main integrations:
Pixabay and Pexels for premium stock images
Icons8 and Noun Project for some very beautiful and customizable icons
Ouch! for premium 2D and 3D illustrations
Pebblely for AI-powered backgrounds and scalable product photo variations.
Apart from this, there are also some predesigned templates especially curated for Shopify, WooCommerce, and Amazon. Feature images for Product Hunt and gallery templates for Fiverr are coming soon.
A lot of people have dubbed Canva's plenty of integrations as purely gimmicky, and if you think so too, this shouldn't be a deal-breaker. Also, Glorify does offer the essentials for graphic designing apps, like stock images and a massive icon collection.
Other plus features
3. Effects and textures:
Glorify offers tons of predesigned effects and textures that are missing on the other apps in this comparison. These can be really handy for folks trying to create an animated scene on the app. They can also be customized in terms of colors/shadows etc. I particularly found the 'Dirt' and 'Flares' textures to be very realistic.
4. Focus on e-commerce brands:
More So than Canva and Crello, Glorify focuses especially on content for e-commerce brands. This is Glorify's differentiation point from other graphic designing apps, and it becomes very evident when you begin to look at the templates on offer. Hero images, infographics, comparison images, ad formats, they have it all. As mentioned, specific templates for different e-commerce platforms are also very handy.
5. Free image resizer:
This is the only app here to allow image resizing for free; in Canva and Crello, you aren't even offered any resizing credits. I found the resizer to be quite smart as well, you have the option of manually entering dimensions or choosing a particular format.
6. Background Removal:
Glorify provides you with a background removal tool that you can use to easily remove unnecessary objects from your images. This will completely drag the viewer's focus on the product image thus increasing the chance of sales.
7. Team collaborator:
This tool is an amazing benefit for the users as it allows you to collaborate with your team members. For instance, If you are working on a team project, using a team collaborator, you can easily share your files and feedback. Thus enabling you to keep track of the progress.
8. Mock-up Creator:
Using a mock-up creator you can prepare and present your designs in a professional manner. Mock-up allows you to showcase your design with a realistic background. Thus giving your client a proper idea of your final product.
VistaCreate
1. Pre-designed templates 
VistaCreate offers you 50K+ static and animated graphic design templates, along with 1M+ royalty-free creative assets, background remover and brand kit functionality. Whereas the pro plan offers you 100K+ free design templates, 1M+ photos, videos as well as vectors.
These templates essentially cover the entire breadth of what Canva does, but there aren't as many templates for each category. It allows small business owners to create professional content for social media and other marketing sites.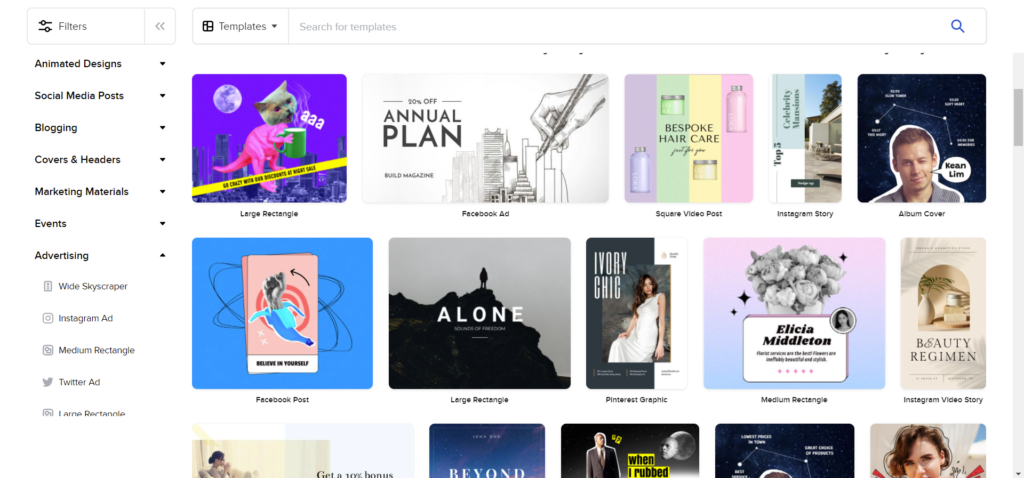 2. Integrations
You can integrate the VistaCreate Editor into your website, so your users can create designs without having to navigate to another. You can contact support, and they should provide a personalized API design tool for your platform. This is very similar to how Canva can be integrated into any platform.
Other plus features
3. Quick customer support:
VistaCreate offers a much better overall customer service experience as compared to the other apps here. If you think you'll often find yourself wanting quick resolutions to design-related issues, this is the app to best fulfill that need!
4. Massive offering of stock photos:
Deposit Photos offers millions of premium stock images through VistaCreate, in the free as well as the paid plans. In the other apps, to gain access to photos in a similar number, you will have to upgrade to the paid plan.
5. Dedicated logo-maker:
VistaCreate offers a dedicated logo-maker through which you can play with fonts, colors, and the overall design to create a logo for yourself in mere minutes. This feature is ideal for those who do not want to spend on designing a logo.
6. Background remover:
With VistaCrate you can easily remove the background of your image and select another desired background from the templates. You can even leave your background transparent or change it according to your preference.
Which designing tool is easy to use, Canva, Glorify, or VistaCreate?
Canva
Just like me, you'll likely already be very familiar with Canva's interface if you've ever had to make quick creatives for social media or a website. This works as a major disadvantage for the other two apps in this comparison, as most people would like to continue using what they're familiar with.
This is what the home screen looks like. All of the content templates are sorted out in themes so you can easily find the template or the dimensions you're looking for. You can also click on 'Create a Design' on the top right, to add custom dimensions or choose from the most popular list of templates. When I clicked on Presentation, this is the screen that showed up.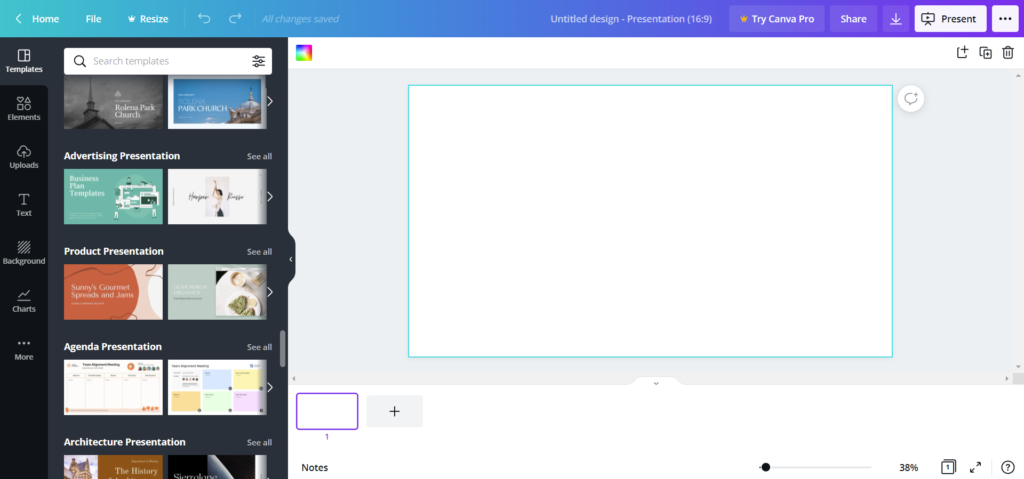 There are a lot of templates for each content group, and these are further grouped by purpose, which makes it easier to find exactly what you're searching for. For example, as you can see, there is a distinct tab called Advertising Presentation where I can scroll through related templates. It's all very convenient.
You can easily access your previous uploads as well as text, background, and elements from the sidebar. You can simply drag and drop these presets into your design!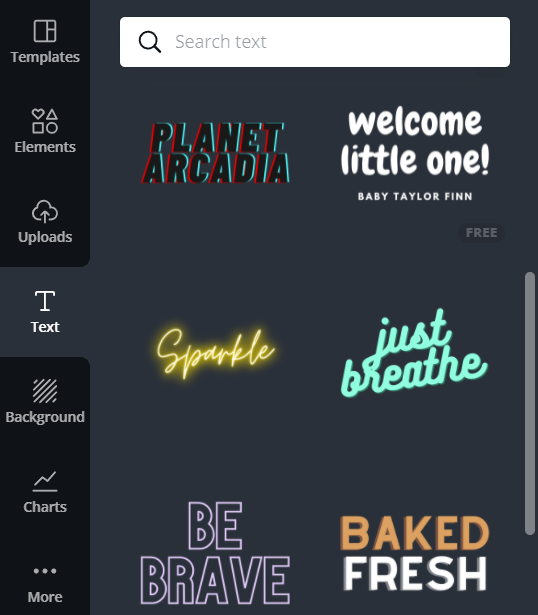 These preset templates make it a breeze for new designers who otherwise might not know how to make their designs appealing.
Clicking on the 'More' section reveals Canva's many integrations with popular apps and websites (you can even add Google Maps locations directly to Canva).
Editing itself is a breeze too. Everything is where it's supposed to be, and everything is laid out so simply that you'll start wondering why Microsoft makes PowerPoint so convoluted.
Canva simply comes first if you are looking for a graphic designing app that is easy to use.
Glorify
Glorify's homepage is a little bland compared to Canva, but I didn't mind that at all. It's still easy to navigate and find the format for which you want to generate content.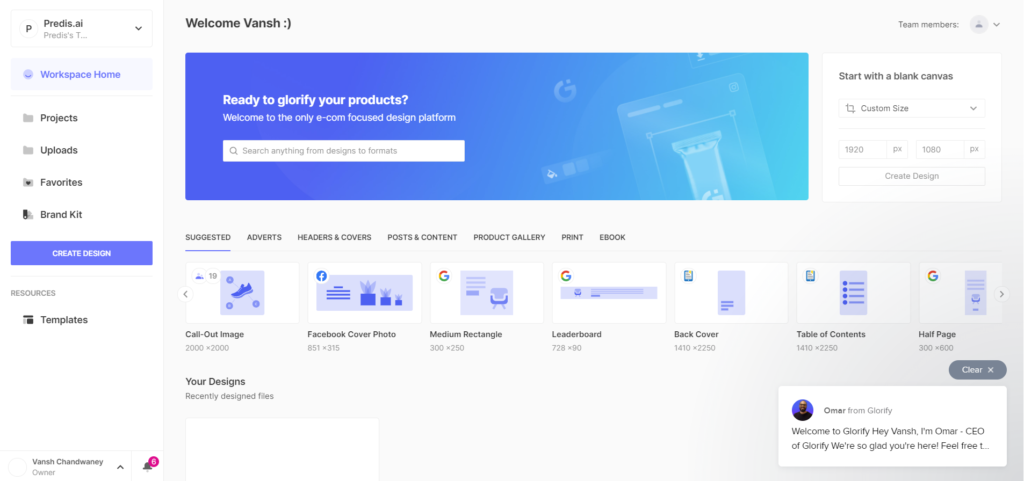 Only when you start editing your content, you will realize that Glorify is different from Canva.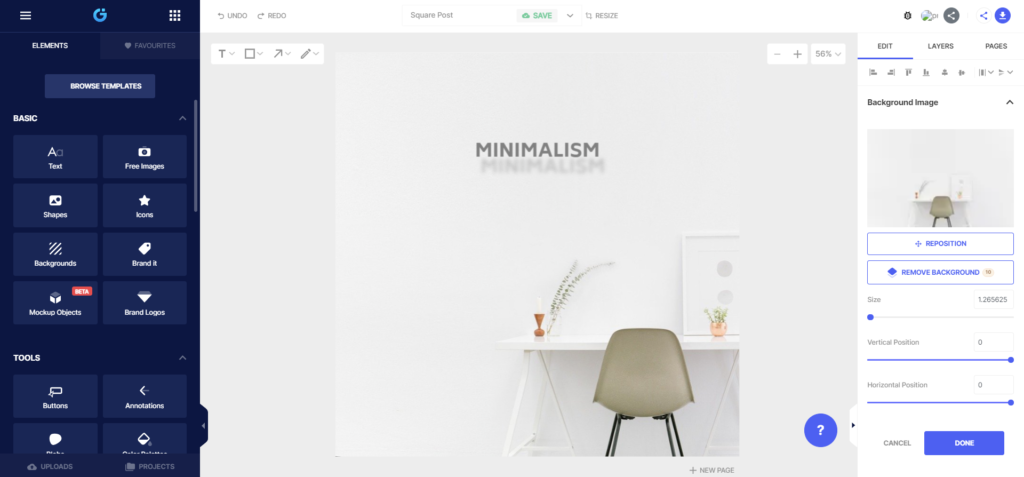 Canva and VistaCreate are graphic designing apps, used to optimize ease of use. whereas, Glorify gives you a bit more control with regards to how you edit the elements in your creative.
However, for beginner designers or solopreneurs, this becomes a bit of a hassle. For example, when I was trying to move the 'Minimalism' text box around, the editor didn't display grid lines when I was trying to find the horizontal center of the page. The option to turn this on was tucked away in the hamburger menu on the top left. Again, pro editors would know this, but beginners may not.
Also, everything in Glorify just feels a wee bit smaller. The buttons, the image/template previews, the icons, etc. all feel just a bit too small for comfort. On my 14-inch screen, I had to zoom in on Google Chrome to comfortably use Glorify.
Overall, Glorify comes with a bit of a learning curve, but you'll still be able to create quickly once you get the hang of it.
VistaCreate
VistaCreate's interface is very similar to Canva, and this only works in its favor. If you've been a Canva user, there is absolutely no learning curve when you switch to VistaCreate; you can just log in and start designing.
I like the simpler look of the home screen.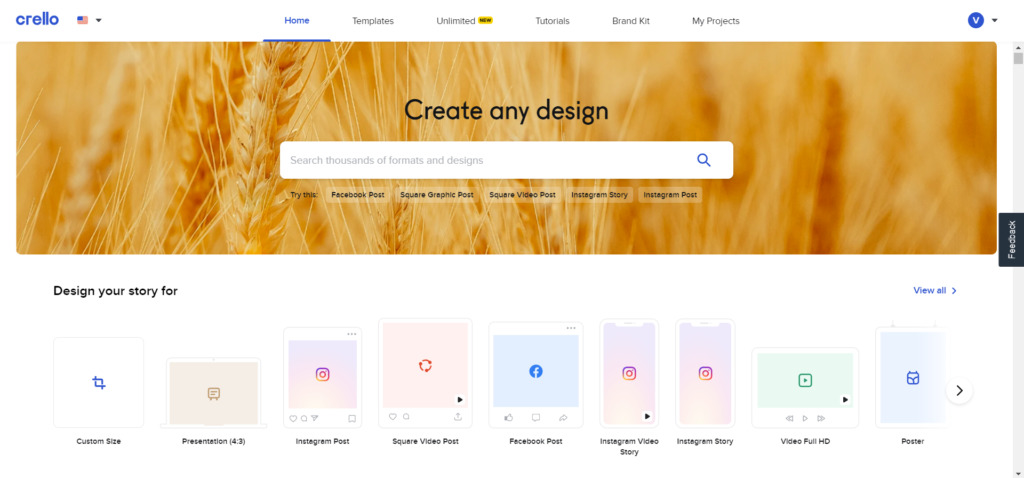 You can manually search for a format or template, or scroll horizontally to do so. The featured templates and designs are tucked underneath all this, and reveal themselves when you scroll down.
When you click on a format and start editing, the similarities become apparent.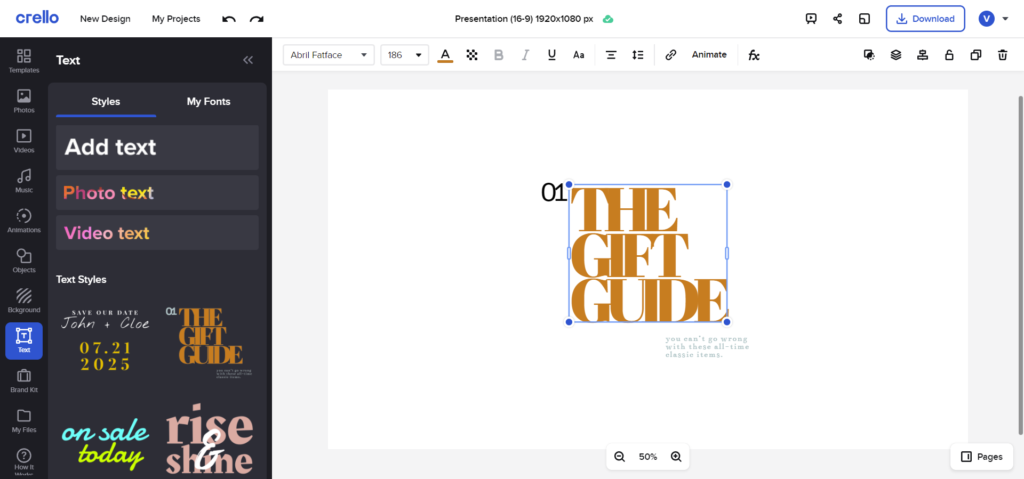 You can add all templates and elements from the sidebar, by simply dragging and dropping. All the editing tools are neatly laid out in a bar above the design preview.
There's not much to speak of here, then. Everything is where it is supposed to be, and you'll have no difficulties using VistaCreate.
Which graphic designing apps offer the best pricing: Canva, Glorify, or VistaCreate?
The prices of the software will be a major deciding factor for you, especially if you're a freelancer, or represent a small business. Hence, let's start by discussing pricing.
Canva
Using a free Canva account won't be a real hindrance to creating good content. Here's what the free plan includes:
Tons of free templates (250,000+ as claimed by Canva)
Tons of free photos and graphics
100+design types
Ability to invite members and collaborate on a project
5 gigs of cloud storage
A Canva Pro account will set you back by $14.99 a month, or $119.99 if billed annually. Apart from all the features in the free plan, this includes:
Over 100 million stock photos/graphics/videos/audio
Over 610,000+ templates
Ability to apply your brand kit to each creative easily
Background remover
Creative resizer
100 gigs of cloud storage
Social media scheduling
Glorify
Glorify free plan provides access to all of its design features for:
1 workspace
5 projects
3 users
Additionally, you can remove the background for 10 images per month, and use up to 10 premium stock images every month.
The Pro plan will set you back by $7.49 a month (billed yearly)or you can opt for a yearly plan of $89.88. Up to 5 users can use this plan, and you can create 5 workspaces and unlimited projects. Also, you get 100 background removal credits and premium stock images a month.
There's also a Business plan for $14.99 per month or $179.88 a year that can be used by 10 users. You'll have no restrictions on workspaces, projects, or any feature credits.
VistaCreate
Here's what you get with VistaCreate free pack:
Brand kit with colors, logos & fonts
100K+ graphic design templates
Over 1 million free images, videos, and vectors
Free fonts, animations, backgrounds and objects
Files and projects will get a space of 10 GB of storage
Allows to schedule and post to Instagram, Facebook, and Pinterest.
The Pro plan will cost you $10/month with a 14-day trial period in which you can cancel anytime. Over and above what the free plan offers, you get
Collaboration features
Ability to create branded content with Brand Kits
Background remover
1000+ premium design templates
70M+ videos, photos and vectors
Gives you unlimited storage
Provides with resizing feature
Get to make an HD-quality download
Provides sticker maker
Reviews from users of Canva, Glorify and VistaCreate
Canva, Glorify and VistaCreate, these three graphic designing apps that offer their users a unique set of tools and features. Furthermore, they are designed in such a way that people with diverse design needs can leverage them. In this blog, we went through some stunning features of these apps. You will notice there are some common features displayed in all three apps. Similarly, you will also find some unique features that make them stand alone in this race.
I have let you know how easily these designing apps can be used as well as their pricing plans. But of course, a good review and testimony will allow you to make a firm decision. Through these testimonies, you will be able to get honest and genuine feedback on the tools. Ultimately, in the end, you can get a clear picture of the best graphic designing apps in the market.
Here is what some people have to say about the amazing features of Canva
Canva is not only easy to use but it is also affordable for small business owners. People even love all the access provided through pro version.
So I guess Canva is the only app that provides thousands of free templates even in the free version. Not to forget the tutorials and tips you will receive in Canva to improve your designs.

People also love the in-build features provided by Glorify. Now some beginners might face a slight learning curve due to advanced features. But those who are professionals might catch on easily.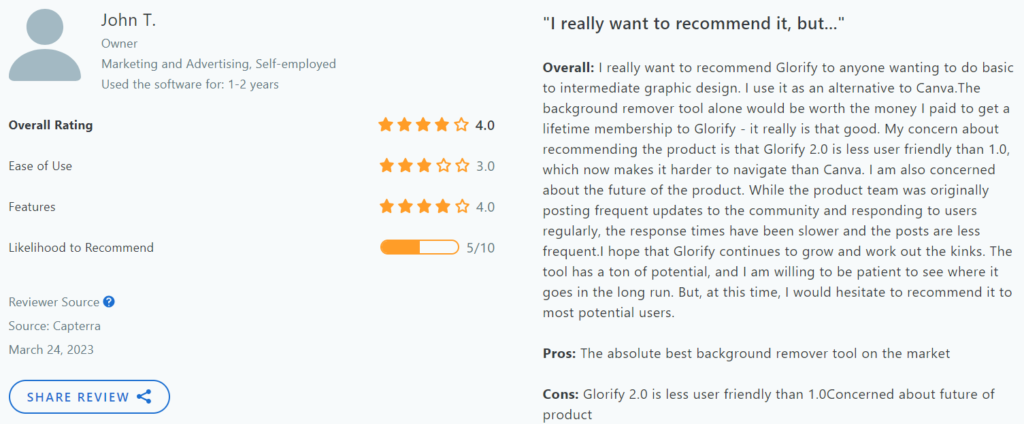 What we can observe through the reviews is that Glorify is indeed an amazing app. However, advanced features and the latest updates may not have an easy UI for beginners.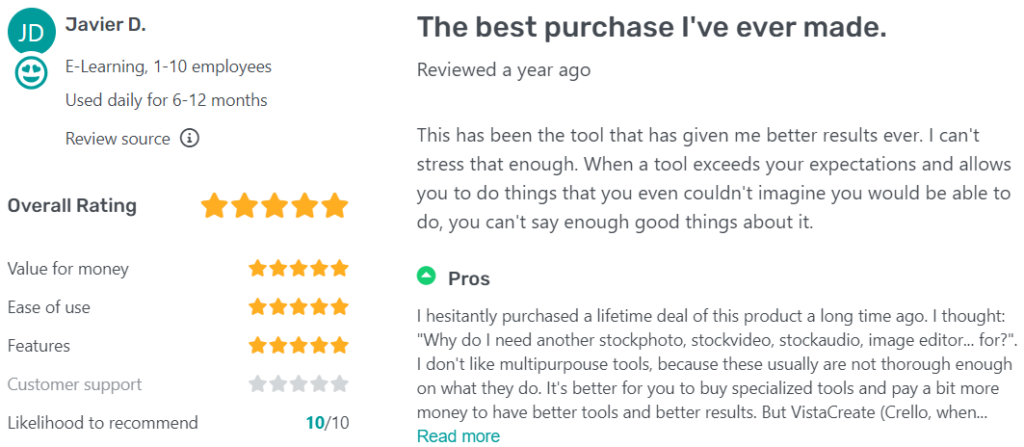 As we have seen earlier VistaCreate has some amazing features. The pricing may be attractive, but it depends upon the individual user. Everybody has got their own opinion.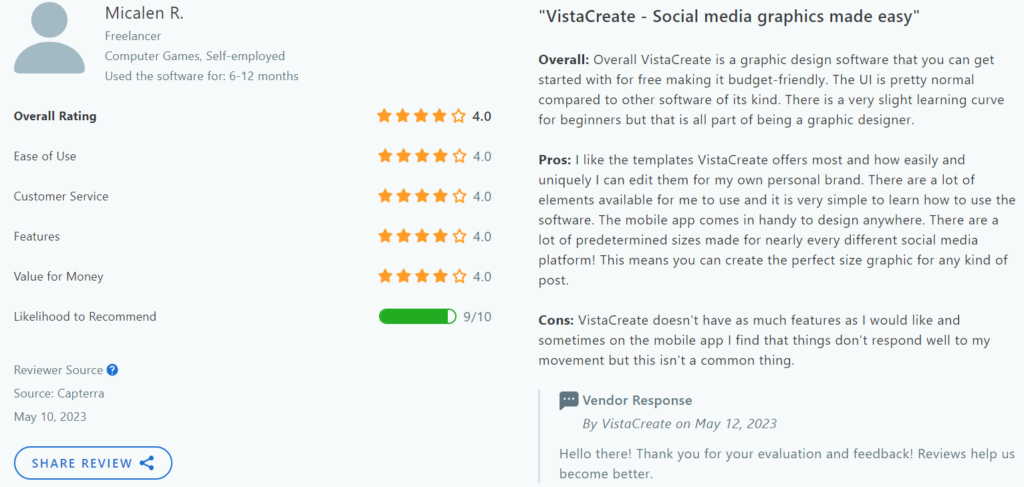 I guess the pricing for VistaCreate is quite amazing for users. But other than the price it may have a little less features as compared to the other two apps.
Final verdict
Okay, so where does that leave us? One thing is very clear to me, now that I've spent some time with each of these graphic designing apps; if you're simply looking for a platform where you can make good designs fast and without hassle, these are all great options. You'll be very happy with whatever you use, and you'll also be hard-pressed to find a better web graphic design app than these three.
However, if I had to pick a winner, it would be Canva. I've been using it for a couple of years now, and although the two new additions stack up well, they don't offer much more to prompt me to switch. I myself use a lot of templates and I have realized that nothing can beat Canva at it.
If you run an e-commerce store, I'd highly recommend you check out Glorify, though. You'll see that you have a bit more control over how your design turns out, and the e-commerce-related templates can be seriously useful.
Again, all these apps offer a LOT for the price (the free versions themselves are well-equipped), and they're all winners in my book!
---
You may Like,
The Ultimate Guide to Social Media Graphics Tools for Shopify