Even if you're new to social media management, you might be vaguely aware of a term called content calendar, and may even have peers or mentors that recommend you to use them. Here's why content calendars just make so much sense.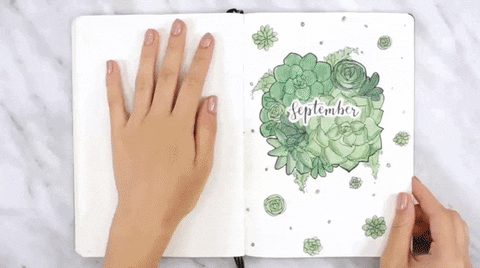 So, what is a content calendar?
Exactly as the name implies, a content calendar is a pre-planned overview of the content you are going to push out on your social media profile or blog, for a certain time period.
For example, if you're creating a content calendar for the month of June, you're deciding what content you'll be pushing out, and on what days of the month. This is the most basic form of a content calendar. Most growth-oriented social media managers will make a Facebook or Instagram content calendar with the following components.
Components of a social media content calendar:
Content idea: What your post is going to be about
Caption: Captions are carefully written out, with content that your target audience appreciates, and in their preferred style of writing/tone.
Post image: A lot of managers first decide on content ideas and captions, and then work on making creatives throughout the month, as this is a time-consuming process and should not be rushed.
Date of posting: Sometimes, posts may be related to the days they are pushed out on. This includes festive promotions. Of course, a content calendar is given its name because it includes arranging your posts by date.
Time of posting: Check insights on your social media handles about the times of the day when your audience is the most active. There is some debate over whether time of posting realistically matters, but when you're looking to maximise engagement, every bit counts.
Delivery channels: What you post on Instagram may be very different as compared to your LinkedIn posts. To avoid confusion during posting time, specify your delivery channels while making your calendar.
Expected performance: Performance-oriented social media managers sometimes include this as well. For example, for an Instagram content calendar, all the above components will be present, but along with an estimate performance figure (this could be in terms of likes, comments, impressions etc. ).
These are generally what people like to include in their blogging or social media content calendars, but it is by no means a hard-and0fast framework. Do what works best for you, and make an approach that helps you create quality content before time.
Why make a social media content calendar?
1. For posting consistently on social media platforms
Ask any seasoned social media marketer about basic tips for growing a social media profile, and 9 out of 10 will tell you that posting consistently is the most important one.
Just because it gets talked about so much doesn't mean it doesn't stand true. There are two main reasons why you should NEVER take a break from your posting schedule.
The first reason is that your followers want to keep seeing content from you. If they ever feel like you aren't living up to their expectations, the unfollow button is just a few taps away. Prospective followers are also usually more likely to follow pages that post interesting, fresh content regularly.
The second reason is perhaps more important, as it has to do with Instagram's algorithms. A lot of their algorithms for organic reach still remain a mystery, but one factor it takes into consideration has always been crystal clear: the posting consistency of an account.
By posting regularly, you are signalling to the algorithm that you're actively making an effort into growing an account. This is why posting schedule is a major factor, and an account with a regular schedule will always beat a similar account with an irregular posting schedule when it comes to organic reach.
Unable to keep up a posting schedule? Let Predis.ai help you out with that.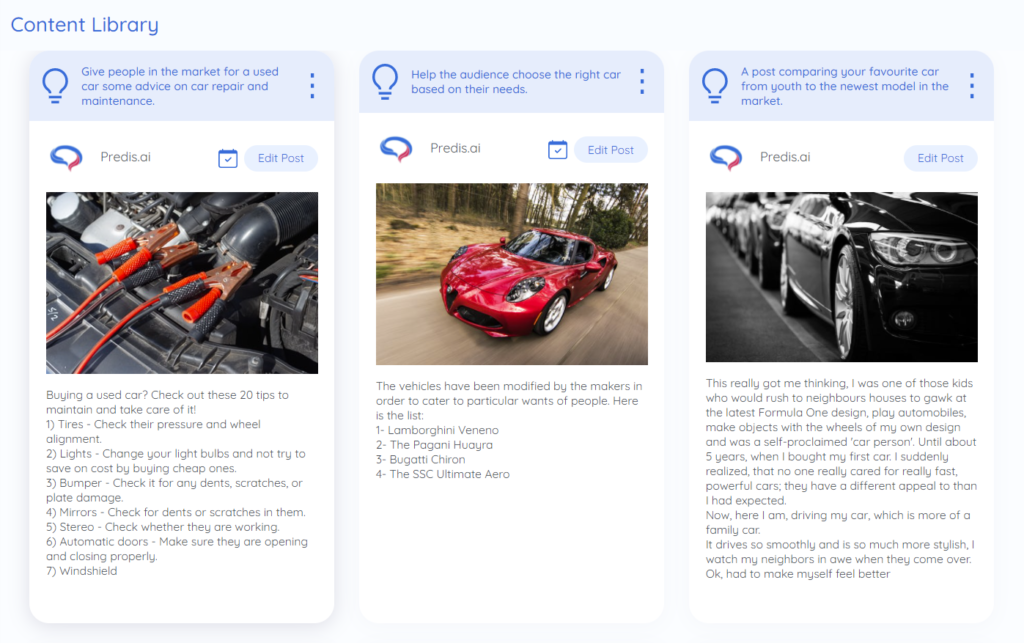 Just provide a one-liner about your business and target audience, and Predis.ai will come up with post ideas for you, that consist of captions and creatives!
In the sample example above, I wrote "automobile reviews" as the description as "automobile enthusiasts" as the target audience. It's that simple! The powerful AI-generated the above post ideas; they're all fully useable by themselves, and extremely diverse.
You can choose to generate individual post ideas or generate a full-fledged content calendar for yourself. More on that below!
2. Posting content should be planned alongside other elements of your marketing strategy
If you're looking after the social media handles of a brand, you might be aware of the brand's overarching marketing goals/objectives for the near future, and of the ways in which these are planned to be achieved. There may be upcoming promotions/events etc and you might be required to develop content around these.
When you decide to plan out the content carefully instead of just 'winging it,' the content will naturally perform better and is more likely to contribute to the marketing objectives. This way, there is more time to create the content, but there is also more time to pick more brains and build on each other's ideas. You also get an overarching snapshot of how all your content blends together beforehand. This way, you can assess how well it is contributing to your brand identity.
3. A neat, organised-looking feed
When you're creating content in the spur of the moment, it can be easy to forget to assess how it goes with posts before or after it. Your feed can end up looking mismatched and unprofessional. When you're building an identity for your handle, or just looking to gain more followers, this can be disastrous. Seeing an Instagram grid that has colours and ideas randomly thrown around is a major put-off. Good luck increasing your follower count if your feed looks like this!
See how classy the sample feed above looks? I'd follow this page in a heartbeat, and so would many other fashion/skincare enthusiasts. Using beige and ochre with a deep olive green just seems to work.
So, an Instagram content calendar can help you make a cohesive, organised-looking feed. Work on an overall theme or mood, and design your content around this for a perfect-looking feed!
4. No last-minute blunders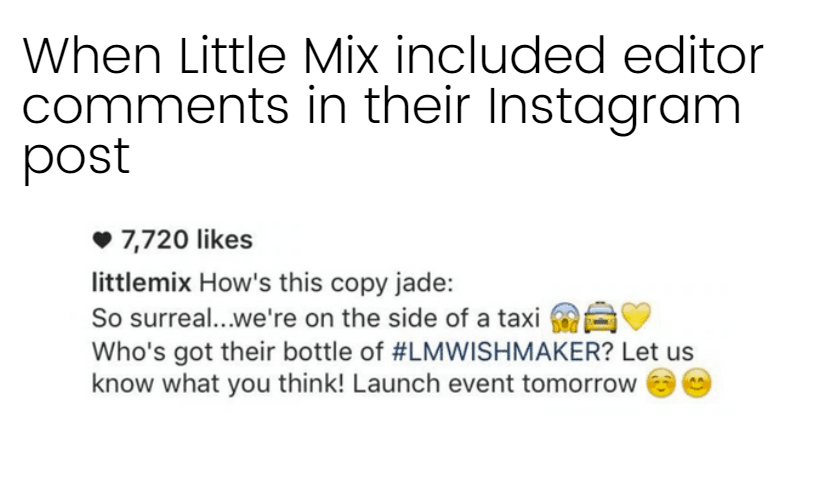 Creating in a rush, and posting without first proofreading could lead to major blunders. You could miss out on adding a bit of content, fail to correct typos, or use incorrect hashtags. These errors may seem small, but a lot of people might notice them before you realize. This would create negative impressions of your brand (as a general rule in marketing communications, it takes 10 positive impressions to correct just one negative one).
Apart from this, you may also simply forget to post on one day. It is well-known that sticking to a schedule and being consistent ties in directly with Instagram/Facebook's algorithm for reach, so this little blunder could severely impact your overall social media performance. To avoid this, invest some time at the beginning of every week or month to make a content calendar!
5. Extra prep-time for big festivals and events
For a lot of occasions throughout the year, you wouldn't want to create your Instagram posts in the spur of the moment. For example, a lot of brands strive to make Christmas-y content all throughout December, and integrate this with their wider marketing activities (sales, discounts, contests etc.). All of this requires tons of planning.
This may not be evident at first, but you'll definitely realise this once you actually sit with your creator tools to start making the posts.
Developing a content calendar before-hand can help you create quality content that your followers would want to see for events and festivals they partake in.
Predis.ai's AI-generated Content Calendar
If you manage a social media profile, you'll be used to getting stuck in ruts and writer's blocks by now. You would also have long phases during which you have no idea where your profile is headed.
You can use a content calendar assistant to change this. Predis.ai's Content Calendar tool automatically generates a content calendar with post ideas, creative ideas, and captions appropriate for YOUR handle and audience, with the power of AI. Just 3 simple steps and you can get fresh, unique ideas curated for you.
Step 1:
After logging in and navigating to Content Calendar, you will have to pick your industry from the drop-down menu. Subsequently, you would need to add a one-liner about your business. For this example, I have picked a fictitious women's clothing company.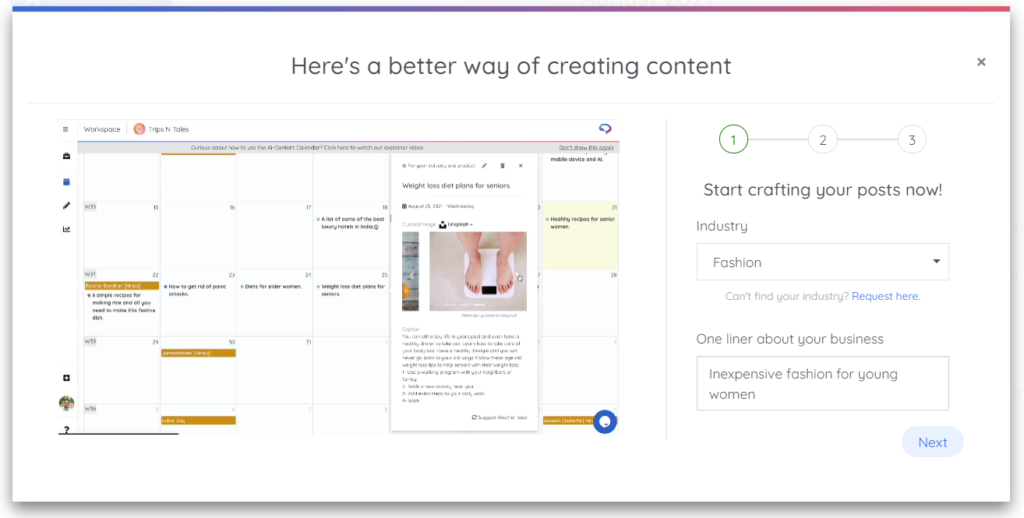 Step 2:
Next, Predis requires a description of your product and your target audience.
Step 3:
In the final step, you can choose the number of days you want to generate a calendar for and the number of suggestions per day.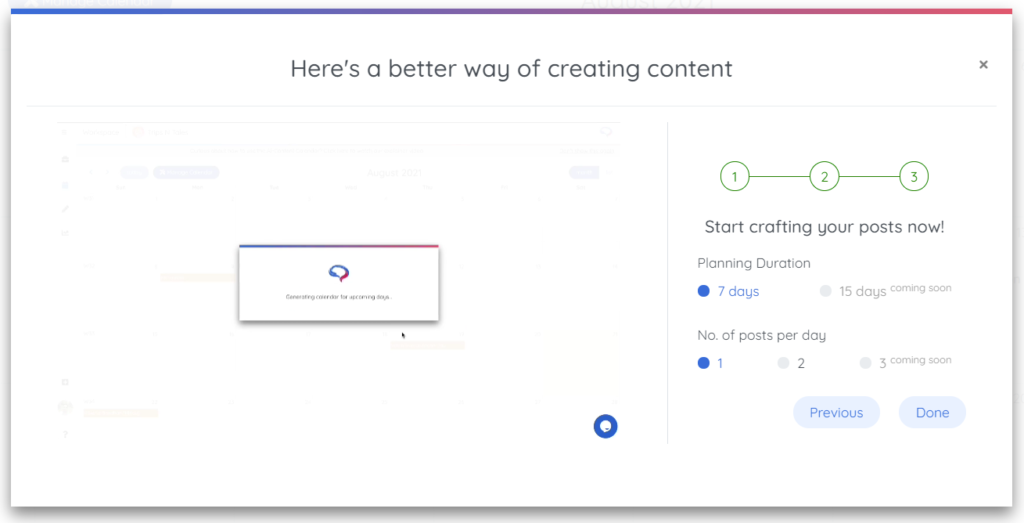 That's all! Adding these details to the app gave me the following result: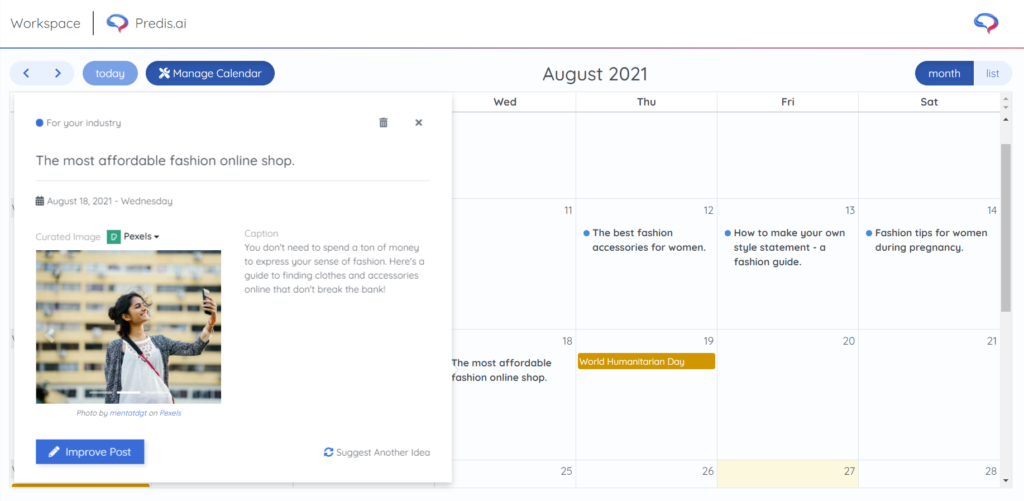 Getting inspiration for your social media content calendar is that simple. You can use these captions and images as they are, or leverage them to generate bigger ideas of your own. You can also generate more ideas if you aren't fond of some of them, and reposition them to other dates.
---
The bottom line is, you should seriously consider creating a content calendar if you're looking for any growth on your social media handles or blogs. If you're struggling to make one, Predis.ai is here for you! Apart from proper planning, it is also important to get the basics bang on, like writing a good Instagram bio.
If you've experimented with content calendars before, do let us know what worked for you and what didn't!