In today's digital world, where there's a rapid change in trends, it is hard to find visual content that works perfectly for your business. To address this challenge, many companies turn to design tools like Crello, enabling them to easily create stunning and engaging graphics.
Crello, now called VistaCreate is a popular online graphic design tool allowing users to quickly and easily create professional-looking visuals. However, it isn't all sunshine and rainbows with Crello, as it may not be the best fit for everyone due to its limitations, pricing, or interface. In this article, we will explore the top 10 Crello alternatives businesses can use for their graphic design needs. These alternatives are ideal for creating high-quality visuals without breaking the bank or sacrificing quality.
From the robust Canva to the user-friendly Adobe Spark, we will take an in-depth look at each alternative's features and pricing to help you choose the best tool for your business needs. So, if you're looking to up your graphic design game or explore new design tools, keep reading to discover the top 10 Crello alternatives.
With this in mind, let's get started!
What is Crello or VistaCreate?
Crello is a popular online tool that enables businesses and individuals to design professional-quality graphics and elevate their social media presence. It offers a wide range of features, making it easy for users to design anything from social media posts to presentations, business cards, and more.
Crello is perfect for beginners who want to design their own graphics without prior design experience, as it has a vast library of pre-designed templates to create graphics. Furthermore, users can directly upload and schedule posts for social media channels.
Some of the top features offered by Crello / VistaCreate:
100K+ Unique templates
Good variety of import and export options
Decent stock images
Allows to add music and create animations
Crello also offers a variety of editing tools to get you the perfect image.
Along with these, Crello also offers a variety of other editing tools.
Crello/ VistaCreate Pricing Plans
Starter plan
The starter plan offers a variety of options and is great for beginners to play around with to get a brief idea of how Crello works. It includes various tools like a scheduler and logo maker, along with 100K design templates, free fonts, and more.
Pro Plan
Crello's pro plan is priced at $10 per month and comes with a team account, brand kits, version history, and other great features. Furthermore, it offers unlimited storage compared to the 10 GB storage offered in the starter plan.
Crello or VistaCreate Alternatives
Crello is a popular design tool, but it may not always be optimal for every individual or business. We have compiled a list of the top 10 Crello alternatives offering comparable or superior features and capabilities to suit various design needs.
1. Predis.ai
Predis.ai is the one-stop for designers, businesses, and individuals looking to create high-quality designs. With its user-friendly layout, anyone can create content for social media.
Predis users just need to enter a text prompt in reference to idea of the post and your social media post is ready. Users can make further edits to the post if required. It also offers various tools for designing posts, writing captions, and searching hashtags.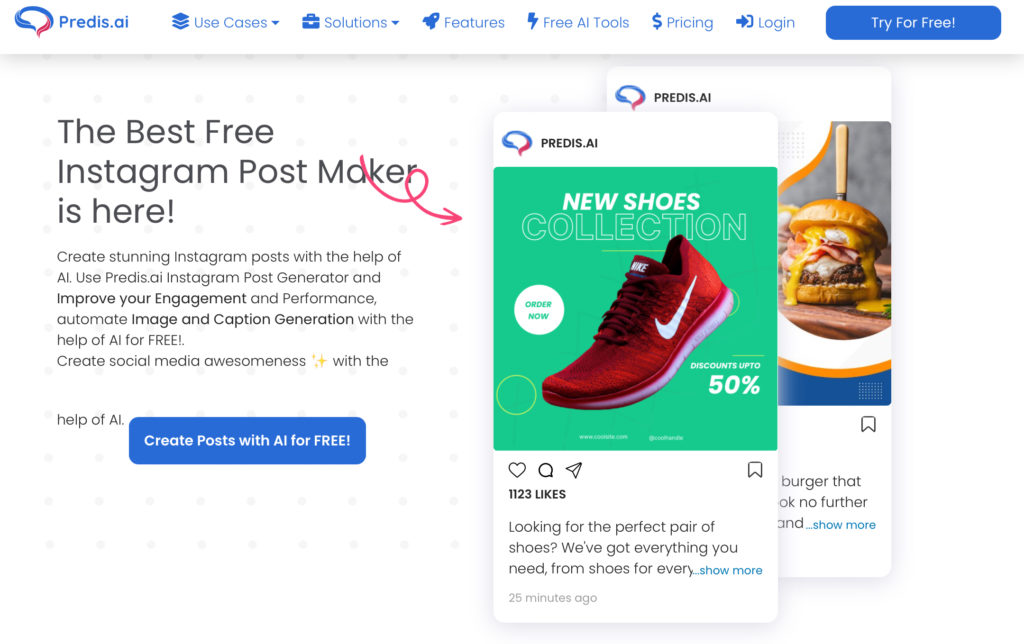 Below are some features of Predis.ai graphic design tool:
Predis offers a content calendar where you can schedule your posts in advance
It has a wide range of templates for videos, posts, carousels, and posts
Users can create designs that align with brand identity
Predis also offers a competitor analysis tool.
Pricing
Predis.ai offers four economical plans. 
The free plan can be used by only one brand and allows 15 AI generated posts and 10 competitor analysis runs. Images will have a watermark.
The solo plan costs $20/month and offers 120 AI-generated posts, and 60 competitor analysis runs. The plan gives access to two users.
The starter plan, priced at $40/month, offers unlimited posts and analysis runs and can be used by two brands simultaneously.
The agency plan includes all the features of the Starter plan and allows six users and seven brands
2. Canva
Canva is an easy-to-use online design tool that provides users with a range of features and templates to create stunning graphics, documents, presentations, and videos. It offers various design elements, including photos, illustrations, icons, fonts, and more, making it a one-stop shop for all your design needs.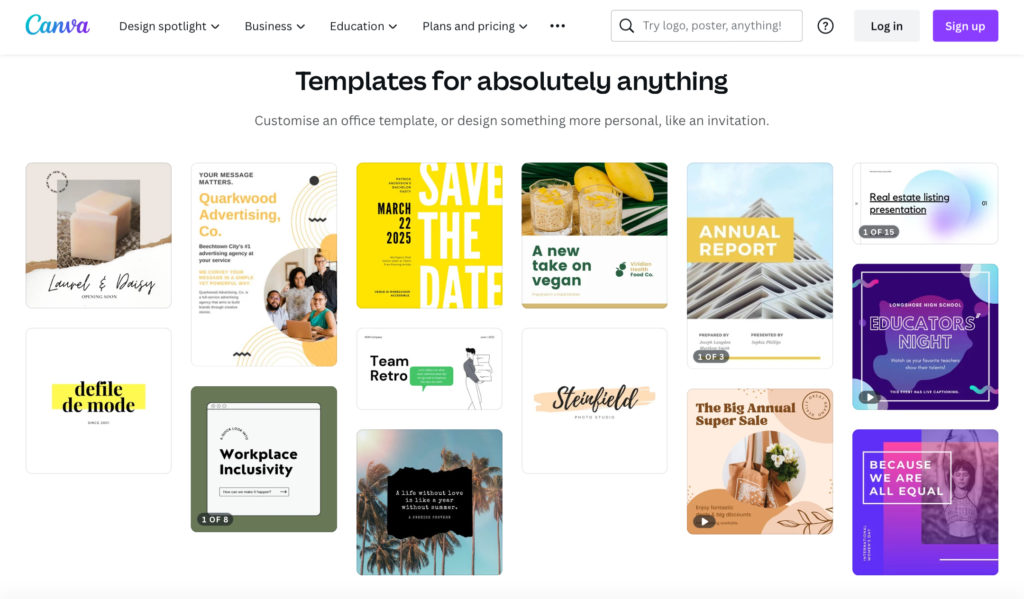 Whether you're a marketer, blogger, entrepreneur, or student, Canva makes it easy to create eye-catching designs with its intuitive drag-and-drop interface. You can customize templates to match your brand's color scheme, add your own images and text, and even collaborate with team members in real time. Here are some of the features of Canva:
Offers over 100,000 customisable templates
Provides users with a vast library of design elements
Allows users to create content that aligns with their business
Users can invite team members to collaborate on designs in real-time
Canva has a total of three pricing plans; they have a free plan which comes with a lot of templates, photos, and designs to work on. Next is their Canva Pro, which offers premium templates and tools like the background remover, etc. Canva Pro is priced at $74.95 per year. Finally, Canva Teams is specially designed for corporates and businesses to let employees collaborate. It is priced at $119.99 annually.
3. Figma
Figma is a powerful and versatile design tool offering various features for designers, developers, and product managers. It's cloud-based collaboration, prototyping, design components, design libraries, plugins, and vector editing make it an essential tool for any design team looking to work efficiently and collaboratively on design projects.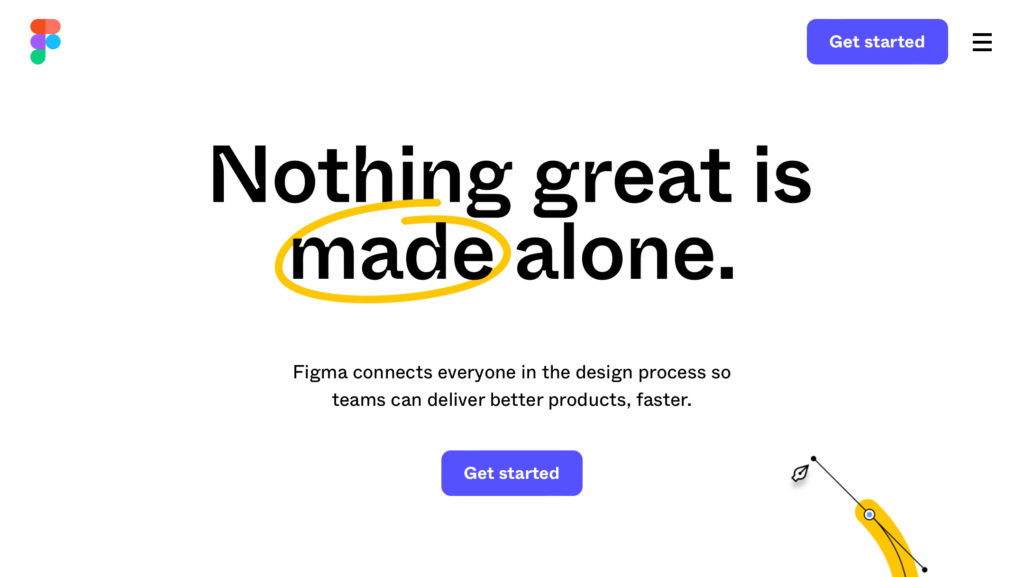 It gained popularity in the design community due to its powerful features and ease of use. Here are a few features you cannot miss out on!
Provides design component features and design libraries
Allows user collaboration
Includes a large collection of plugins that can be used to extend its functionality
Figma has four pricing plans, starting with the free plan, which is perfect for beginners. The professional plan costs $12-15/month, free for students and educators. The organization plan is priced at $45/month. The enterprise plan costs $75/month.
4. Pixlr
Pixlr is a powerful and versatile photo editing tool that offers a range of benefits for both personal and professional use. It has an easy-to-use interface, a range of editing tools, advanced features, online and mobile access, integration with other tools, and social media integration.
Pixlr has a library of templates for Youtube banners, Facebook posts, social media, marketing, and more. Some other features include:
It has a Photomash Studio to remove backgrounds from your photos
It's a cloud-based tool that automatically saves projects
Pixlr can integrate directly with social media platforms
Users can also create professional animations
Pixlr has a free plan, and four paid plans. Plus plan costs $1.99/ monthly; the premium plan is $7.99/ monthly. Lastly, the team's plan costs $12.99/ annually.
5. 99Designs
99designs is a platform for graphic design services, offering a range of design options to businesses and individuals. One of their newest offerings is their AI-powered tool, which uses machine learning to assist in the design process.
Its high-quality and user-friendly features make it a valuable addition to the 99designs platform. With the ability to quickly generate customized designs based on user input and feedback, it is a tool worth considering for anyone looking to streamline their design process.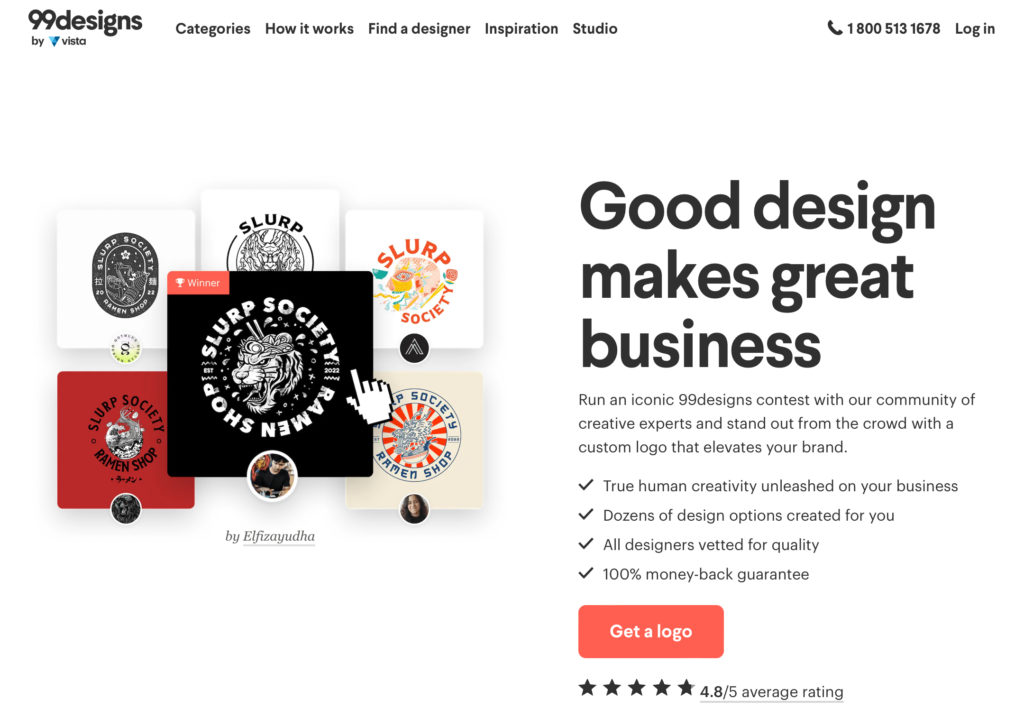 Here are some of their features:
Uses machine learning to quickly generate design options based on user input and feedback
Allows users to input their own design preferences for customized designs
Generates design options in a matter of seconds, allowing users to quickly review and select their preferred design.
99Designs has these pricing plans: Bronze, which is priced at $299. The silver plan costs $499, and the Gold plan costs $899. The last plan, the Platinum plan, is priced at $1299.
6. PicMonkey
PicMonkey is a highly versatile photo editing and design tool that offers numerous benefits for both personal and professional use. Its intuitive interface, robust editing tools, advanced features, collaborative and sharing capabilities, online and mobile accessibility, and cost-effectiveness make it a comprehensive solution for anyone seeking to create high-quality visuals.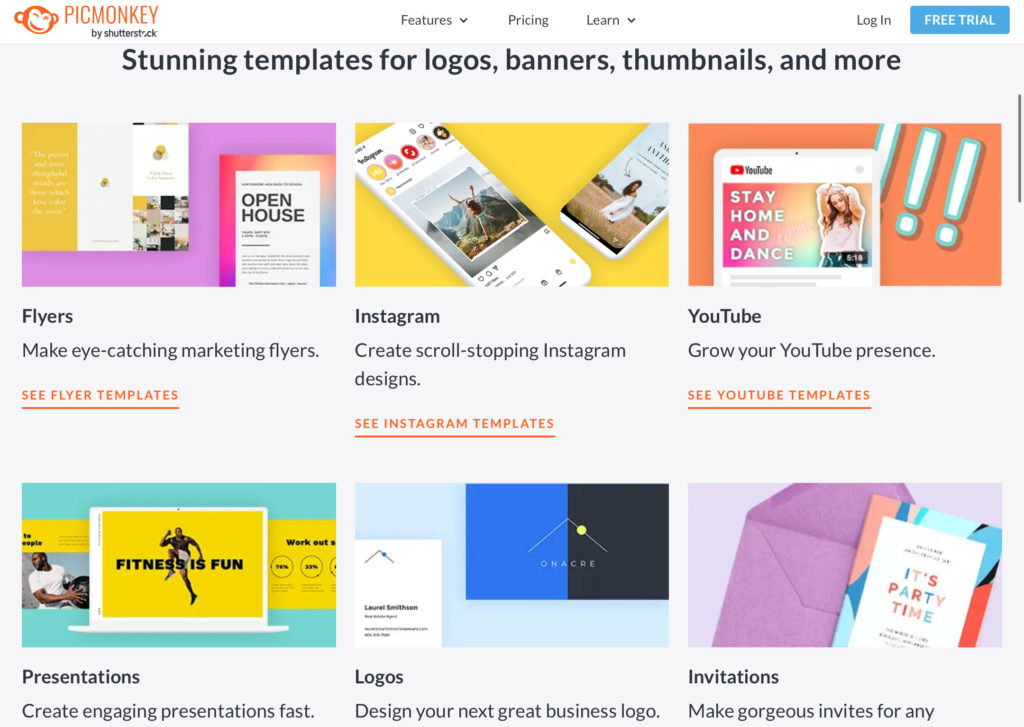 PicMonkey offers a range of features and tools to create stunning visuals for social media, marketing, and personal use. The following are some benefits of using PicMonkey:
A very user-friendly interface
Wide range of editing tools, templates, and themes
Allows to collaborate on projects
A cloud-based tool, so projects are automatically saved
PicMoney has free trials on its Basic Plan, priced at $72/ annually, and Pro plan, priced at $120/ annually. But it doesn't have a free plan that one can use to get a brief idea of the tool. The third plan is the Business plan which costs $228/ annually.
7. Affinity Designer
Affinity Designer is a UK-based design software that offers a range of features for creating stunning designs for print, web, and digital media. Its user-friendly interface, vector design capabilities, range of design tools, advanced features, seamless integration, cost-effectiveness, and online tutorials make it an excellent choice for beginner and advanced designers.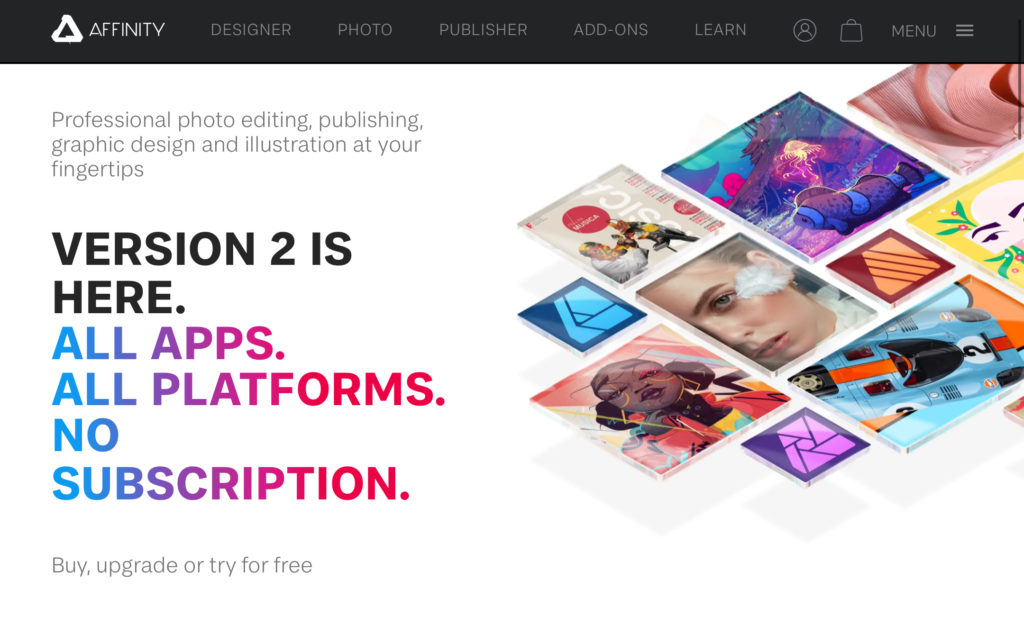 Given below are some of its features:
It has vector design capabilities and design tools
Includes advanced features such as live gradients, layer effects, and vector brushes.
Offers a range of online tutorials and support
Seamlessly integrates with other Affinity products, including Affinity Photo and Affinity Publisher..
Affinity Designer's one-time costs vary from device to device. For a Macbook/ Windows, it is $60.54; for an iPad, it's $24.21.
8. Over
Over by GoDaddy is a highly intuitive and user-friendly design tool that provides a host of advantages for individuals and businesses alike. Its sleek and easy-to-navigate interface, combined with a vast library of professionally designed templates, makes it an excellent option for those seeking to create visually appealing designs with minimal effort.
Following are some features:
Comes with a wide range of templates
Customizable design elements
Offers video editing abilities
Allows easy collaboration on projects
Over has a free and a Pro plan for their users. The pro plan costs $69.99/ annually.
9. Design Pickle
Design Pickle is an excellent choice for businesses creating professional designs that reflect their unique brand identity. Additionally, it provides a cost-effective solution for creating high-quality designs without hiring in-house designers.
Users can send design requests which are entertained by a dedicated team of designers. It is an essential tool for businesses looking to create high-quality designs without hiring an in-house designer.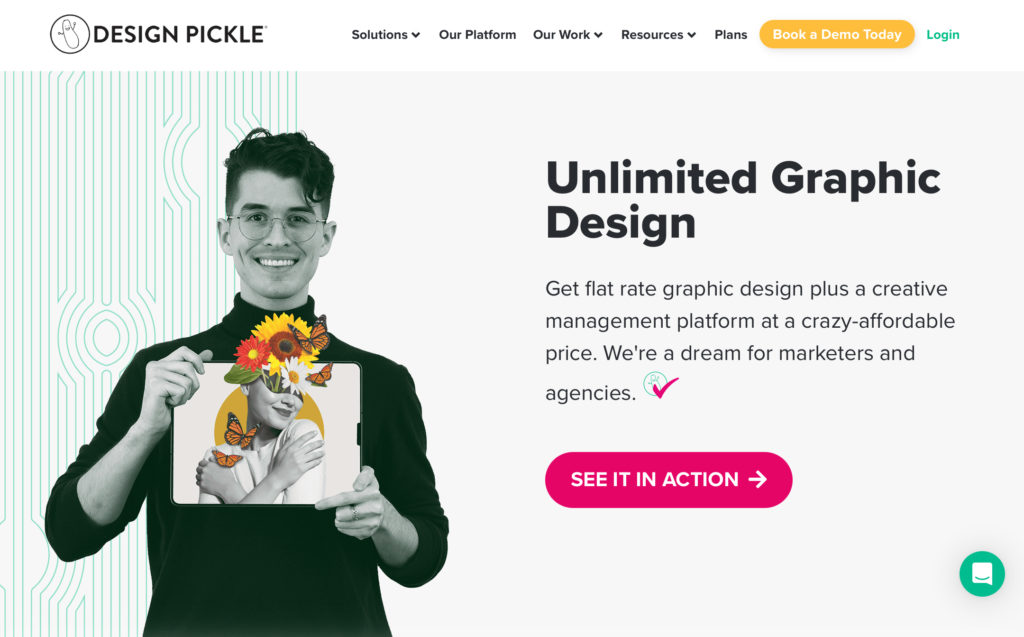 Here are some of it's features:
A dedicated team of designers for the customized design process
Unlimited design requests and fast turnaround time
Provides quality assurance
Offers a range of collaboration and communication tools
In addition to their quality services, they have three pricing plans. Their Graphics plan is for $499/ monthly; Graphics Pro plans cost $995/ monthly. Design pickles' Premium plan is priced at $1695/month.
10. Glorify
Glorify is a popular choice for businesses that sell products online, as it provides a range of templates and design elements specifically tailored to e-commerce needs. It offers e-commerce-specific design elements, customizable design elements, collaboration, and sharing options.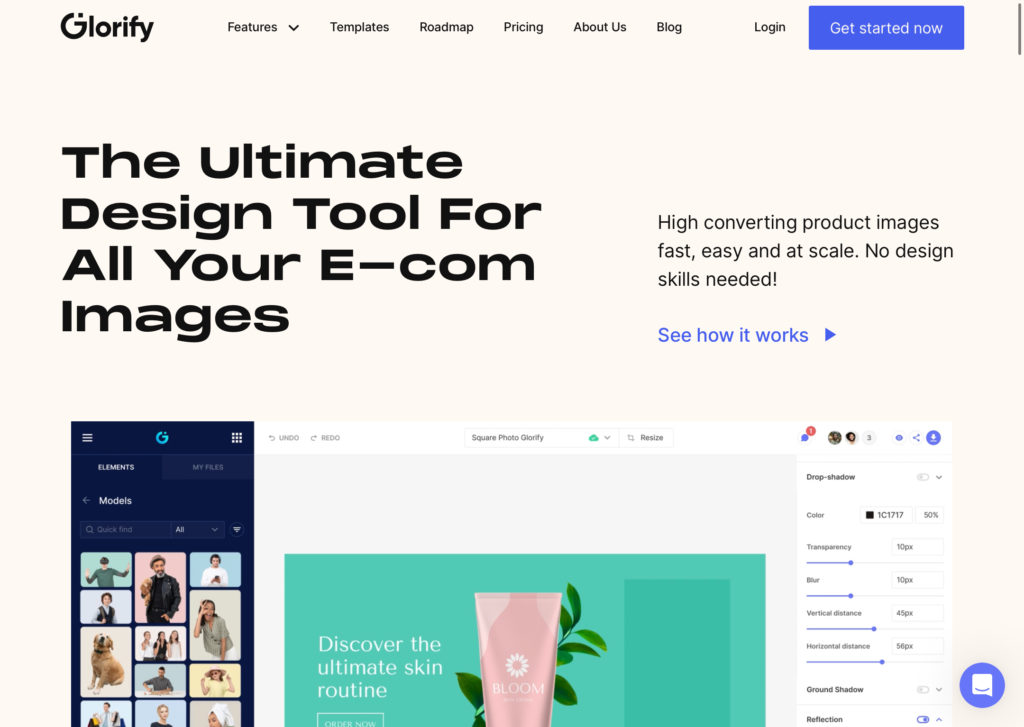 Given below are it's features:
Offers a range of design elements specifically tailored to e-commerce needs
Further allows users to customize design elements to align with their business.
Advanced editing capabilities include background removal, color correction, and product mockups.
User-friendly interface
Glorify offers a Free Plan, a Pro Plan for $29.99, and a Business Plan for $74.99 annually.
Wrapping It Up
There are many great alternatives to Crello/ VistaCreate that can offer similar or even better features and functionality. Whether you're a graphic designer, marketer, or small business owner, there's a tool out there that can help you create stunning visuals for your brand.
When it comes to choosing the right alternative to Crello/ VistaCreate, it's important to consider your specific needs and preferences. Do you need a tool that offers more advanced features like the trendy design or video editing? Or do you prefer a simpler, more user-friendly interface? Once you've identified your priorities, you can start exploring the various options available.
One thing that all of the alternatives have in common is their commitment, such as helping users create beautiful, professional designs quickly and easily. Whether you're creating social media graphics, blog post images, or marketing materials, these tools can help you achieve your goals with minimum hassle.
You might also like
Top 10 Social Media Marketing Software for Small Business