Photography has long been an essential component of design. We've become accustomed to seeing corny stock photos of people in suits shaking hands. Not only are many of these stock photographs garish, but they are also expensive. Because human brains digest visuals 60,000 times quicker than words, beautiful photos are critical for capturing attention and conveying your message. But what if you don't have enough graphic content? Get it for free from one of these websites that offer free stock photos!
Finding free stock photos for use on your website or in your next giveaway can be difficult. Simply searching for free stock photographs or royalty-free images may lead you to a plethora of duplicitous websites that demand payment to obtain any of their images. You naturally have the question, How to find good stock images? We've done the legwork for you and gathered this collection of 20 sites where you can download free stock photos that are covered by the Creative Commons Zero license or a comparable license, allowing you to use any image you find without seeking permission or giving attribution, even for commercial purposes.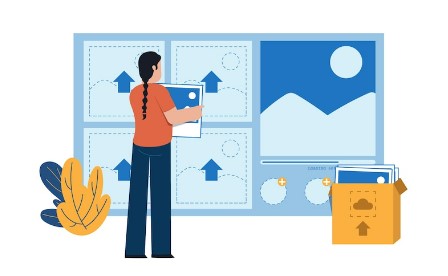 Fortunately, there is an increasing number of websites offering great stock photographs cropping up all over the internet. They're also completely free!
We've compiled a list of fantastic places for free stock photographs in this blog.
How to identify whether a stock photo is free to use?
It's critical to know if a stock photo is permissible to use before embarking on a shopping trip. Accidental copyright law violations could have major repercussions for your brand or even you personally if you distribute material that doesn't grant you commercial rights.
And regrettably, claiming ignorance in court will not be accepted. So, seek descriptions that are clear and include phrases like "commercial use authorized", "commercial use and changes allowed", or "no known copyright restrictions" on the website where you may buy stock photos.
How to find good stock images for free?
1. Stocksnap
StockSnap.io features a wide collection of high-quality free stock photographs and images. The site also features a very useful search option that makes browsing through the thousands of photographs provided extremely simple. Furthermore, the site tracks views and downloads to help you locate the most popular photographs.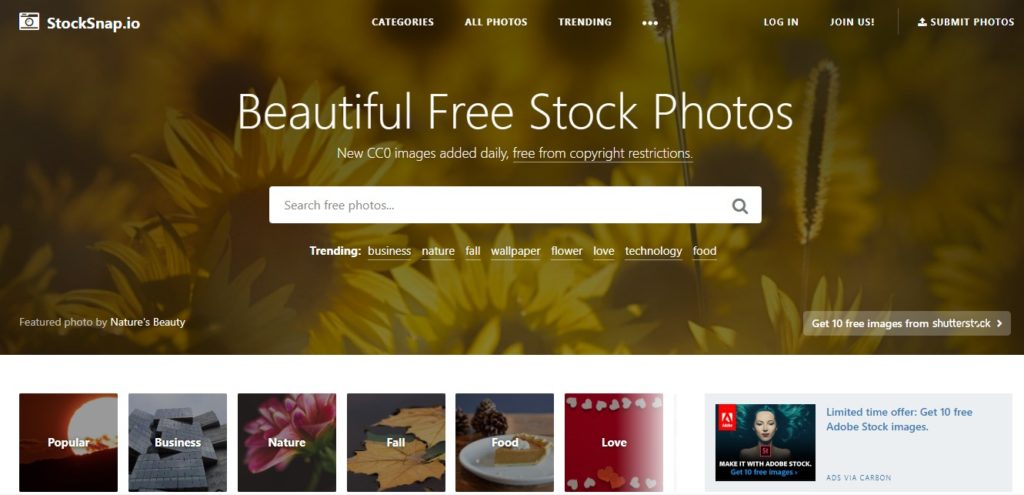 StockSnap adds hundreds of photographs every day, and all photos are released under the creative commons public domain license, so no credit is required.
2. Predis.ai
Predis.ai is an AI-based content-generation tool for social media. It provides a stock image search tool that is free to use. The tool finds the best stock images on the internet and presents them to the user. The AI can understand the query entered by the user and can understand the intent and true meaning behind the query.
For example, when you search for 'kids playing in Christmas' in both Unsplash and predis.ai stock image search, these are the search results,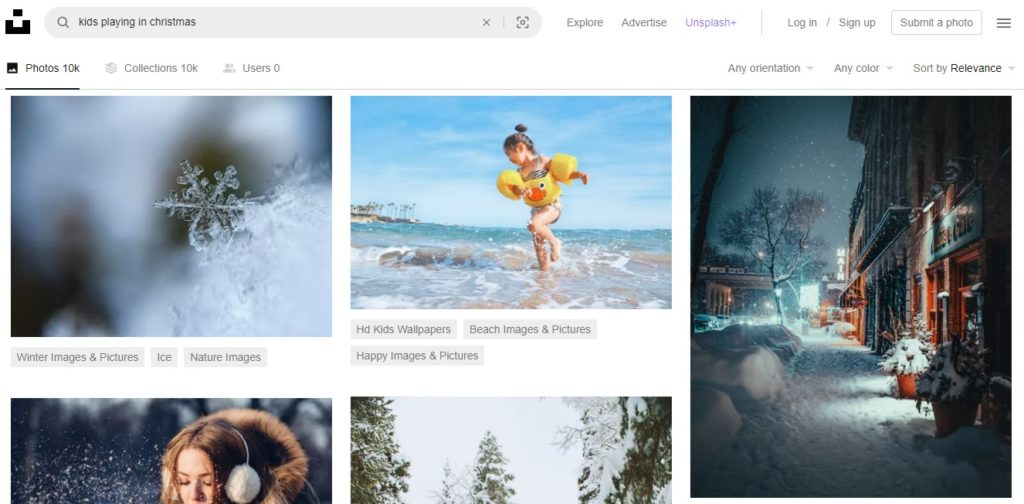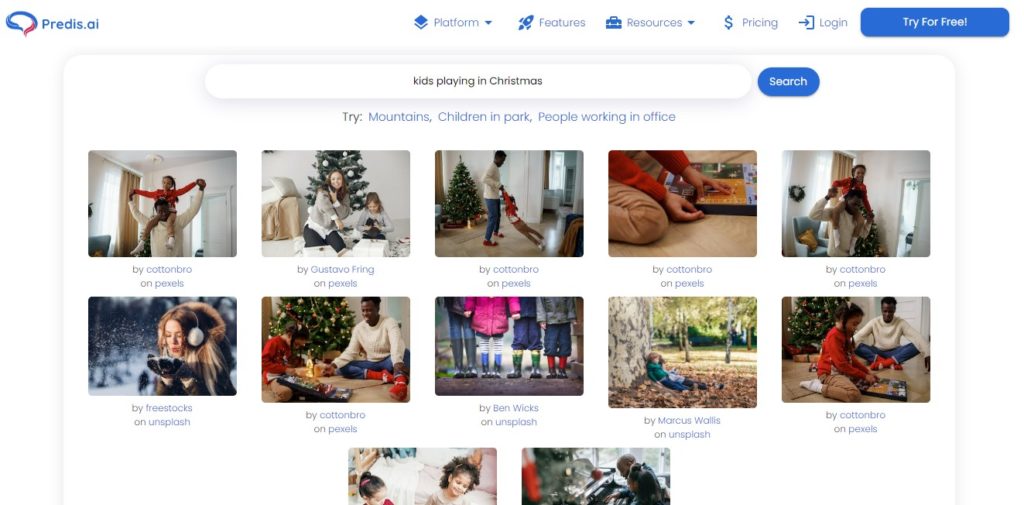 It can be seen that Predis.ai's Stock Image Search is able to understand the query better and the results given are more relevant than any other tool.
3. Vecteezy
Vecteezy features a large selection of high-quality free stock pictures. There are a few features that distinguish this website from other stock photo websites. For starters, the site now features a more powerful search engine that allows you to filter photographs by color, orientation, style, number of people, model age, and other factors. Second, if required, Vecteezy provides signed model and property releases for all free photos. This safeguards user (and their designs) from any legal liabilities – a fact that many other free stock photo sites ignore. Finally, employees of Vecteezy's content team manually examine each photo submitted for quality. This implies that their photo collection has been properly curated, providing a high standard of quality.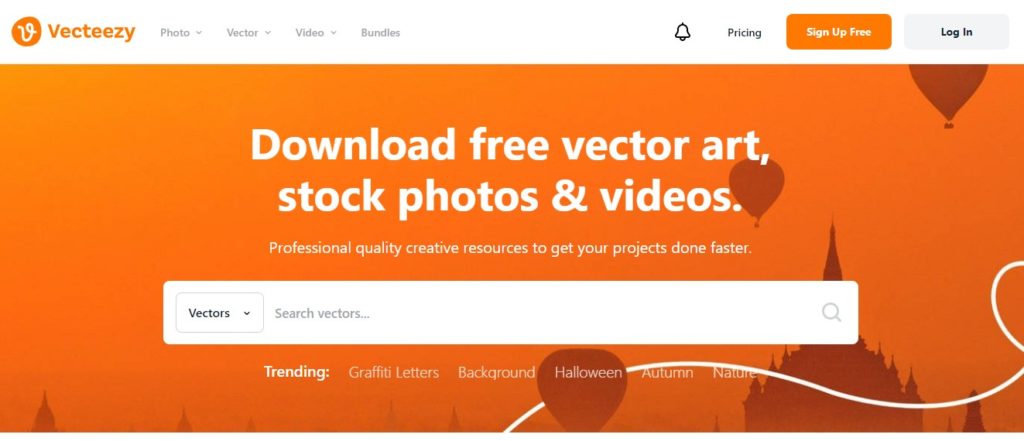 4. Burst
Burst is a Shopify resource that offers free stock pictures to merchants. Some photographs are Creative Commons CC0 license, while some fall under Shopify's own photo license.
Burst was created to assist entrepreneurs in creating better goods, websites, and marketing campaigns. The majority of the images are original shots produced in-house and are centered around popular business categories ranging from DIY beard oil to Aliexpress LED sneakers. There are also more generic images available.
5. Pixabay
This website provides a massive archive of high-quality photos. It's a little more focused on business and marketing than Unsplash, which is typically beneficial for content marketers and bloggers. Another significant benefit of Pixabay is that they provide free vectors and graphics.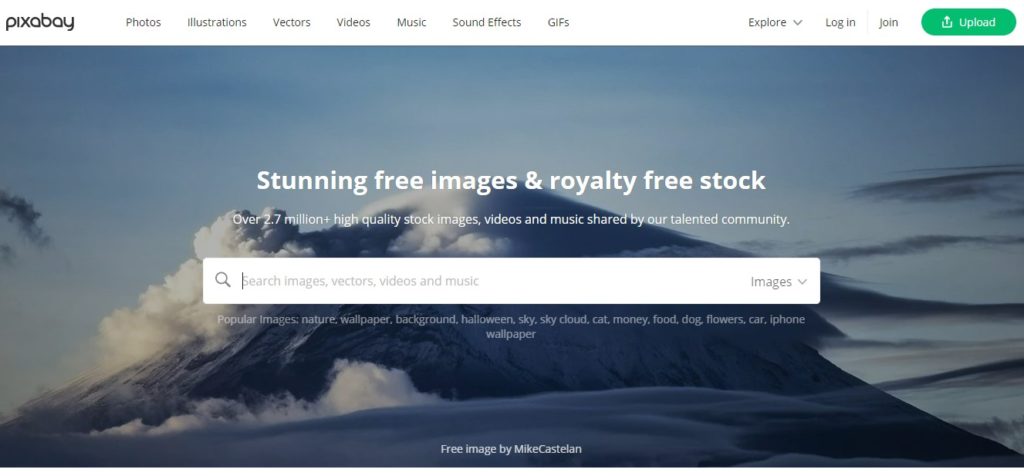 6. Kaboom Pics
Kaboom Pics provides a diverse range of high-quality free stock pictures, including abstract, city/architecture, fashion, food, and landscapes. Photos can be used commercially, but they cannot be sold or redistributed.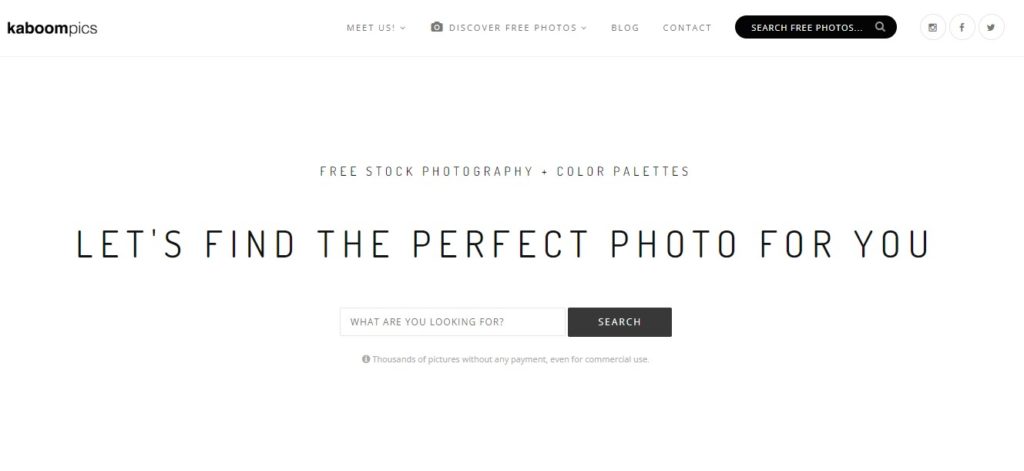 7. Unsplash
Unsplash has a decent collection of stock images that can be used by bloggers, and marketers. The images are mostly photographs, they are well suited for use in blogs and websites. The images are free to use, although every image has its distribution rules defined when you open it on their website.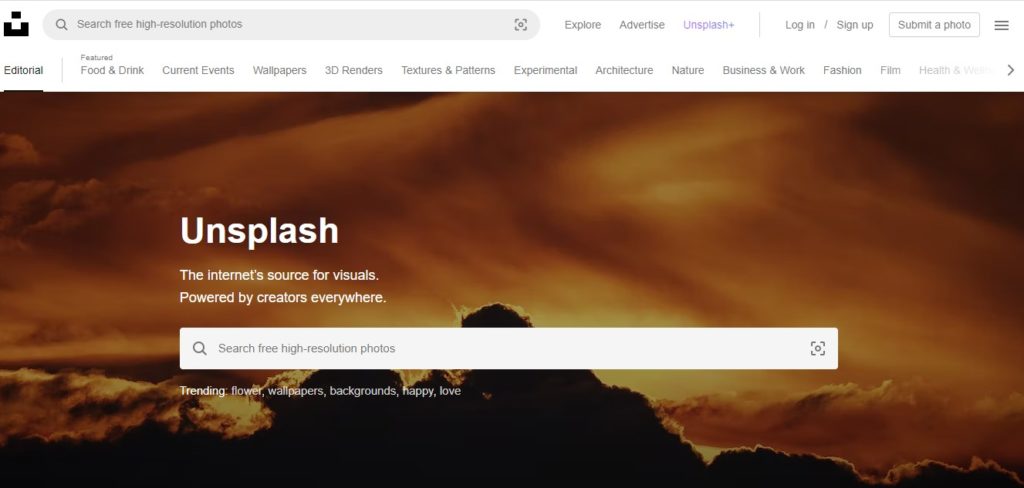 8. Stockvault
Another excellent place to find free stock images, wallpapers, and even textures is Stockvault. Even though the collection is just approximately half as large as Unsplash, it is well-curated and constantly growing. This website is well-organized for browsing by category and has an excellent search engine as well.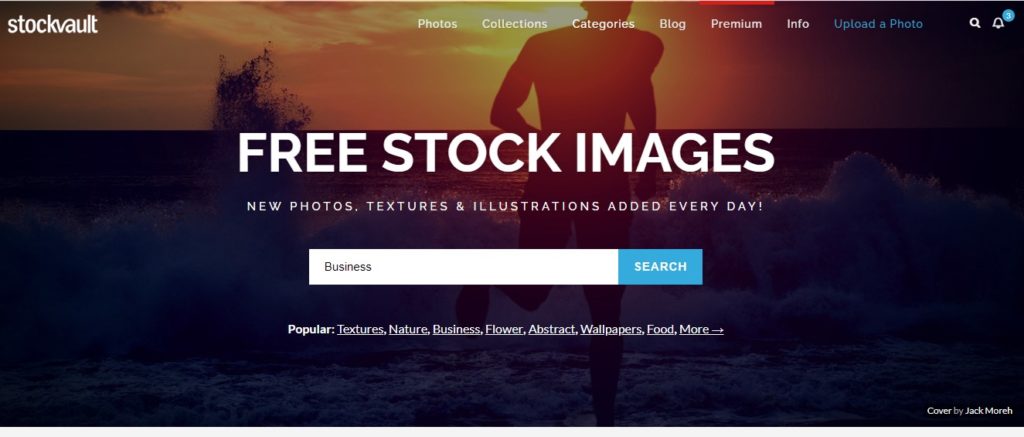 Wrapping It Up
There you have it, guys, the top 8 sources for free stock photos. These websites have benefited businesses large and small, marketers, social media managers, and bloggers all around the world. These should answer your question, How to find good stock images?
These websites also provide a fantastic platform for amateur and professional photographers to gain recognition and promote their work globally. So why are you still waiting? Find your preferred free stock photos right now!
As you can see, there are more and more excellent stock image options available. For designers, marketers, and bloggers, these websites have become a boon. No longer is it necessary to rely on tacky stock images! It might be challenging to find ethical stock photos. Because many of those photographs are incorrectly listed, you can't just search Google Images. Use a stock repository with clearly stated licensing limitations to stay out of problems.