In today's fast-paced digital world, it's imperative for small businesses to have a strong online presence. With over 3.6 billion people using social media globally, having a solid social media marketing strategy is more important than ever. But with so many social media platforms, how do you keep up with the ever-evolving landscape and choose the right Social Media Marketing Software for Small Business.
That's where this blog comes in!
We dive deep into the best social media marketing software available for small businesses and answer questions like – what features should you look for in a software, and how can it help you reach your target audience effectively?
Whether you're just starting out or looking to revamp your current strategy, this blog will provide valuable insights and tips to help you stay ahead of the game. So, let's get started!
10 Best Social Media Management Tools for Your Small Business in 2023
Social media marketing tools help with a wide range of responsibilities, including content scheduling and posting, social listening, commenting and interaction, customer service, analytics and reporting, and much more.
There is a range of tools available to match any budget, ranging from free resources for small enterprises to tools for agencies or smaller organizations. Each has unique features and options to best meet the demands of your team.
Let's go through each of our recommended social media marketing tools so you can select the ideal one for you.
1. Predis.ai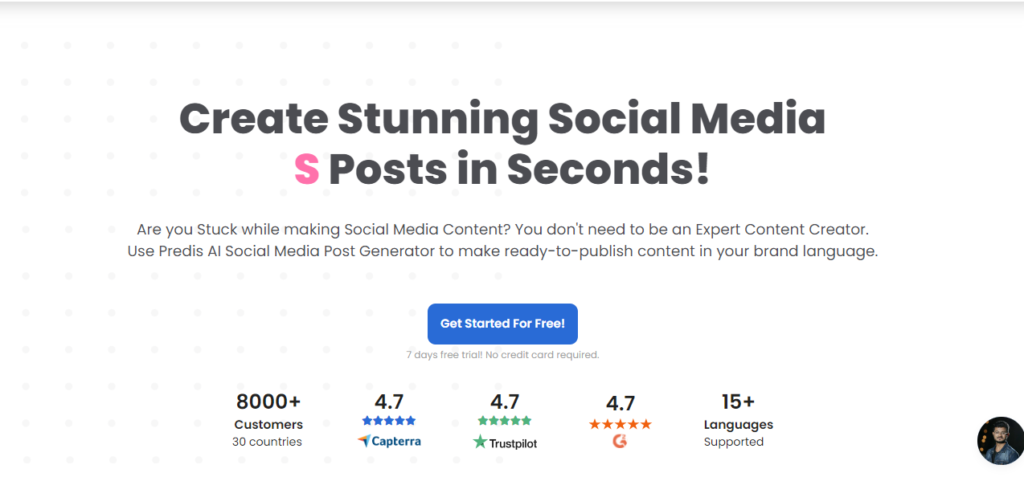 Predis.ai is a powerful tool for small businesses looking to maximize their social media marketing efforts. It is an AI-based product that predicts an Instagram post's performance before it is posted. This helps the influencers and brands to improve their posts ex-ante, using AI's suggestions. These suggestions include time/day of posting, caption length, and image improvements. Predis also suggests hashtags based on your target audience to help improve the post's reach.
Predis.ai also offers a content generator feature that uses artificial intelligence to generate social media creatives. This enables businesses to create high-quality visuals for their products and services. This tool can generate promotional posts and captions with AI. The platform uses artificial intelligence to provide insights that help organizations improve performance and optimize operations.
The pricing for Predis.ai starts from $25 per month for usage-based plans and $49 per month for feature-based plans. It is one of the most cost-effective solutions for small businesses looking to get the most out of their social media marketing efforts.
Key Features
AI-based content generation tool that creates complete ready-to-publish social media posts with just a concise description or one-liner about the post/business/service.
Ability to generate promotional posts and captions with AI.
Ability to publish content generated by AI to different social media platforms such as Facebook, Instagram, LinkedIn, and Pinterest.
Post scheduler to quickly and easily schedule posts in advance.
2. Delight Chat
DelightChat is a comprehensive tool designed to streamline customer support across various channels. It offers a unified inbox where businesses can manage and respond to customer inquiries from platforms like WhatsApp, Instagram, Facebook, and Email, all under a single screen.
This omnichannel support system is particularly useful for managing social media comments and Direct Messages (DMs), making it a valuable asset for small businesses looking to enhance their customer service experience. DelightChat's pricing starts at $29 / month depending on the number of tickets and the features you need.
Key features:
Omnichannel Support: Manage customer inquiries from WhatsApp, Instagram, Facebook, and Email in one place.
WhatsApp Business API: Facilitates direct communication with customers via WhatsApp.
Instagram and Facebook Integration: Allows businesses to respond to DMs and comments from these platforms within DelightChat.
Email Inbox and Live Chat Widget: Manage email inquiries and live chat from your website.
Unlimited Team Members: Add your entire team to DelightChat to streamline your customer service process.
WhatsApp Marketing: Send promotional broadcasts, recover abandoned checkouts, verify Cash on Delivery orders, and more.
3. Zoho Social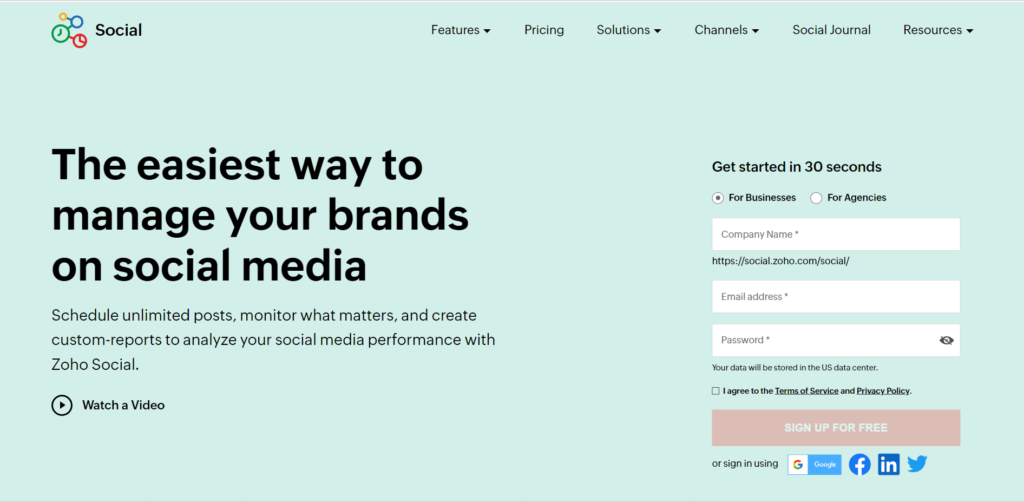 Zoho Social is a program with capabilities "designed for every social media stream." You can use the app to initiate discussions, exchange reports, assign team responsibilities, and solicit feedback. This makes it simple to have your modifications, tactics, and performance insights approved by everyone.
The platform, like Sprout, offers its own optimal timing tools in addition to scheduling. Zoho Social now has Instagram scheduling, enabling you to share and repost user-generated mat erial from your PC. Prices start at $10.
Key Features
The ability to monitor customer interactions and instant connection with the Zoho CRM
Dashboards for social listening that track brand reviews, @mentions, and branded keywords.
Collaboration with peers on the platform via chat, audio, and video calls
4. Buffer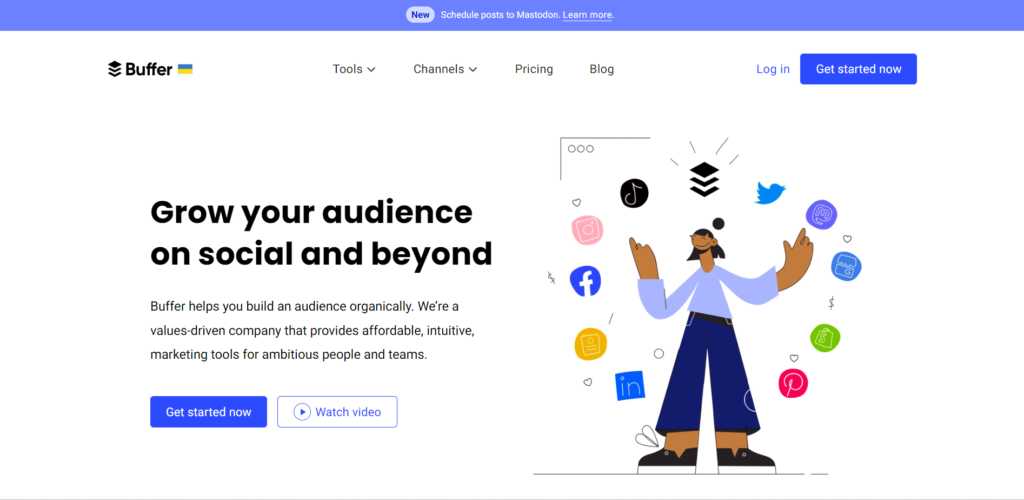 Buffer is another social media management tool that is great for small organizations or those just starting out. They provide a fully free plan for your first three social media channels, making this an ideal alternative for getting your Facebook, Instagram, or Twitter up and running. Prices start at $5 per month.
Key Features
Social media publishing solutions that enable you to quickly schedule all of your social media material for each channel.
A social media engagement dashboard that allows you to reply to any online mentions or comments in one location.
Analytics and reporting to provide you with a birds-eye perspective of how your social media activities are faring.
The ability to design landing pages for lead generation, sales, and other purposes.
5. Hootsuite – Social Media Marketing Software for Small Business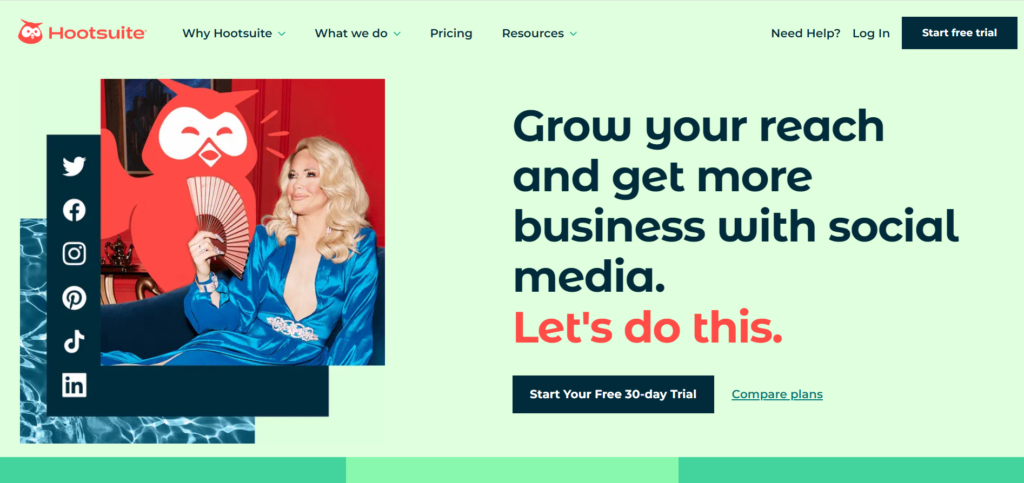 Hootsuite is a social media marketing platform that, like Sprout Social, is well-recognized for publishing unique research on social media and digital marketing throughout the world.
This tool has been around nearly as long as social media marketing has been a strategy, and it has evolved over the years to provide more useful features to businesses—but one feature that has remained consistent is its dashboard, which provides a snapshot of all of your social media progress at once. Prices start at $99 per month.
Key Features
Publish and schedule social media posts on sites such as Instagram, Facebook, Twitter, YouTube, Pinterest, and others.
Manage and reply to incoming messages and mentions in a single inbox.
Monitor online conversations about your company and industry to gauge consumer mood and keep up with hot themes.
6. Preview
Preview is a smartphone app that allows you to plan out your Instagram feed graphically. If you want to construct a feed based on a pattern, rainbow hues, or another Instagram feed style, you may upload as many photographs and videos as you want into the app and preview your feed before publishing. Pricing starts at $6.67 a month.
Key Features
Upload pictures, videos, and carousels to the Preview app to see how they will appear live on Instagram.
You can schedule your material within the app to publish when you're ready.
Plan out your Reels and Stories, as well as your regular Instagram feed so that everything fits together.
7. Later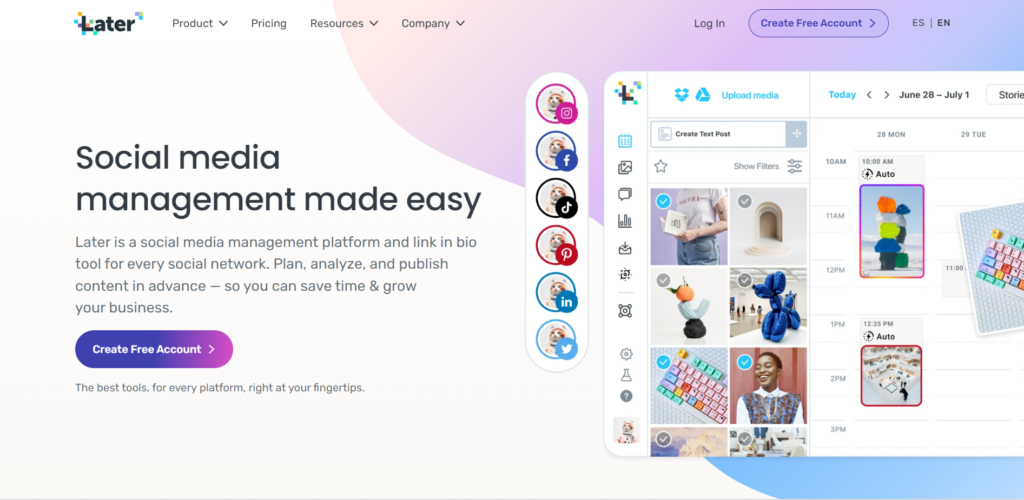 Later began as an Instagram-only social media management tool before expanding to other platforms such as Pinterest, Facebook, Twitter, TikTok, and others. They provide a variety of services, including a link-in-bio tool that makes Instagram maintenance a snap. Plans start at $15 a month.
Key Features
Social media scheduling solutions that allow you to prepare and schedule your content in batches ahead of time.
A visual content calendar that makes it simple to view and plan out Instagram and other platforms' feeds.
Tools for finding and curating user-generated content that your audience will like.
8. Sprout Social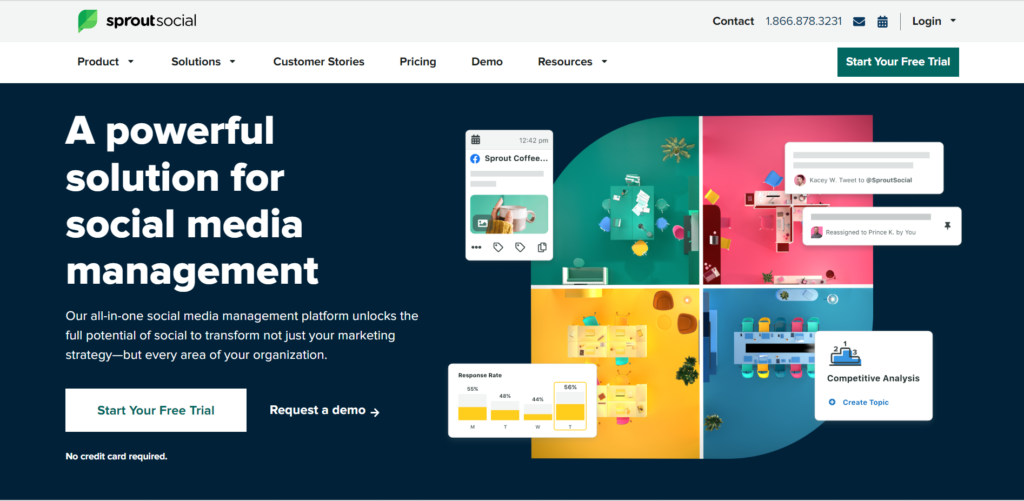 Sprout Social is a comprehensive social media management solution that enables organizations of all sizes to manage all parts of their social media strategy. You can manage your whole presence on a single dashboard by integrating all social media platforms. You can also manage reviews from Google My Business and Facebook, as well as make shoppable articles that are connected with Facebook Shops and Shopify catalogs.
The Employee Advocacy tool delivers a curated stream of material for your workers to share across their social networks, increasing the reach of your company. Price starts at $249 a month.
Key Features
Social media publishing, scheduling, monitoring, analytics, reporting, and more are all available on one simple dashboard.
Access to the ViralPost feature to guarantee you publish your content when your followers are most likely to engage, automatically increasing exposure and reach.
Smart Inbox collects all of your incoming messages from several social media networks, providing you with a comprehensive snapshot of all your social connections.
Lets you know which hashtags are the most relevant to your content.
9. Social Pilot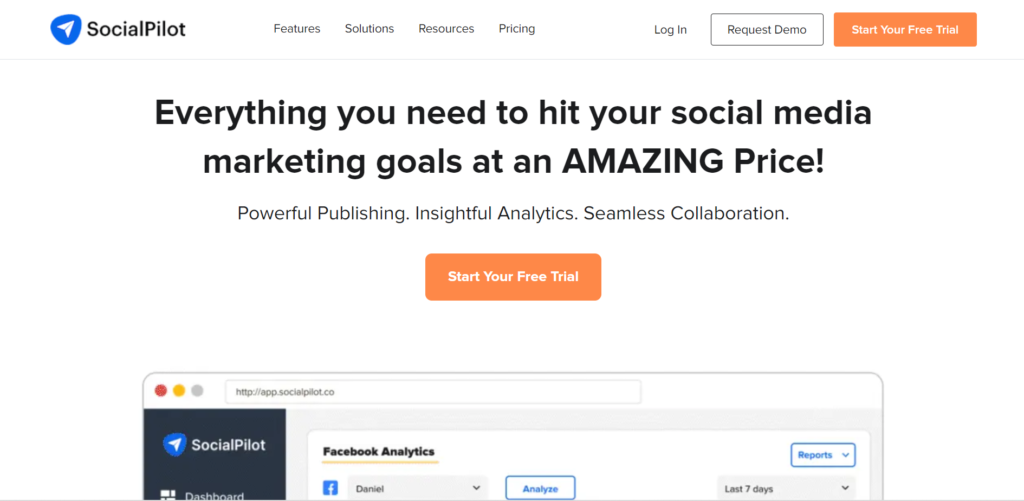 Social Pilot is an easy social media management solution for people who are just getting started with a management tool. Aside from posting and scheduling, the application includes a curated content list based on categories and keywords that will be sent automatically to your feed.
Social Pilot provides detailed analytics data to help you develop better tactics. Users will be able to identify what audiences are interacting with and evaluate growth trends to continue generating content based on content performance and audience analytics. Plans start at $25.50 a month.
Key Features
Integration with major social networking networks.
In a single Post composer, you can configure and optimize posts for numerous social networks.
A content curation tool that will present you with a list of content items to help you come up with fresh ideas.
10. Tailwind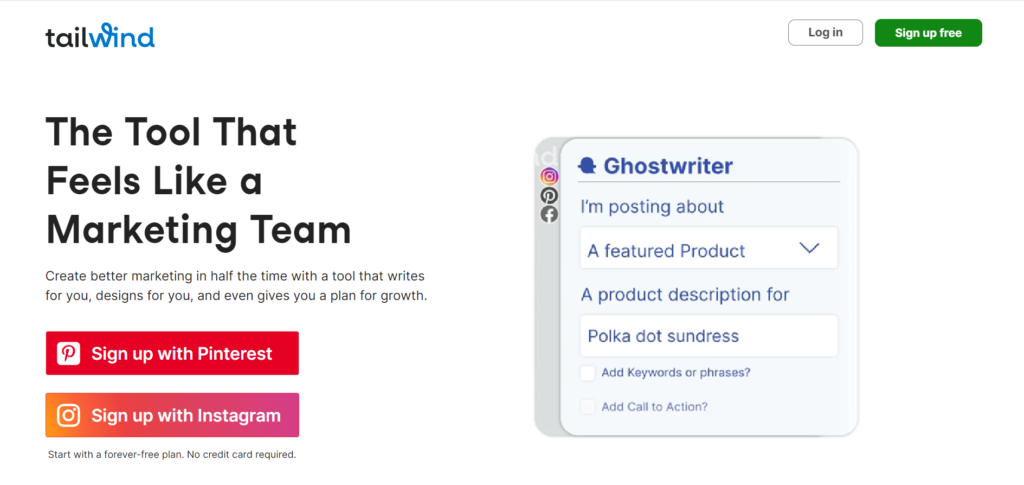 Tailwind is another tool that began with one social media site in mind and subsequently expanded to include others. It began by helping firms schedule and automate Pinterest marketing before expanding into Facebook and Instagram. Pricing starts at $13 per month.
Key Features
Post ideas to ensure you always have Pinterest content in the works.
A design tool for creating your own Pinterest visuals and saving them to Boards.
SmartSchedule and automated scheduling keep your Pinterest feed full.
Bonus Tool: NapoleonCat
NapoleonCat assists users and teams in detangling complex procedures and simplifying cooperation. Users may color-code and view calendars in addition to approving, publishing, and scheduling.
NapoleonCat's most distinguishing feature is that it uses marketing to assist with e-commerce goals: publishing product changes across profiles, addressing customer inquiries and reviews, and measuring your successes.
It's worth mentioning that NapoleonCat only supports Facebook, Instagram, LinkedIn, Twitter, and YouTube, not TikTok. Prices start at $26 a month.
Key Features
All social media comments, messages, and reviews go into a separate inbox.
Professionally produced, in-depth social media reports to assist you in identifying accomplishments and places for improvement.
Features automatic Facebook and Instagram comments, which may aid with the conversion of comments into revenue.
How to Choose the Best Social Media Marketing Software for Small Business?
Here are some factors to consider when choosing social media marketing software for a small business:
Platforms supported: Make sure the software supports the social media platforms where your target audience is most active.
Budget: Consider the cost of the software and whether it fits within your marketing budget.
Features: Look for software that offers features that align with your marketing goals, such as scheduling posts, analyzing performance, and creating reports.
Ease of use: Choose software that is user-friendly and easy to navigate.
Customer support: Ensure that the software provider offers reliable customer support in case you need help or have questions.
Integrations: Check if the software integrates with other tools you already use, such as your website or email marketing software.
Analytics: Look for software that provides detailed analytics and performance metrics, so you can track and measure the success of your social media campaigns.
Ultimately, the best social media marketing software for your small business will depend on your specific needs and goals. Consider trying out a few options with a free trial before making a final decision.
Wrapping It Up
It's clear that social media marketing software is a must-have for small businesses looking to stay ahead of the curve. Not only does it streamline your efforts and save you time, but it also provides valuable insights and analytics to help you make informed decisions.
With the right software, you can turn your social media presence into a powerful marketing tool that drives results and propels your business forward.
So don't be afraid to embrace the power of technology and find the perfect social media marketing software for your small business today!
You may also like
Wedding and event planning marketing using AI
Predis.ai – Appsumo case study
Canva + ChatGPT for business
Instagram marketing for Plumbers