AI writer apps and content assistants are the new big baddies in the content creation space and it is truly amazing how far we've come in such a short period of time. Apps that are now mainstream, like Jarvis AI (previously Conversion.ai) and Copy AI were launched barely a year ago.
Today, early adopter copywriters swear by these AI writer apps and their ability to increase productivity. While all of these examples are great in their own regard, they have some key differences. As a content creator, you'd ideally want to choose ONE that works the best for you.
If you're debating on which one to purchase, this article is for you. First, let's go over broadly what AI content assistants do.
A word on AI writer apps and content assistants
What are AI content assistants, you ask? It's hard to define them firmly because defining them would mean confining them to a certain set of boundaries. If you've taken a single glance at the feature lists of these apps, you'll know that as far as content writing goes, there is little that they can't do.
Broadly, they're apps used by content writers to help them ideate, save time, and even get over writer's blocks.
For instance, a blogger can use an AI writer by inputting the main idea of a single paragraph and having the entire paragraph returned to them by the app.
A social media manager can enter details of a product, and have content for a full-fledged Facebook Ad returned by the app.
Sounds too good to be true? You better believe it!
Basically, these apps are based on a machine learning model called Generative Pre-text Transformer Version 3, or GPT-3. GPT-3 is what you'd call a transformer model, and it uses a small input text from the user, to generate much larger volumes of text that don't sound like they were written by a robot. This output text reads naturally and coherently, just as if a human wrote it.
This makes the GPT model extremely useful to content writers. To know more about the benefits and drawbacks of AI copywriters in general, check out this article!
Copy AI vs Jarvis AI vs Rytr: Pricing
Let's be honest, how these AI writer tools are priced will play a huge role in determining which one you end up using. So let's get prices out of the way before starting out with the comparison.
Copy AI:
Copy AI has a free trial lasting 7 days before you are required to make a purchase. Here, you can generate output 100 times a day, and you get full email support for 7 days.
The unlimited plan costs $35/month, or $420 billed yearly. It includes:
Unlimited runs
Access to all tools
Translations to 25 different languages
Full email support
A premium community of copywriters
Jarvis AI:
Jarvis AI has no free trial, but two different plans to suit your needs.
Starter pack ($24/month, or $288 billed yearly):
20,000 words per month
Up to 600 characters each time output is generated
50+ copywriting templates
Logins from multiple users
5 separate project folders
25+ supported languages
Access to a community of copywriters
Boss Mode ($99/month, or $1188 billed annually)
No limit on words generated per month
Up to 3000 characters each time output is generated
50+ copywriting templates
Login from 1 user
Unlimited project folders
SEO mode
25+ supported languages
Access to a community of copywriters
Rytr.me
Rytr.me uses a slightly different pricing strategy. It has a free forever plan, that lets you generate up to 5000 characters per month. However, if you plan on using the content assistant regularly, you'd want to upgrade to the premium plan.
Rytr's premium plan costs $29/month, or $290 if billed annually. It includes:
Unlimited characters
30+ copywriting use cases
Support for 30+ languages
Access to 20+ tones
Access to a premium community of copywriters.
Copy AI vs Jarvis AI vs Rytr: Features
Copy AI:
As of October '21, Copy AI has a whopping 86 different writing templates, far above the other two tools in this comparison. However, a LOT of these are extremely gimmicky, and will only be used for the fun of it. For example, you can generate shower thoughts that are themed around your niche. I did a pretty comical double-take when I read that for the first time. Here are the features that you'll probably find most useful:
All Facebook Ad copy features
Product description
Blog outline
All email templates
Sentence rewriter
Jarvis AI:
Jarvis.ai, which is arguably the most popular AI writer in this comparison, has 53 templates to choose from, depending on what you're writing. Some of these, like 'Marketing Angles' and 'Real Estate Listings' feel extremely gimmicky, and I doubt they'll ever be productively used. These ones, according to me, will practically be used the most:
Long-form assistant
Content Improver
Blog Post intro paragraph
Video description
Facebook Ads headline and primary text
Google Ads headline and description
For something with a feature list so extensive, I was quite surprised that Jarvis AI misses out on a feature that lets you generate one segment or body paragraph of a blog. I've used content assistants before, and this was my go-to feature.
Rytr:
Rytr has a set of 25 use-cases that you can toggle through depending on the type of content you are creating. You can check out all of them at Rytr.me, but I reckon these are the ones that will be used most frequently:
Blog section writing
Blog idea and outline
Facebook/Google/LinkedIn Ads
Product descriptions
Video descriptions
Let's look at some sample output I was able to generate using these apps.
AI Writer Feature Comparison, Round 1: Blog Section
For this round, I attempted to generate a blog segment on the importance of exercise for people with desk jobs. All content was generated with the tone set to 'convincing' or 'persuasive' on each AI writer.
Output from Copy AI:
I found the content returned by Copy AI a bit hit-and-miss.

As you can see, the sentences, for the most part, are pretty coherent, but the paragraphs generated cannot be used as they are. In the first piece of output, it says 'sitting for long periods of time can be even worse for your health than being sedentary' which makes zero sense. The second paragraph does not have any glaring errors but is a little off, structurally speaking.
That said, there are great ideas in both paragraphs, and you'll easily find catchy phrases or sentences to pick out for your actual blog.
Output from Jarvis AI:
Jarvis did not have a dedicated feature for converting a line or a bullet point to a paragraph, but I was able to use the long-form assistant to generate a short text segment. This was the app I honestly had the highest hopes on, having read all the rave reviews online, but the first results were honestly a little underwhelming.

Although I added a similar prompt as in the other two apps, the output quality was low. Structurally, it's a mess. I thought this might be a one-off incident, so I generated the output again.

As you can see, this one was miles better. That's just how it is with AI copywriters at this stage. Occasionally, they'll return a chunk of text that's barely useable, but oftentimes you'll be surprised by how good they really are.
Output from Rytr: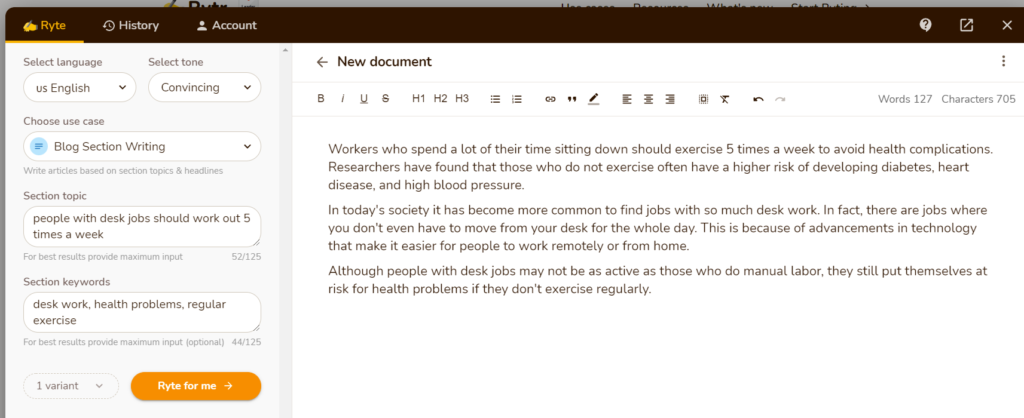 During my period of testing, using Rytr in this mode consistently returned content that read perfectly, at least in terms of grammar. As you can see, the output generated is coherent, easy-to-read and even factually correct (seen in the research bit).
The app asks you to provide maximum output for best results, and you'd genuinely want to do this to make your output as useable as possible.
Round 1 scores:
Copy AI: 2.5/5
Jarvis AI: 2.5/5
Rytr: 4/5
AI Writer Feature Comparison, Round 2: YouTube video descriptions
Moving on, let's check out what the YouTube video description is like to use. I requested these apps to generate a description for a video comparing electric-powered vehicles to gas-powered vehicles, with a very similar input for each. Here's what they returned.
Output from Copy.ai: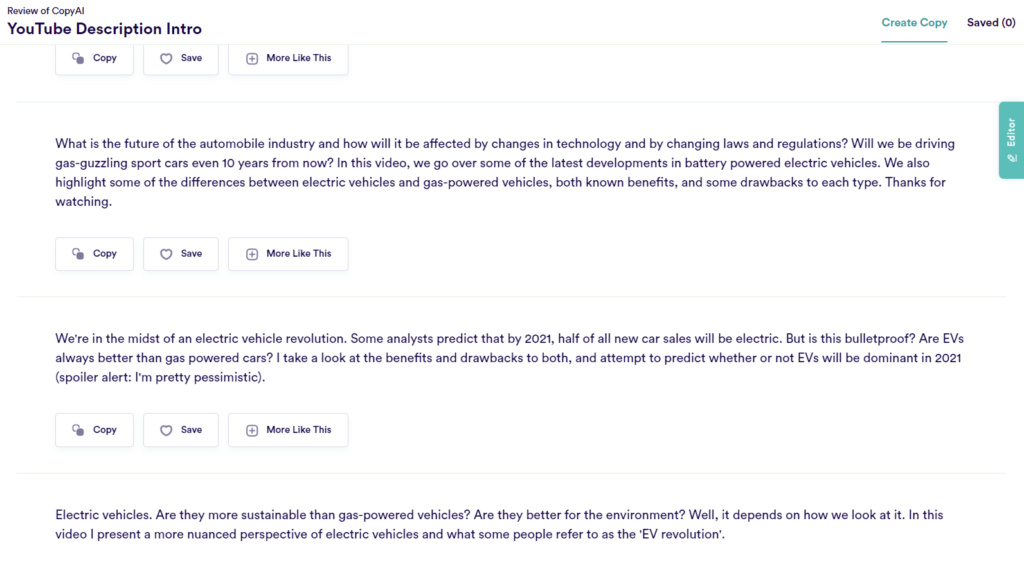 Depending on the exact content of the video, these descriptions are fairly useable. Most of the output generated consisted of two-line descriptions though, whereas a longer one is generally desirable for YouTube. Nevertheless, I really liked the first piece of output, as it covers everything that would likely be discussed in such a video in a light tone.
Output from Jarvis AI: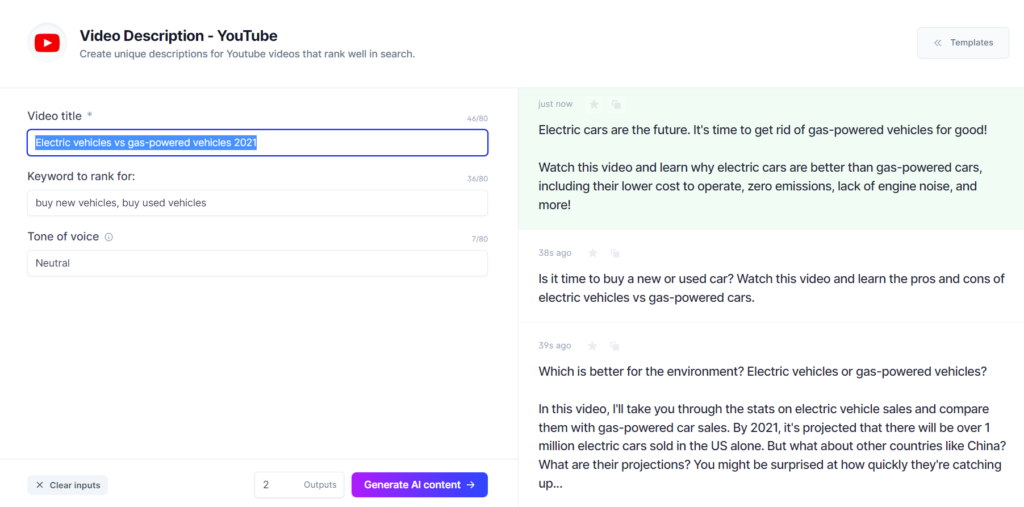 Jarvis is the only AI writer here to consider keywords you wish to rank for when it generates output for YouTube descriptions. However, in my period of testing, it was very hit-and-miss and oftentimes did not include the keywords I mentioned. I suppose this feature will be improved with future updates. Should it work properly, it'll be very nifty as keywords play a major role in determining the visibility of a video.
Otherwise, the output generated was of high quality. There was a lot of variation in the length of the output as I generated more, and the content discussed was perfectly on point.
Output from Rytr: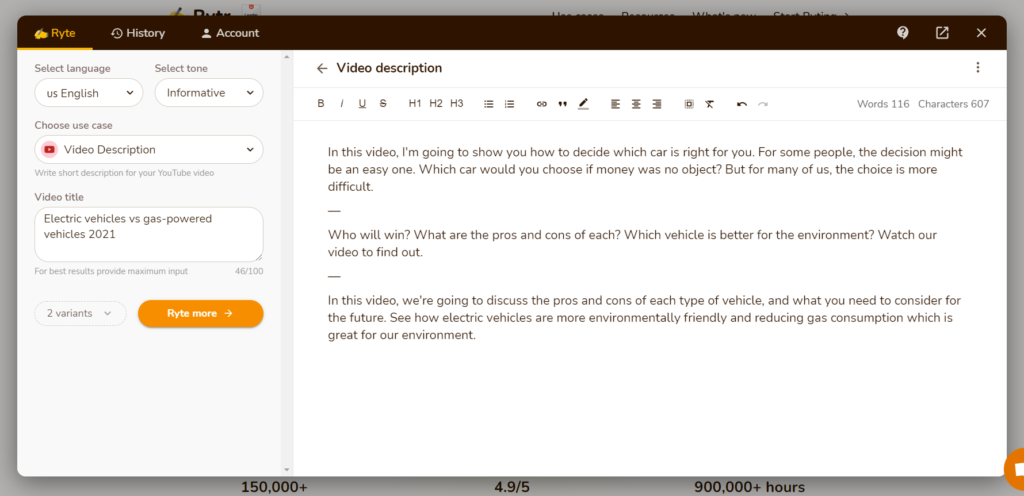 For this round, I found Rytr's output to be the most underwhelming of the lot. It repeatedly generated content that would be too short for most people's liking, when it comes to video descriptions. As you can see in the screenshot above, the last sentence of the third piece of output is also grammatically incorrect. These grammar errors were much less frequent for the blogging features.
However, this feature could still be used to pick up interesting phrases for your descriptions, and the results are by no means terrible.
Round 2 scores:
Copy AI: 4/5
Jarvis AI: 3/5
Rytr: 2.5/5
AI Writer Feature Comparison, Round 3: Ads
Lastly, let's talk about the auto-generated Facebook ad copies. I reckon these will be used more frequently than most other features of these content assistants. I tried generating ads for a premium Adidas shoe.
Output from Copy AI: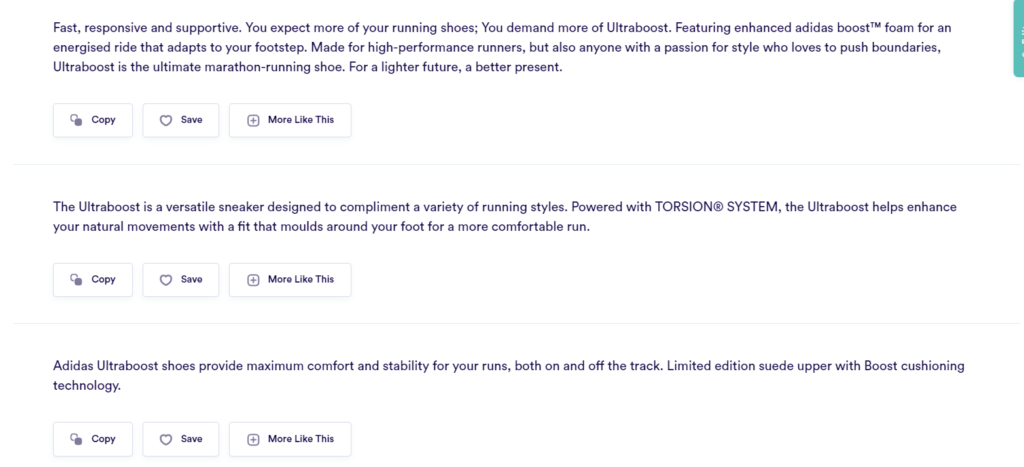 Grammatically and tonally, what Copy AI put out was perfect. It contains the right amount of sales-y, persuasive language. In conditions like this, I find the "More Like This" option below each variant very helpful, as it helps you generate alternatives to a particular variant. Copy AI also put out variants with varying wordiness, so there will be something for everyone.
Output from Jarvis AI: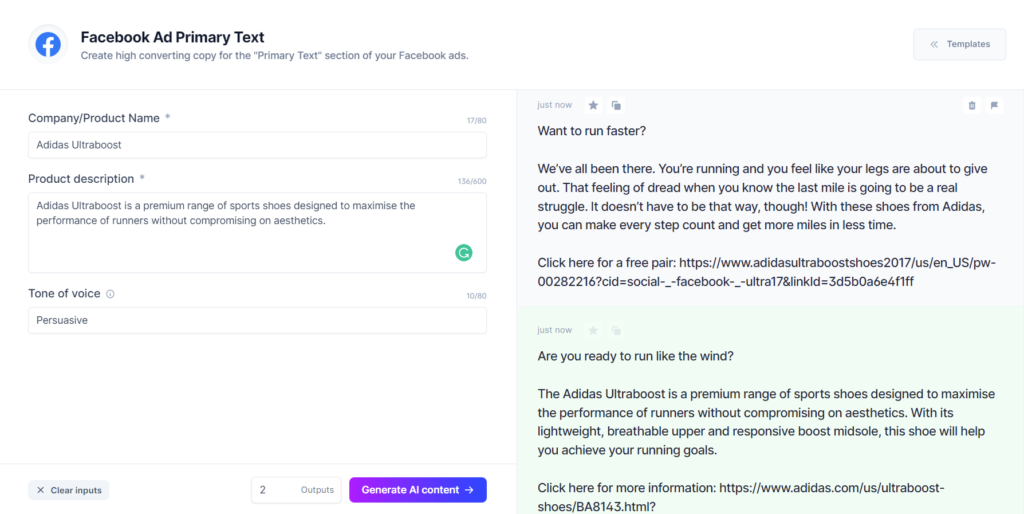 The output from Jarvis AI for Facebook Ads was consistently more lengthy than that of Copy AI, and I don't know how effective this would be for a platform like Facebook Ads. But just like Copy AI, tonally and gramatically, it was spot on. I like the fact that it even included links, adhering to the format conventions.
Interestingly, in the second piece of output, the leading sentence is exactly the same as the product description I provided.
Output from Rytr: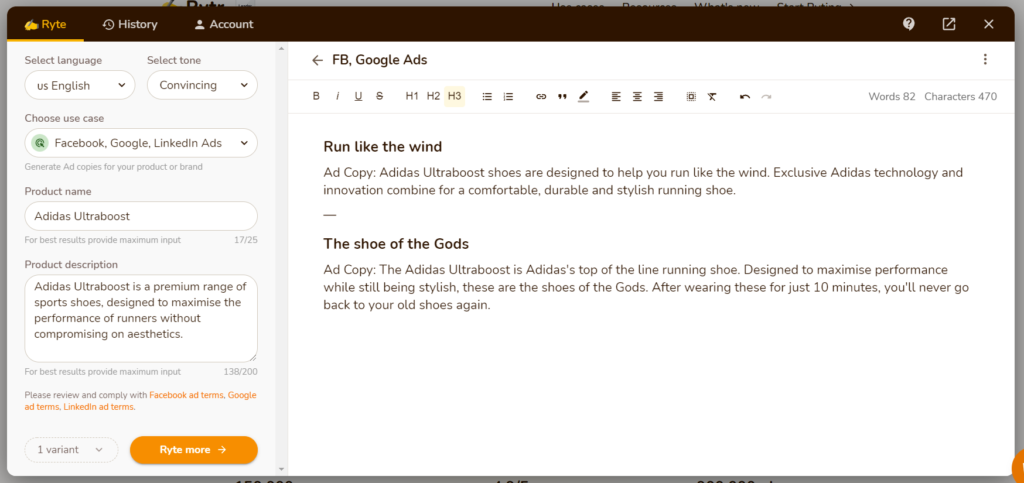 These aren't entirely useful by themselves, but you can gain inspiration from words and phrases used in this copy. For example, 'run like the wind' is a simple yet effective catchphrase for a running shoe (interestingly, Jarvis AI also generated the same phrase).
Also, this feature would have been miles better if it generated content according to the distinct ad formats of the three platforms. That would easily make the feature 10X more useful, and give it the potential to generate content that's fully useable without edits. The other two apps in this comparison do offer this feature.
P.S: One of the highlight features of Rytr is the ability to run re-generate or correct specific bits of the output generated.

If you like the idea of the particular text segment, but don't like how it is written, you can choose to 'Improve' or 'Rephrase' it. You can also choose to 'Expand' it, and this will be very nifty for copywriters creating long-form content.
Round 3 scores:
Copy AI: 4/5
Jarvis AI: 4/5
Rytr: 3/5
Ease of use
As far as ease of use goes, these AI writer apps are well sorted, and you'll get used to each in no time.
Copy AI:
Copy AI has a very minimal user interface, and most people will appreciate this. First, you start off by creating a project.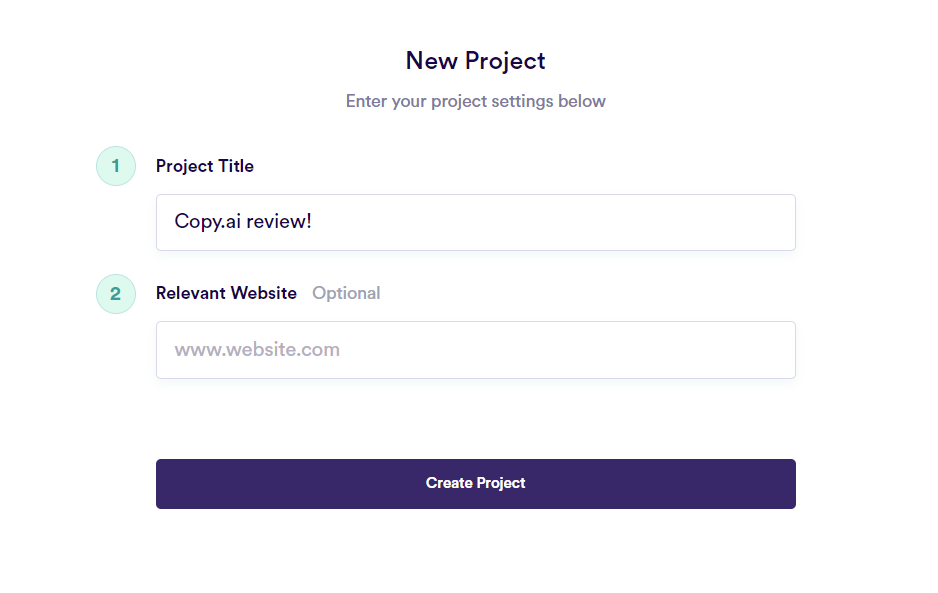 After you create your project, you can directly start using all the 83 copywriting applications that Copy AI provides. These are neatly stacked in menus that you can expand and collapse.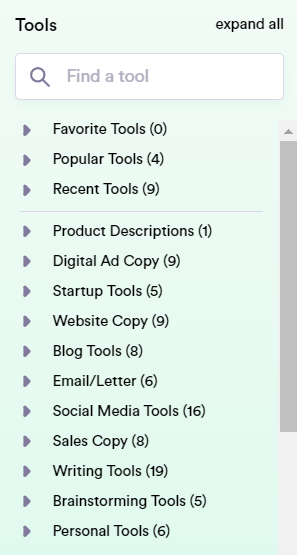 After you select a tool and enter your input, you can swipe down to see what Copy AI has generated for you. You can also open a doc through a tab on the left to copy, paste and edit content as you please.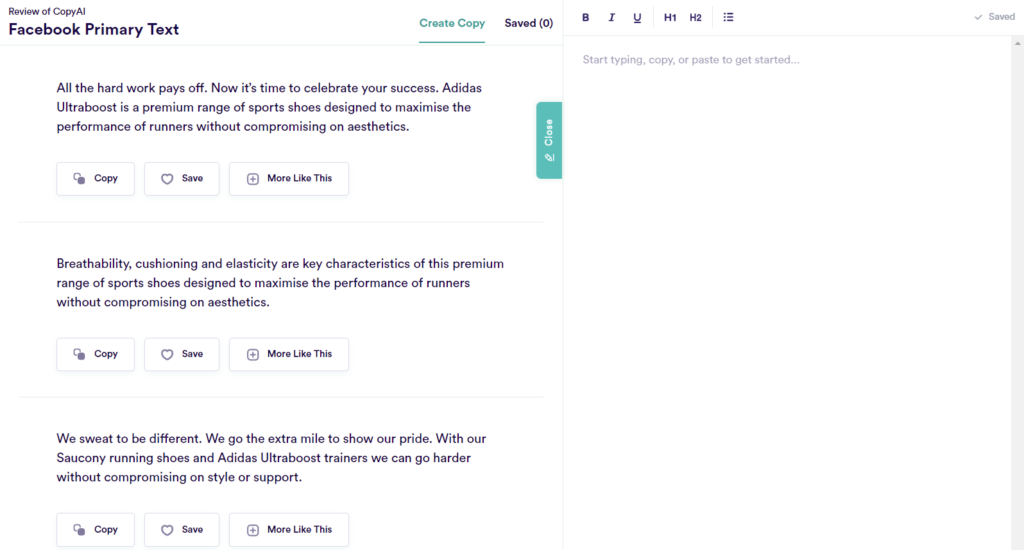 Interestingly, this doc cannot be exported to your computer. This won't be a big deal for many, as your content will always be saved on the app, and can be copied onto another doc easily.
Overall, the layout is very simple, and the app is very quick to generate output! As far as ease of use goes, Copy AI is not lacking in any way.
Jarvis AI:
I found Jarvis AI's interface the most cluttered of the 3. The templates, shown below, could have been presented in a more compact and organised way.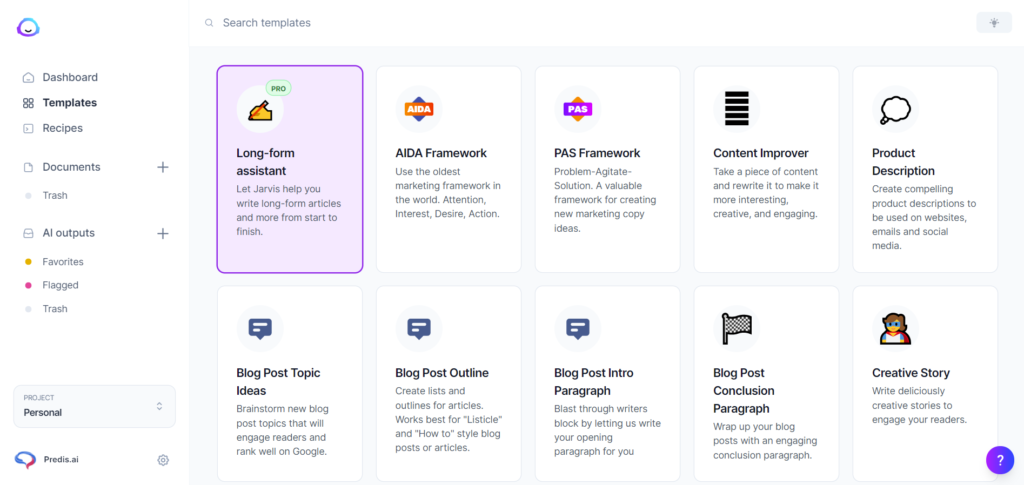 Generating short-form content is a breeze, though. It's a very simple, standard format requiring you to enter inputs on the left, and generating outputs on the right.
It's when you start generating long-form content that you realise there is a bit of a learning curve. The layout is as shown below.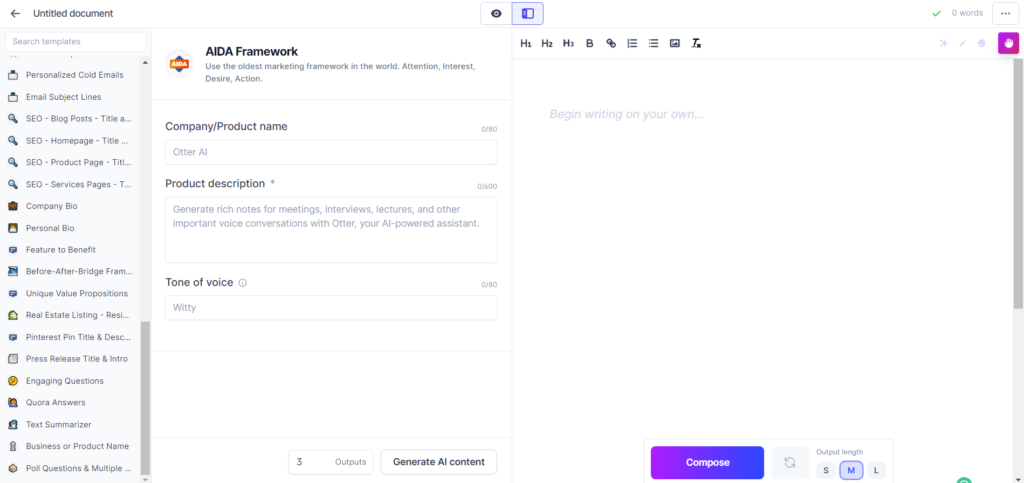 You can just start writing, and use Jarvis AI's many features as you go. There are several commands and prompts you can use that will help you write faster, and also several content lengths you can choose to generate at a time. All of this seems a bit overwhelming at first, but there are explainer videos accessible from the menu in the top right corner of the screen.
Jarvis AI's long-form layout isn't a dealbreaker though; there's just a bit of a learning curve to it. After all, the other apps mentioned here don't offer long-form content options this comprehensive.
Rytr:
Rytr's interface is dead simple to use, and it won't take you more than a few minutes to figure it out.
Essentially, the content you generate is separated by documents. For example, I created two different documents for the blog ideas and the ads copy, as shown below.

If you create a lot of content, you can even sort the documents into folders. Of course, you can export all documents you make on Rytr straight to your desktop.
To generate content, all you need to do is choose a use case (for example, Video Description) and add your input. What you have to input will obviously change a little as you change your use case, but generally, as I've noticed, a detailed input results in much better output.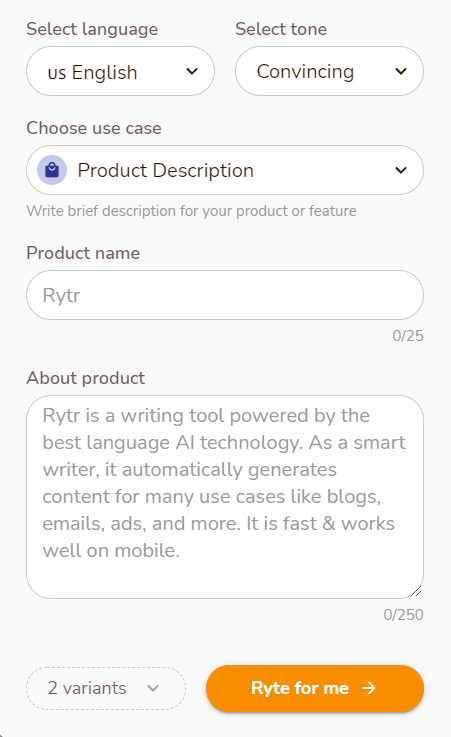 You can also conveniently select the number of output variants you want to generate and choose from a range of tones.
On the next tab, you can view all your content history on Rytr, and choose to delete this or generate similar content. On a third tab, you can view your account and subscription details.
The interface couldn't be any simpler, and it's also very easy on the eyes.
Scores for ease of use:
Copy AI: 5/5
Jarvis AI: 4/5
Rytr: 5/5
Click here to read more detailed comparison of Predis.ai and Copy.ai
Final verdict
Aggregate scores considering features and ease of use:
Copy AI: 15.5/20
Jarvis AI: 13.5/20
Rytr: 14.5/20
Note that these scores don't take into consideration Jarvis AI's long-form writing assistant, which is what it's most known for. It is the only AI writer in this comparison to offer such a feature. These tests were more geared towards the shorter output.
These are 3 very competent bits of software, and they're all good at what they're designed to do. The bottom line is this; if you decide to use any of the three, they will help you save a lot of time that goes into creating content, and possibly inspire you with fresh ideas.
However, if you are consistently going to be using your content assistant to create long-form content, Jarvis AI is the clear winner, with its long-form assistant. Entire books have been written (and published) with Jarvis AI, and that's no joke. However, it's not perfect and there's also a hefty premium you have to pay for the Pro version with the long-form assistant.
If you aren't willing to shell out that amount, Copy AI and Rytr.me are both solid options. They have a lot of features and use-cases to be used in the real world, and of course, they can help you with long articles and blogs as well, generating clever individual segments.
I highly recommend trying these three out before you make a purchase. They all come with free trials, and you'd want to use them to see what works best for you.
---
Are you a social media content writer looking for a content assistant?
Let me introduce you to Predis.ai. Like the apps presented above, it uses GPT-3 to auto-generate quality content for you. The difference is, Predis.ai focusses on social media content, and on optimising your posts for higher engagement. There are three main ways the app assists you:
1. Post creator:
All you have to do is provide a simple input on what you want a social media post to be about, and Predis.ai will generate examples for you. After this post has been generated automatically, you can edit all aspects of it within the app itself i.e. the caption, hashtag and creative. You can also get insights on how well your post is expected to perform, based on your account's history.
2. Content calendar:
You can conveniently view all your posts through a built-in content calendar. You can easily view and edit all your posts here, within a single interface.
3. Content analysis:
Sometimes, looking outwards can give you amazing insights into what content you should ideally be posting. Predis.ai lets you analyse how your competitors' posts have been performing on Instagram. Through this, you can easily find out what content is performing well for them, and what isn't clicking within their audience. A great feature, if you're looking for content that will be popular amongst your target audience, and for straying away from content that won't.
---