Once upon a time, the best approach for potential home buyers and sellers to discover a real estate agent was to seek referrals from friends and relatives. However, most customers nowadays use their mobile devices to discover brokers and search for properties for sale. Social media postings using real estate hashtags is one approach to reaching these consumers.
According to the Zillow Group Consumer Housing Trends Report 2019, 69 percent of sellers appreciate a real estate agent who advertises listings on social media. As many people use social media on a daily basis, it's an excellent place to increase your company's exposure as well as earn followers and customers. Real estate hashtags can help you increase the visibility of your property listings, industry reports, videos, and content sharing on social media platforms such as Instagram, Twitter, and Pinterest.
This blog will discuss how to properly use hashtags to increase the visibility of your company and will also provide you with a list of 242 real estate hashtags to get you started.
What Are Real Estate Hashtags?
Hashtags help social media users find content based on specific topics — you can create them by using the # symbol followed by words, like #realestate.
Though the process might seem simple like you can hashtag any words you want and expect to see results — but in reality, you have to find hashtags that aren't over-or under-used if you want prospects to find your content.
If you use a hashtag that has been used millions of times, your post might get lost in the shuffle. But if you use an abstract hashtag that has only a few other posts, most people won't search for those terms, and you'll lose out on connections with potential clients.
In order to find real estate hashtags, one must first understand what hashtags are and how they are used. Hashtags are a type of label or keyword that is used on social media sites to categorize content and make it easier for users to find.
Best Real Estate Hashtags To Scale Up Your Real Estate Business on Social Media
Since any text or phrase can be turned into a hashtag, the vast number of possible hashtags might be overwhelming. You can limit your options by being acquainted with key real estate hashtags and analyzing which ones your leads and customers are most interested in.
To engage with your audience, include prominent real estate hashtags in your posts, tweets, as well as pins. Here are some of the most effective real estate hashtags:
#mansion
#architecture
#sold
#property
#neighborsandfriends
#properties
#thedailyhometip
#renovated
#openhouse
#shiplap
#freewine
#homesforsale
#apartmenthunting
#felinefriendly
#fixandflip
#poochfriendly
#homesweethome
#broker
#freesnacks
#beachlife
#lovewhereyoulive
#curbappeal
#firsttimehomebuyer
#downtown
#loveyourneighborhood
#makememove
#luxuryhomes
#realestate
#riseandgrind
#realestatehumor
#localmusic
#realtorlife
#theweeklyhometip
#dreamhome
#petfriendly
#househunting
#investment
#walkable
#community
#home
#forrent
#newhome
#luxuryrealestate
#realtor
#realestateinvestor
#turnofthecentury
#interiordesign
#foreclosure
#justrealtorthings
#realestateagent
#FSBO
#edwardian
#neighborhood
#uptown
#victorian
#midcenturymodern
#freecookies
#suburbs
#realestateagent
#forsale
#justlisted
#midcenturymodern
#investmentproperty
#Victorian
#petfriendly
#luxurylistings
#realestateagent
#reducedfee
#twofamily
#emptynest
#eatinkitchen
#brokerage
#condo
#pocketlisting
#homes
#luxuryrealestate
#instarealestate
#instalisting
#virtualtour
#housegoals
#referrals
#realestate
#turnkeyinvestment
#NAR
#parking
#townhouse
#bungalow
#starterhome
#newlisting
#makememove
#openhouse
#shotgunshack
#luxuryliving
#dogfriendly
#listing
#selling
#greatvalue
#marblecounters
#motherinlawsuite
#househunting
#homesforsale
#coop
#homeforsale
#houseforsale
#dreamhome
#offmarketlistings
#frontporch
#Realtors
#catfriendly
#homegoals
#caprate
#fixandflip
#realestateexperts
#foreclosure
#justsold
#discountbroker
#cashcow
#HUDhome
#realtorlife
#realestate
#yourpersonalbrand
#locationlocationlocation
#realty
#mansion
#justsold
#brownstone
#renovated
#pool
#colonial
#curbappeal
#yourbrokerage
#broker
#uptown
#offmarketlistings
#justsold
#makememove
#listing
#ICNY
#bungalow
#walkableneighborhood
#instarealestate
#luxuryliving
#brokerage
#realty
#homes
#selling
#homeforsale
#homegoals
#HUDhome
#Realtors
#openhouse
#housegoals
#referrals
#petfriendly
#pool
#parking
#pocketlisting
#downtown
#mansion
#yourbrokerage
#NAR
#midcenturymodern
#catfriendly
#caprate
#luxurylistings
#reducedfee
#realestate
#eatinkitchen
#discountbroker
#twofamily
#dogfriendly
#realtorlife
#coop
#dreamhome
#Victorian
#townhouse
#closetothebeach
#luxuryrealestate
#brownstone
#realestate
#curbappeal
#virtualtour
#greattransportation
#fixandflip
#realestateexperts
#HOA
#emptynest
#yourpersonalbrand
#shotgunshack
#justsold
#treelinedstreets
#turnkeyinvestment
#foreclosure
#houseforsale
#realestateagent
#greatvalue
#instalisting
#colonial
#investmentproperty
#motherinlawsuite
#locationlocationlocation
#cashcow
#condo
#FSBO
#homesforsale
#marblecounters
#starterhome
#househunting
#frontporch
#broker
#newlisting
#renovated
#investmentproperty
#propertybuyer
#homesforsale
#homes
#househunting
#makememove
#homeinspo
#housegoals
#homesweethome
#interiordesign
#realty
#homegoals
#realestateagent
#homeideas
#luxuryrealestate
#rentalproperty
#realestatestyle
#fixerupper
#openhouse
#realtorlife
#realestateinvesting
#newhome
#realestatesales
#realestateadvice
#homeforsale
#housesofinstagram
#luxuryrealestate
#condoliving
#housegoals
#househunting
Importance of Hashtags in a Real Estate Business
Real estate hashtags can help you reach a bigger audience with your content. And, as virtual technology becomes more prevalent in daily life, posting with searchable hashtags will only become more useful in locating possible real estate buyers as well as sellers.
This is particularly important for folks who are looking for a house remotely with the hopes of moving. These prospects may not notice your local marketing, online ads, or posters, but they'll still contact you through social media. Furthermore, making compelling social posts that are discovered using hashtags can help you establish your brand and connect with your audience, resulting in both new and returning consumers.
Here are some of the most common reasons why you should use real estate hashtags:
1. Increase Brand Awareness
The most important reason to use hashtags is to boost brand recognition. Using hashtags in your post increases the visibility of your company by putting your content in front of the correct people. This provides you the opportunity to explore new audiences in addition to your present following.
You can simply raise your following and level of interaction over time by selecting the relevant hashtags and utilizing them strategically. Carefully chosen real estate hashtags might be the key to expanding your company and establishing yourself as a local brand.
Hashtags help people find you and your material, so be sure to include them in every single one of your posts.
2. Track Your Competitors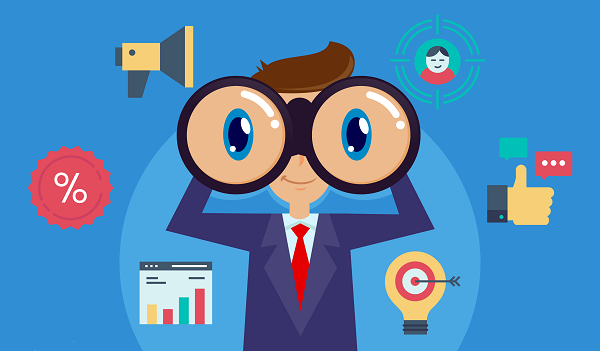 To build yourself as a brand, you must be aware of what your competitors are up to. Hashtags are an excellent approach to do this. Analyze your competitors' Instagram accounts. Keep track of their strategies. Examine the hashtags they prefer for their images and how they utilize them.
Alternatively, search for the hashtags you wish to use and see what kinds of photographs appear, as well as what additional tags are included with them. When researching your competitors, seek answers to questions like:
On average, how many hashtags do they use per post?
How many likes and comments are they receiving?
How often do they post?
Also, how many general and specific tags are they using?
What sorts of trends are they jumping on?
You can then decide to adapt their strategies as your own or use them as inspiration to come up with something new.
3. Advertisement
Real estate hashtags could also be used to promote your services. To attract folks interested in seeking a home in your region, include hashtags like #newlisting, #openhouse, or #homesearch in your postings. Hashtags enable you to reach a larger audience of prospective buyers.
You can also use tags related to a home's attributes, such as #marblecountertops or #townhome, to attract folks who are especially interested in such qualities.
Tags relating to interior design and architecture are two more strategies to reach a larger audience while being relevant to real estate. Even if your audience does not become prospective consumers, these hashtags will serve as inspiration for those who are seeking methods to redecorate their houses.
These hashtags enable you to develop content that appeals to a larger audience, and as a consequence, your business has the potential to get more followers.
Real Estate Hashtag Tips for Most Popular Social Media Websites
If you want to get the most out of your social media marketing, you need to know how to use hashtags. This section will give you hashtag tips for the most popular social media websites, so you can start using them to reach more people and grow your business.
1. Instagram
Instagram is one of the most popular social sites among youngsters, so if this is your target market, you should surely have a presence there. It is also the most visually focused medium, making it great for promoting open houses and presenting your available homes.
Instagram is best utilized for increasing interest in your property photographs and also interacting with new prospects through hashtag research.
It is the best site to choose if you want to go all out with real estate hashtags. The site permits up to 30 hashtags per post, but you should only use that many if they are all relevant. In general, 15-20 hashtags are a fair number to aim for on Instagram.
You can leverage Instagram's strong hashtag research capabilities to your advantage by reverse-searching some of your hashtags to locate prospects who are actively apartment or house-hunting.
2. Facebook
Facebook is not only one of the oldest and most popular social media sites, but it is also one of the most diverse. This platform, like Twitter, draws users with a wide range of interests, however, it is most often used to keep in contact with friends and classmates.
It is ideal for networking with other agents in your market as well as locating possible leads. Hashtags are less prevalent on Facebook than they are on other social media sites, but you can still explore them.
Join Groups and Pages related to your market and sector, such as apartment-seeker groups and homeowner's organizations. You can also post images of your available homes on Facebook Marketplace.
3. Twitter
Unlike LinkedIn, which is almost purely a professional site, Twitter is a mix of celebrity accounts, meme pages, industry leaders discussing their ideas, news and events, and pretty much everything else you can think of. While you can post images, videos, and links on Twitter, your actual text can only be 280 characters long, including hashtags.
Twitter is best utilized for keeping up to speed on real estate news and trends by following major publications as well as significant industry figures. Because of Twitter's restricted character limiting, it's preferable to limit hashtags to 1-2.
Twitter's "Trending" page enables you to browse tweets by the subject while also recommending accounts and hashtags to follow.
4. LinkedIn
LinkedIn is a professional social network for young professionals and job applicants. Colleagues trying to connect with other fellow employees, recruiters searching for the ideal job applicants, and thought leaders demonstrating their knowledge and skills all utilize it.
Although you can upload photographs and videos to LinkedIn, most users use it to exchange data studies or thought leadership reports. To interact with people in their sector via LinkedIn groups.
LinkedIn is best used for networking with other agents and establishing real estate groups to keep up to date on industry news. Using too many hashtags on LinkedIn, like other social networking sites, makes your message seem spammy. For each of your postings, limit yourself to 3-5 hyper-relevant hashtags.
You can follow particular hashtags on LinkedIn, which means that posts with those hashtags will appear in your feed even if you aren't linked with the poster. Following hashtags is another excellent approach to keeping up with industry trends.
5. Pinterest
Pinterest is another visually-focused social networking platform. Although Pinterest has users who are interested in a wide range of subjects, it is most popular among those who share posts about health, fashion, home decor, food, and arts and crafts.
Pinterest is unusual in that the user follows certain categories and hashtags and creates virtual "boards" with themed "pins" on them.
Pinterest is best utilized to locate new customers by following home decor and interior design trends. As hashtags sit behind the post's actual images, you can use them more without clogging the post area. For Pinterest, 10-15 hashtags is a decent estimate.
You can create boards on certain interior design or architectural trends to show your knowledge and appeal to possible prospects.
4 Common Tips To Use Real Estate Hashtags More Effectively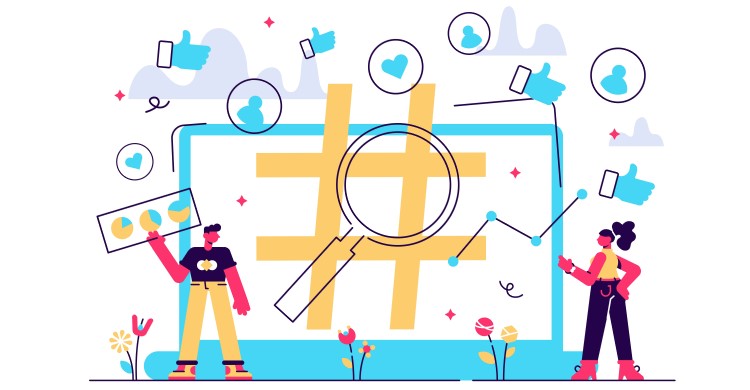 In addition to the hashtag suggestions for the individual sites mentioned above, here are some general best practices for utilizing real estate hashtags:
1. Don't Overuse Hashtags
As previously said, one of the most common errors while utilizing real estate hashtags is to misuse them. When hashtags are utilized appropriately, they give important context to your posts, allowing them to be viewed by a larger audience interested in that subject.
When too many are utilized wrongly, your post will seem spammy, and you will not obtain any attention.
2. Keep an Eye on Your Competitors and Their Real Estate Hashtags
Though the hashtags provided at the beginning of this post should be sufficient, social media is continuously growing, and new, successful hashtags will appear overnight. You should continually watch your competitor's posts to see what hashtags they are using and whether any certain sorts of posts are receiving higher interaction.
When searching for prospects using hashtags, you can also look at the rest of the hashtags they use on their posts to learn more about the themes you should be focused on to appeal to this sort of prospect.
3. Save Hashtags to Easily Access Them Later
Instead of attempting to memorize the quality real estate hashtags to use every time you publish, keep your hashtags in a running document for simple copy-and-paste access. If you want to go into further detail with your documentation, you can separate the hashtags into distinct tabs based on which social media network they operate best on. Or simply use a product like free hashtag generator tool.
To make things even quicker, you can also keep records of engagement data for certain hashtags or divide them by post type. For example, you might indeed have a list of 10-15 hashtags that you use to promote an outreach program and another list of hashtags that you use to promote a certain style of home architecture.
4. Try To Be Specific
Using generic real estate hashtags is an excellent tactic for ensuring that your article gets seen by a larger audience, but being particular is essential for finding suitable prospects. In addition to location-specific hashtags, you should hashtag anything distinctive about the property to attract others who are looking for that asset as well. This might include the pet policy, the sort of decor if it's a "fix and flip," and a variety of other aspects.
Wrapping It Up
Real estate brokers that utilize social media to sell themselves and their services can reach larger customers, both regionally and from purchasers looking to relocate to a new location.
As you can see, there are several real estate hashtags that can be used for a number of reasons. However, you can always make your own. Sprinkle them in strategically to assist your messages to garner internet attention, which can lead to hard purchases.
Of course, this is far from a comprehensive list. As you attempt to grow your brand, you will undoubtedly come across many more hashtags.
Instagram's automated recommendations will show you several permutations of a hashtag, as well as how many posts are associated with it.
Following the basic hashtag principles, trying to determine what works best for you, and developing a good plan can result in an increase in visibility and engagement for your real estate firm in no time.
For more such informative posts about social media tips and tricks, stay connected to Predis.ai. Level up your Instagram game with our free hashtag generator tool!
For more social media tips and updates, follow us on our Instagram!