Welcome, and Namaste! This blog will teach you how to make the most of Instagram marketing for your Yoga coaching.
So if you're a yoga practitioner or a yoga studio owner looking to bend and flex your marketing muscles on Instagram, you're in the right virtual studio.
Instagram as a marketing platform has become a game-changer for almost any type of business.
In this blog, we'll navigate Instagram Asana together and discover how you can master the art of marketing your yoga coaching business with wit, charm, and a sprinkle of digital magic. But before that let me tell you about an amazing AI-based application, Predis.ai, that can help you generate highly customized images and videos for your Instagram. Not just this but you can also directly link your Instagram account to Predis.ai and schedule content through its inbuilt content calendar.
Is Instagram really a game-changer for Yoga coaching?
To give you the short answer, YES. In this digital age, where almost everyone uses Instagram to scroll through hours of reels only to forget them, your Yoga coaching account can play a huge role.
People in today's age, are rarely mindful of what they consume over media.
A simple 30-second video on some basic stretches can really help a hunched-over audience sitting in a chair all day to feel better and keep coming back for more!
But there are more reasons:
Yoga Boom: More and more people are getting into Yoga
The world is bending backward, forward, and sideways to embrace yoga.
More and more people are beginning to understand the effectiveness of simple asanas and breathing techniques, striving to include them in their daily routines.
Lots of potential yoga students on Instagram
With over 98 million posts tagged with Yoga, Instagram is where your potential students are hanging out, scrolling through serene sunsets and yoga poses.
Anyone interested in yoga is a potential student just waiting for you to reach out. So target those interested individuals with the help of Instagram's algorithm.
Online classes take less effort and cost
Online classes make printing flyers needless. No need to shout your yoga class schedule from the mountaintop. Instagram makes marketing as easy as a child's pose.
You don't need to have a transportation budget or rent out any space. Just a space in your home is fine and you can work at any time that is convenient for you.
Easy to market
With the right tricks up your sleeve, Instagram marketing is easier than learning how to do a headstand. And that's exactly what we're here for!
Basics of Instagram for Yoga teachers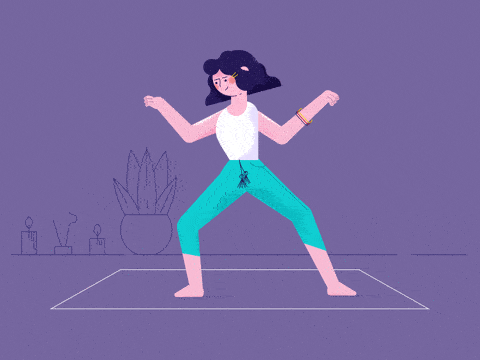 Now, that brings us to our next question. If Instagram marketing is so helpful, how can a Yoga coaching owner get started?
We'll cover how you can turn your Instagram into a business account, with the right username, profile picture, and bio too!
But that's not all, in 9 easy steps, we'll also guide you on how you can make posts using different Instagram features and do your best to engage your followers.
1. Create or convert a business account
Now that you've decided to join the Instagram yoga party, first things first. Create a business account!
If you haven't already, head to your app store, download Instagram, and set up an account. It's like the warm-up before a yoga session – essential.
Log in with your existing account or sign up with a new email or phone number.
Pick a username that reflects your yoga persona – something catchy but professional. If you're not sure what you want, check out our next section to get a clearer idea.
Now, if you already have an account, you can convert your personal account into a business account as well.
Go to profile settings, the three horizontal lines at the top-right corner of your profile. From there, go to "Settings"
Within Settings, scroll down and find the section "For professionals". You'll see "Account type and tools" or a similar option.
Tapping on that will show you the option to "Switch to Professional Account."
Instagram will then prompt you to choose a category – for you, it's 'Yoga Studio' or 'Public Figure.'
And now, finally, we get to the fun part: Filling in Business details!
Fill in your contact information – email, phone, and location. This is like your yoga mat – make it comfortable and inviting.
2. Find the right username and profile picture
As we said before, your username needs to be something that really shows who you are and how you uniquely connect to Yoga. Too much pressure? Don't worry, we have some examples for you.
Stalking, but make it professional. Look at how these yoga influencers do it right:
Look at Avery, a non-binary yoga practitioner.
Their profile picture is them in a yoga asana with a pride flag. A unique display of their identity!
Avery's username is pretty simple as well- yoga_with_avery, which makes it easy for the account to pop up when users search for "Yoga" in the search bar.
Here's another example: Yoga mami
Josephine Jacob, as yoga_mami on Instagram, always makes it a point to include her children in her yoga practice. As such, her username reflects the blend of being a yogi and being a mother.
The idea is that your profile picture and username should have two important things- one is you, and the other is yoga!
3. Write an engaging bio
Your bio will be the invitation you give to your followers to check out your profile, visit any links you put there, or even get in touch with you!
Make sure that it sets the tone for your practice and is engaging. That being said, don't write too much! Your name, where you practice, if it's online or offline, and a link to your website if you have one is more than enough.
Including a call to action is another great way to market your practice on Instagram.
Clearly ask your audience to get in touch with you for more details, or follow the link to your website or YouTube channel if they wish to make a real change in their lifestyle!
4. Maintain a Theme
Think of your Instagram feed as your yoga studio. Keep it neat, organized, and consistent.
For your feed to look consistent, decide your brand colors, something that will represent your brand or studio. Color code your feed and photos according to the colors.
If you're not sure how to go about it, a great place to start is to sign up for AI tools like Predis.ai.
Predis.ai can help you create customized posts that follow your brand language and even your brand's color scheme! (What's better is that it's free to start with!)
5. Start creating high-quality content
Once your username, profile picture, bio, and theme are decided, all that's left is to start making posts! It's important for you to remember to use high-quality visuals, whether they're pictures or videos.
Make sure you're using all the features that Instagram has to offer. What's yoga without a little variety? Diversify your content type to keep your audience engaged.
Use Posts to show off pictures of your Studio or usual Yoga practice environment
Use Instagram Stories
Use Carousels to sow a series of asanas that your audience can follow
Use Instagram Reels to show a sneak peek of your Yoga classes
Use Story Highlights to display some know-how, the correct way for an asana, or to show where your studio is located. You can also keep some pictures and videos of previous yoga events at your studio as the highlight!
6. Make consistent posts
Plan your yoga poses, oops, we mean posts, with a content calendar. Being consistent with your posts on Instagram will give your audience a chance to look forward to your content. It will also help you grow your reach steadily and draw in new audiences.
That being said, it is understandable to not always be super particular in posting. This is why, we recommend using a content calendar and a post scheduler.
Having an AI tool like Predis.ai take care of your posting will make your life easier for sure. No need to worry about the right time to post, or fret over missing the right chance!
7. Switch up between contents!
Instead of being serious all the time, switch up your content to give your followers a breath of fresh air. Along with tips and tutorials for best practices for different asanas, also make posts about some lesser-known facts, motivational quotes, and even memes!
8. Don't forget all the Story features
Posting an Instagram Story is not only a picture or video that will stay for 24 hours.
Make use of the variety of filters offered, the option of choosing layouts for a number of pictures, or be creative and draw over your stories!
You can also add links to your stories, that prompt the users to swipe up to know more. You can also use the 'Ask a Question' feature or add in polls as well
9. Add relevant hashtags
Making posts and reels in combinations is great if you want to reach bigger audiences, but adding hashtags will help you really up your game.
It's super important to find that sweet spot when it comes to the number of hashtags you use. 2-3 might be too less, while 20-25 might be too many.
Another important point to remember is that the hashtags need to be relevant.
Customize your hashtags according to every post you make. For example, if you're posting a meme or a joke related to Yoga, use hashtags like #yogafun or #memewithyoga.
To make your life easier, Predis.ai also comes with a free Hashtag generator that can help you generate relevant hashtags for your posts and reels!
It also shows the number of tagged posts for every hashtag so you can choose your tags wisely.
Making the Most of Instagram Marketing for Your Yoga Coaching
Now, let's dive into some more practical tips, strategies, and tricks to the world of Instagram Marketing, tailored specifically for Yoga coaches like you!
Post about your next class
Before we even roll out our virtual yoga mats on Instagram, let's make sure everyone knows about the upcoming class.
Announce it, tease it, and create a buzz that would rival a yoga festival. This tip sets the stage for the symphony of your Instagram marketing.
Timeline of your classes
Every yogi loves a well-organized yoga schedule. Lay out the timeline of your classes, from the gentle morning flows to the power-packed evening sessions.
Dates, timings, and class types—paint a vivid canvas for your followers to immerse themselves in. Make it so that it's irresistible to participate in!
Stay consistent in your branding
Repeat after me: consistency is the key. Your brand voice, theme, and colors should resonate like a well-practiced Om.
Let your Instagram feed be a harmonious blend of visual delight and recognizable branding.
Build a community and collaborate with influencers
Yoga is a communal experience, and your Instagram should reflect that. Engage with your fellow yoga professionals and influencers. Follow them, post with them, and reply to their posts.
Their reach can introduce your coaching to a broader audience. The stronger your community, the more magnetic your Instagram aura becomes.
Engage with the community you've built
Simply building a community and catching your audience's eye is not the end.
Engagement is not a one-way street. Like, comment, reply, and engage with your audience.
Let the conversation flow as effortlessly as a Vinyasa sequence. This tip forms the heartbeat of your Instagram presence.
Post testimonials of satisfied students
Let your students' success stories echo through your Instagram. Before-and-after snapshots, heartfelt reviews, and glowing testimonials—these are the treasures that build trust in your coaching.
Post on the right days and times
While the yoga philosophy teaches patience, Instagram demands precision.
Use Instagram analytics to understand when your audience is most active. Post on those days and times, ensuring your content reaches its full potential.
Run an ad campaign
Sometimes, you need a little boost to ascend the Instagram algorithm. A well-crafted ad campaign can amplify your reach and attract new yogis to your virtual studio.
Analyze and improvise
Dive into your Instagram analytics like a yogi into a deep meditation. Check the performance of your posts, ads, and hashtags.
Make data-driven decisions to refine and enhance your Instagram strategy continually.
Contests, giveaways, offers on holidays, and discounts
Bring joy and excitement to your Instagram universe by hosting contests, giveaways, and special holiday offers. Discounts, when timed right, can be the cherry on top of your yoga marketing cake.
Wrapping up
Instagram marketing is all about staying on top of your game. It might sound hard if you're just starting out your Yoga journey on Instagram.
This is exactly where AI tools like Predis.ai can help you out. From giving you content ideas, creating customized posts, posting at the right times, and even generating hashtags, this tool can take care of more than half of your marketing tasks.
This gives you ample time to work on the quality of your practice and creativity.
Predis.ai can also help you check out your competitors and see what works for them, with its competitor analysis feature.
Follow these tips for your Instagram marketing technique and watch your Instagram Yoga coaching presence evolve!
Related articles
Top 14 International Yoga Day Post Ideas
Top Do's and Don'ts For Your Instagram Marketing Strategy
Glossier's Instagram Marketing
Bulletproof Instagram Marketing Strategy