If you have been researching for a hashtag generator for social media channels like Instagram, Twitter, LinkedIn, and Facebook, then you may have inevitably come across Predis.ai and Inflact.
As two of the most popular hashtag generator tools, both Predis.ai and Inflact come packed with features to help you with your tasks. But which one is the right tool for your business ?
Let's find out.
Oh, by the way…
Why to use hashtag?
Hashtags are a way of grouping and linking topics with a post. They are created by using the #symbol followed by a phrase. Hashtags increase engagement and add some additional relevance to a post.
With the hashtags, you can reach people outside of your friends or followers. Some have also found that it gives an additional voice to their posts.
On Twitter, you can use hashtags as a search. You can also filter through and see posts only by those you follow, the most popular and the most relevant. This even allows you to specify posts or find specific posts about various topics. Hashtags also increase retweets significantly.
On Instagram, it is more about branded content and finding other users. It gives other users the ability to find and link to you. It also gives you the ability to connect with others by going via similar hashtags. Hashtags can also be used for complementing pictures and have been used for photo challenges.
On Facebook, clicking on a hashtag will take you to a page of posts with the same hashtag. One example of this would be when a big event happens and multiple people post things with the same hashtag. Someone can then click that hashtag and see all posts that have been tagged and find out about the event. Hashtags are less common on Facebook and are not as important to use as on Instagram or Twitter.
Before moving ahead with the comparison, let's have a look at what exactly Predis.ai and Inflact are?
Predis.ai is a social media content creation tool that helps to automate the process of creating engaging and compelling content.
With it's suite of creative tools, Predis.ai makes it easy to create captivating content that engages your audience. Whether you are looking to generate hashtags or insert custom images into your posts, Predis.ai has you covered.
It also helps you to schedule your social media posts within it. It has a great Calendar View scheduler that looks and works very great.
Predis.ai has created a solid hashtag generator that will give you a go-to spot for accurate hashtag information.
What is Inflact?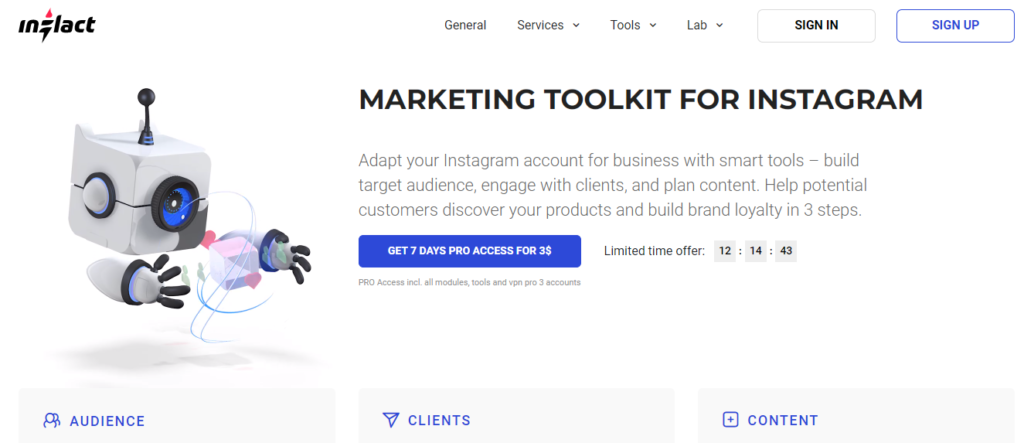 It is an AI-based Instagram tool that analyze your data and deliver appropriate hashtags.
While on the other hand, this feature is not Inflact specific and is relatively common. Inflact separates provided results according to their frequency of use, which ranges from frequent to average and then to rare.
Inflact is not available free of cost, its hashtag generator tools have a monthly subscription fee of around $20.
So, now let's have a look at the features of Predis.ai and Inflact!
Artificial Intelligence based hashtag generator
Predis.ai
Predis.ai Instagram hashtag generator uses Artificial intelligence to find hashtags for Instagram. You can do hashtag research by simply uploading an image, adding your keywords.
Inflact
With Inflact, you can add any keywords around your post and the system will suggest frequent, average and niche hashtag combinations for you. It will search it's database and return you relevant hashtags.
Input type
Predis.ai
When finding the hashtag, Predis.ai takes the keywords and images to find the relevant hashtags.
Inflact
While on the other hand, Inflact accepts keywords, images and URL at the time of generating hashtags.
Quality hashtags
Predis.ai
With Predis.ai, you can get quality hashtags in just a click. It is the only tool you need to increase your Instagram engagement and impressions. Based on the keywords/ image you enter, it can automatically generate quality hashtags from real time Instagram data. It gives you data on the basis of the reach and relevance.
Inflact
Inflact gives you hashtags from the keywords, image you input. The system uses it's database and AI to give you a set of hashtags according to it's popularity. Inflact on the other hand is not that much great as it relies on the data which they collect.
Finding the best performing hashtags
Predis.ai
With Predis.ai, you can see different types of hashtags, look at their sizes and make an informed decision on which hashtags to select. You can sort the hashtags based on reach and relevance. It will also show you the number of times a hashtag has been mentioned.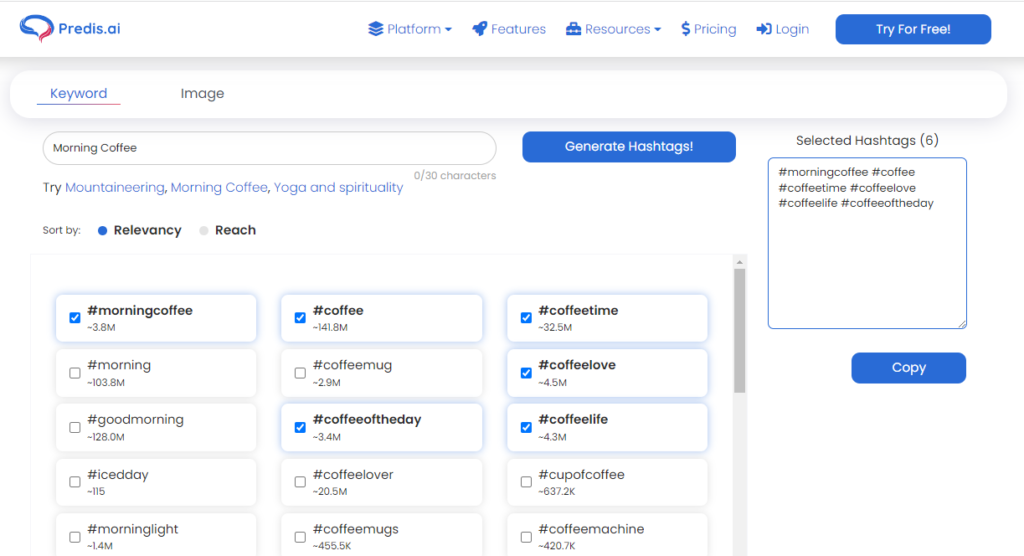 Inflact
Inflact will give you hashtags which are divided into categories based on the popularity. You can select hashtags which are highly used, average and rarely used.
Hashtag Generator Pricing
Predis.ai

You get to use the Predis.ai hashtag generator for free for a lifetime without paying any single penny. Apart from that, if you want to use any other features of Predis.ai, then it offers four plans which include the Solo, Starter, Growth, and Agency. They also have a FREE plan. The price starts from $20 per month and ranges up to $105 if you want to enjoy all the features thoroughly. Predis.ai is priced right. Not too high, nor too low. Simply affordable!
Inflact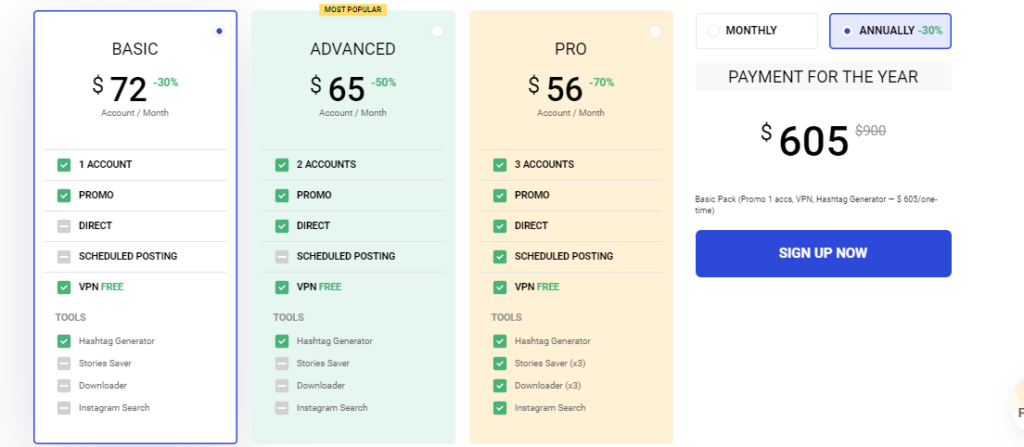 Inflact charges a minimum of $3/month for the hashtag generator with no free trial version available. Apart from that, if you want to use any other features of Inflact, then it offers three plans which include the Basic, Advanced and Pro. The price starts from $605/year and ranges up to $1403/year if you want to enjoy all the features.
Predis.ai vs Inflact Hashtag Generator. Which one would you choose?
The answer to this is Predis.ai, as the hashtag generator is free and the product is more affordable and also comes up with a 7 days free trial.
For more social media tips and updates, follow us on our Instagram!