Real estate is a highly competitive industry anywhere you go. Whether you've been in the business for a year or a decade, you know that the key that drives real estate businesses is keeping connections and building a bigger network. In that case, even friends or relatives who need to buy or sell homes play an important role. On top of that, buying or selling a home is often an important emotional and financial decision.
This is where Instagram comes in.
Why do you need Instagram for a real estate business?
As you know, acquiring new listings can be a challenging task. Growing your real estate business needs you to not only keep your previous customers engaged but also create your own sphere of influence such that you find prospective clients on a daily basis. You might also be approached by customers- people who reach you through other realtors or brands.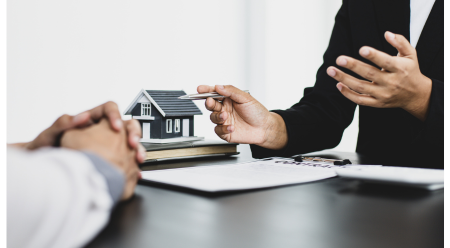 Most people will try and look for listings online. According to the National Association of Realtors, with social distancing and health guidelines for the COVID-19 pandemic, 2020 was a crucial year that served as a turning point for how people buy and sell homes. 97% of home buyers used the internet, and 76% of home buyers used a mobile or tablet search to look for their dream homes. This is why you need to constantly stay on your toes and market your business online and on social media.
Instagram is now one of the hottest platforms for marketing of all kinds, not only because it is highly visual but also because it engages the audience. When it comes to the real estate business, showing off the property and its uniqueness is crucial to attracting potential buyers. In addition to that, Instagram can also be a great platform to reach a wide audience who can further connect you with potential clients.
Not to mention, Instagram can also help you check out your competition and stay on top of all the trends that could affect your business.
How do you use Instagram marketing for real estate business?
Now that you know that Instagram may be one of the perfect tools to use for marketing your architecture and real estate business, here's a complete guide on how to make the best of it
1. Define your audience
The first thing to do before marketing is to know your target audience. Analyze your current client base to identify common characteristics like age, income, location, and preferences. Research local demographics. For example, according to the National Association of Realtors' 2021 Profile of Home Buyers and Sellers, the typical age of the first-time home buyer is 33 years, and the majority of home buyers are married (60%).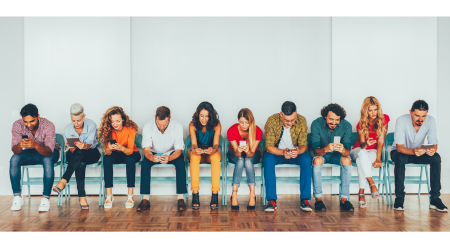 When you're posting listings for properties in different cities, make sure you speak to the audience that is attracted by that city. For example, cities with a large number of universities may attract a younger demographic, while cities with high-paying jobs in specific industries may attract higher-income buyers.
2. Make the most of all Instagram features
The next step after you find your audience is to start attracting it. Instagram does not only let you make aesthetic posts for a cohesive feed but comes with so many other features. Instagram Stories will allow you to share short-lived content with your followers, such as behind-the-scenes glimpses of your business, local events, and property listings. Adding selected stories to Highlights will let your followers access these stories at any time, which may be a good idea for content such as customer reviews or even renovation samples.
Reels allow you to create short, creative videos to showcase your properties and engage with potential clients.
Instagram Live and IGTV will allow you to broadcast live video streams to your followers, which can be used for virtual property tours or Q&A sessions.
3. Try to grow your reach
This may be one of the most important tasks to undertake when you're using Instagram for marketing. Identifying a target audience and making use of all the Instagram features means your work is already half done!
The next thing to do is use location tags and hashtags with all your posts and reels. Make sure that they are relevant and trending so that your posts will reach a wider audience. Some examples can be #homeforsale, #dreamhome, #openhouse, or #luxuryrealestate. You can also create your own branded hashtags to build awareness for your business.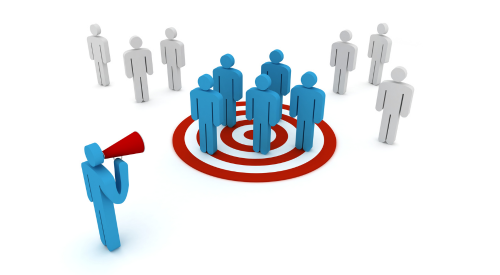 Apart from this, you can also make use of Instagram Ads. You can target your ads based on specific demographics and interests to ensure you are reaching the right audience beyond your current followers.
4. Engage with your audience
Engage with your followers and potential clients. Reply to all positive and negative comments. Responding to negative or rude comments shows that the business actively engages with its followers and cares about their feedback. It also publicly shows other followers that the business is willing to take responsibility and address negative feedback. This can help build trust and loyalty among customers. Respond to direct messages promptly, without any unnecessary delay.
Schedule frequent Instagram Lives and Q&A sessions to address potential buyers, showcase a walk-through of a new property listing, or an open event.
This will help build relationships and is another step forward to increasing your online visibility.
5. Post frequently and consistently show up on your followers' feeds
Consistent posting will drive better engagement and also create better social algorithms. What does that mean? Well, what shows up in your client's feed is determined by what posts or accounts they engage the most with. That means it can keep evolving over time.
Posting daily can feel daunting, and you can soon feel like you're running out of ideas. To counter that, you can try using Predis.ai.
Predis.ai is an artificial intelligence-based social media marketing tool that will help you create content and captions and also analyze your competition all with AI-powered insights. You can even schedule posts to make your task easier while consistently interacting with your audience.
6. Drive your audience to social landing pages
Social landing pages are web pages created for a specific marketing campaign that engage and drive followers from social media channels, posts, or ads. This page is often customized and tailor-made to cater to the audience's needs. For a real estate business, social landing pages are a sure shot at getting your potential buyers to interact with your listings. You can add videos of walk-throughs or virtual tours, client testimonials, and insert specific calls to action like scheduling a tour or calling your office. This will make it a lot easier for your potential client to contact you, at least for an initial inquiry.
6 Best Instagram Content ideas for your Real Estate Business
Content buckets help you organize your content creation efforts and make sure that everything you post is aligned with your brand values, goals, and audience interests. Here are some ideas to showcase your real estate business on Instagram
1. Property photos and new listings
It might be obvious, but uploading property photos are crucial for realtors on Instagram. Make sure to give the audience a sneak peek into the home they're looking at, its unique features, and what makes it so attractive. This will compel the potential buyers to ask for a virtual tour.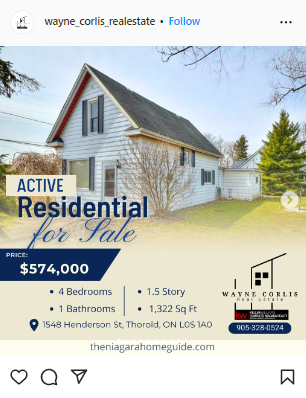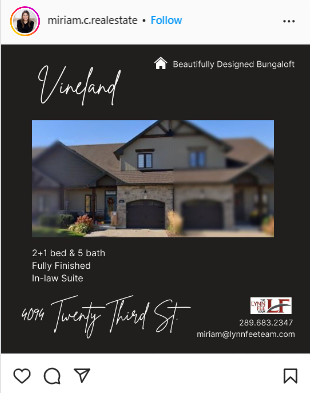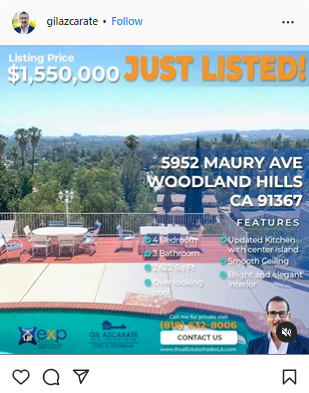 2. Client testimonials
Potential home buyers often look for success stories of people who found their perfect home. Buying, selling, or even renovating a home is a unique experience for every client. Sharing their story, thoughts, and feelings about the experience on Instagram through posts and covering the process in a time-lapse video on reels will get you clients who look to build trust before checking out a brand's listings.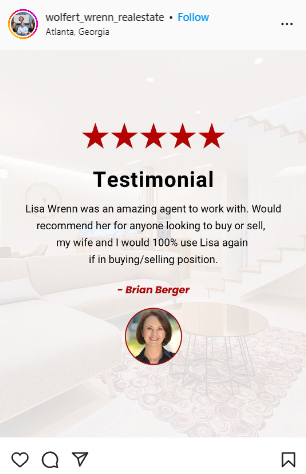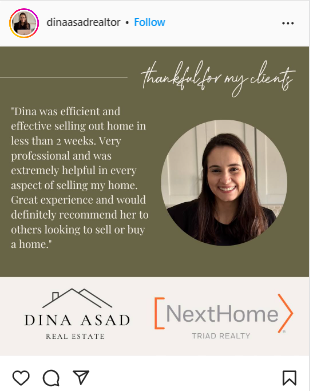 3. Company milestones
While you build trust with your clients, also show them your achievements, progress, and what you strive for. It serves not only as proof of your competency in business but also shows that you celebrate your success with your clients.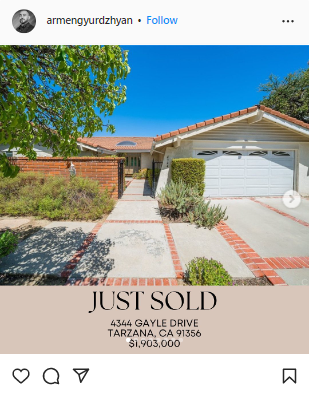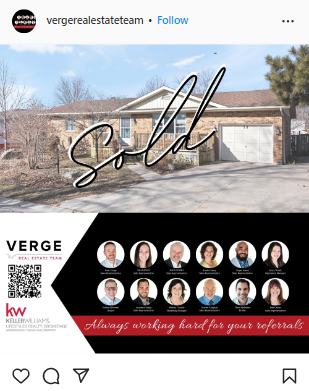 4. Renovation ideas and home maintenance tips
A great idea to engage all your customers- past, current, and future, is to show them the potential of a home that is already made. Provide home maintenance and renovation tips that incorporate different styles, such as Modern, Contemporary, or Minimalist Interior Designs.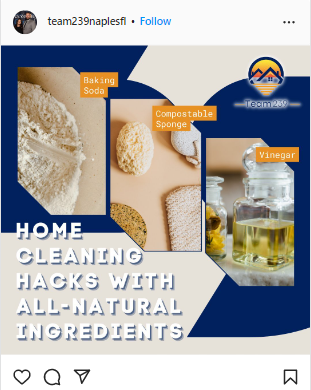 Creating a time-lapse video of the process is not only engaging and compelling but also extremely satisfying for viewers.
5. Covering open house and virtual showings
Covering events such as an open house through Instagram Live or sharing reels and videos as a means of a virtual tour are both great ways of engaging the audience.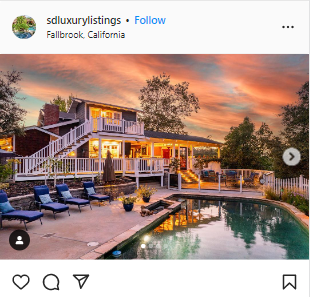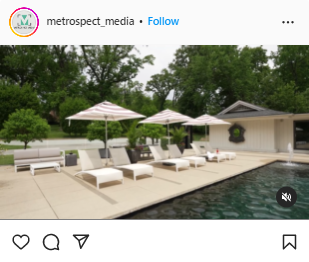 6. Realtor bios
Marketing for real estate is not only about the property and its potential but also about your relationship with the client. Sharing your bio and a short post about yourself on Instagram will help the clients understand you better and decide whether you are a good match. Be sure to talk about your passion for making homes and helping others find theirs!
Wrapping it up
Instagram can be an extremely fruitful marketing tool for real estate businesses. It will help you flaunt your property listings, maintain contact with previous and potential home buyers, and engage them through various content ideas discussed above.
With this guide, your real estate business is sure to be eye-catching, allowing your clients to have a meaningful home buying-selling experience.