Lifestyle as a niche for Instagram pages is very versatile. The overlapping of the niche with other significant niches makes it one of the most important niches. The simple activities you do every day, your personal style, voicing your opinions on different topics, advice on various aspects of life – all of this can serve as content ideas for an Instagram lifestyle page. Sharing insights and glimpses into your daily routine from an authentic yet curated perspective can help you build an engaged audience for your page.
But we must accept that sometimes we just cannot get ideas even if the content is right there. To help you get over it, we bring you the best lifestyle content ideas for Instagram that will entertain your audience and enhance engagement on your page!
Let us start with the best lifestyle content ideas for Instagram that will attract your audience with minimal effort!
1. Productivity Tips
Productivity as a content idea for a lifestyle niche has vast content. People are always looking for ways to be more efficient and productive. Hence, you can opt for this lifestyle content idea for Instagram.
Setting clear goals and tracking progress helps you stay accountable and focused on what's important. Share goal-setting strategies and encourage readers to set and track their own goals.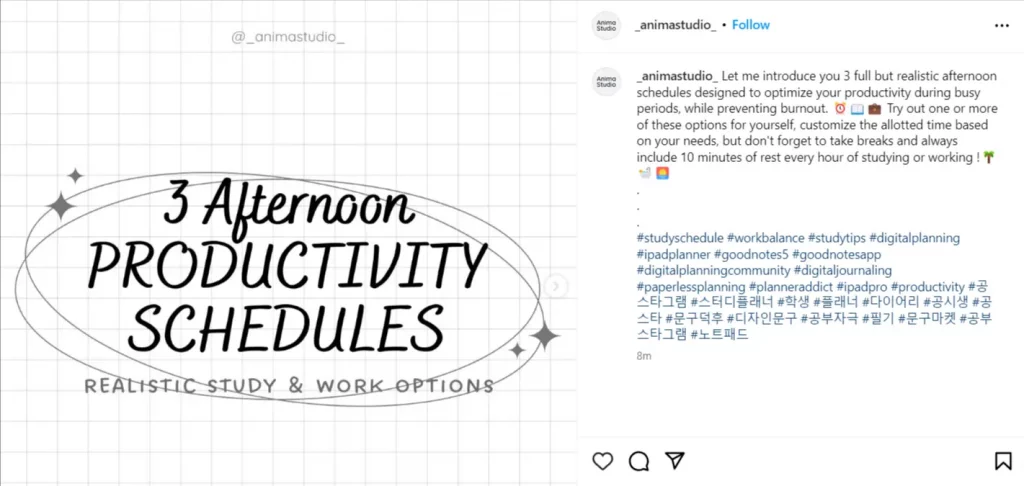 2. Parenting Tips
Content that talks about parenting is in great demand. And with parenting, there is so much content you can create for your lifestyle Instagram page. Engage your audience by sharing your personal experiences if you are a parent.
Trust us, a new parent will be delighted to read about your experiences as a parent. Try creating content that provides tips to parents or briefly discusses the how-to guides.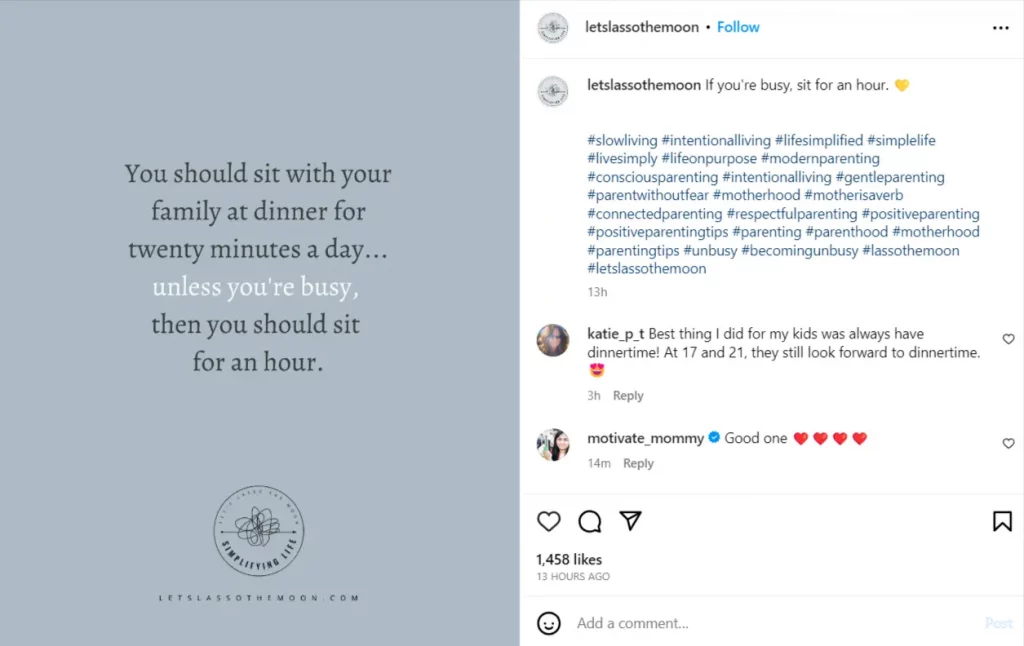 3. Dealing With Stress
Stress has become a part of our daily routine. The piled-up workload and a busy schedule often leave no space for prioritizing your personal life.
Lifestyle content ideas for Instagram that can cover stress management have demand. Include how you cope with stressful situations, or add your ways of dealing with tough times.
Share a personal story about stress management. To increase engagement, ask your followers to share an experience where they had to overcome a stressful situation.
See this influencer making stress management so easy!
4. Night Routine for a Productive Morning
If you are covering a lifestyle niche in your Instagram account, talk about how your night routine can impact your energy levels for the next morning. Create content that talks about the night routines you follow.
Alternatively, you can discuss how night habits have an impact on energy levels in the morning. How food preferences and choices at night affect the digestion of the body can also be covered in this content idea.
Here is a night routine for a cozy night!
5. Self-Care Routine
If you are looking for a hot topic for your Instagram page, self-care is definitely going to be a hit. With people talking and opening up more about mental health and well-being, self-care has attained its importance.
For this, create content that guides and helps the audience with their mental well-being. Additionally, you can post about how you follow a self-care routine.
See this user enjoying her self-care moment!
6. Learned Lessons
Life never stops teaching us, and the lessons we learn can be great for creating content in lifestyle niches. Creators can either share lessons from their personal life or professional life.
If you are sharing the learned lessons from your professional life, you will receive an increased engagement from the audience with the same profession. This can be one of the content strategies if you want to target people from the same profession.
7. Workout Routine
If it is challenging for you to come up with new content ideas, talking about your workout routine will add personalization to your Instagram page.
If you want the content to revolve around this domain, include reviews of home equipment, gym wear, or gym accessories. A few tips and tricks are another content idea for your lifestyle Instagram page.
Check out this 10-minute cardio routine!
8. Affordable DIY
DIY projects have gained a lot of attention lately, so it is your chance to include them in the content strategy for your lifestyle Instagram page.
DIYs are loved because they are affordable and provide better quality products. And at the end, what can be a better way to utilize your time effectively?
Create content about a DIY project you finished. If you have no such project, pick out other DIYers and choose your content. Here is one post.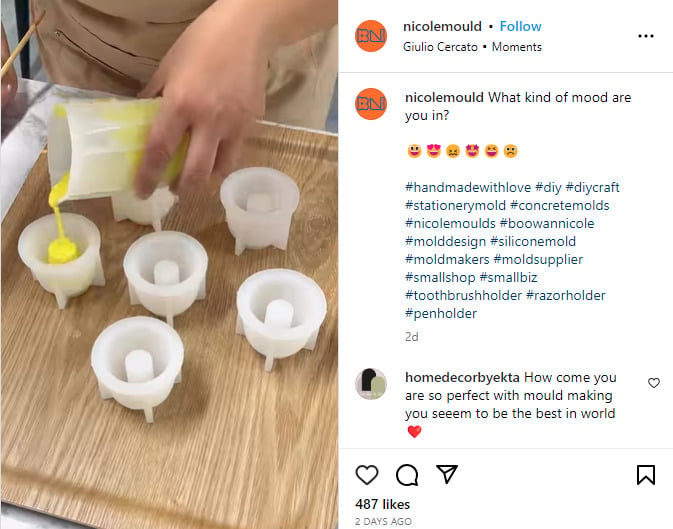 9. Life Hacks
We all want our lives to be made simpler, easier, and better in some way. Having a few life hacks can do it all for you. And sharing the life hacks is one content idea for your lifestyle Instagram page your audience will undoubtedly love!
Create carousels combining multiple interesting life hacks or focus on one particular life hack. To enhance engagement, ask the audience to share their favorite life hack.
Watch this post by an influencer sharing wonderful kitchen hacks when you have leftover pineapple peels!
10. Healthy Lifestyle in a Busy Schedule
The busy lifestyle in the current date has no room for health. To help your audience balance their work life, personal life, and health together, create content that helps them with it.
You can share tips and tricks that can help in staying fit even if a person has a busy schedule. Diet options, staying hydrated, sleep hygiene, exercising, and affirmative thoughts can be discussed in your content.
Alternatively, health creators can add adverse effects if health is not prioritized.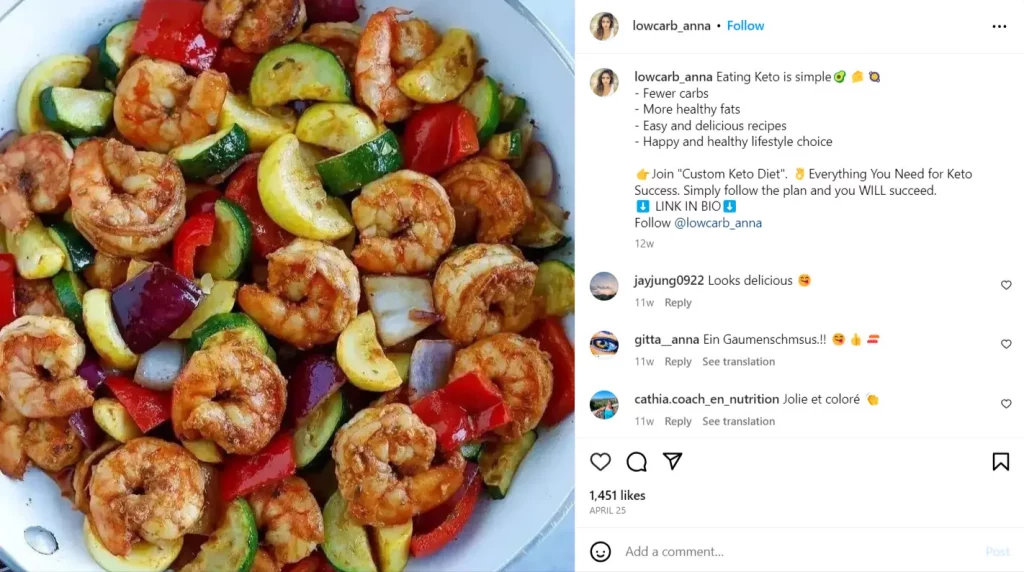 11. Travel Tips & Travel Essentials
If exploring new places and cultures fascinates you, cover content that speaks everything about travel.
Being a travel enthusiast, you can share tips in your content for Instagram. Additionally, talk about travel essentials in your Instagram content.
For inspiration, check out this content posted by Julianna Claire!
12. Fashion
Fashion is a versatile domain for content creators. With new trends overnight, curating content in this subdomain is not challenging.
Fashion influencers can start creating content by sharing their outfit of the day. It will help people to get creative ideas for the day. Alternatively, showing your collections, be it wardrobe, bag, shoes, or jewelry collection, can be another way to engage the audience with your content.
Furthermore, content covering styling different clothes or clothes for specific functions or events.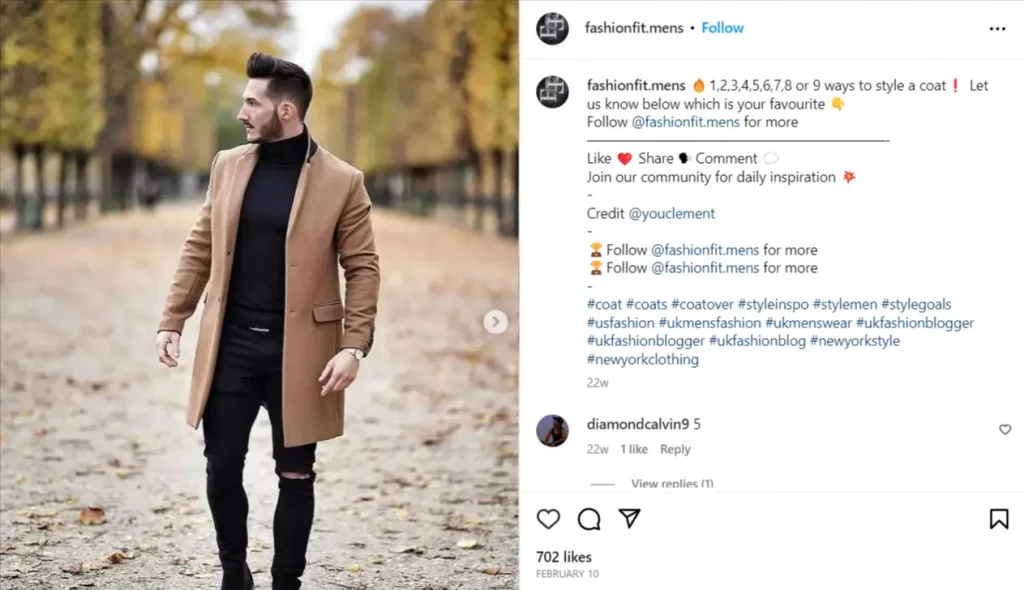 13. Tips on Self-Improvement
As humans, we always have something that we can improve. By making that a leverage, share valuable content to your audience in the sub-domain of self-improvement.
The content can include a generic strategy to improve oneself. Alternatively, focus on an individual group of people.
For example, create reels about self-improvement for introverts, people with low confidence, or people struggling with mental health issues. This way, you can get different content from the same sub-niche.
Hear out this reel giving an important perspective that can be crucial in self-improvement!
14. Recipe Posts
By no chance can we skip food from our lifestyle. Food is an essential part of our lifestyle, and it's important to enjoy it while maintaining a healthy and balanced diet. Sharing healthy and delicious recipes can inspire followers to try new dishes and make healthier choices. Share recipes for breakfast, lunch, dinner, and snacks, and include tips for meal prep and planning.
Start with your go-to meals or share the trickiest recipe you have tried. An easy side dish, a mocktail recipe, or recreating a recipe are some of the content ideas for your Instagram feed.
If you love experimenting with recipes and creating content for your lifestyle, an Instagram page is one of the easiest ways to make content when you are running short of ideas.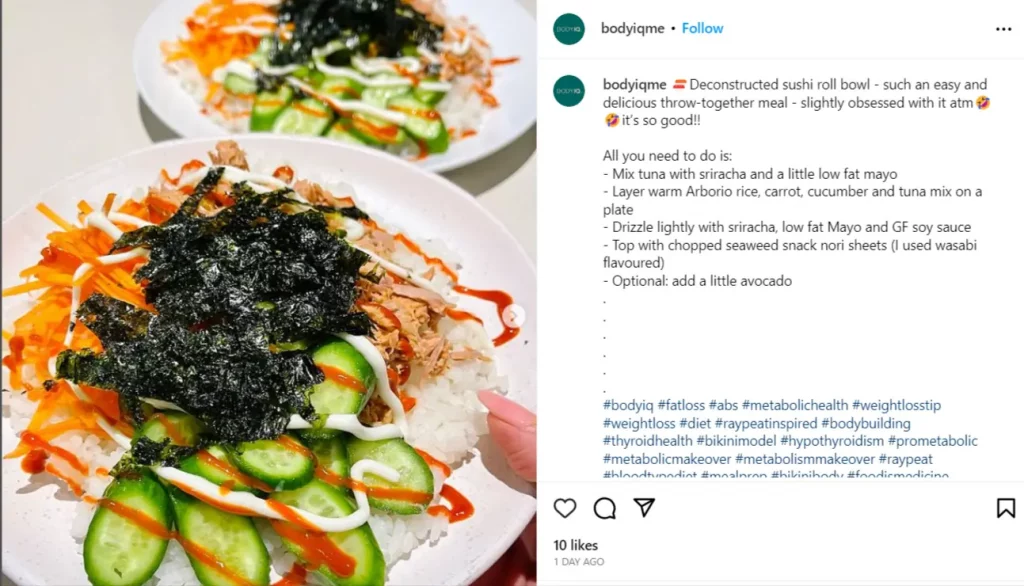 15. Share Your Opinion
Opinions are unique. Using your opinions as content ideas helps you in curating content that is unique. This way, you will be able to gather an audience that has opinions similar to yours.
Sharing opinions can be a unique way to create content that stands out and attracts an audience that shares similar views. Here are some ideas for sharing opinions on a lifestyle page.
For example, offering your perspective on current events and news can spark meaningful conversations and encourage followers to engage with your content. It's important to approach these topics with sensitivity and respect for differing opinions.
Additionally, sharing your opinions will add a touch of personalization to your content. This enhances the quality of your content.
16. Review a Product-Service
A great content idea for your lifestyle Instagram page is to review products and services. Incorporation of reviews in your content strategy can be a great way to attract an audience and business owners.
Create detailed reviews about the benefits and downsides of the products or services and help your audience to make decisions before their purchase. Make sure the reviews provided by you are accurate, error-free, and appropriate for your audience.
For inspiration, check out this review for fitness equipment!
17. Money-Saving Tips
Money-saving tips will impress the audience because everybody wants to save their money. Share strategies that help manage finances or create content around ways to cut expenses.
For example, sharing tips on how to set up a budget and stick to it can be helpful for followers who may struggle with managing their finances. This could include tips on tracking expenses, setting financial goals, and minimizing unnecessary expenses.
Experiment by providing valuable content to your audience by helping them set money-saving goals.
Here is a post that talks about money-saving!
Wrapping It Up
The lifestyle niche on Instagram offers a wide range of content ideas to engage and entertain your audience. By incorporating these content ideas into your Instagram page, you can attract followers and enhance audience engagement with minimal effort. From productivity tips and parenting advice to stress management techniques and night routines, there are endless possibilities to explore.
We hope you now have plenty of content ideas that will save you from the struggle of searching for new ideas for a long time. Follow for more creative and unique content ideas for growing your Instagram page!
You may also like,
Content ideas for Cryptocurrency accounts.
Social media post ideas for Cinco de Mayo.
Instagram content ideas for Easter.