It's reasonable to say that aesthetic social media such as Instagram are here to stay. And, with a solid approach, you can gain significant visibility on various social media platforms, whether for your business or personal brand.
However, without the use of social media management tools, it may be impossible to create and maintain a social media strategy. You won't be able to plan and schedule posts ahead of time, modify posts, or view reports on the performance of your Instagram account if you don't have these capabilities.
While there are various social media marketing softwares for Instagram, Planoly vs Buffer are two of the most popular.
In this blog, we will compare Planoly vs Buffer in terms of features, cost, and overall user experience.
What is Planoly?
Brandy Pham created Planoly after spending a large amount of time on Instagram for her jewelry firm and finding it difficult to manage her marketing campaign only through the Instagram app.
As a result, she founded Planoly to make it easier for entrepreneurs and companies like hers to schedule and upload Instagram content. In addition to Instagram, it has lately been expanded to let companies and entrepreneurs publish to Pinterest, Facebook, and Twitter.
According to user reviews, Planoly is a rewarding solution with a robust feature set. Users, on the other hand, would love to have a more detailed analysis of the performance of their content.
What is Buffer?
Buffer is a simple and easy-to-use tool for publishing content to social networking sites. A Buffer account is simple to set up and use. The tool's main strength is its outstanding ease of use.
Buffer includes a multitude of data analysis and reports generation options. It also provides strategic guidance for increasing social reach and engagement. It's also compatible with the most latest social features, including Instagram Stories.
Planoly vs Buffer: Key Features Comparison
This section will go through the main features that both Planoly and Buffer offer. You can choose which platform will best meet your social media management needs by studying these aspects in each platform.
Planoly vs Buffer #1. Posting and scheduling
Both Planoly and Buffer let you post to your social media networks. You can also schedule posts ahead of time and customize them in real-time on both platforms.
Planoly's posting and scheduling feature is simple. Simply click the "new post" button to start creating your post. Then you choose a media source.
What's really nice about this functionality is that it's been integrated with Canva. So, if you utilize that tool for graphics, you can get to them right away.
If you frequently upload a large amount of content (or repost content), this is something you should definitely check out. In most cases, though, you will upload straight from your computer or from a platform such as Dropbox or Google Drive.
After you've uploaded your photos, you can choose whether to display them as a carousel or as a single post. Then, after adding information to the post (such as the initial comment for hashtags), post it.
It's a basic and user-friendly experience. You can schedule posts as far ahead as you like, and you can schedule multiple posts at once if you want.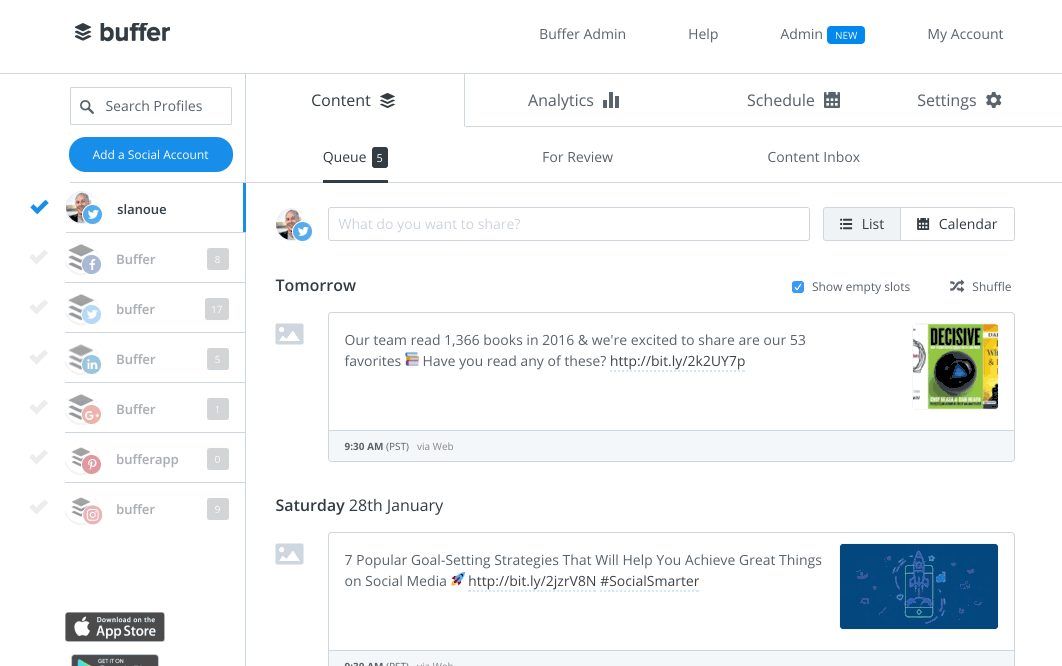 When it comes to scheduling, these softwares employ a variety of techniques. Buffer also offers the Buffer Queue, which offers a personalized timeline for all of your posts.
Buffer's free account allows you to schedule up to ten posts per social media account. If you want to see a preview of the post you've scheduled, Buffer has got you covered. It is, however, only available with a Business or Pro membership. Buffer provides views on a monthly, weekly, and list basis.
Planoly vs Buffer #2. User interaction
Planoly has a "comments" feature that lets you view and respond to comments on all of your posts. You can browse comments on the 15 most recent posts, the 30 most recent posts, or all posts, depending on the plan you pick.
Buffer manages social media conversations with a separate app. The Buffer Reply app provides a lot of useful features, but the primary disadvantage is that it's a little costly.
The Buffer Reply app's basic edition costs $50 per month. But that only applies to one social media account.
If you wish to expand, you'll need to add users at a monthly charge of $25 per user. As a result, you'll have to pay $10 per account every month for additional social media accounts.
Despite the high cost, we feel the tool is worthwhile for the variety of services it offers. You can assign tasks to specific team members and keep track of their progress. Furthermore, the app captures activity in real-time.
The software integrates Slack and other business communication applications. When you upgrade to the Business plan, you'll have access to keyword monitoring tools and automation possibilities.
Planoly vs Buffer #3. User Interface
The Planoly dashboard provides a superb and extremely seamless user experience. They've obviously done their research on user experience. The default interface (under the name "plan") includes a scheduling calendar and the option to post.
There's a menu at the top of the dashboard where you can navigate through the various options, such as "analyze," where you can review your analytics, "comments," where you can, as the name implies, reply to all of your comments, and the "linkit" tool.
There is also a "learn" button that will take you to the help center. You may learn more about how to use this tool by visiting this page. The platform can occasionally be a little glitchy, which may be a little issue for some.
Buffer's UI is simple and beautiful, and it displays a queue of all presently scheduled social media posts. It's easy to use and lets you focus on what truly matters: your scheduled content.
Planoly vs Buffer #4. Reports and Analytics
Planoly's analytics feature provides important information about the performance of your posts as well as the overall performance of your account. You can see how many people enjoy your content and whether or not they make any purchase.
You can also check the engagement of your audience. Planoly also provides the information of your followers' age, gender, and region.
As previously stated, Buffer is essentially a content publishing platform. Therefore, it only offers analytics for posts uploaded using its interface. As a result, you will not receive detailed information on how the content you post on native social media applications performs.
Buffer's user-friendly Buffer Analyze tool, on the other hand, will appeal to social media managers. It gives you the ability to track performance based on engagement, post type, and reach.
Buffer also features a mobile app that lets you track your social media performance while you're on the go. You can also export all of the data for further analysis.
Planoly vs Buffer #5. Managing teams
Planoly has a reasonably simple way of adding users and allowing them access to the tool. However, unless you purchase a custom profile, you are limited to just two users, after which you must pay for additional users.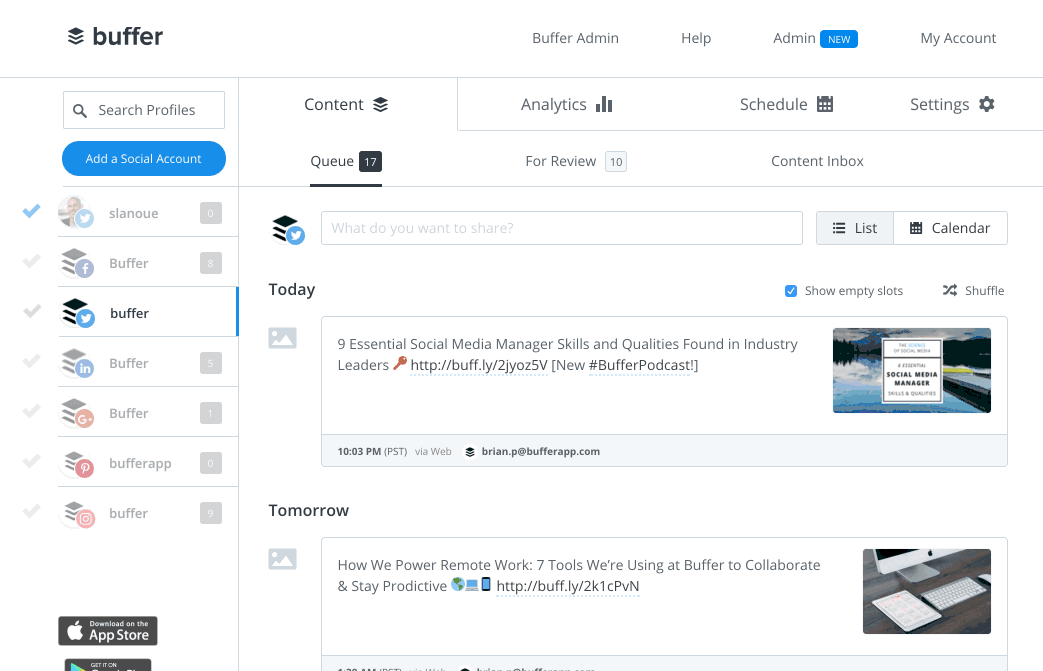 When working with Buffer, you must choose which social media accounts your staff will manage manually. On this platform, you will have two authorization levels: Contributor and Manager.
You can use these to give contributors full posting rights while yet requiring authorization before publishing.
This easy method is now acceptable for smaller businesses with fewer social profiles.
Planoly vs Buffer #6. Calendar view
Social media marketing tools' primary job is to schedule posts across several social media platforms. Having said that, almost every social media management software has a calendar view. It essentially displays the days and hours when posts are scheduled to be published. It is vital to be able to swiftly and easily move posts on the calendar.
As you'd expect from a social media management tool, both platforms provide scheduling options and calendar views.
Planoly's calendar view is precisely what you'd expect it to be — there's a monthly and weekly view, you can drill down into each post to make changes after they've been scheduled, and there's a simple button to click to create a post. You can also add a reminder to your calendar. It's a great feature for folks who want to keep track of post ideas or other information.
Buffer's content calendar is a new feature that is really handy. After you've scheduled your posts in your calendar, you can reschedule them by clicking and dragging the post blocks.
Planoly vs Buffer #7. Bio-Link feature
Planoly has a "linkit" feature that allows users to connect a bio link page to their Instagram profile (which looks like a button), generate highlighted posts, and choose how to categorize posts.
It also has an eCommerce-specific capability known as "sellit." Tag your items, create a product gallery, and include a shopping gallery on your website or blog.
Buffer allows you to create branded landing pages that direct people from social media to a website where you presumably want them to take some type of action.
You can also create store pages that look like Instagram shop pages. You can also use these landing pages as bio links to emphasize several connections in your social network bio area.
Planoly vs Buffer #8. Pricing
The pricing plans for the two are pretty similar. Planoly is the most cost-effective option, with the most expensive plan costing as little as $28 per month. However, if you wish to add more than two social media accounts or users, you'll have to pay a fee.
The cost covers all features above and beyond the free version, but keep in mind that you only have Pinterest and Instagram, with the option to link Instagram posts to Facebook and Twitter, so you don't have four interconnected profiles – only Pinterest and Instagram.
There are four options to choose from, and if you run your own social media, the solo is most likely all you need.
Buffer features a free version that is adequate if you simply need to manage a few profiles. However, if you're serious about maintaining your social media accounts, especially if you need a staff to manage them, you'll need to pay for the Essentials plan. You'll also need the Team Pack if you want to have extra team members.
The Essentials package is $60 per year and comes with a 14-day free trial. If you're not entirely sold on the platform, it's worth a go.
You must pay an additional $5 per month for each additional social media profile you add. Keep this in mind if you have a lot of social media platforms.
Since most organizations only have a few profiles, this will not be a problem.
Planoly vs Buffer #9. Customer Support
Planoly, like many other social networking platforms, recommends that you first visit their support center before contacting them. However, like other help centers, it just provides a basic search function and a few categories to choose from, making it worthless.
Having said that, you can contact them through email by clicking the "get in touch" tab on their website. However, there is no chat function, so you must send them an email and wait for them to respond.
In terms of customer service, both tools deliver a positive experience. Buffer can be found on Slack and Twitter, and it also provides email support.
Buffer offers a range of resources to help new users, including blogs, guidelines, FAQs, and online training. They even have monthly webinars where corporate experts educate users on how to get the most out of social media.
Planoly vs Buffer #10. Available integrations
Planoly features just a few integrations, the most famous of which is its native Canva integration. It enables you to import images from Canva or create images in Canva before importing them into Planoly.
Planoly doesn't have many integrations apart from the obvious ones like Instagram, Pinterest, Twitter, and Facebook. Planoly also has a browser add-on.
Buffer provides approximately 30 third-party tools that cover a wide range of applications. As a result, it has a plethora of integration options. This is especially useful if you manage your social networking through a number of tools.
It's also worth noting that it integrates with Google Analytics. This is especially important for tracking the performance of your Buffer landing pages.
You'll need to know if that traffic is converting, especially if you run an e-commerce site, so connecting the two is critical for gaining that knowledge.
Supported Social Media Channels (Table)
Planoly is capable of covering all of the major social media networks, or at least the older ones. Unfortunately, some of the most current social networks, such as TikTok, are not supported. If you're marketing to a younger clientele, this might be a deal-breaker.
It's also worth noticing that LinkedIn isn't among the options.
Given its context, this makes sense. It was created for Instagram and continues to be an Instagram-centric tool. However, if you're marketing to professionals, the lack of support may be a serious concern, given the vast majority of them can be found on LinkedIn. Planoly, on the other hand, is a must-see if Instagram is your main focus.
Buffer gives you the ability to manage Facebook pages and groups, as well as LinkedIn pages and accounts. You can work with and manage up to eight separate profiles if you have the Pro version.
| | | |
| --- | --- | --- |
| Social Media Platforms | Planoly | Buffer |
| Instagram | Yes | Yes |
| Twitter | Yes | Yes |
| Facebook | Yes | Yes |
| LinkedIn | No | Yes |
| Pinterest | Yes | Yes |
| Tiktok | No | No |
Final Thoughts
We hope this extensive Planoly vs Buffer comparison helps you make an informed decision. Overall, both are robust tools for managing social media content.
The desktop application from Planoly is elegant, clean, and simple to use. It is the ideal answer for small businesses that rely on visually rich Instagram and Pinterest postings to sell their product or service.
Although, the option to cross-post to Facebook and Twitter is advantageous. Its collaboration capabilities are especially useful for managing your social media as part of a team.
Buffer is ideal for small to medium-sized businesses and teams. Due to the general workflow functionality, it is very simple to create approval procedures for various team members.
With the exception of TikTok, it supports practically all other social media platforms, and the tool is relatively simple to use. However, due to its simplicity, some of its features are less advanced than those of Planoly.
Since we are here, Are you looking for something much more revolutionary which will even help you make content!

Sign up for Predis.ai today! Manage your social media channels and improve engagement by designing interactive posts within a few clicks.
For more social media tips and updates, follow us on our Instagram!