The unexpected boom in technology through artificial intelligence has turned E-commerce into a field that is constantly evolving. AI tools are now handy for anyone and everyone to use. The e-commerce sector is no exception! Especially the Shopify stores. So we researched which are the top 10 AI tools that would work best for your Shopify stores.
Modern businesses, especially those wholly internet-based like online Shopify stores, have seen a dramatic transformation as a result of AI capabilities. They serve as effective resources that boost productivity and profitability.
From being able to handle vast amounts of data with lightning speed and accuracy, to providing personalized assistance to customers through AI chatbots and virtual assistants, AI is set to empower Shopify store owners to no end.
Not only that, but AI also has the power to analyze purchasing patterns, market trends, and customer behaviors. When used correctly, this can help create robust marketing strategies that are guaranteed to result in the best outcomes!
In this blog, we'll explore 10 such AI tools that will provide all-around support for your online Shopify store.
Top AI Tools for Product Recommendations
One important task that AI has picked up, is of product recommendations. This is made possible by analyzing consumer behavior, preferences, and purchase history. Based on these factors, AI can make highly personalized product suggestions for your Shopify store visitors. This will help enhance their shopping experience and drive up sales!
1. Wiser:
Wiser is a tool that uses real-market market data with the help of AI. This helps Wiser to make product recommendations that are not only data-based but also personalized to the customer.
This data includes customer behaviors, basic demographic information, and purchase history, all strung together to provide similar product recommendations.
It can significantly increase conversion rates and average order value. What's more, is that it can be used by everyone, from small business owners to large enterprises!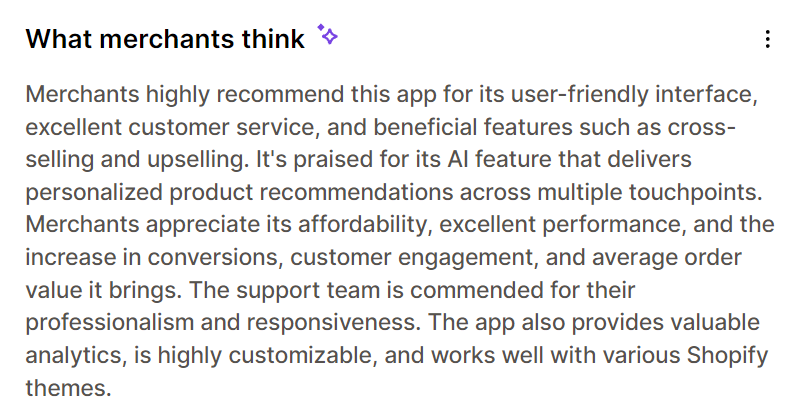 With an overall rating of 4.9 stars, even Shopify merchants recommend this app owing to its affordable prices and quality performance.
2. LimeSpot Personalizer:
LimeSpot Personalizer is another AI tool on Shopify that helps increase conversion rates and customer engagement through personalized product recommendations.
One of their selling points is that the setup is super easy and you can see immediate results, within a day! They provide a 14-day free trial along with a free plan but have two additional plans that depend on your store's revenue.
3. Visely:
Visley takes the product recommendation game one step further by allowing your Shopify store visitors to use personalized searches and filters. They remain a step ahead of their competitors by not letting spelling mistakes hinder search results and allowing the search box to offer relevant suggestions!
Despite having slightly pricey plans, Visely definitely delivers with quality and the number of services they provide, with just one app.
Upselling and Cross-selling Tools
To increase the average order value and maximize revenue, upselling and cross-selling are two of the oldest plays in the book. However, it is not always easy to persuade the customer to opt for a higher quality but more expensive product. These AI tools truly add value to the customer's needs and preferences, convincing them to make the right buying choices.
1. Upsell & Cross Sell- Selleasy:
Selleasy is a Shopify app that suggests product add-ons and 'frequently bought together' to customers for a higher average order value.
With a pretty appealing pricing plan as well, Selleasy provides free plans for Shopify stores with 0 to 100 orders per month! While for 600+ orders, including all features of the app, you pay only $14.99/month.
2. Also Bought:
The Also Bought tool prides itself on its unmatched AI, which has been trained with billions of products and orders. It was created to bring the 'Customers Who Bought This Item Also Bought' recommendation widget from Amazon to Shopify.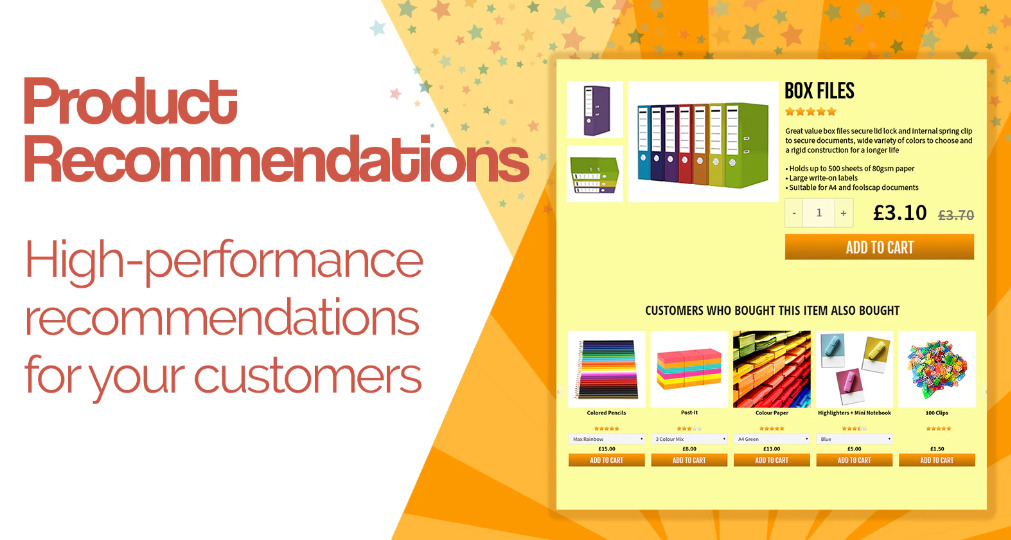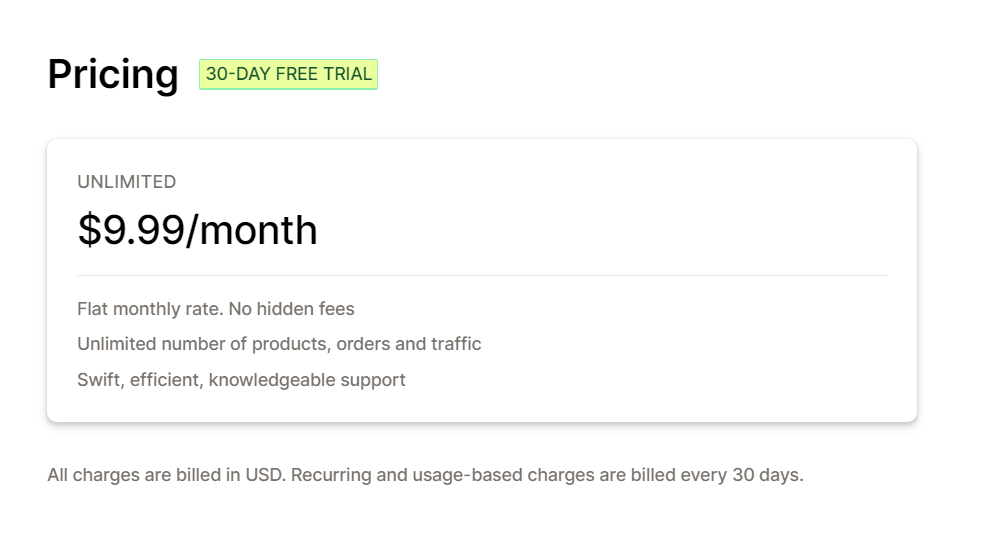 One of its attractive points is that Also Bought has one basic plan of $9.99/month, with no hidden fees or costs. For just $9.99 per month, they allow an unlimited number of products, orders, and traffic. In addition to that, their widget can be displayed on both product pages, as well as the cart page!
AI Tools for Customer Service
While product recommendations and search tools are important to enhance customer experience, an irrefutable aspect is that of the support process. Instant customer support, efficient query resolution, and escalation to human agents, when required, is the key to improving overall customer satisfaction. Here are 3 Shopify tools for efficient customer service:
1. Gorgias:
Gorgias is an AI-powered customer service tool that can automate responses to common customer inquiries. These inquiries are handled over a number of different platforms, such as email, SMS, WhatsApp, chat, and even DMs.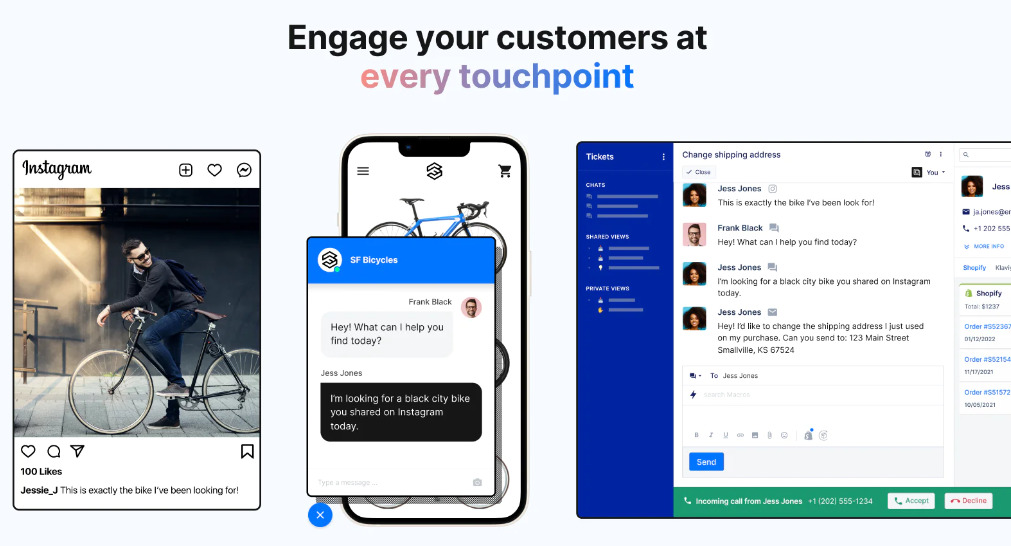 With 20+ integrations, including Shopify, Gorgias allows customers to view, edit, and even cancel their Shopify orders, all without leaving the Gorgias chat support. Gorgias offers 4 different pricing plans, each integrated with a wider range of features, allowing unlimited customer support agents, right from the basic plan for $60/month.
2. Shopify Inbox:
Shopify Inbox is a Shopify tool that makes chatting with customers extremely easy.

As shoppers make purchases and develop queries, you can access live customer information, like the products they viewed, what's in their cart, and even past orders. This can help tailor your message to the customer. What's more, is that it's absolutely free! However, that does not mean it compromises on quality. See for yourself!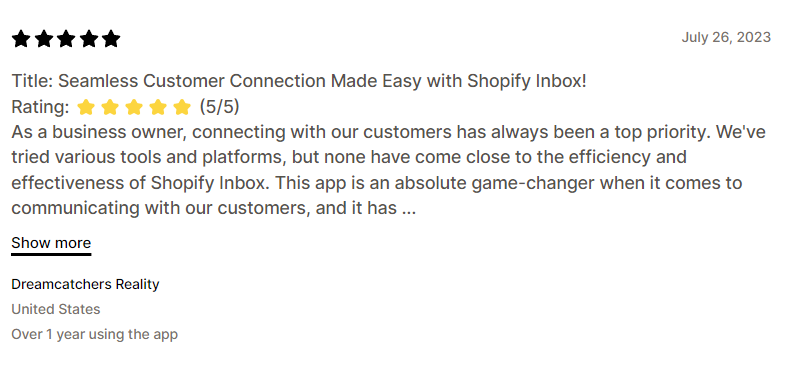 This tool uses AI to provide automated customer support. Its service includes answering frequently asked questions and providing order status updates. In addition, it helps map conversations from varied sources, such as email, socials, SMS, and calls to make work smarter and reply to customers faster.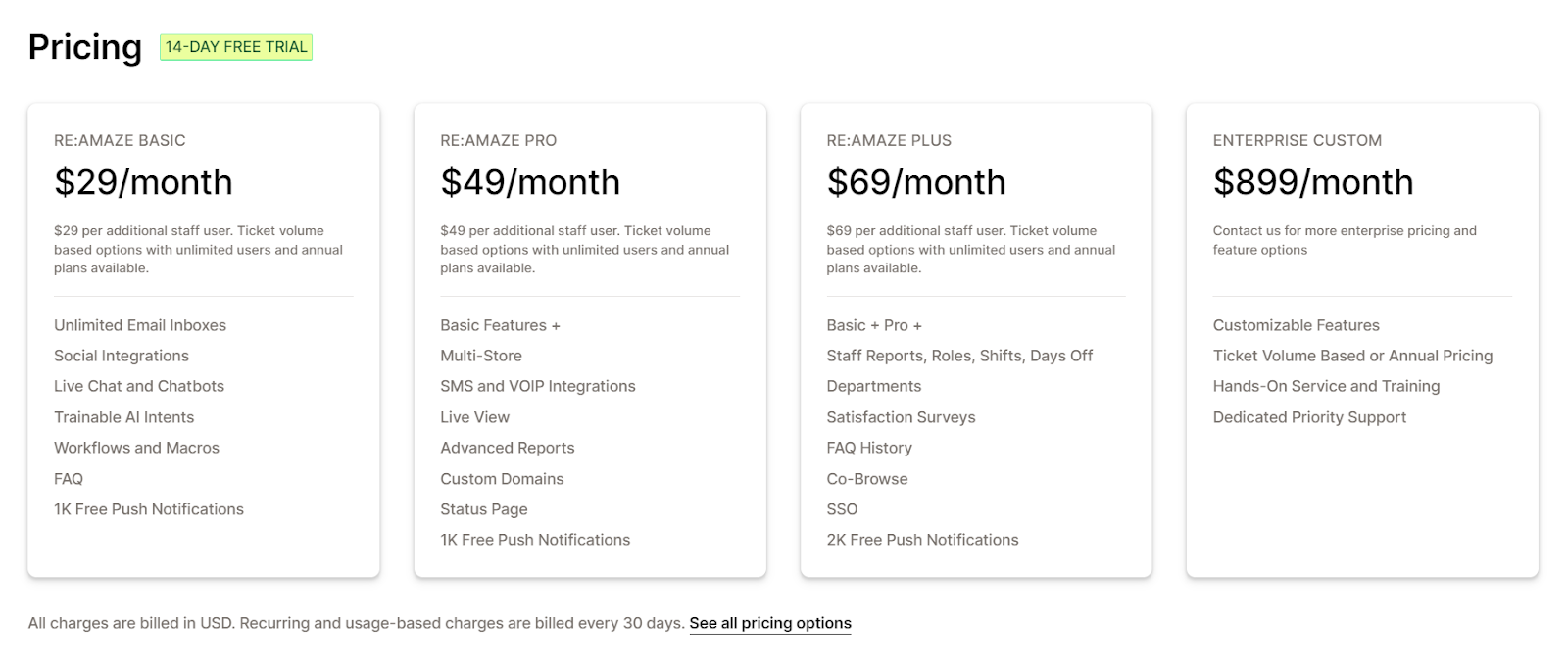 With the Reamaze basic plan starting at $29/month, you can avail of unlimited email inboxed already! In addition to being super easy to install and configure, this AI tool makes chat and helpdesk an efficient way to solve customer queries.
AI Tools for Marketing
As we know, product recommendations and selling them smartly are simply two sides of a coin that ultimately help cash in customers. These marketing strategies are limited not only to attracting customers but to leaving them with a pleasant buying experience, which ensures customer retention.
However, to get to these stages, your initial marketing efforts need to cut through all the noise and reach the right audience. Here are some tools to help exactly with that:
1. Predis.ai:
Predis.ai can offer a unique marketing perspective that other AI tools in the market lack. It uses AI-generated content to showcase on social media platforms such as Instagram and TikTok.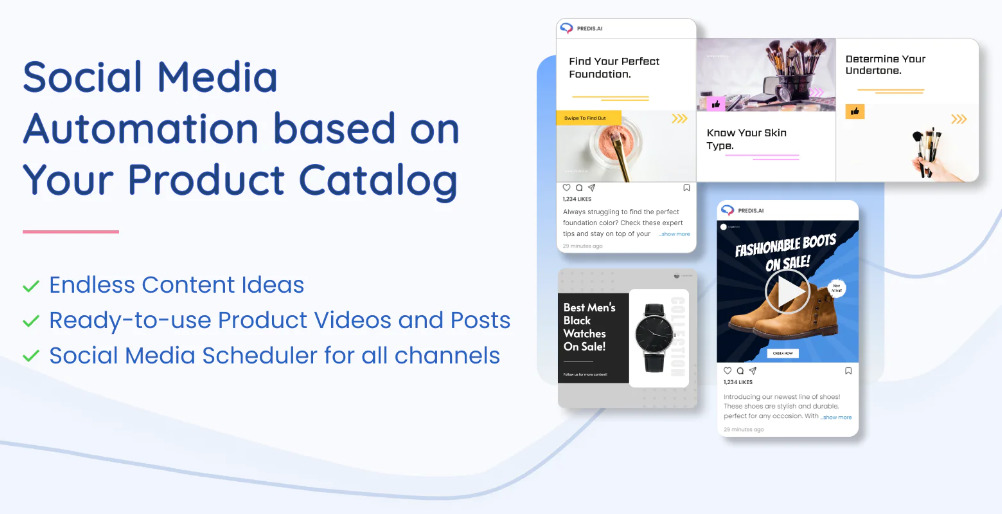 Predis.ai can create not only visually appealing and high-quality images, but it can also create short-form content for reels, such as videos and carousels!

If you're starting out in the e-commerce hustle, Predis.ai might be an amazing option, that can help you get started right from installation. Its free plan can cover one online store and generate 15 posts per month. Not only that! Predis.ai has a competitor analysis feature that sets it apart from the rest and gives you a competitive edge over everyone else in the market. The Solo and Starter plans for $29/month and $59/month are also reasonable prices, with quality returns.
2. Klaviyo:
Klaviyo is an AI email and SMS marketing tool, available for integration with Shopify. It helps centralize data and sends automated and personalized messages over various platforms including email, SMS, form, mobile push, and reviews!

Klaviyo also provides a free plan when installed, with multiple template libraries for every medium, which can be customized at sign-up. The free plan also includes unlimited free emails for up to 500 contacts. In addition, Klaviyo offers 'Upgrade as you grow' plans for both emails and SMS, starting at $30/month and $15//month respectively.
3. Drip:
Drip, a relatively new AI tool, uses AI to automate email marketing campaigns. The way it works is first to get connected with your Shopify store. Now, any time a customer signs up on your Shopify store, their data is automatically forwarded to Drip. This saves you the time needed for manual data entry.

Drip can segment your customer base and send personalized emails based on customer behavior and preferences. But the best part is that Drip offers a free plan, along with some affordable professional and elite plans, where you would need to pay only $9/month for unlimited active webhooks and up to 20,000 tasks per month!
4. Seguno:
Seguno is an AI marketing tool to help you create effective email marketing campaigns. It understands how spending time on emailing means less time spent on your most valuable asset- your Shopify store! It can analyze customer behavior to determine the best time to send emails and the most effective content to include, such as 'Back in Stock' alerts.

Seguno is free to install. It allows you to remain on the free plan till you reach up to 250 subscribers. This plan allows you to send unlimited emails, with the help of more than 200 templates.
You can also generate unique discount codes for your costumes, use Canva, and provide support through email and chat.
Seguno's standard plan for $20/month allows up to 1000 subscribers with an increase in price per 1000 subscribers.
Wrapping it up
Using AI with Shopify can now help you focus solely on your business while leaving the technicalities to AI. From product recommendations and customer service to marketing, AI can automate and personalize various aspects of your business all at the same time. This ultimately contributes to increased sales and customer satisfaction.
AI tools, as you can see from experience as well as reviews, can significantly enhance the functionality of your Shopify store. They make it more efficient and customer-friendly. By choosing the right AI tools, you, as Shopify store owners can automate tasks and enhance your customers' experiences, all in one go!
Related articles
Best Shopify Tools For Marketing
Marketing Automation for Shopify
How To Create Shopify Product Videos