Instagram Reels have become a popular way to share short videos on the platform. Adding a voiceover to your Reel can enhance its impact, make the reel more engaging or funny, and help you tell your story more effectively. Whether you want to provide a commentary, narrate a story, or share your thoughts, voiceover can make your Reel more engaging.
When deciding where to put your voiceover, keep in mind that it should contribute to the overall story you're attempting to tell with your Reel. Don't just throw in a voiceover clip at random; make sure it adds to the video and helps tell your story.
Here's a step-by-step guide on how to add voiceover to your Instagram Reels.
Steps to Add voiceover to Instagram reels:
1. Open the Instagram app and navigate to Reels
Reels can be found by swiping right from your main feed. You can either create a new Reel or select an existing one to edit. Record a new reel or add a video from your phone's gallery by clicking on the plus '+' button.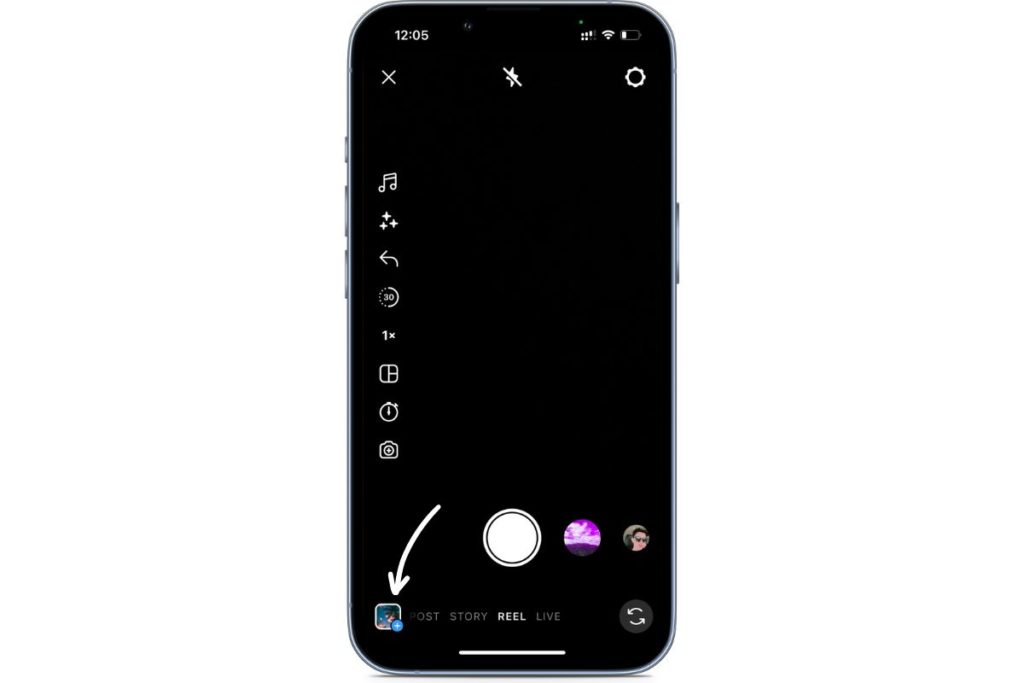 2. Edit the reel and mute existing audio
Once you're in the Reels editor, you need to turn off or mute the saved audio to ensure the audio from your recorded voiceover is used.
To do this, tap Next. Then tap on the Music button as shown below.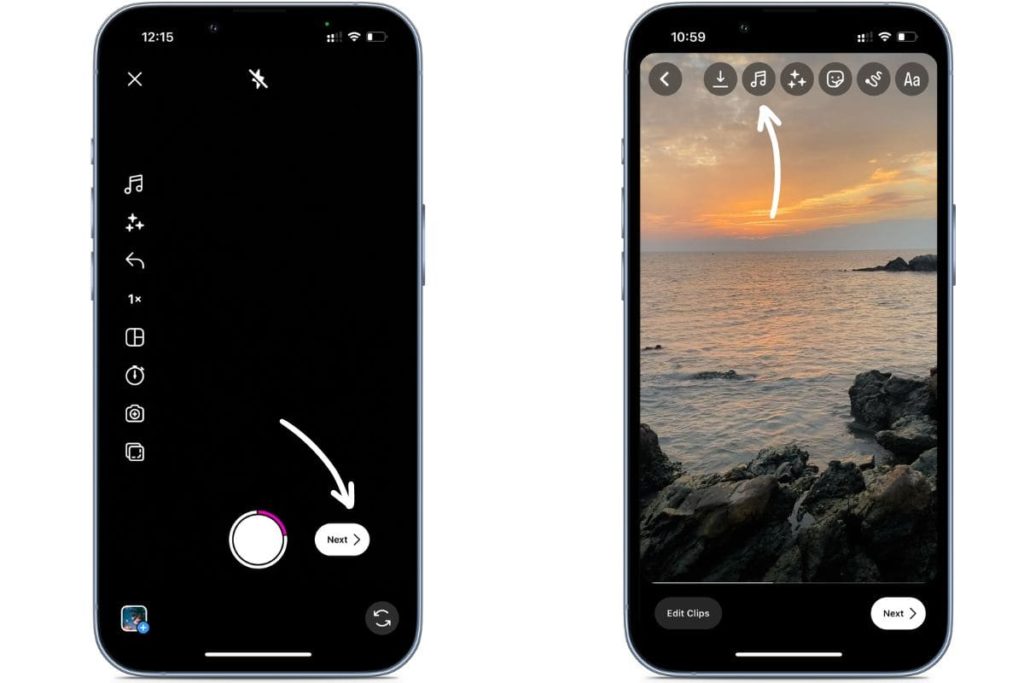 Go to Controls. Reduce the audio in your video to zero. Then tap on Done.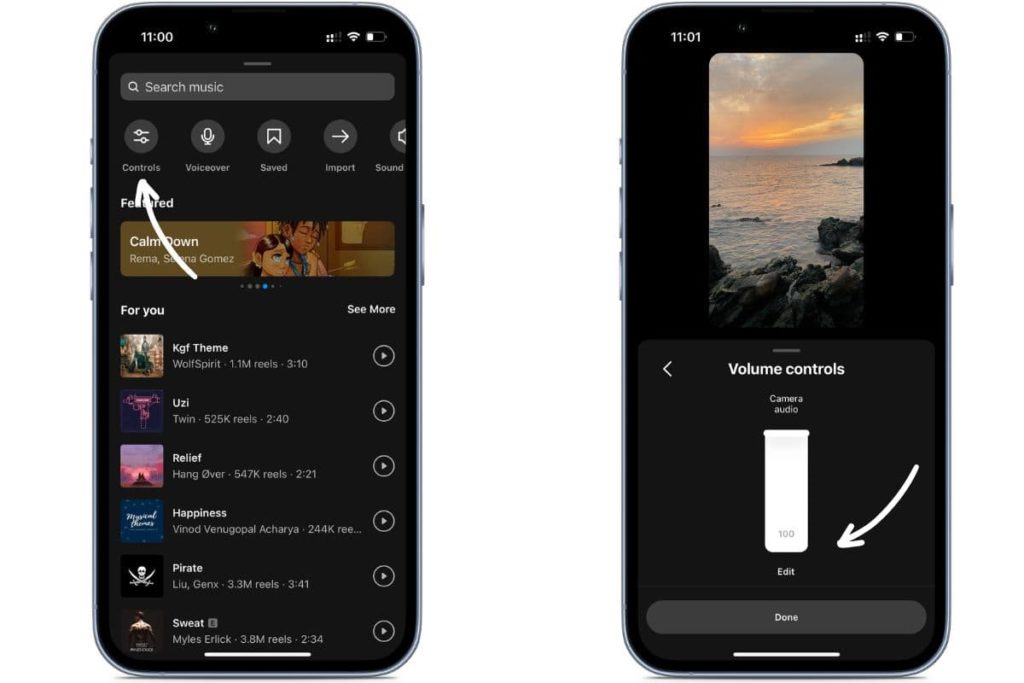 3. Tap on the Voiceover button button to add voiceover
Now that you have muted the audio in the video, you can record new audio.
Tap on the Voiceover button to record a new voiceover. Hold the record button to record a new voiceover. Tap on Done to save the audio as shown below.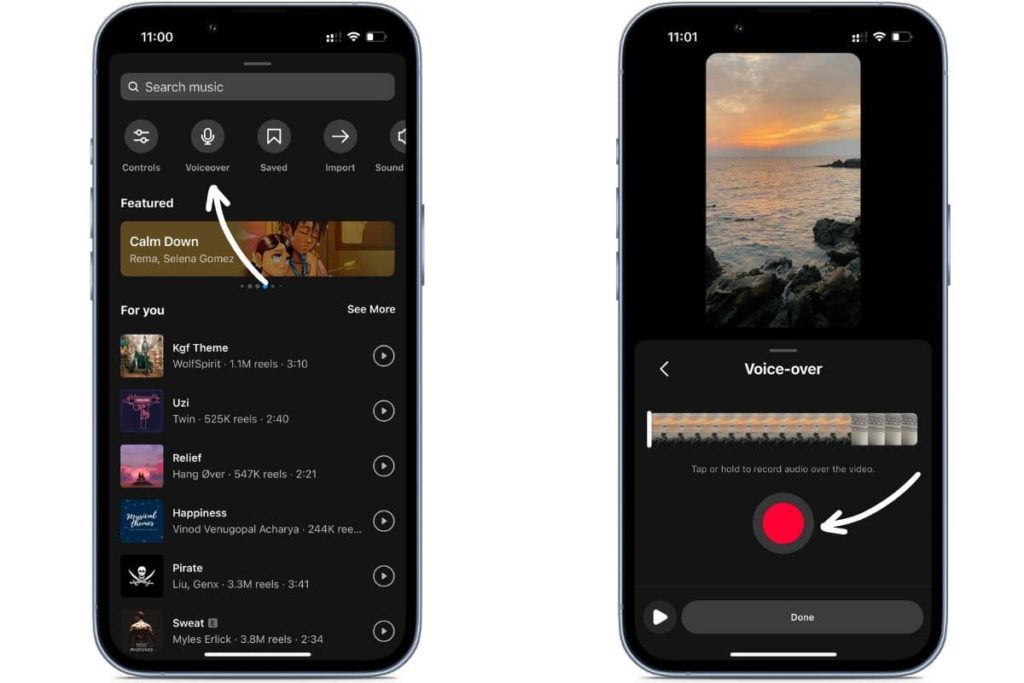 4. Adjust the volume and timing of your voiceover as desired
You can use the sliders to control the volume and timing of the voiceover to ensure that it syncs well with the video. You can also preview the Reel to check how the voiceover sounds.
5. Preview your Reel and make any additional edits as needed
Before you share your Reel, it's essential to preview it to ensure that everything is working as it should. You can make additional edits, such as adding filters, and effects, or renaming your audio as Original audio so others can use it.
6. Press the share button to post your Reel on Instagram
Once you are satisfied with your Reel, press the Share button as shown below to post it on Instagram. Your followers will now be able to watch your Reel with the added voiceover.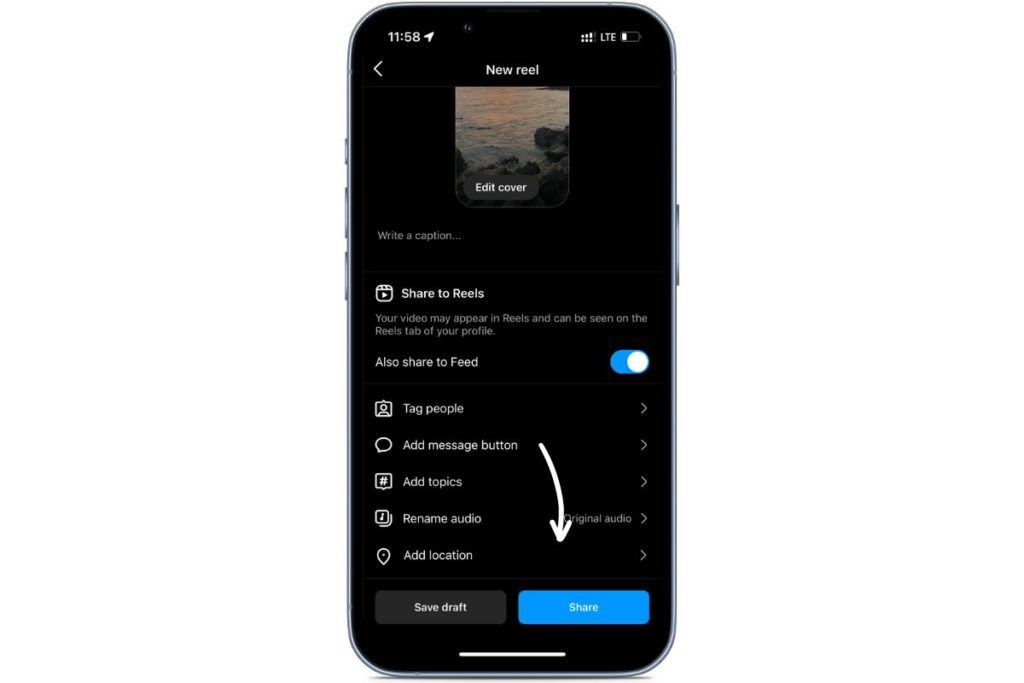 Benefits of adding voiceover to your Instagram Reel
When it comes to promoting your brand or business on Instagram, adding a voiceover to your Reels is a no-brainer. A voiceover will not only add a professional touch to your Reels, but it will also help you engage with your audience more effectively. Here are a few of the advantages of including a voiceover in your Instagram Reels:
A voiceover can help you tell a story or convey a message more effectively. This is especially important if you're promoting a product or service with your Reels. A voiceover can help to highlight the features and benefits of your product in a more engaging way than text alone.
A voiceover can also help to give your Reels some personality. If you want to connect with your audience, using your voice is a great way to do so. Your voice can assist in humanizing your brand and making your Reels more relatable.
The benefit of using voiceover on Instagram Reels is that it can help your videos stand out. With so much content being created and shared on the platform, any effort you can make to distinguish your videos will go a long way.
If you're considering using voiceover in your next Instagram Reel, here are a few pointers:
Keep it brief and to the point. Keep in mind that you only have 15 seconds to work with, so make every second count.
Use music strategically. The right song can help to set the tone for your video and make your voiceover more effective.
Wrapping It Up
Adding voiceover to your Instagram Reel is a simple process that can help you make your Reel more engaging. Following the steps outlined above, you can easily add voiceover to your Reel and share your story with the world.
Finally, remember to have fun with your voiceover! This is your opportunity to truly express yourself, so have fun with it and experiment until you find the right tone and style for your Reels. So go ahead and try it out!
You may also like,
Viral content ideas for Instagram.
how to unhide posts on Instagram?
Best location ideas for Instagram.