As World Coconut Day is to be celebrated on 2nd September, you now have a great opportunity to share engrossing Coconut Day content on all your social media handles. Before getting into World Coconut Day content ideas, let's look at the significance of the coolest and sweetest looking and eating fruits, #coconut.
Coconut has numerous health benefits, and no part of this fruit can be thrown away. It is widely used in various industries. Coconut oil has limitless uses in everyone's life. Coconut water is an essential health drink. The flesh, milk, it's shell are all essential things in our daily lives. There are different businesses from coconuts all over the world. Especially Asia and Pacific countries which are the majority exporters of coconut. Thus the Asian and Pacific Coconut Community (APCC) has marked this day to raise awareness about the significance of coconuts.
To make the most of this special day, Here we will help you with 20 World Coconut Day content ideas that cover almost A to Z with some extra social media tricks to attract and engage your followers.
Coconut Recipes
1. Share a popular coconut-based recipe and encourage your audience to try it out.
Like the post in the above image, put an attractive and delicious photo of a coconut recipe So that people are forced to stop while scrolling. Remember, people are in a hurry nowadays. Only if they get stuck in the catchy picture will they go through the details. So use a bright image.
Provide step-by-step instructions in the caption or a link for the full recipe. As in the above post, you can get more clicks on the link to your blog when people click on the recipe. Ask your audience to try it out and let you know the experience in the comment section.
You can also mention a few health benefits of coconut along with the recipe.
2. Create a video tutorial of a unique coconut recipe.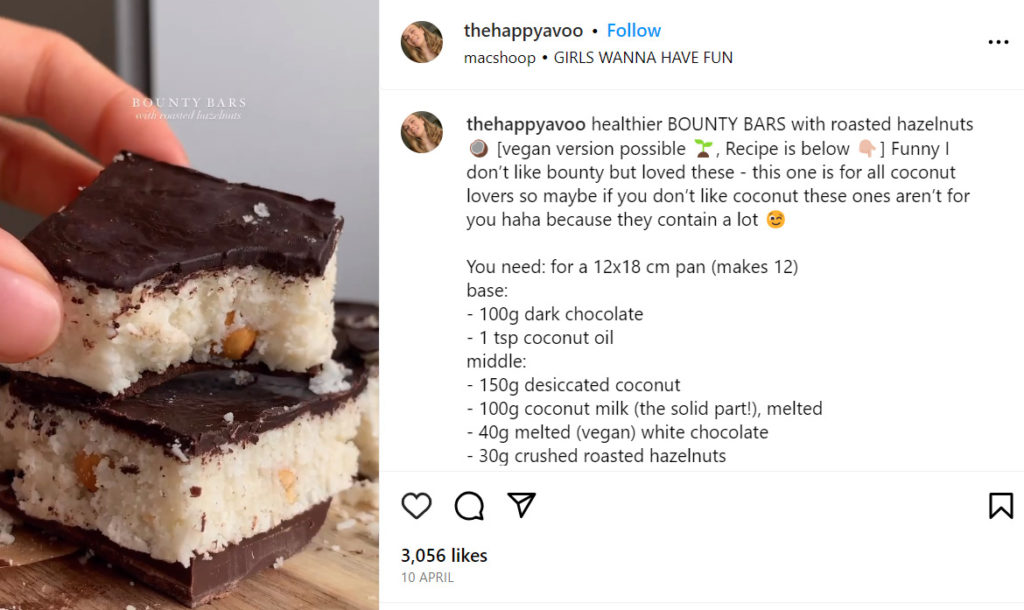 Sharing a coconut recipe is the best World Coconut Day content idea for all the food lovers out there. Look at the Instagram reel of mouth-watering coconut dessert. Can you scroll without a halt in it? Well, we can't. Make a decent quality video while making your signature coconut dessert but don't make it too long, just show the main steps and share the full recipe in the description. Make sure people find this recipe easy to try at their home. Coconut is a winning ingredient in so many recipes, especially for the coconut lover. So this video may change the game for you. You can share a few tips and tricks about using coconut in cooking.
3. Ask your audience to share their favorite coconut recipes.
This is a great way to engage your audience on your social media account if you ask them to share their coconut recipe as well and ask them to tag your page, or they can share it through comments in your post as well. This way, you can get more reach, and this is super fun. And the best part will be if you promise them to share the best recipe on your social media account and do so.
Coconut Facts
4. Share interesting facts about coconuts.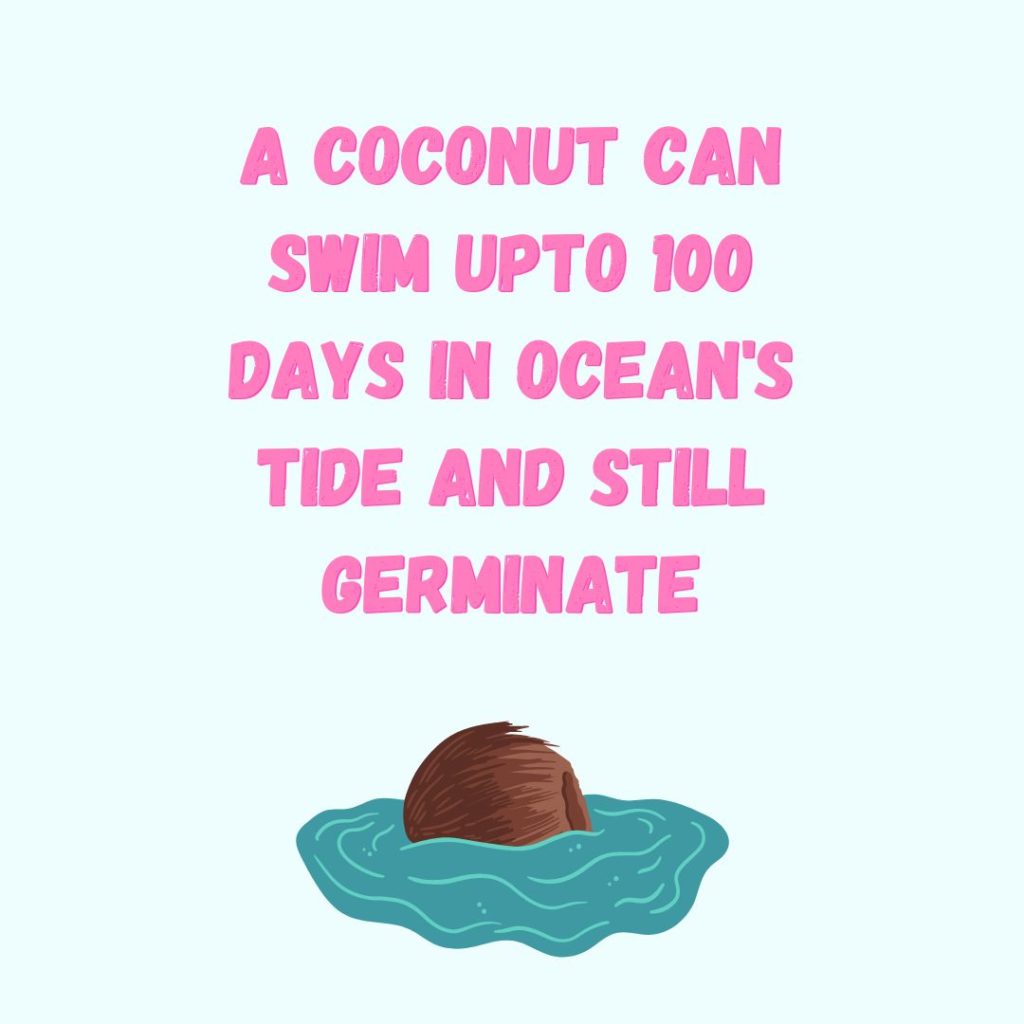 Sharing a little interesting fact about coconut in a post can be catchy for your audience. Specially liners get more shares in social media. Make sure the post looks good and clear. Search for fun facts about coconut, its origin, and stories from different regions of the world. Have a look at the above image to get an idea. You will find various stories like these about Coconut if you search for them.
5. Bust common myths about coconuts.
Address one or a few coconut myths. For example, "Coconut water hydrates you better than H2O." There's no scientific proof of it. Actually, When we're dehydrated, our metabolism slows down, so anything you drink will help keep your metabolism speeding along. Make people know the facts. Provide accurate information backed by scientific research. That will make your post more reliable. You can follow the health sites to know more about the health benefits and nutrient value of coconut.
6. Share lesser-known benefits of coconuts.
When coconut has so many benefits, then obviously, a health guide post will be relevant and helpful for you as an influencer. Educate your audience about the versatility of coconut. Talk about some hidden benefits of coconut this time. For example, Coconut water can help in preventing kidney stones. This has been seen in a recent study conducted on pets.
Find unknown beauty benefits of coconut oil, and girls out there are waiting for your coconut beauty secrets. Take a cue from the below.
Coconut DIYs
7. Share a DIY tutorial on how to make homemade coconut oil.
Coconut oil has innumerable uses in our lives. Post a good quality, short, and clear video of making homemade coconut oil. Such videos have the potential to earn a good number of views. It will be very helpful for your audience. Always think about your audience and what they want to see. Provide a step-by-step guide in the description, and you can write them in the video as well and highlight the benefits of using homemade coconut oil. Check the video above.
Insta and Facebook reels are popular these days because they are short, upright, and well shot which Gen-Z wants. You can make such a reel and put the main steps in the video.
Also, encourage your audience to try making it themselves.
8. Show your audience how to make a coconut shell craft.
Beautiful things such as candle holders or plant pots can be made out of coconut shells. It has so many uses. Also, it is sustainable, eco-friendly, and strong. You can give people some winsome ideas and make them mindful of your idea of sustainability at the same time. Also, encourage them to share their own coconut shell crafts ideas. This way, you can increase engagement.
9. Teach your audience how to make a natural coconut-based beauty product
Products made from coconut have a lot of hydrating properties. Coconut directly or indirectly helps skin problems, especially in the summer season. Share how to make one such homemade coconut beauty product like a coconut scrub, hair mask, coconut oil lip balm anything. Highlight the benefits of using natural ingredients. Your followers will love it as natural products DIY are in demand. Also, ask them to share their own in the comment section.
Coconut Trivia
10. Host a coconut trivia quiz.
Who doesn't love freebies? Ask questions about coconuts and offer prizes for correct answers. Still, there are many facts about coconut which are unknown. Find such interesting questions. Engage your audience and encourage them to participate.
11. Share interesting historical facts about coconuts.
Coconut trees were found thousands of years ago in India, South Asia, South America, and coastal areas. Then gradually, it spread to different regions of the world. Talk about how coconuts have been used throughout history. Highlight their significance in different cultures and traditions. Share fun facts such as "Coconut bra is very famous to Hawaiian people". Earn more likes and shares with these fascinating facts.
12. Post a "Did You Know?" series about coconuts.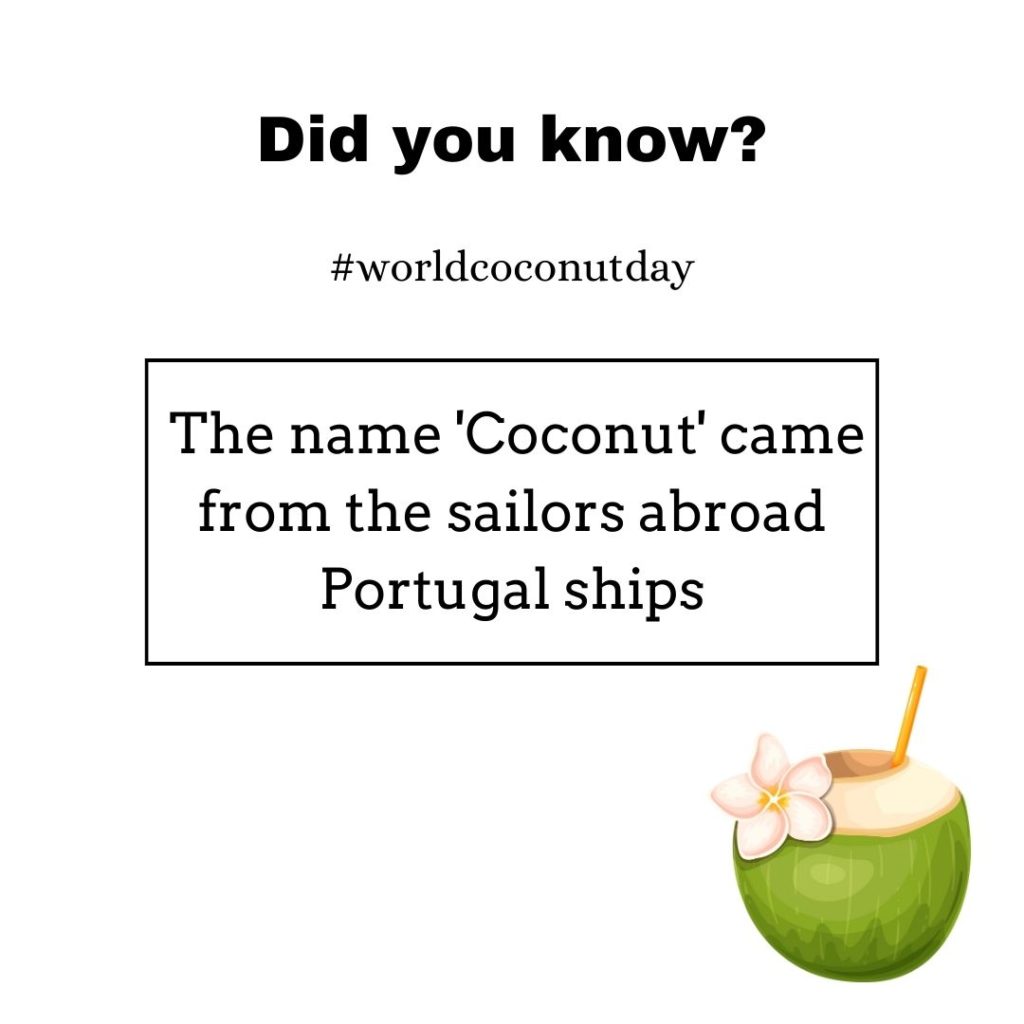 Post an interesting fact or series of facts about coconut. Find some unique ones that are new to your audience. Let them discover and share. Ask them to share unknown facts in the comment section.
Coconut Health Tips
13. Share tips on how to incorporate coconut into a healthy diet.
Coconut is truly a tastemaker if used properly. There are plenty of popular desserts made with coconut in Asian countries. Provide any such ideas for adding coconut to smoothies, salads, or snacks. Emphasize the nutritional benefits of coconut.
14. Highlight the health benefits of coconut water.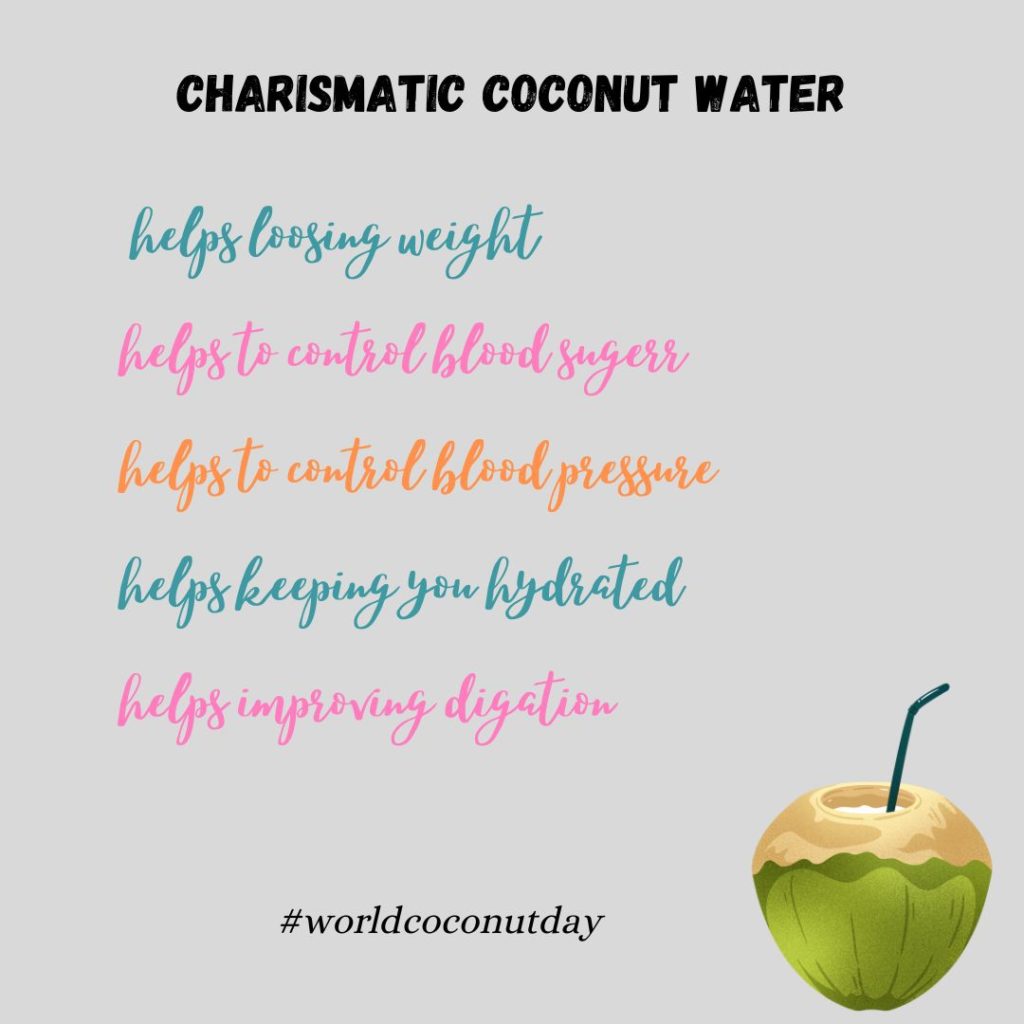 Discuss the health properties of coconut and its rich mineral content. Share a health guide post. If you share an image, then don't provide too much information in it so that it doesn't look clumsy. See the above image.
Encourage your audience to follow those health tips. For example, coconut water has so many benefits. Help your followers to improve their daily routine by adding coconut water to it. People will definitely follow that as coconut is easily available almost everywhere in the world, and people are becoming health conscious day by day.
15. Discuss the benefits of using coconut oil in skincare.
We all know that there is no comparison to the use of coconut oil in skin care. It has been a staple in women's dressing rooms for ages. Post images or videos about such coconut oil tricks that your girls should know.
But at the same time, there are some myths that we need to know. Make your audience aware of those myths. Address common concerns about using coconut oil on the skin. Click here to learn some real facts.
Coconut Quotes and Memes
16. Share inspirational quotes related to coconuts.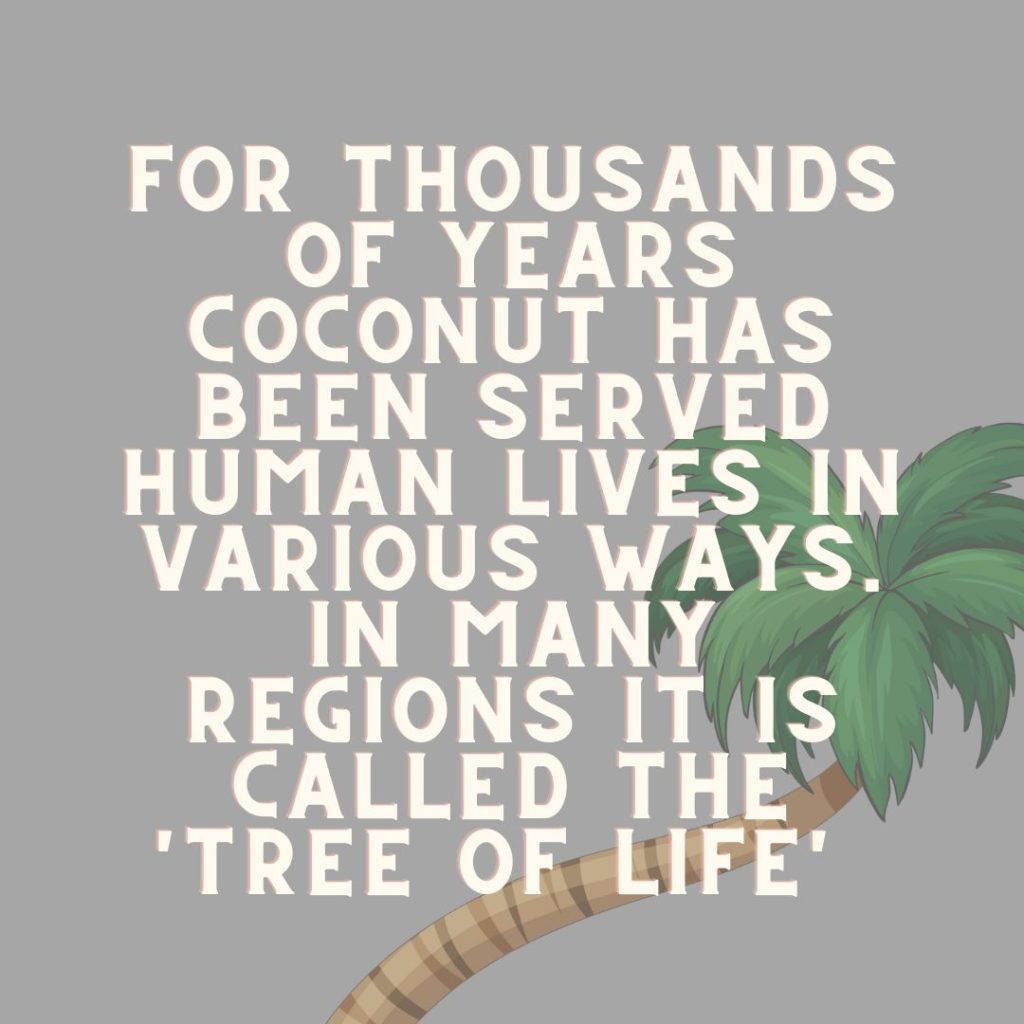 Since coconut is a very old fruit, there are many proverbs or sayings about it, and people love to romanticize things and share emotional quotes more. Keeping that in mind, find such coconut quotes that also highlight the positive aspects of coconuts or their symbolism.
Always remember social media is more about visuals that attract the young generation, as they are the majority of social media users. That's why you have to keep them in mind. Create visually appealing graphics to accompany the quotes.
17. Create coconut-themed memes or GIFs.
Humor is the fastest way to engage your audience. So make them smile with coconut-themed memes or GIFs, which are very popular in current times.
Go through sites like Memedroid to get coconut memes.
Incorporate coconut-related puns or jokes to get attention towards World Coconut Day.
18. Ask your audience to share their favorite coconut-related quotes or memes.
To get more engagements, involve your audience as well by sharing coconut memes, GIFs, and funny quotes, and tag your page. They can share it in your comment section as well as declare the winner and share the best submissions on your social media accounts. It will be fun.
Coconut Plantation Tours
19. Take your audience on a virtual tour of a coconut plantation.
Share photos or videos of coconut trees, coconut plantations, harvesting processes, and coconut products. You can share the story about Hoi a Coconut Village of Vietnam, along with beautiful photos or videos. Take your followers to the world of coconut, which they are yet to explore.
This World Coconut Day, educate your audience about the journey of coconuts from plantation to market. Share the process with them. Let them know the importance of the Coconut industry in the world or your country's economy. Try to make it gripping content as much as possible.
20. Collaborate with a coconut farmer or brand to showcase their story.
Interview a coconut farmer or a brand that specializes in coconut products and let people know the products, the business, and the living is being made out of coconut. Bring out brands that work on coconut-based products that are durable, eco-friendly, and sustainable. Make reels or videos about the production process.
Also, share the experiences, challenges, and success stories of the farmers. Share the short-comings. Encourage your audience to contribute to this World Coconut Day as much as they can in their own way.
#Socialmediatricks
Below are some tricks to keep in mind while creating any social media content:
Use relevant hashtags.
Make it good-looking.
Tag relevant people.
Use catchy captions.
Bring humor but don't lose the seriousness of the issue.
Liking someone's post may hurt the ego, but viewing secretly their reels does not. Post quality reels. Get more views.
Take your time to make posts in advance and schedule.
Share your post on all social platforms to get more reach. Click here to learn how to share Facebook videos on Instagram.
Consider peoples' perspective. What people want to see.
Make it unique, be yourself.
Conclusion
With these 20 social media content ideas, you can celebrate World Coconut Day in a fun and engaging way. Whether you share recipes, facts, DIYs, trivia, health tips, quotes, or plantation tours, make sure to educate and entertain your audience while highlighting the importance of coconuts. Happy World Coconut Day!
Related articles
Getting Inspiration For Social Media Posts
Content Ideas for Travel Agents
Top 10 Instagram Content Ideas for Podcast
Skincare content ideas for Instagram